This weekend at #SCGBALT I played an updated version of G/B Delirium that I played the following week. I finished 6-3 after Day 1, and even though that qualified me for Day 2, I dropped to play the Modern Classic because I believed I had a higher SCG Tour® point expected value by playing in the Classic. Robert Wright worked with me on the deck for both weeks, and he had a deck tech with Nick Miller that you can see here.
Here is the list that we both registered:
Creatures (17)
Planeswalkers (4)
Lands (24)
Spells (15) Robert ran into an unexpected and unfortunate problem with not drawing lands on the second day of the Open and finished in 56th place. He had to mulligan more in those six rounds than I had for the twenty rounds that I played the deck over two tournaments.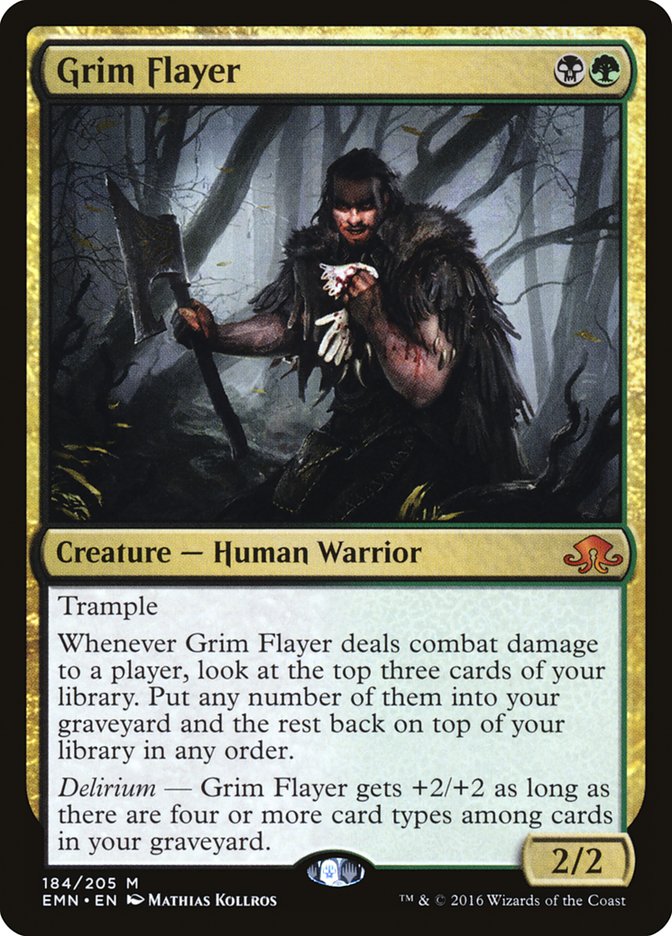 Grim Flayer is an extremely powerful card but one that is difficult to build around. We wanted to be aggressive but at the same time we wanted to have enough removal to make sure we could safely attack with our Grim Flayer. This led us to cut both Sylvan Advocate and Mindwrack Demon from our list from the previous weekend. Sylvan Advocate is currently known as the best green creature in Standard, which may be the case, but it doesn't fit very well into this deck. It's difficult to get six lands on the battlefield when you are only playing 24, which meant Sylvan Advocate was usually a 2/3 vigilance for two mana, which wasn't impactful. Mindwrack Demon on the other hand was polarizing, either amazing or terrible, and we just did not want to run the risk of playing it again.
In their place I played a fourth Gnarlwood Dryad, which Robert had done the previous week, and I'm glad I did because Gnarlwood Dryad is extremely good against Bant Company. It frequently trades with a Sylvan Advocate for the cost of one mana, which is just fine with me. The spells we added were two copies each of Murder, to have another instant-speed answer to Archangel Avacyn, and Transgress the Mind, which turns out to be in an amazing spot in the current metagame.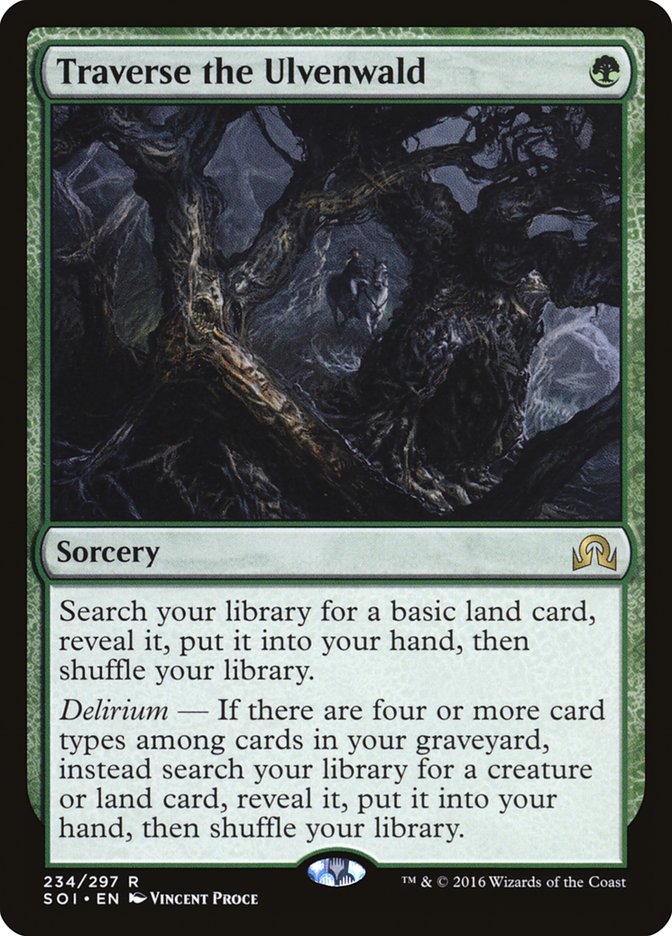 The final change we made almost at the last second, and it was well worth it. We took out a Dead Weight for a Traverse the Ulvenwald, which acted as land number 25 that could turn into a threat late-game. Traverse worked perfectly with Den Protector as well, and I was very happy having one Traverse in the deck. I wouldn't want to load up on too many, though, because having delirium is not always a given, and paying one mana to draw a basic land is not something I'm usually interested in doing multiple times.
Over in the sideboard we added some new cards to try out. Infinite Obliteration is an answer to G/R Goggles-type ramp decks, the deck that knocked me out of the Top 8 the week prior. Neither of us played against a ramp deck and we never sideboarded it in, but I would still keep it in the sideboard moving forward. Ob Nixilis Reignited was an all-star for us; we brought it in against Bant Company and midrange decks and we didn't lose a game in which we played it. I never got a chance to cast Dark Petition, but Robert had success with it. It is another copy of Infinite Obliteration, Languish, or Kalitas, Traitor of Ghet from our sideboard, or it can even find and cast a Liliana, the Last Hope or a morphed Den Protector when needed.
Overall I was satisfied with the changes that we made and I probably wouldn't make any changes if I play the deck at #SCGRegionals this weekend. I was 6-3 overall, so after two byes just 4-3. I went 2-2 against Bant Company with some very close games that didn't go my way, and 2-1 against other decks. My loss was to G/W Tokens, and I definitely learned a lot from Game 3. Let's see if you can determine what I could have done differently to win it.
I'm at twenty life, and my opponent is at seventeen. He drew his card for turn and passed back to me. I untap, and this is a recreation of the current battlefield state.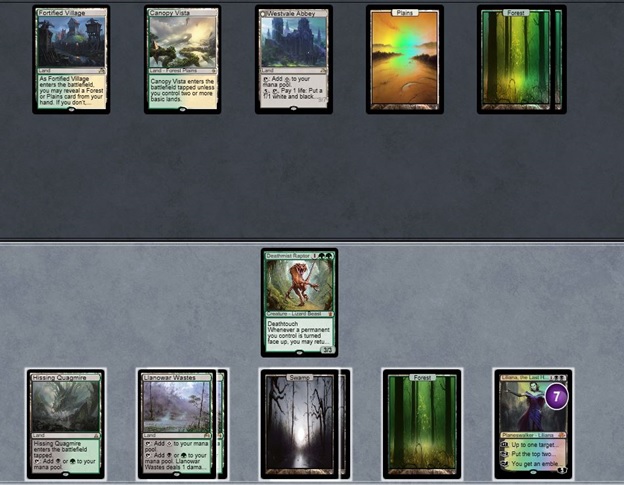 My hand consists of a Ruinous Path, Den Protector, and a Deathmist Raptor. Because of multiple Transgress the Minds and a Duress, I know his hand has two Dromoka's Command and the card he drew for the turn. With that information, what would you do? Think about it before continuing to read on.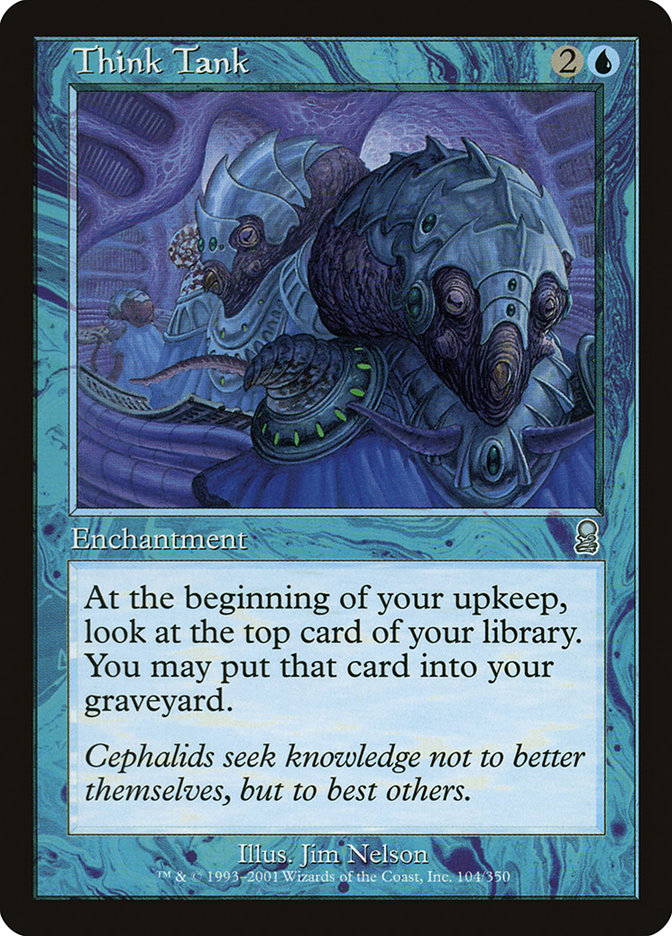 I thought I was locked into winning this round, which would have put me at 5-0. I just attacked for three with my Deathmist Raptor, putting him to fourteen, played my second Raptor, ultimated Liliana, the Last Hope, and sat back, satisfied with my upcoming victory. However, I did not really consider every card that my opponent could have drawn. Sure enough, he had a Secure the Wastes for five at my end step, and Ormendahl, Profane Prince defeated me two turns later.
Bad beats, right? Not so much.
If I thought about it a little more, I could have realized that this line was the only way my opponent was going to win this game. By knowing that, I could have cast my Den Protector face down, megamorphed it to return Duress to my hand, and cast the Duress. This play would force my opponent to cast his Secure the Wastes immediately, and I would be able to use Liliana, the Last Hope to kill one of the five tokens and I would still be in the game.
The lesson here is that it is vital to imagine any possible way your opponent can win the game when you are extremely far ahead. If you can think of a way that your opponent can win, then play in such a way that shuts the door on that possibility. Playing my Den Protector in such a fashion would not be considered optimal in any way, but it would have been the correct play. Optimal plays are not always the correct plays.
On Modern
Creatures (13)
Lands (20)
Spells (27) I played Infect to a 6-2 finish in the Sunday Modern Classic, good for fifteenth place. Both of my losses were completely my fault, and again it was a good learning experience. The two matches were eerily similar. I won Game 1 in each of them, and my opponent mulliganed to five in a post-sideboard game where I did not play an extra threat in order to play around a card that they did not have, and I was too therefore too slow at defeating them. Losses like those hurt, and I won't be forgetting about them anytime soon.
After purchasing the cards for Legacy Infect on MTGO to prepare for the Legacy Open in Worcester, I had basically everything for Modern Infect as well, so I decided to try it out in some Leagues. Historically I have had a low winning percentage against Infect and I just thought it was because the midrange decks that I like to play were soft to the poisonous archetype. However I quickly realized that Modern Infect was just generally good against everything, and it felt like I was playing Legacy Infect on easy mode. Sure, you don't have Force of Will and Brainstorm in your deck, but besides that, the Modern version isn't that much worse than the Legacy counterpart, in my opinion, while the decks you play against in Modern are way worse than Legacy decks.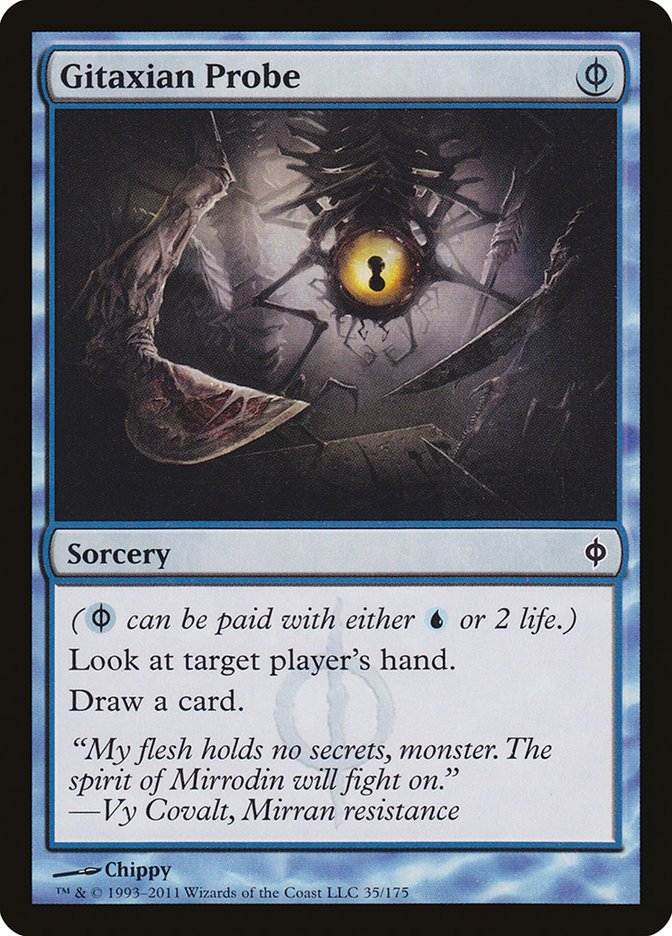 I'm speechless on how good this card is in a deck like Infect. For the extremely low cost of two life, zero cards, and zero mana, you get perfect information of every card in your opponent's hand, which allows you to manipulate the game exactly how you need to in order to win. With even my limited exposure to playing Infect, the percentage of games that I've won because I was able to see my opponent's hand is staggering. Both of my losses in this tournament would have been easy wins if I had a Gitaxian Probe. I am honestly shocked that this card is still legal in Modern.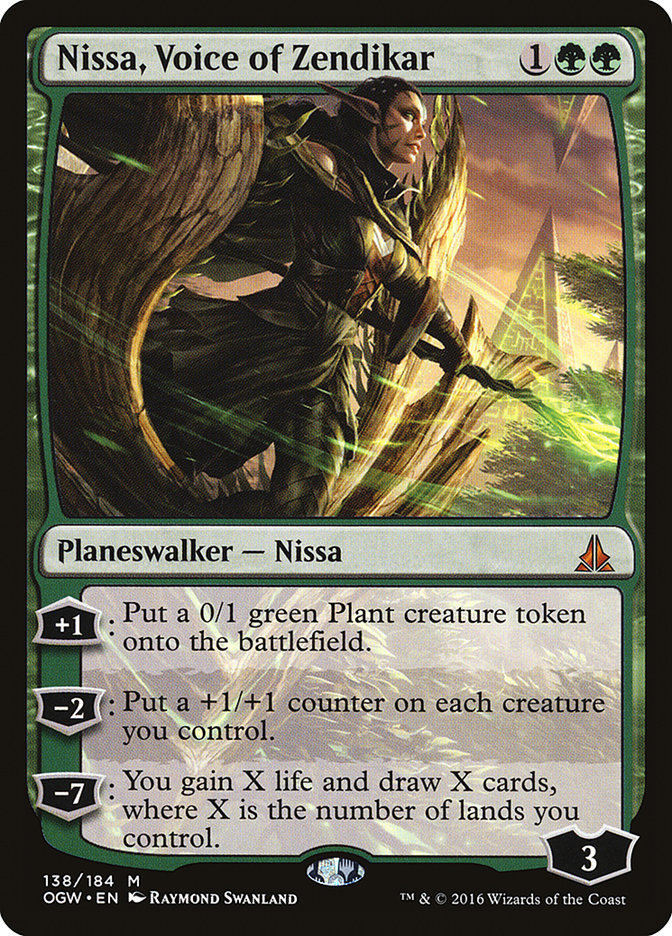 No, that isn't a typo in my decklist; I registered three copies of Nissa, Voice of Zendikar and plan to do it again the next time I play Infect. Many Modern decks have been around for years, but that doesn't mean that they are necessarily optimal. I would always recommend people try out new cards in established Modern decks. Not only may you find something great, but also most players are very aware of the usual decklists and may not know how to play against new cards. I can't imagine Jeff Hoogland playing the exact same Kiki-Chord deck in two tournaments a month apart, which is a main reason he is so successful in the format. You need to have quite a good reason if you aren't changing up some cards in your favorite Modern deck every so often.
When I originally picked up the deck, I struggled against control decks that were able to eliminate every threat that I could put on the battlefield. And by "struggled," I mean "have a close to 50% matchup," which, for an Infect player who has so many laughably good matchups, 50% feels like a struggle. I was concurrently practicing with Legacy Infect as well, and in that format I had Sylvan Library as a sticky threat that would continue to accrue card advantage, and I wanted that in Modern. Looking through my MTGO collection, I found Nissa, Voice of Zendikar, and it's been exactly what I wanted.
Nissa can adapt to the situation quite well and do a lot of little things that add up. Although the Plant tokens are only 0/1 creatures, each one can still be a threat when your deck is filled with Noble Hierarchs and pump spells. Sometimes you need to add counters to your infect creatures to change the clock or on your Plant tokens to make your opponent use a sweeper. Sometimes you need to draw cards, and Nissa has the same clock as an Ancestral Vision while almost always drawing more cards. She's just a threat that attacks control decks such as Jund, Abzan, Grixis, and Jeskai from a different angle while providing versatility to fill whatever role the game requires. There may very well be a better sideboard card for these situations than Nissa, Voice of Zendikar, and I will continue to tweak and try out new cards, just like you should with your Modern deck.
Comments from Last Week
Last week I wrote The Complete Guide to G/B Delirium, and I'm going to finish out my article today by highlighting a couple comments to the article. If you would like to be featured in next week's Comments from Last Week section, leave a question or comment below and be sure to come back next week to see if you made the cut!
Great read! I have been looking forward to this article since the weekend. Other than the swap between the advocate and the Gnarlwood Dryad, are there other changes you would make? I'm looking for a deck to play in GP Portland. What would you say is the biggest selling point of this deck in comparison to other well established decks in the format?

-Thomas Rogers
You can see the changes that I made in the article above, and I was satisfied with each one. There currently aren't any other changes that I'm looking to make right now, except take one Aerial Volley out of the sideboard because of the drop in Spirits decks; three is just too many. The biggest selling point to this deck compared to other well established decks is the consistency of the manabase and the resiliency that Deathmist Raptor, Den Protector, and Liliana, the Last Hope provide.
This deck looks like it would benefit from some Noose Constrictors. Instant speed delirium seems strong. Also discarding Raptors while bashing for 4 or 5 seems like a thing.

-Damian Fielding
I'm sorry, Damian, but I just don't agree with the deck benefiting from Noose Constrictors. Besides Deathmist Raptor a small percentage of the time, there is no other card in the deck that I would be actively interested in discarding. Usually casting Deathmist Raptor is a better option than placing it in the graveyard; same with any other card in the deck.
The Road to the Players' Championship
Season Two of the SCG Tour® is in the home stretch, continuing with #SCGRegionals this weekend. After that, the SCG Tour® stops by Syracuse for Modern, and then we have the all-important Invitational in New Jersey to finish the season. Andrew Jessup, Kevin Jones, and I are neck and neck heading into the last three events, where we are competing for two spots in the Players' Championship behind Tom Ross. Make sure you tune in to both #SCGNY and the #SCGINVI to watch the action unfold on SCGLive®!