The best way to find a winning deck right out of the gate, even after major bans like we've just seen, is to build a deck around cards and strategies from old sets that have been successful and complement them with the best cards from the newest set.
Personally, this has never been my approach, as I find Constructed much more engaging when I'm exploring something really new. To keep things interesting, I start by exploring a new mechanic and fall back on traditionally successful strategies only once I realize that I can't beat them.
The most interesting new mechanic to me is Improvise. This is essentially the affinity mechanic, though you can only use Improvise for one spell per turn, and affinity is a mechanic we already know to be broken. I want to start by seeing how far we can push Improvise.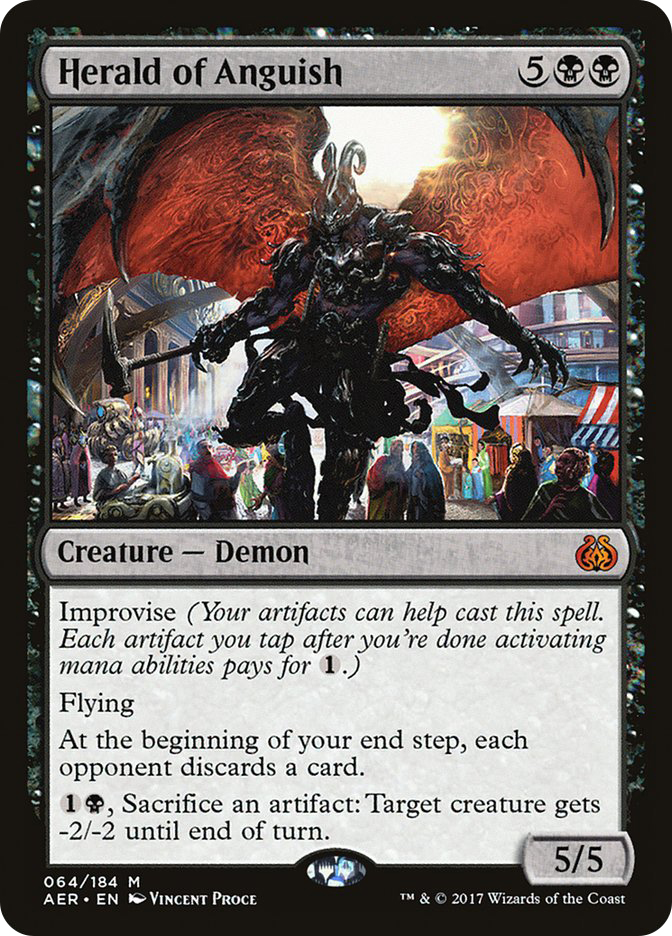 If you're just playing one artifact per turn, most of the Improvise cards are pretty fair. Herald of Anguish can come down on turn 4, which is nice, but it's not enough better than other four-mana Demons we've seen to really offer enough payoff for the possibility that you miss your artifact curve if that's the best you can do. If you really want to get the most out of it, you want to find ways to play artifacts that cost zero or cards that give you multiple artifacts.
Cathar's Shield, Bone Saw, and Ornithopter are the options available for zero-mana artifacts, and Servo Exhibition, Cogworker's Puzzleknot, and Servo Schematic are the cheapest ways to make multiple artifacts. While these cards aren't very powerful, I do think there's an interesting way to combine them.
My first thought is something of a Mardu Aristocrats strategy.
The core idea is to use Sram, Senior Edificer to draw cards for casting zero-mana Equipment and then use the zero-mana Equipment to cast Sly Requisitioner, sacrifice the Equipment to Ravenous Intruder, and finally sacrifice other artifacts to Ravenous Intruder to get the Equipment back with Scrap Trawler and cast it again to draw more cards with Sram. That's enough moving pieces that this is all basically a Magical Christmas Land scenario, especially if we can find backup cards for the important pieces. There are cross-synergies that don't require assembling everything, but this still might ultimately be too many moving pieces.