Aether Revolt is one of the most impactful sets on Modern since the Eldrazi. The first-ever Team Constructed event this weekend on the SCG Tour® in Baltimore critically places every Modern player in the "B" seat. Not only will players be tested in being able to properly utilize some powerful new cards, but whether they can help navigate their teams to victory in their own respective formats.
There are a lot of powerful new cards and interactions waiting to be shown off this Saturday, but if I had to bet on what the history books will ultimately show as "best Modern card in Aether Revolt," it wouldn't be on Fatal Push or even the inherently busted interactions of the Expertise cycle, but Renegade Rallier.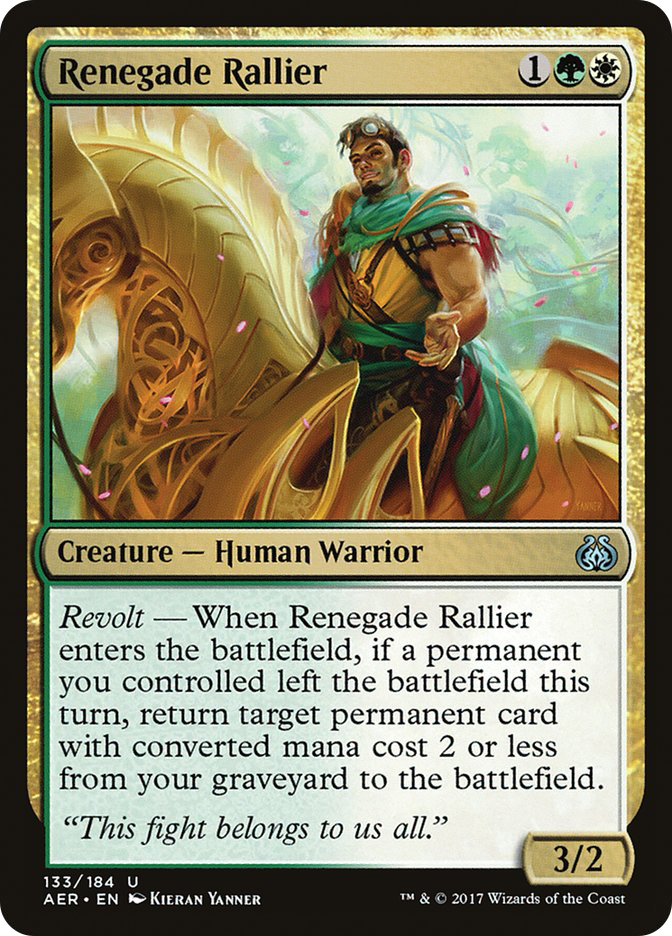 On Floors and Ceilings
One of the ways in which to evaluate cards with variable effects is the concept of how high or low its floor and ceiling are. In other words, how bad can this card possibly be and how brightly can it shine? In terms of Standard, Renegade Rallier isn't exceptionally exciting due to the actual amount of effort it takes to trigger revolt. There are legitimate deck building costs to incorporating cards that leave the battlefield in high numbers, and as a result you may often end up with a creature that is simply its printed stats.
Of course, Eternal formats don't have this problem because of fetchlands. Unsurprisingly, as Magic ages, there are inevitably more powerful interactions with the best lands ever printed. As it stands, it is essentially "free" to include ten to twelve fetchlands in the vast majority of Modern archetypes, which dramatically raises the floor on Renegade Rallier. The three-drop will nearly always represent a three-powered ramp spell that generates a mana the turn it enters the battlefield. That is an utterly outrageous worst-case scenario, especially when decks that are interested in playing the Rallier are typically incorporating additional mana acceleration like Birds of Paradise and Noble Hierarch to turbo-charge their decks.
Beyond that, Renegade Rallier also has limitless potential. It is one of the most powerful grinding creatures of all time due to its ability to backdoor into various combos, return any type of permanent, and enable various types of synergistic recursion engines. A Jund or Grixis player may have no shot at legitimately fighting through a properly built Renegade Rallier deck in the mid-game with Lightning Bolts and Fatal Pushes, as each iteration of the three-drop can potentially return far more than "simply" the four power of a Tarmogoyf once cards like Saffi Eriskdotter or Voice of Resurgence start to be factored in.