Texas is huge. So big that entire metagames and new decks are created from the large player base.
As the saying goes: Don't mess with Texas. If you do, you want to be prepared to not be run over by the aggressively slanted decks that Texans love to play.
People always second-guess that regional slant when I mention it. Believe it, it's true.
SCG Dallas/Fort Worth
I didn't go to last weekend's SCG Tour® stop in Dallas. Modern was the name and aggro was the game. I preached to anyone that would lend me their ear that Texas (and specifically Dallas/Fort Worth) was known for gettin' it done with a flurry of beatdown and direct damage.
If there was a tournament that I could've brought Soul Sisters to and felt like I had a real chance, it would've been #SCGDFW. Todd Stevens had been working on G/W Company, which also preys on small creature decks like Burn and Zoo with cards like Courser of Kruphix and Voice of Resurgence.
Creatures (27)
Lands (23)
Spells (10) I told Todd that G/W Company was a good choice, and even a "first or dead last" choice. By that I meant that if Todd could fade some of the bad matchups in the early rounds, he'd be well set up to win in Day 2 and in the Top 8. He ended up not losing any matches in Day 2 and was also rewarded with a good bracket in the Top 8.
Sadly, the Death's Shadow can only be avoided so much and he fell in the quarterfinals.
If, before the tournament, I had to guess what the finals matchup would be for SCG Dallas, it would've been Burn versus Death's Shadow.
Creatures (13)
Planeswalkers (3)
Lands (18)
Spells (26) Creatures (14)
Lands (20) Before moving up to Roanoke, VA to work more closely with StarCityGames.com®, I lived in Baton Rouge, LA. If you checked the player profiles from the Top 8 of SCG Dallas, you see that Open champion Austin Bursavich is from Baton Rouge as well.
Austin and I gamed together on the regular. In fact, he would've Top 8ed Pro Tour Fate Reforged with Modern Infect had I not given him my lucky Tom Ross Infect token for his Round 16 win-and-in versus Justin Cohen, who was playing Amulet Bloom.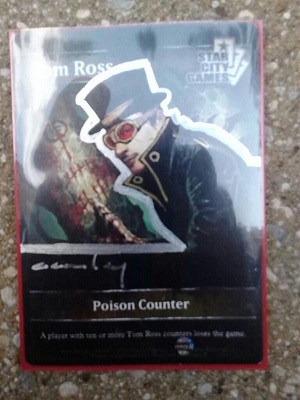 Austin used paper to record poison throughout the tournament before that round. During Game 3, Austin attacked for two poison with a Glistener Elf with a Noble Hierarch trigger. Justin took a complex turn, and in the meantime the Infect token with a die on it was shifted off-camera for coverage purposes. Austin, in mental exhaustion from the tournament, forgot about the earlier two poison when he had another eight poison rolled up to deal on turn 3. He ended up doing a few damage, passing the turn, and dying on Justin's next turn.
Justin went on to finish second in the Pro Tour, while Austin went back home to Louisiana to be a father and family man… until SCG Dallas, that is. He picked up Death's Shadow on little-to-no practice and won the tournament by squeaking into Top 8 on tiebreakers, beating The Favorite of the tournament in #1 seed Todd Stevens en route to victory.