When a format becomes narrow, it becomes much easier to build a metagame deck. Granted, in this day and age, the threats are powerful and the answers are limited, so finding a deck that can match up against Gideon, Ally of Zendikar; Heart of Kiran; and the Felidar Guardian / Saheeli Rai combo is a tall order, but it is possible.
It's especially easy when both of the top decks are the same style or just weak to the same types of cards. Standard has converged at midrange. Building a deck to out-midrange the other decks isn't a great route to go, as you still have to fade the Toolcraft Exemplar / Heart of Kiran and Saheeli Rai / Felidar Guardian draws.
Still, if you can out-midrange them while also being good against those draws, you probably have a winner.
My secret weapon?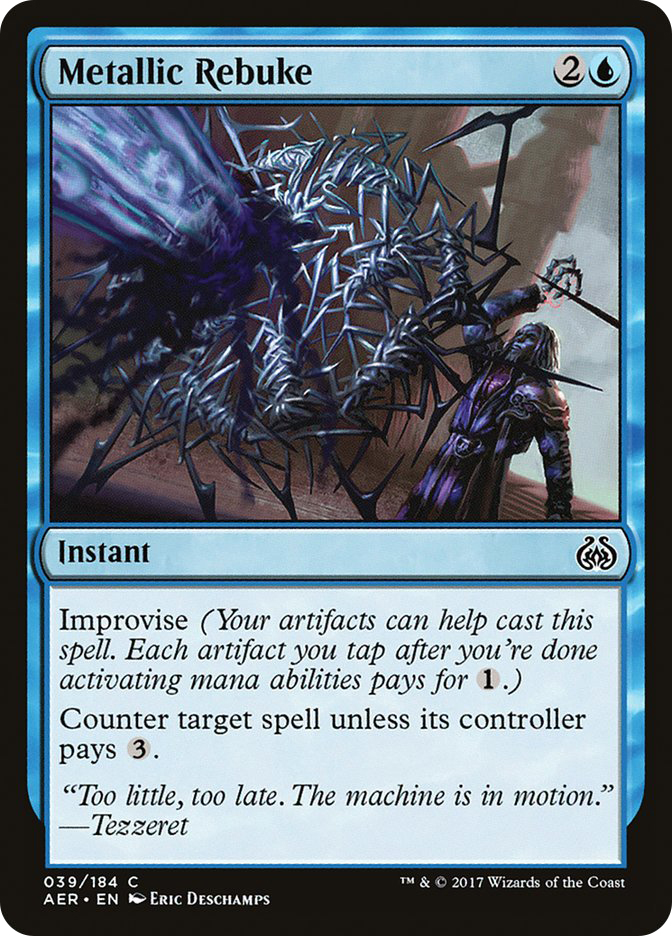 Both Mardu and Four-Color Saheeli are winning most of their games off planeswalkers. Every deck in the format is prepared for their Plans A at this point, so it was time to go in a new direction. As is turns out, both Plans A were weak to spot removal, and planeswalkers are quite good against decks that have a pile of spot removal.
Metallic Rebuke is the great catchall, especially if you have artifact synergies for improvise. You don't need Metallic Rebuke to cost one mana; even at three mana, you're probably making a favorable trade. However, when you start getting to double-spell on a turn where they're stuck casting a four-mana sorcery, that's when you're going to start pulling ahead.
To use Metallic Rebuke, I want some artifacts, but that's about it. Even something like Tireless Tracker or Whirler Virtuoso is good enough for me.
A common theme in these decks is going to be Metallic Rebuke in the maindeck, although I definitely think it should be a sideboard card. While you can snag some Gideons or Avacyns in Game 1, it's going to be difficult to have that happen when you're under pressure from Toolcraft Exemplar. Post-sideboard, assuming yours is a deck where they want to transform, is where Metallic Rebuke is going to really shine.
So once we decide we want to explore Metallic Rebuke, where do we go from there?
Deckbuilding with Clusters
Sam Black wrote an excellent article about this method of deckbuilding, and I highly recommend you check it out if you haven't already.
There are a number of clusters to work with in Standard, and once I realized how sick Metallic Rebuke could be, especially in post-sideboard games, it was easy to fill out some decklists.