How do you attack a two-deck format?
First of all, I do want to challenge the notion that this is a two-deck format. Obviously, there are the various Mardu and Saheeli decks, but what about Temur Dynavolt, Jund Aggro, Winding Constrictor, R/G Energy Aggro, and various Aetherworks Marvel decks? Sure, they are not putting up the same big numbers each week, but if you've got the right one on the right weekend…
...and that's sort of the point. The third deck each weekend is the challenger. Yeah, there are several Top 8s that have featured seven or eight Mardu or Saheeli decks. I'm not saying the situation is good. However, that's not the case every weekend, and the field is more than 33% "challenger."
That said, there is such a prevalence of Mardu and Saheeli in general, and especially at the top tables, that there may be a lot of opportunity to exploit them. It's going to be hard to compete with Mardu on "quality" and it's going to be hard to compete with Saheeli on "synergy;" however, that still leaves us with "positioning."
Gerry Thompson's article on Friday really resonated with me.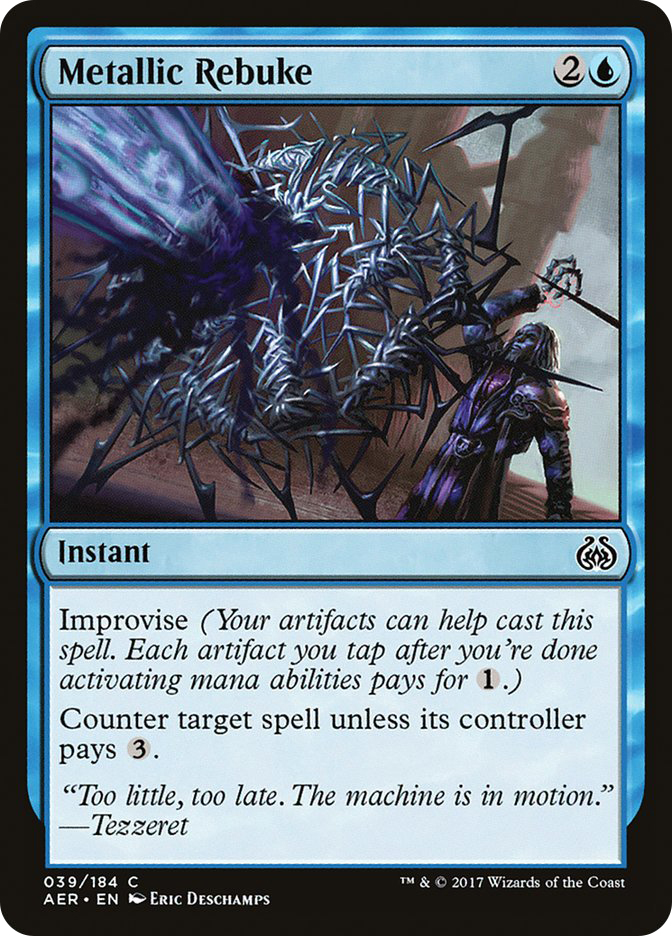 Metallic Rebuke was fantastic in my testing for the Pro Tour and seems particularly well-positioned now. Both Mardu and Saheeli decks play a diverse mix of devastating threats. Having a reliable answer to planeswalkers, Vehicles, Felidar Guardian, whatever, is a huge boon, particularly when it's such a mana-efficient play.
In building the Improvise deck I played at the Pro Tour, I spent most of my time testing against Mardu Vehicles, G/B Constrictor, and Saheelis (evenly split between Jeskai and Four-Color, as well as some straight-up Jeskai Control with the combo in the sideboard). With G/B Constrictor and control mostly fallen by the wayside and Saheeli decks almost entirely Four-Color, the format calls for a very different build.
First, for reference, here's the deck I played at the Pro Tour:
Creatures (4)
Planeswalkers (4)
Lands (23)
Spells (29) My sideboard was absolutely terrible, and my post-sideboard win percentage was pretty disappointing compared to that of Game 1. That said, rebuilding Improvise is definitely not as simple as making a better sideboard. This version was already not at its best against Mardu, and the Mardu decks have evolved to be even harder for it.
This version's gameplan was great against G/B, since I could just Fatal Push, Grasp of Darkness, and Battle at the Bridge whatever they played and then take over with Tezzeret or Herald of Anguish. However, when facing Mardu, you kind of don't want to sit around drawing cards with Prophetic Prism and Metalspinner's Puzzleknot and using them to cast Reverse Engineer. Besides, it's really hard to be so reliant on creature kill when you also have to deal with planeswalkers and Vehicles, too.
I'd like to try something a bit more aggressive, better set up to attack planeswalkers. Additionally, I want to preserve the strength against Fatal Push but improve the resiliency to Unlicensed Disintegration and Release the Gremlins.