Welcome back to the Grand Prix Richmond countdown blog! Yesterday, I showed you your travel options and places to stay this weekend at Grand Prix Richmond. Whether you're flying into Richmond International Airport or packing five deep into your friend's Honda Civic, you're one step closer to getting to the Greater Richmond Convention Center for all of the festivities at Grand Prix Richmond!
When I'm at any Magic tournament, one of my favorite things to do is round up some of my closest friends and break bread. Yes, in theory, you could eat convention center delicacies all day, but why do that when Richmond has such an amazing food scene? So today, I'll be going over a few awesome restaurant options that you should plan on going to while in The River City.
821 Cafe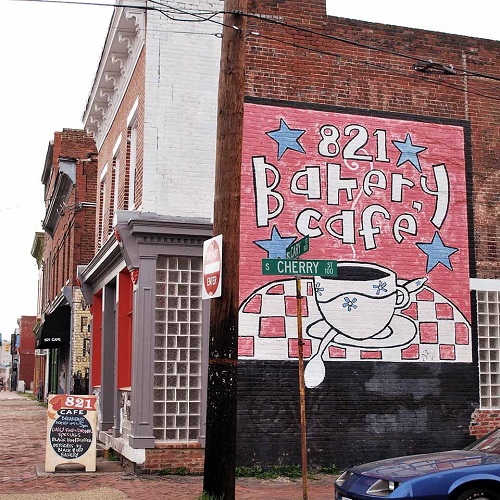 A good day starts off with a good breakfast, and that's what 821 Cafe is serving up. With a robust menu of signature omelets, famous mimosas, and an infamous vegan breakfast burrito, 821 Cafe has a little something for everyone. 821 Cafe opens at 9am on Saturday and Sunday, so if you've got byes Saturday morning or just feel like starting your Sunday activities a little later in the day, this is the place to be to get your morning in Richmond started off right.
View 821 Cafe's menu here.
Kuba Kuba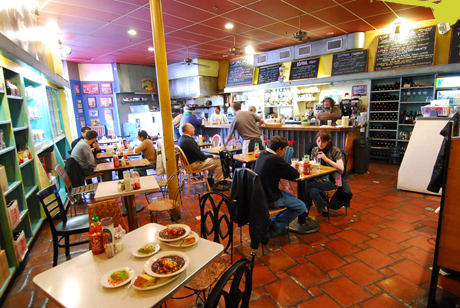 If you're on the hunt for great Cuban food, look no further! Good friend and GP Atlanta champion Jason Ford once took me to Kuba Kuba during an SCG Tour® weekend in Richmond. And while Jason might take pleasure in bullying me on Facebook, introducing me to Kuba Kuba shows that he does have a soft side occasionally.
A beloved neighborhood restaurant in the heart of "the Fan" in Richmond, VA. Founded in 1998 by chef Manny Mendez, serving home-style dishes inspired from his family's Cuban heritage. Open for breakfast, lunch, dinner plus brunch on the weekends. Large portions served in a bodega-like atmosphere.
While Kuba Kuba does serve up breakfast (starting at 9am), it's the dinner menu you want. From ropa vieja and paella valenciana to guava ginger shrimp and braised pork shank, Kuba Kuba's menu is as deep as it is delicious. The restaurant is small and chances of a wait are high, but Kuba Kuba is certainly worth the trouble.
View Kuba Kuba's menu here.
Mama J's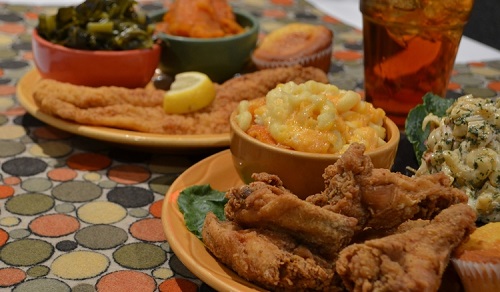 Young Cedric grew up on three things – Mega Man, basketball, and soul food. Fried chicken, catfish, pork chops, mac and cheese, yams, string beans, and peach cobbler are just a few reasons that my family get-togethers were so awesome while growing up in Cleveland. And while Mama J's can't duplicate my grandma's cooking, they sure do come close.
Mama J's is Richmond's premier soul food dining experience. This family-owned and operated restaurant located in Historic Jackson Ward celebrates the family tradition of going to grandma's house for Sunday dinner. With a vast array of mouth-watering favorites, Mama J's combines great southern food with outstanding service in a relaxing atmosphere.
At this point, I imagine most people have had soul food at least once in their life. But if you haven't, ignore my Kuba Kuba recommendation and get out to Mama J's and indulge in delicious fried chicken and mac and cheese. Trust me when I say that you'll be glad you did.
View Mama J's menu here.
Tarrant's Cafe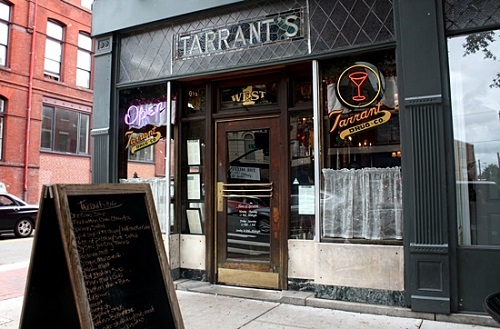 During my first trip to Richmond way back in 2011, Gerry Thompson won his first of two SCG Tour® Invitationals. That weekend is one I'll never forget, not only because of Gerry's win, but also because of Tarrant's Cafe.
Long known as Tarrant's, 1 West Broad Street is located at the corner of Broad and Foushee Streets. In the 1800's, this area of Broad Street experienced many changes. Most significantly after the April 1865 evacuation fire, damaged Main Street businesses moved to Broad Street as the city rebuilt. The very width of the street provided a central area for transportation that was key to Richmond's recovery. In 1883, 1 West Broad Street became a drugstore owned by Harrison and Pierce. In 1905, it was taken over by William G. Tarrant, who started Tarrant Drug Company. This corner drug store sold glasses and all kinds of medicinal remedies. Physicians could prescribe and purchase remedies on site. After Tarrant's death in 1961, the drug store was taken over by his son Bill until 1987.

Today, Tarrant's Cafe is bringing upscale but affordable neighborhood service to Richmond's community.
If Kuba Kuba is a little too exotic and Mama J's is a little too heavy, Tarrant's Cafe is a great alternative. It's classic American eats with fun Richmond twists that parties small and large will enjoy. I cannot recommend it highly enough.
View Tarrant's Cafe menu here.
Shyndigz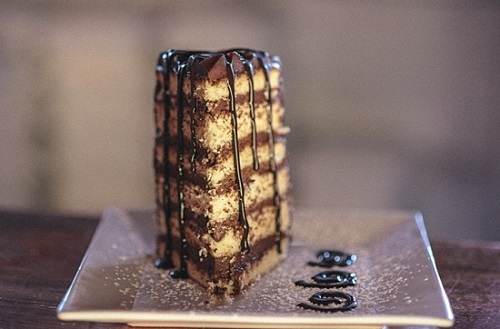 And the award for "Coolest Name for a Bakery" goes to…? Shyndigz isn't just a place that has an awesome name. It's a place with great dessert and a great story.
Humble beginnings on Patterson Avenue define the story of Shyndigz. For over a year Shyndigz was a one woman show with the help of a supportive husband, great friends, and family. People just couldn't comprehend a bakery that was only open at night. Fast forward 2 years, and the addition of three employees, the word finally started to spread about Shyndigz. Suddenly, RVA really started to like us...so much that we had to hire more icers, bakers, and servers. We just couldn't hardly keep up. The tiniest bakery in Richmond was doing some BIG business!!

Finally, after nearly bursting at the seams, we took our biggest leap of faith and signed a lease at 1903 W Cary Street, former home of the infamous Bogart's. It was seriously the biggest RISK we've ever taken. SERIOUSLY. Today, we're so thankful and so very blessed to have one of the busiest businesses in RVA.

We have nearly 40 of Richmond's most talented and passionate culinarians, artists, and students on our team. Without them, Shyndigz would not be a reality!! We're one big family that loves to eat & create delicious, memorable desserts....we hope you'll come and taste what we love to do every day!
I'd try to tell you exactly what item to get, but the Shyndigz menu is so diverse that I think it's impossible for you to not find something you'd like. They're open late on Friday and Saturday (open till Midnight) but closed Sunday, so if you're looking to experience Spotted Cow Cake, Grown Up S'mores, or Strawberry Lemon Cake, be sure to plan accordingly.
View the Shyndigz menu here.
What Tomorrow Brings
Now that you know more about how to make your belly happy, you're all set for Grand Prix Richmond! Tomorrow's final entry in the Grand Prix Richmond countdown blog will have a few miscellaneous news items and notes to help prepare you for one heck of a weekend. See ya then!
Previous Grand Prix Richmond Blogs