It's been since Journey into Nyx was released since the last time I was qualified for the Pro Tour. Few may remember that tournament since I found it to be one of the least interesting events I've ever played in. The format was Block Constructed and while I got to work with a host of amazing players for that event, it was my worst performance at a Pro Tour. Eidolon of Blossoms and Elspeth Sun's Champion, frequently complemented by Courser of Kruphix and Sylvan Caryatid fending off most any sort of aggressive decks that might exist, dominated the room and made for the most grindy games you could imagine. All in all I'm glad there's no more Block Constructed Pro Tours, especially with only two-set blocks now!
Now I find myself at the airport headed to Nashville for what will be my first Standard format Pro Tour, and I couldn't be more excited! This event has many unusual things about it you may not realize. It's one of very few Pro Tours that have had a banning immediately preceding it, not to mention an emergency ban. As well, this is likely the Pro Tour with the most amount of information available for it going in. Despite there only being one Standard SCG Tour® event leading into it, Magic Online has had more time to iron out the best decks because of Amonkhet's early release date by comparison to events prior.
So what does that mean? It means we're less likely to be taken by storm at this Pro Tour than others. It means people have a better idea of what to expect and what to prepare for. It also means I'm scared to death! Because I feel like with all this information right in our face, there has to be something looming in the shadows that some super team or a clever individual might have discovered. While, as I said, it is unlikely...it's certainly possible.
Here's a few to check out:
Creatures (24)
Lands (25)
Spells (11) These three cards from Amonkhet took the idea of playing a Zombie tribal deck from laughable to a serious contender. The ability to play the beat down role with super resilient threats against removal-heavy strategies (such as G/B Delirium) make this deck impossible to out-card advantage going long. The addition of Liliana's Mastery and Lord of the Accursed gave the deck much needed beef in the form of Lords, one of which you can't just kill with a removal spell!
Creatures (18)
Planeswalkers (2)
Lands (22)
Spells (18) Welcome to your Pro Tour format! With the exception of Mardu Vehicles, Ulamog, the Ceasless Hunger and company have skyrocketed in popularity online, taking up almost as many 5-0 spots as Mardu Vehicles. Maybe more...
It is important to note that this deck got nearly nothing from Amonkhet aside from some situational removal spells in Magma Spray and Sweltering Suns. So why have we seen such a huge uptick in play? It's hard to truly understand what some cards do to a format. With Saheeli Rai and [REDACTED] legal, there was little reason to mess around with percentages of hitting a powerful threat off of Aetherworks Marvel when you could just assemble an infinite combo with just two cards. Saheeli Rai combo pushed Aetherworks Marvel decks out.
Unfortunately, a hand of Aetherworks Marvel, Woodweaver's Puzzleknot and four lands can have the same feel as dying on turn 4, as there are few (if any decks) that exist that can handle an Ulamog ,the Ceaseless Hunger with its cast trigger happening that early. Luckily for us, that's not a highly likely sequence of events. There's always the possibility the Aetherworks Marvel player can look foolish when they draw a near-uncastable Ulamog, the Ceaseless Hunger.
Creatures (20)
Planeswalkers (4)
Lands (24)
Spells (12) For every action, there is indeed and equal and opposite reaction. Taking the form of U/W Flash from back in the days of Reflector Mage and Smuggler's Copter, this deck does its best to prey on the popularity of Aetherworks Marvel decks by playing almost entirely at instant speed! With a minor Spirits theme and some former format all-stars, this deck can hang with control decks by taking the aggro/control role, depending on the opposition.
Creatures (27)
Lands (21)
Spells (12)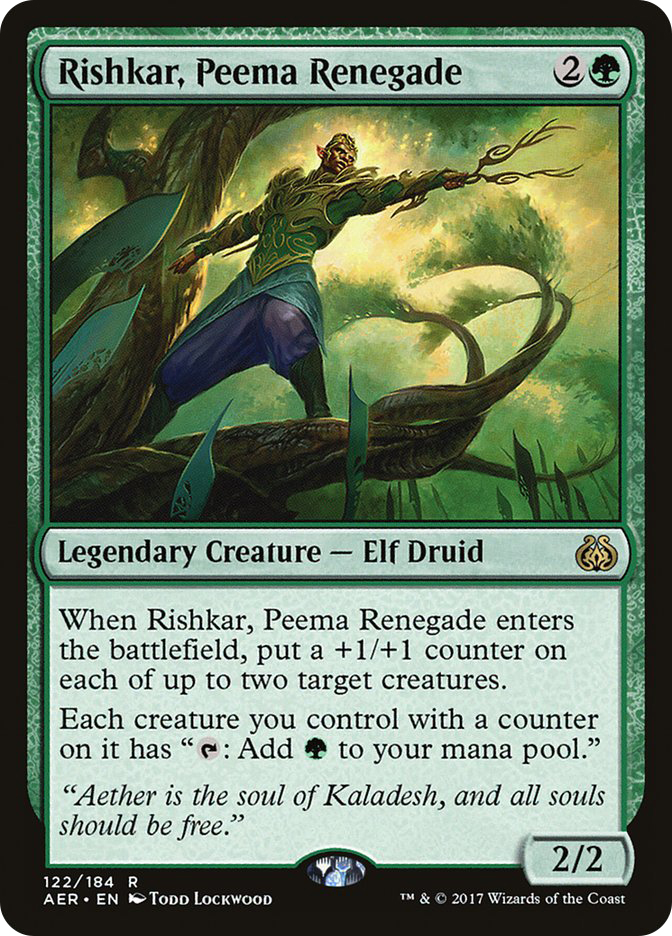 It seems like ages ago since Columbus when I won playing aggressive G/B Delirium. There are times when you look back and see just how far ahead of everyone you really were and that was one of those times. While the word has long since been out, Winding Constrictor retains its must-answer qualities since this more energy=based G/B variation can certainly function without it, but it is a monster if left unmolested. This, like Aetherworks Marvel, was almost pushed out of the format due to the existence of the aforementioned two-card combo, but it has since been given new life despite not gaining all too much from Amonkhet.
We all know what Mardu Vehicles looks like and you can be sure to expect that deck to be among the most played decks this weekend for sure. However, if there's anything Magic Online has shown us the past two weeks since Atlanta, it's that we have a much more diverse metagame than we saw then.
For this particular Pro Tour, I've chosen to do all of my Constructed testing online, and most of it was while I was streaming (shameless plug). If any of you have noticed, I have a strong bias toward a specific deck or two.
Creatures (15)
Planeswalkers (4)
Lands (23)
Spells (18) Not much has changed as far as the starting sixty, Ishkanah, Grafwidow is as powerful as ever, and endless removal in a creature-based format is still great. The real change here is the sideboard;
I'm taking a Modern format approach to the sideboard here. In Modern you don't want slight upgrades or minor swaps with card functionality; you want haymakers! Paired against Zombies? Kalitas, Traitor of Ghet is your guy! Ulamog, the Ceasless Hunger getting you down? Lost Legacy them back to wherever the Eldrazi came from! No more tiptoeing around with sideboard cards that overlap against decks and aren't as powerful. Just take them out at the core and be done with it.
Grim Flayer and friends have been my ally since their printing, and I don't expect that to change any time soon. However, if this Pro Tour is to be similar to when Kaladesh was first released, then I can expect a sea of Aetherworks Marvel decks, all of which I'm not excited to sit across from. While you can fight the good fight and sometimes hit their Ulamog, the Ceaseless Hunger with Lost Legacy, ultimately, it's a tough-looking battle. It might be best if I try and find another avenue for victory.
So I like to consider myself extremely well-versed with the classic G/B Delirium-style of deck, much like the list I just posted above. If that's my comfort zone but Aetherworks Marvel is the target in the room I'm afraid of, what's there to do?
Creatures (15)
Planeswalkers (2)
Lands (20)
Spells (23) Who says you can't have your cake and eat it too? This deck tries to be both an Aetherworks Marvel deck and a Delirium deck as well. I templated this deck to look very similar to the Aetherworks Marvel decks we saw dominate Standard before the Emrakul, the Promised End banning. This deck has a back up plan unlike most other Aetherworks Marvel variants: just win the game with Ishkanah, Grafwidow draining them out and Liliana, Death's Majesty fueling the fire. Have you ever seen an Ulamog, the Ceaseless Hunger turned into a Zombie? I have! While you don't get the cast trigger if you use Liliana, Death's Majesty to bring the colossal Eldrazi to the battlefield, you do still get a 10/10 indestructible creature that eats your opponent's library.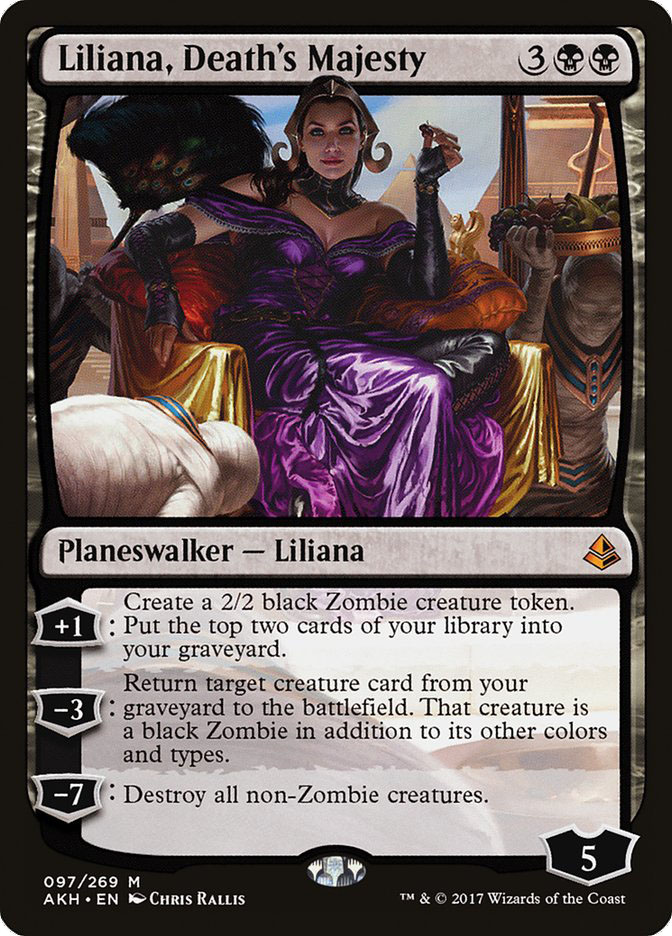 The weakness of this deck is that unlike its Temur counterpart, there's no other use for all the energy you produce other than Aetherworks Marvel. Temur has access to Whirler Virtuoso, which helps defend early and make use of excess energy, as well as Harnessed Lightning. That can take down even giant Verdurous Gearhulks. Sultai does give you Ishkanah, Grafwidow though, and if the expected field is Mardu Vehicles, there's no place I'd rather be than behind my Spider friends.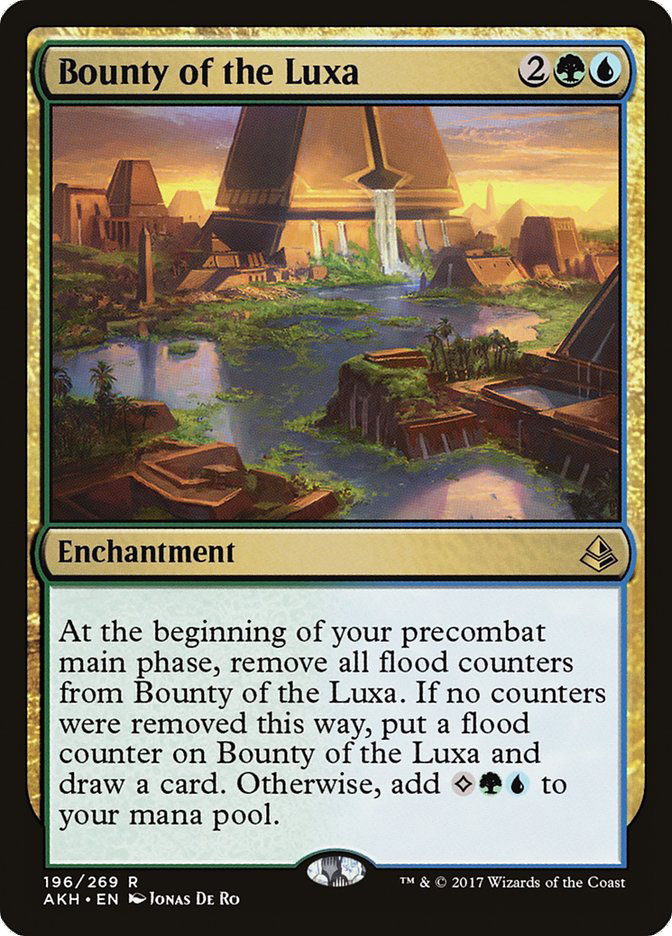 Sideboards are the most crucial part of your deck because they allow you to pick what you want to have game against. One new card from Amonkhet that I feel is due to breakout at the Pro Tour is Bounty of the Luxa. Not only does it give you card flow for the long games, it generates three mana, which can be huge if you're unfortunate enough to have drawn an Ulamog, the Ceaseless Hunger.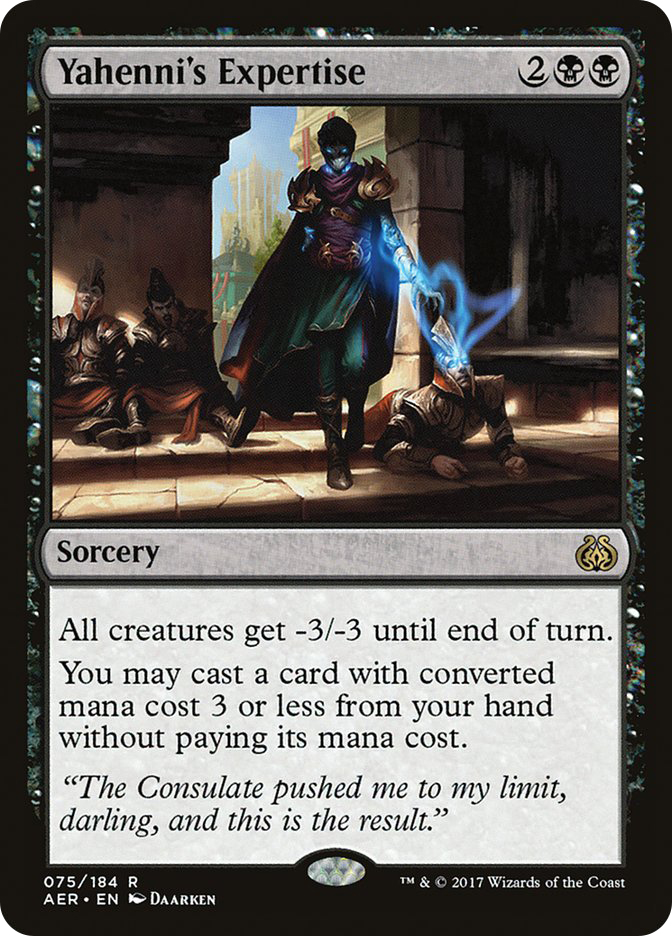 I've received a lot of questions regarding my inclusion of Yahenni's Expertise, a card that's almost exclusively for the Zombies match up, when a card like Flaying Tendrils exists that can permanently answer their recursive threats.
The answer is simple: -2/-2 isn't enough anymore.
With the addition of Metallic Mimic and Lord of the Accursed, the Zombie deck easily gets above the two-toughness threshold. While Yahenni's Expertise doesn't permanently answer some of their threats, it does kill a lot of them. The time it buys can be just enough.
G/B Delirium or Sultai Marvel are my two big choices for the Pro Tour. I have only hours to go as I'm writing this to decide which of those two lists I'll be playing. No this isn't a trick. There will be no last minute audible to Mardu Vehicles. I'm playing one of those two lists in Nashville, and I have no idea which deck I should play even now. Wish me luck!