Fun Fact: Every Pro Tour Tireless Tracker has been legal (five so far), I've had four registered in my decklist!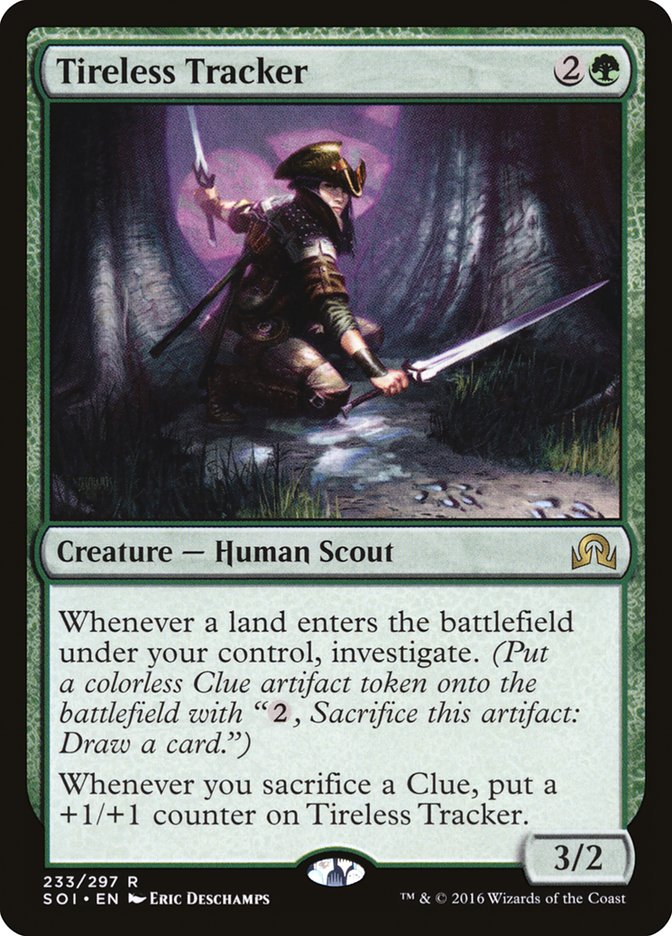 Only one of those lists didn't have four Tireless Trackers in the maindeck; Bant Company had one in my sideboard and three maindeck. Good thing they're tireless, because they've been doing a lot of work for me!
Fun Fact: I've gone 11-5 in three of those five Pro Tours, 11-6 in one (where I conceded the last round) and scrubbed out Pro Tour Oath of the Gatewatch thanks to the Draft portion, where I played G/W Tokens in Constructed, which was probably the best deck I've ever played in a Pro Tour.
I'm not sure exactly what to take away from this, but I feel like Tireless Tracker is an excellent card.
Obviously 11-5 at Pro Tour isn't as flashy as big Top 8 finishes, but I've had my fair share of those, and I'm happy putting up consistent results as well.
It also puts me tied for first place in the Standard Master race heading into the final Pro Tour of the season.
Not bad!
So how did I end up going 11-5 at #PTAKH?
Let's start with the decklist:
Creatures (21)
Planeswalkers (4)
Lands (22)
Spells (13) This is very similar to what I played at the last Pro Tour, Aether Revolt , although it took quite some time to actually figure out that the deck was still good.
My thought process was about what the best deck was shifted regularly during testing. At certain points I was sure I would be playing Temur Aetherworks before eventually deciding that Zombies was completely broken. But with time and practice I felt both decks had major flaws with consistency and were not what I was looking for.
Temur Aetherworks and Zombies were known entities heading into the Pro Tour and still some of the best performing decks of the tournament (Congrats to GerryT for winning the whole thing!), yet I was still happy playing B/G, even after the fact.
The two B/G Constrictor decks to make Day Two of the Pro Tour were me and my brother, Dean. Would not exactly call it the breakout deck of the tournament.
It's interesting to me that almost nobody decided to pick up B/G decks for the Pro Tour despite it not exactly being revolutionary or groundbreaking, because B/G is consistent and performed well for me. It felt favored against the big three decks of this Pro Tour: Mardu Vehicles, Temur Aetherworks, and Zombies.
I wouldn't blame you for thinking that Temur Aetherworks, Zombies, or even Mardu Vehicles would be favored against B/G; I thought B/G was unfavored against them all at some point too. In practice, I found that to not be the case.
The quick clock, relevant interaction, new cards, and most importantly, strong sideboard, made me feel it was a solid choice against the expected metagame.
So what new tools did B/G get?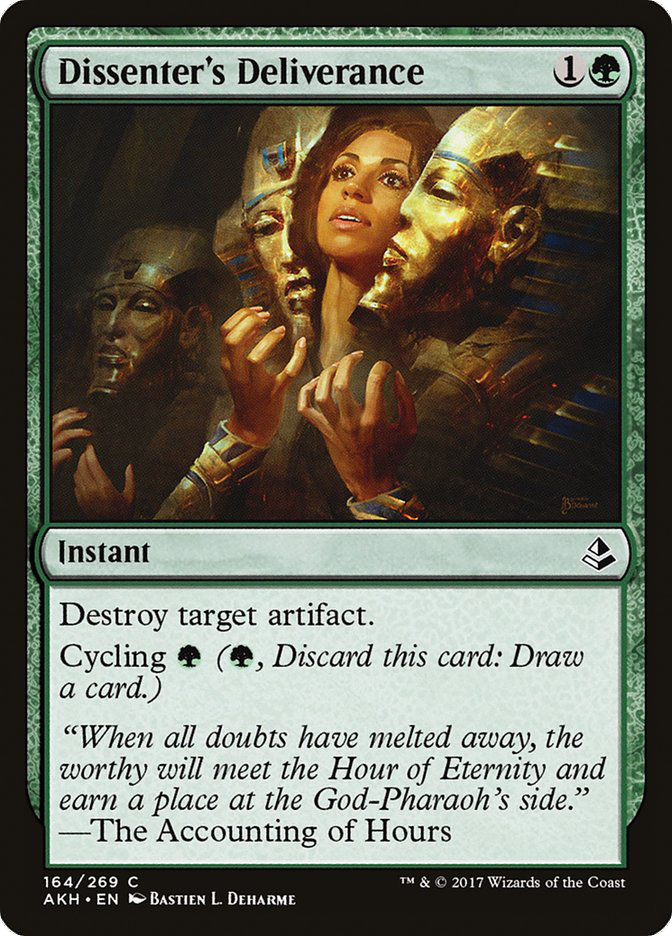 Dissenter's Deliverance is the most exciting new card to add to the deck.
First of all, it's amazing against the premier threats of the two biggest cards I expected at the Pro Tour: Heart of Kiran and Aetherworks Marvel.
I won a lot of games against Aetherworks Marvel opponents who would have a chance to spin their Aetherworks Marvel, but missed on Ulamog, the Ceaseless Hunger, then had there Aetherworks Marvel delivered to the graveyard.
Dissenter's Deliverance also plays amazingly against Heart of Kiran, allowing you to preemptively blow it up before it's crewed, which allows you to land an uncontested turn 3 Nissa, Voice of Zendikar or Liliana, the Last Hope. It would otherwise likely mess up your curve in the early game if you had to wait for an extra mana to keep up Fatal Push to protect your Planeswalkers.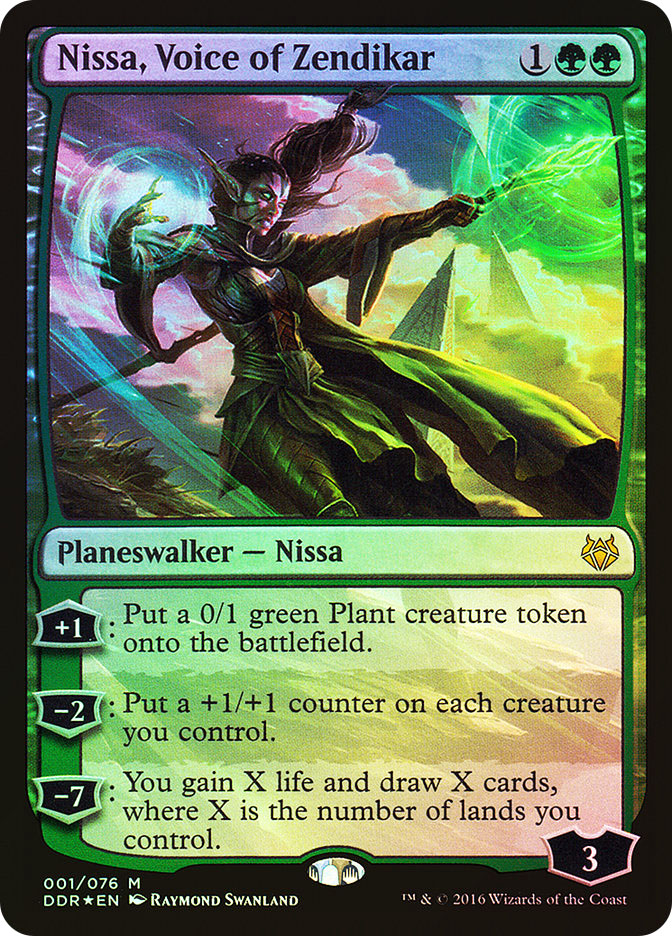 Dissenter's Deliverance also helped the mana base of the deck a great deal by making it so you didn't have to play Grasp of Darkness, and being able to have a "removal spell" also be card draw was incredible against control decks.
But Wait, There's More!
Dissenter's Deliverance kills...
But There's Still More!
Being able to cycle Dissenter's Deliverance is fantastic for more than just simply drawing a card. First of all, it helps a great deal towards enabling delirium for Grim Flayer, Traverse the Ulvenwald, and Ishkanah, Grafwidow. It also allows you to draw a card after you've hit your opponent with Grim Flayer to stack the top of your deck, effectively allowing you to dig four cards deep if you need to, turning it into Impulse for one green mana.
But There's Still More!
Actually, you know what that? That about about covers it. But Dissenter's Deliverance is great.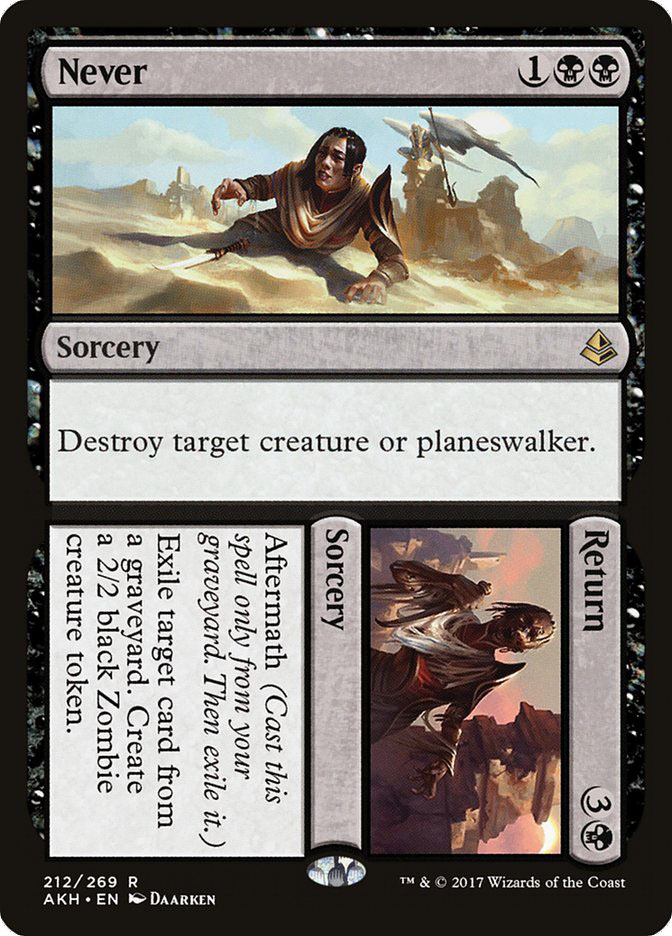 I will never say Never is less than amazing. It's not a strict upgrade to Ruinous Path, but it plays much better the vast majority of the time, and Ruinous Path was already very solid.
Just having access to a random 2/2 Zombie body would be reason enough to play it, but exiling relevant cards and being able to mill Never with Grim Flayer are nice bonuses as well. Zombies even matter for Kalitas, Traitor of Ghet.
Those are the new relevant cards that got added to the maindeck.
A Note Regarding Tournament Hall Special Effects
The tournament hall had a fog machine. It also had dimmed lighting, with different colored tinted lights being the main source of illumination. It's like they asked a focus group who had never played Magic before what should be added to improve the Pro Tour and they came up with the idea: "Reduce the visibility as much as possible and blow smoke at the competitors!" Next Pro Tour I expect lasers and blasting techno music.
Seriously though, there's no need to try and make Magic something it's not. Visibility and distractions are not helping the players, and I highly doubt it's increasing the quality of viewer experience that much.
Sideboarding in this Standard format is probably the most difficult it's ever been.
Temur Aetherworks, Mardu Vehicles, Zombies, and B/G all play multiple different roles in some form, and all three usually become more controlling post-sideboard.
I'm not sure if there are even any B/G players left out there , but for now it just still seems like a solid deck to me.
Sideboard And Matchup Guide
vs Mardu Vehicles
On the Play:
In:
Out:
On the Draw:
In:
Out:
Just casually bringing in thirteen cards.
Dissenter's Deliverance and Never help game 1, and you were already doing well thanks to four Fatal Push.
The tricky part is post-sideboard, because things start getting weird, but this is probably where you are most advantaged.
The main advantage being that pretty much every Mardu list has a very similar sideboard plan and we're able to trump it. They try and go bigger with Planeswalkers and lots of removal, so we go even bigger while invalidating their removal.
For example Nissa, Voice of Zendikar might seem like a strange card to have post-sideboard, but it's great against an opponent with a handful of Unlicensed Disintegration, Oath of Liliana, and Fatal Push.
Having Mardu opponents cast Oath of Liliana into an empty board is what you're aiming for.
vs Temur Aetherworks
On the Play:
In:
Out:
On the Draw:
In:
Out:
Temur Aetherworks is a very scary matchup. If they turn 4 Ulamog, the Ceaseless Hunger you game 1, there isn't really anything you can do to stop it without the most busted of draws.
That said, things aren't as bad as they seem if you're willing to endure the risk and realize it's not as scary as it seems. I went 4-1 against it at the Pro Tour and was consistently beating it online as well.
If your opponent is about 50% to draw Aetherworks Marvel in a given game before they die, and they still have to get the energy to activate it, and then they're only 40% to hit Ulamog, the Ceaseless Hunger, those numbers aren't so bad for you at all.
Dispossess and Transgress the Mind are obviously going to be all-stars here. Marvel players will expect this from you, so they'll try and be able to win the games where they don't get to activate Aetherworks Marvel.
Assume they don't hit Ulamog off Aetherworks Marvel and just try to out value them: This was the realization that helped me start winning against Temur Aetherworks with this archetype.
At the Pro Tour, I even sided out a Dispossess for game 3 after seeing my opponent had sided down to only two Aetherworks Marvel in game 2 and was going for a full midrange plan.
vs Zombies
On the Play:
In:
Out:
On the Draw:
In:
Out:
Zombies is a very appealing deck to play. It has nut draws with Cryptbreaker. It's potentially mono-colored and consistent. The creatures are all efficient, synergistic, and deadly.
I found Zombies to have trouble either flooding out, or being stuck on too few lands. There wasn't anything like Traverse the Ulvenwald to help bridge the gap. If Cryptbreaker survives you're golden, but otherwise you just seemed to fizzle out too often.
Fatal Push; Walking Ballista; Liliana, the Last Hope; and Kalitas, Traitor of Ghet are great in this matchup, but Zombies can just overrun you if they have a great curve.
The matchup is all about dealing with their key cards in Cryptbreaker and Diregraf Colossus while stunting their early aggression and building your battlefield up bigger than theirs before they reach critical mass.
It isn't hard to go much bigger than them with Winding Constrictor and Nissa, Voice of Zendikar or Verdurous Gearhulk if you aren't under a lot of early pressure.
I hope those of you trying to counter the big decks of the format and unravel the mysteries of the Snake have as much fun playing the deck as I did! Any other Snake-lovers left out there?