Whoops!
Or is it?
When a new set is on the horizon like Hour of Devastation, new cards from that set generally go through a preview process either via Daily MTG or various websites/content creators across the world to build hype and excitement for the adjoining Prerelease. It's a tried and true method that has worked for years and isn't one I imagine will be stopping anytime soon.
But sometimes, new cards from a new set also just "leak" out of nowhere. Take Dusk // Dawn for example:
Remember when this thing got "leaked"? No one knew what to believe! Was it real? Was it fake? Was it leaked on accident? On purpose? Would Wizards of the Coast actually design and print such a weird looking card? As we all know now, Dusk // Dawn is very real, along with the rest of the Aftermath cards, and they're all pretty sweet!
I've put leak in quotes above because who knows if the leaking of Dusk//Dawn was intentional or not. It's easy to make arguments on either side as both a player of the game or a creator of the game. Truthfully, I don't really care either way. After fifteen years of playing this game, I still get excited to see new cards and today we were "given" three very interesting ones.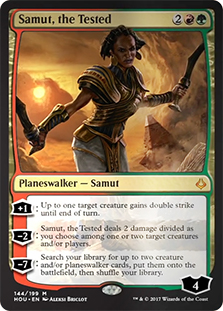 While this version of Samut doesn't have as many keywords as Samut, Voice of Dissent - and really, what does?! - there's still a lot going on with our newest R/G Planeswalker.
+1: Up to one target creature gains double strike until end of turn.
Double strike certainly has its moments of being powerful, but this is a weird +1 to see on a Planeswalker. Clearly Samut is meant to work in conjunction with creatures, and R/G has some of the most aggressive ones out there in Voltaic Brawler, Longtusk Cub, Bristling Hydra, and Electrostatic Pummler. Is this the card that puts R/G Energy into the same rarified air as Temur Aetherworks and U/R Control in Standard? Perhaps it spawns a new archetype altogether?
I will say that the idea of turning on Heart of Kiran with Samut and then giving it double strike is appealing to my aggressive senses…
-2: Samut, the Tested deals 2 damage divided as you choose among one or two target creatures and/or players.
Look, I'm glad that Samut has the ability to defend herself, but it's 2017 folks! Forked Bolt isn't actually gonna get the job done, is it? While Samut is picking off a Toolcraft Exemplar and/or Veteran Motorist, Gideon and his Knight Allies will be getting ready to tee off on Samut and/or her controller's life total!
Maybe this ability is better than I'm giving it credit for, but I'm not terribly optimistic.
-7: Search your library for up to two creature and/or planeswalker cards, put them onto the battlefield, then shuffle your library.
Oh the possibilities!
Not a bad ultimate, but this also doesn't strike me as something people will play towards much in a competitive Standard tournament.
Verdict: C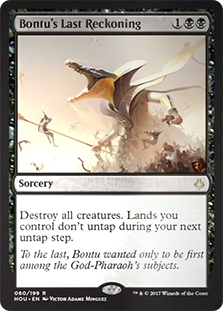 Hmmm. A three-mana wrath is what people are calling Bontu's Last Reckoning. But, as with most things in Magic, it just isn't that straightforward.
Lands you control don't untap during your next untap step.
That's a real cost, folks! The question is can that cost be overcome? Even though Bontu's Last Reckoning costs 1BB, I think it's better to look at it as a five- or six-mana spell in most situations. Ideally, you play Bontu's Last Reckoning with two or three mana left over to be able to protect yourself from whatever your opponent's follow up is with something like a Negate or Disallow.
It's possible that simply casting this on turn 3 to clear away a few creatures is acceptable, much like we see with Radiant Flames and Sweltering Suns, but leaving yourself at your opponent's mercy to resolve whatever they want in the early turns of a game is fairly terrifying.
Lastly, it's important to note that Bontu's Last Reckoning isn't mopping up any Vehicles or Planeswalkers, so if your opponent has a Heart of Kiran or one of many planeswalkers that are playable in Standard, you're gonna have a bad time.
Verdict: B (but wouldn't be surprised to see it be a D- or A+, depending on how a metagame shapes up.)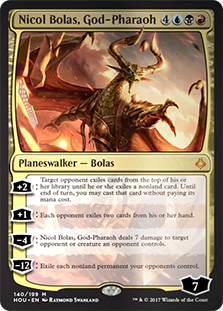 So. Many. Abilities! Let's take a look at each one shall we?
+2: Target opponent exiles cards from the top of his or her library until he or she exiles a nonland card. Until end of turn, you may cast that card without paying its mana cost.
So how powerful is getting a random spell from your opponent's deck? Truthfully, that's hard to quantify. Sometimes it's going to be completely absurd. Other times, you're going to wonder why you even have Nicol Bolas in your deck. This is a high variance ability that will often times be good, but this is fair warning that in some matchups, it might actually be horrible.
+1: Each opponent exiles two cards from his or her hand.
Powerful? Yes. Worth seven mana? Maybe…?
Thus far, the plus abilities on Nicol Bolas don't have me all that excited. Neither one of them is "bad" per se, but neither appear to be as good as what Nicol Bolas, Planeswalker offered up in Magic 2013. Perhaps it isn't fair to compare the two, but it's inevitably what everyone else is going to do, so why can't I?
-4: Nicol Bolas, God-Pharaoh deals 7 damage to target opponent or creature an opponent controls.
Now we're talking!
Seven damage is an absurd amount of damage. That's more than enough to take out any creature and that also means that Nicol Bolas is going to do a nice job of fighting Planeswalkers as well. But what actually gets me excited is that after using one of the + abilities, you're getting access to fourteen (!) points of damage directly to the opponent, so closing out a game quickly won't be too difficult.
-12: Exile each nonland permanent your opponents control.
Kaboom!
While this is a really flavorful ability, if you're actually getting Nicol Bolas to this many loyalty counters, I think you're better served dealing seven damage to your opponent until they can't take it anymore.
Which, by my math, is probably only twice. Because fourteen damage is a lot. And your opponent starts at twenty. You get it…
Verdict: B (but wouldn't be surprised to see this be an A because it feels like it should cost eight mana.)
Whether this "leak" was intentional or not, this allows us as a community to start talking about Hour of Devastation! Which is a lot more interesting than talking about Aetherworks Marvel and Ulamog, the Ceaseless Hunger, right?!
Oh God...