A series of unfortunate events capped by poor health kept me out of Omaha this weekend, which was a real bummer. I was looking forward to battling with my G/R Planeswalkers deck that I ended last week on. My testing was coming back with better and better results after each tune or tweak I seemed to make, and the Aetherworks matchup is in a place I am quite happy with. Still, Grand Prix Omaha went on without me, and congratulations are in order for Brad Nelson who put together an impressive two-week showing after SCG Baltimore last week.
Standard received quite the mixed message this weekend, with one Top 8 seemingly devoid of Aetherworks decks but another flooded with them. It feels like people are learning how to better fight Aetherworks, but the raw strength of that deck will keep it from dipping too low in popularity. Here is the list I would have played.
Creatures (6)
Planeswalkers (10)
Lands (23)
Spells (21) While I certainly recommend trying out the list above, Standard is desperately in need of innovation and one brew alone isn't going to do it. Meanwhile, Modern feels like the Wild West, where everything is seemingly viable. With these two formats in unique but opposite situations, I wanted to utilize them to show two different styles of brewing two new decks that each try to take advantage of their given situations.
I don't think there is a generally accepted term for these ways to build a deck, but I prefer to call them reactive building and proactive building, terms that echo similar elements of a proactive strategy (aggro) versus a reactive one (control).
Reactive deckbuilding is heavily metagame-informed. While every deck does something to acknowledge the metagame with sideboarding or some one-ofs, reactive deckbuilding takes this a step further and actively wants to respond to the metagame. These decks include specific interaction elements fine-tuned to beat a known metagame. All of the control lists running maindeck Negate and Ceremonious Rejection right now were built as a reaction to the current metagame.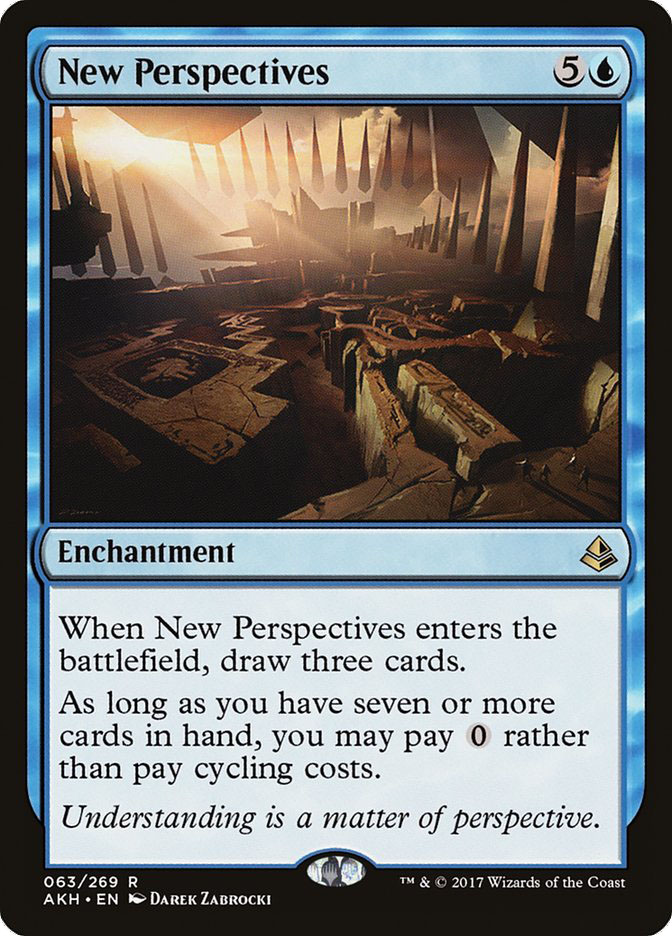 Proactive deckbuilding is largely metagame-independent. While the builder acknowledges the metagame, they don't look to drift far from their core strategy, lest it not actually work. New Perspectives, for example, might be able to up its Haze of Pollen count a little bit, but for the most part, the way that deck is constructed is done independent of what else is happening in the metagame. In the case of New Perspectives, this is due to a lack of options to allow it to be flexible, but in the case of something like G/R Energy Aggro, the deck operates better when it focuses on its core plan rather than reacting to the metagame.
A proactive strategy, like aggro, can still be built reactively, however. Zombies, as an example, can easily include cards like Transgress the Mind and Oath of Liliana in its main 60. This allows the deck to be better positioned against Aetherworks and the metagame while still maintaining its proactive nature of eating brains first and, well, never really getting around to asking any questions.
As with many two-category classifications, there is actually more of a spectrum here than two distinct camps. Every deck is informed by the metagame to some degree, as that is the most common way to use a sideboard, but some brewers take this a step further. It's not that important to always recognize the degree to which you are reacting to the metagame, but it can help give you direction on how to improve a deck that seems to be off-the-mark. By recognizing that you have either ignored the metagame too much or over-reacted to it, you can begin to adjust your list accordingly and maybe salvage an otherwise dead project.
Reactive in Standard
First, let's focus in on the reactive side of things. Standard right now is in a great position to be reacted to. In fact, most would say that the format demands being reacted to, as you simply cannot afford to ignore the best deck in the field. If we show up to a tournament with some stock aggro or ramp deck that does not have a specific gameplan against Aetherworks, can we really expect to do any winning?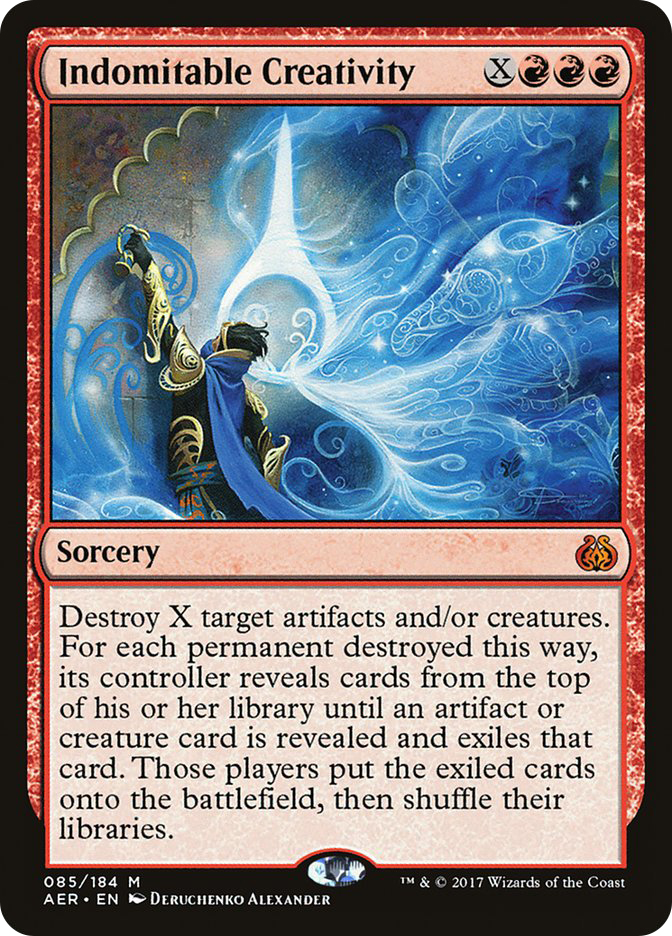 One reason that my G/R list from above has changed so much over the past month is that I originally built it from a proactive mindset, essentially ignoring what else was going on in Standard. Once I discovered "Indomitable Creativity into huge creatures" was not a strong enough proactive strategy, I had to go back and remold the list to function better within the context of Standard. For today's brew, I want to instead begin from a reactive mindset and see what sort of metagame weapon I can craft.
Building reactively is going to look a little different for whatever format you are doing it in. Because what we are fighting against helps shape our own list, it is good to recognize what things you are actually building against. In Standard, for example, we know Aetherworks to be at the top, but what elements of that deck can we, or should we, be attacking?
We have the benefit of looking at other decks in the format to help us out here and inform our own decisions. In this case, I am pretty excited by Thought-Knot Seer, who has been putting in work out of the sideboard of my G/R list. Attacking an Aetherworks deck's hand has proven to be one of the stronger means of disrupting the deck, and Thought-Knot Seer is arguably the most efficient hand disruption in the format, mostly without a deck to call home.
Armed with Thought-Knot Seer as a starting point, I was actually able to flesh out a deck pretty easily. Building reactively, I decided to take some risks and included metagame showstoppers in my maindeck that just don't make much sense outside of the context of Standard. Void Winnower in the main over something like Ulamog, the Ceaseless Hunger would never happen if we were building independently of the metagame.
Creatures (26)
Lands (24)
Spells (10) I have been playing with Eldrazi and Ruins of Oran-Rief together since they have been Standard-legal, so it's not too surprising to find myself turning to them again. While I think the metagame grew hostile to the more grindy nature of disruptive Eldrazi strategies for much of the last year, with the metagame solidified and some clear decks in our sights, I think now is a great time to bring 'em back.
The primary goal of this deck is to fight against Aetherworks, as it demands that respect from us. Now, this doesn't mean we have to build suboptimally just to beat Aetherworks. You will notice we have no maindeck artifact removal, for example, so it's not like we are throwing 60 cards against the legendary artifact and ignoring the rest of the field. We are, however, making valuable upgrades to help against Aetherworks wherever that makes sense.
World Breaker is a pretty natural one-of in a deck with ways to tutor for it, but it helps us out a little bit against Aetherworks. Transgress the Mind is a solid card all-around right now, but it helps us against Aetherworks. You will see this formula over and over again, not just for against Aetherworks, but also against Zombies, or Vehicles, or Torrential Gearhulk decks.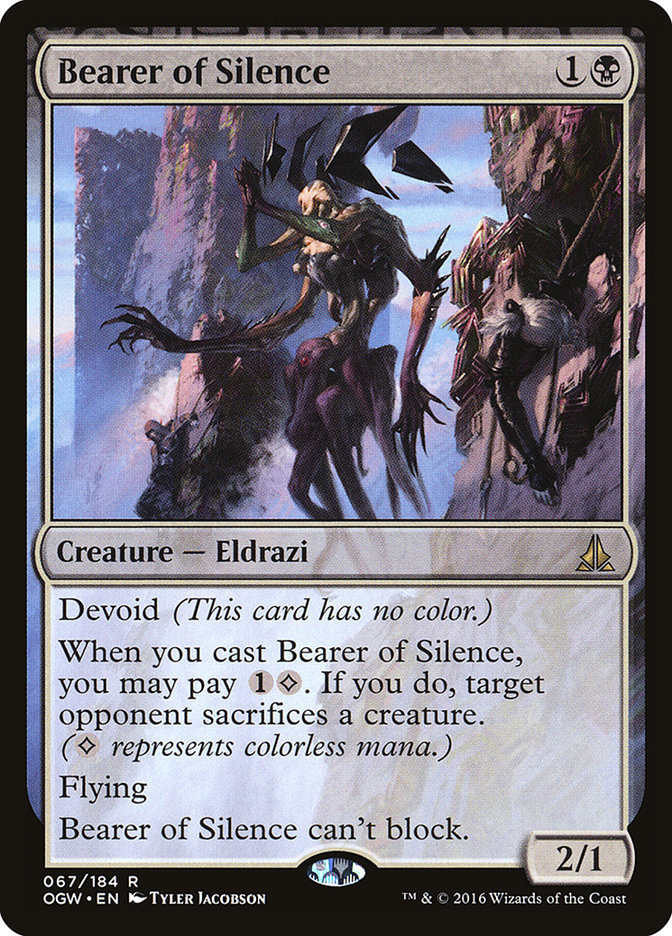 Something like Bearer of Silence might not stick out to you, but it is actually a pretty solid way to clean up an Ulamog if you have survived its cast trigger. Warping Wail and Titan's Presence being removal that exiles naturally helps our Wasteland Stranglers, but it also gives us valuable tools to fight decks like Zombies or cards like Scrapheap Scrounger. If we can get value against any of the Tier 1 strategies, I want to take advantage of that. Of course, this is even more amplified in the sideboard, as it should be.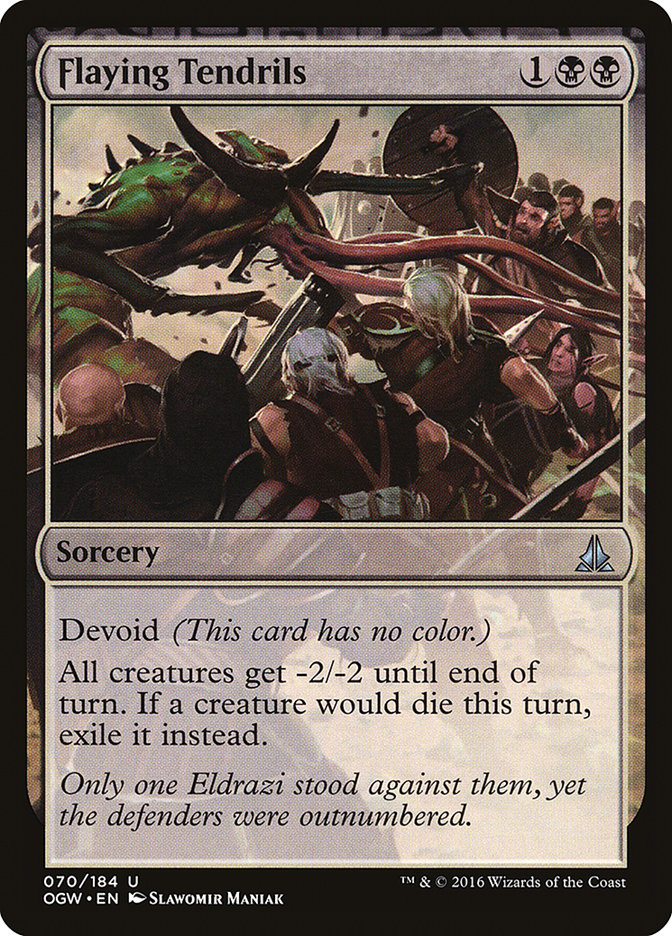 Flaying Tendrils has a huge swing on the game when setup properly against Zombies, as the exile clause is massive, but the card serves against most aggro decks totally fine as well. Again, the format might be dominated by a few specific decks, but we don't want to ignore everything else. Our cards should be chosen with specific tasks in mind but should have a little flexibility and versatility to them if we hope to win tournaments.
We will still need to iterate on this a bunch and to verify that our plans against the best decks actually work, but at least on paper we have done a good job of reacting to the format.
Proactive in Modern
Meanwhile, in Modern, building reactively is quite the daunting task. Not only is the format huge with thousands of cards available for any role you might need, but there is not necessarily a Public Enemy Number One like there is in Standard. This makes it much more difficult to know what you are building to beat, as you can't beat everything. That is not to say that you can't build reactively in Modern, but rather that doing so takes a lot more effort and might not reward you in the same way.
As the metagame stretches out and encompasses more and more decks, the ability for me to craft my 75 in such a way that I am reactively ready for anything I run into becomes basically nonexistent. If I choose to just focus on a few decks, such as Death's Shadow, Eldrazi Tron, and maybe Storm, then I am going to run into issues when I sit across from Affinity or Dredge. I simply cannot have a bullet for everything, so instead, I can be proactive where I largely ignore everything else going on and just do my own thing.
Fortunately, Modern is a format with ample aggro and combo space still unmined by players that we can tap into for some proactive building. (You could build a control deck proactively; it's just much rarer than a reactively built control deck.) I have been trying to explore some of that space with As Foretold recently, yet have found myself spinning my tires a bit on various builds. Rather than trying to force something, I prefer to set those brews aside and revisit them when I feel inspired once again. In the meantime, we can tap into proactive deckbuilding on a new brew!
Creatures (19)
Lands (18) You can see here that we are primarily and almost exclusively focused on our own gameplan here. The maindeck is constructed in such a way as to execute on its own combos and synergies in basically the same way against any and every opponent we might run into. As we develop the deck more, it is possible we can free up a few slots for some metagame-specific tools, but in general, our deck operates on its own terms and we should focus on making it do so as efficiently as possible.
At our core, we are a combo deck that wants to assemble Sprout Swarm and either Jeskai Ascendancy or Intruder Alarm. Both of these enchantments untap all of our creatures, meaning that, with five out, we can make arbitrarily large numbers of Saprolings. Ascendancy allows us to loot during that process so we can draw our entire deck. If our tokens on the battlefield aren't enough to win for whatever reason (remember that they are abritrarily large thanks to Ascendancy as well), we can discard our Fatestitcher and Unearth it, using it to tap down all of the enemy creatures and then to swing over for lethal.
Beck/Call is an important card here, as it allows us to draw more cards (or draw all of the cards!) should we be without Jeskai Ascendancy and need to find something specific in our deck. Everything from Memnite to Young Pyromancer has synergy with Beck, and it really helps add depth to what would otherwise be a two-card combo deck.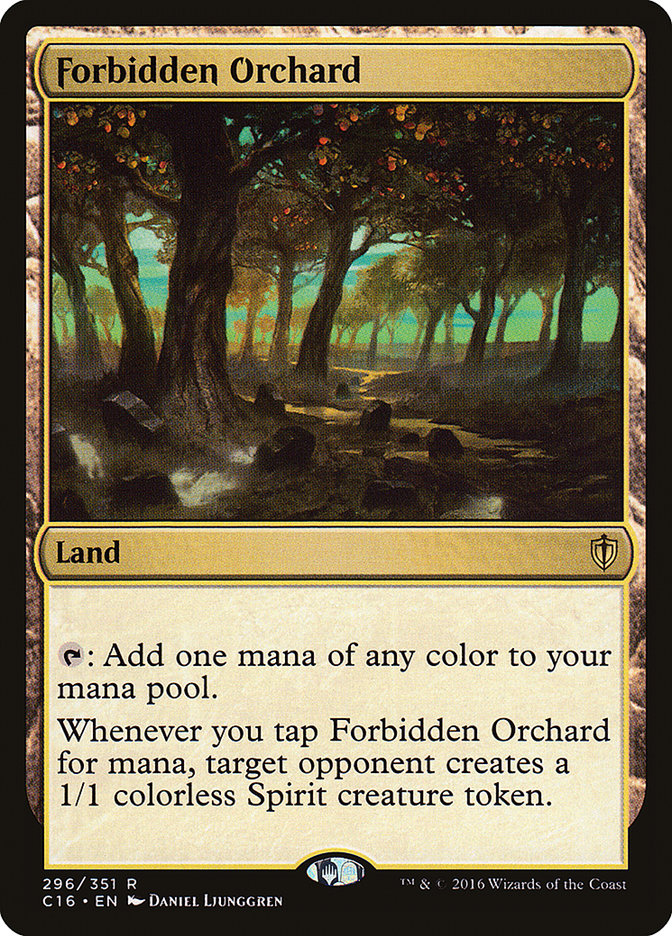 I recently added Forbidden Orchard to the list, as it has some really cool interactions with our engine. It creates a token for the opponent, which Beck sees and draws you a card for (this won't work if you are casting Beck with the Orchard, though, as the token enters the battlefield before the spell resolves). Additionally, we can use our Intruder Alarms plus Orchard to untap our mana creatures, allowing us more mana to go off. Because we are winning with arbitrarily large damage, the tokens we give our opponent usually don't matter, and having access to another five-color land is a big gain for us. As another bonus, Timely Reinforcements out of the sideboard doesn't mind seeing the opponent gain a few creatures.
The sideboard here obviously needs work, as we have paid most of our attention to the maindeck. That said, there are some cool cards for us, like Swan Song, Sundering Vitae, and Timely Reinforcements, that all interact with problematic decks but also have innate synergy with our core plan. And while cards like Swan Song and Sundering Vitae do interact with opponents, they are not metagame-informed in the way that Flaying Tendrils was in our B/G Eldrazi list. I know that Timely Reinforcements has a lot of value in any aggressive matchup, but I am not including it with a specific card or deck in mind. It is a generally useful card and our deck appreciates that.
Expect this token strategy to continue to evolve and hopefully improve, but I do think it makes for a good case study in proactive deckbuilding.