Unesh, Criosphinx Sovereign - $2.99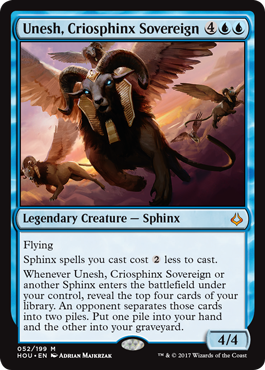 I get it—Unesh, Criosphinx Sovereign has a dopey name, an expensive mana cost, and the look and feel of a bulk mythic. If you told me what this card was called before I saw any of its text, I'd have guessed that it would start at $3 before falling into bulk mythic territory pretty quickly. And don't get me wrong; that's still a likely outcome. It takes a lot for a six-drop creature to be good in a competitive format, especially one that has to compete directly with Torrential Gearhulk.
But still. Getting the best one or two cards out of the next four in your library is very good. This isn't like Fortune's Favor, where your opponent can trick you into taking the wrong thing. And unlike most legendary creatures, Unesh gets better in multiples. You can cast the second one at just four mana, enjoy two crazy-good card draw triggers, and then send your old Unesh to the graveyard. If any other Sphinxes are playable (there are at least two borderline calls in Standard already), Unesh's utility goes up even further.
Financially, the warts are there. Like I said, competing with Torrential Gearhulk at six mana is not where you want to be. But $3 is usually the lowest price that a mythic will cost during the pre-order period, and there's a very real chance that Unesh, Criosphinx Sovereign will be a player in Standard at some point. I'm grabbing a set for myself and thinking about going in deeper.
Scavenger Grounds - $2.99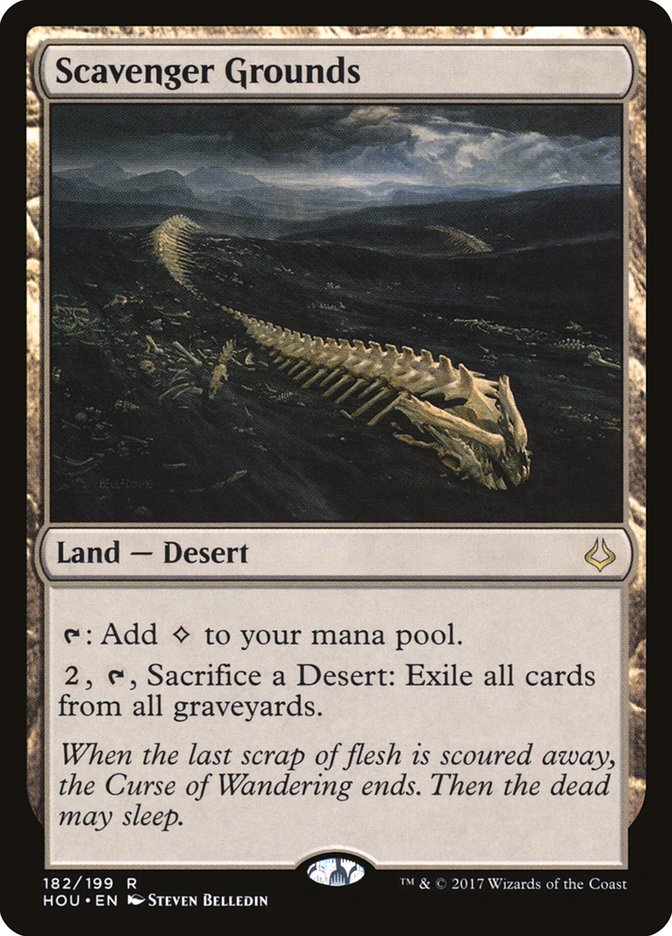 Scavenger Grounds is a decent Bojuka Bog alternative in Legacy and Modern. I'm not quite sure which is better, but I bet they'll both end up seeing play in different decks. Scavenger Grounds enters the battlefield untapped, and it can be run out early and used whenever you need to. Bojuka Bog doesn't cost mana to activate and you don't have to sacrifice a land to get its ability.
$3 is a fair price for a card that will see occasional Modern play. If you think that Scavenger Grounds will end up being an important hate card in Standard, buying in starts looking attractive. Grabbing a few copies is fine if you'll use them, but don't expect a big financial payoff.
Hour of Glory - $1.99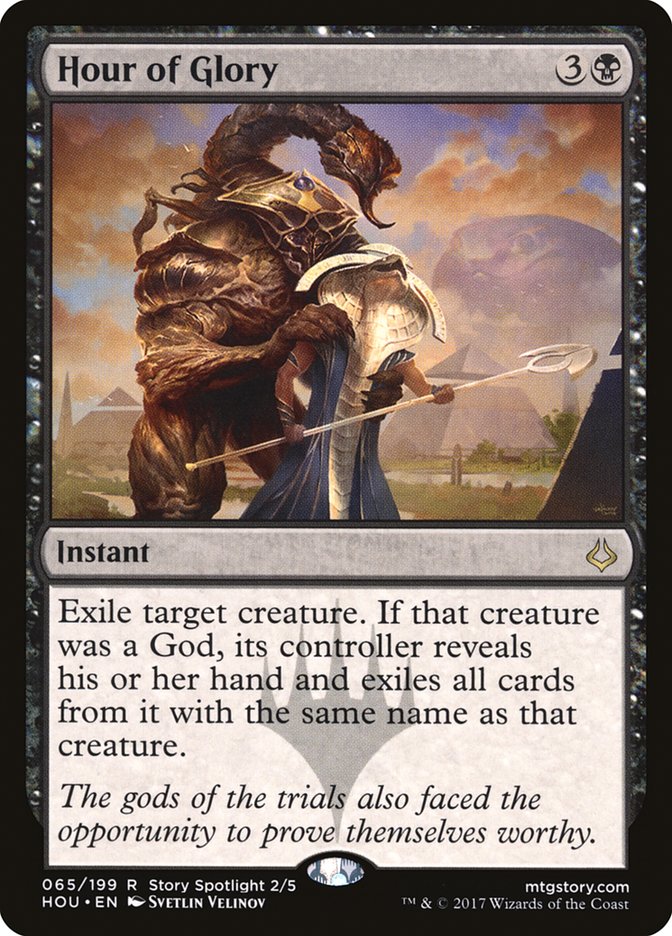 Hey, it's that instant-speed removal spell we asked for! Too bad it costs four mana.
Players probably won't spend four mana on Hour of Glory unless the new Gods are far better than we think they are or there's some other problematic creature that absolutely needs to be killed at instant speed. It's a safety valve, not a staple. I expect it'll settle in around $1 and should see modest sideboard play, but that's it.
Fraying Sanity - $1.99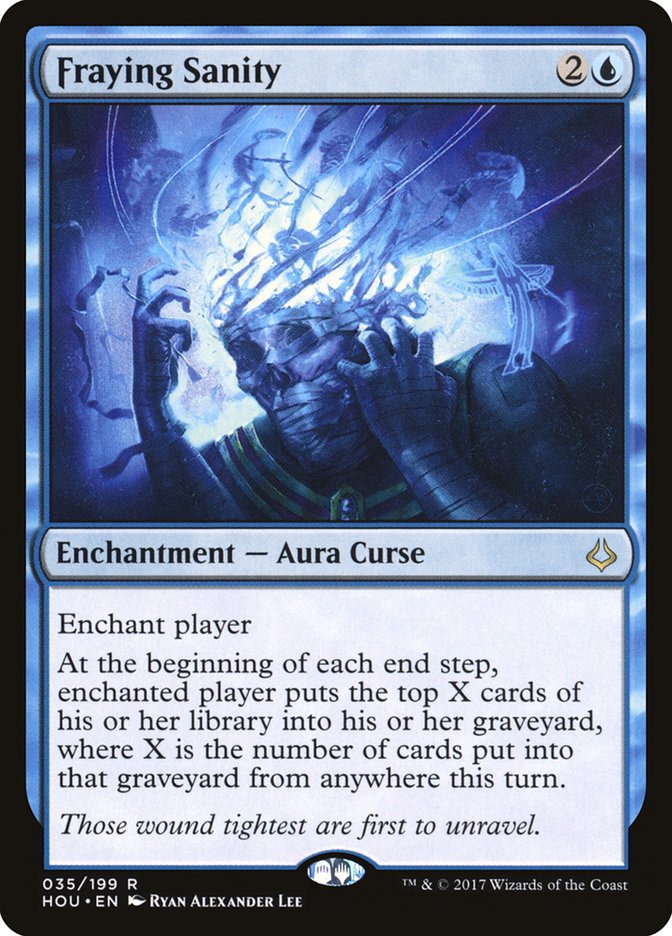 I'll believe a mill deck in Standard when I see it—the pieces just don't seem to be adding up yet. I also don't think that Fraying Sanity is enough to make mill a more viable strategy in Modern. Certain casual players are going to love this card, though, and it's going to be a trendy long-term spec because of that. I'm going to wait it out and hope that the lack of competitive play will drop Fraying Sanity into bulk rare territory at some point.
Ramunap Hydra - $1.99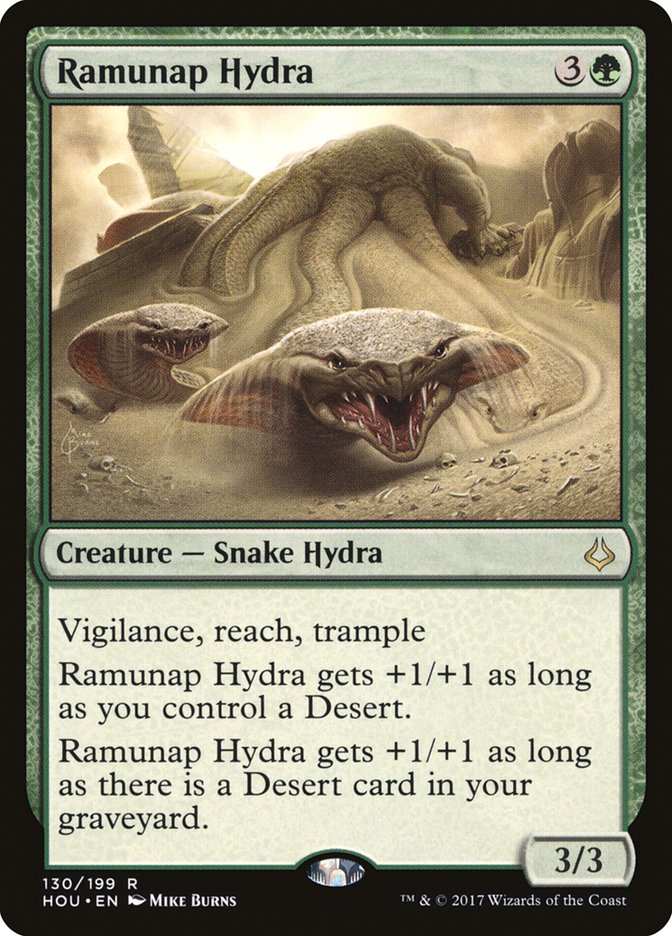 At four mana, Ramunap Hydra is not good enough to justify building around. If you're brainstorming up a bunch of Desert shenanigans, you're probably going to end up disappointed.
That said, Ramunap Hydra seems like a decent role-player in a deck that's already playing in some kind of "Deserts matter" sandbox. If the support is there, expect this to end up being a $3-$4 single-deck staple. If not, it'll be a bulk rare before long. That's not the kind of risk I like to take.
Angel of Condemnation - $1.49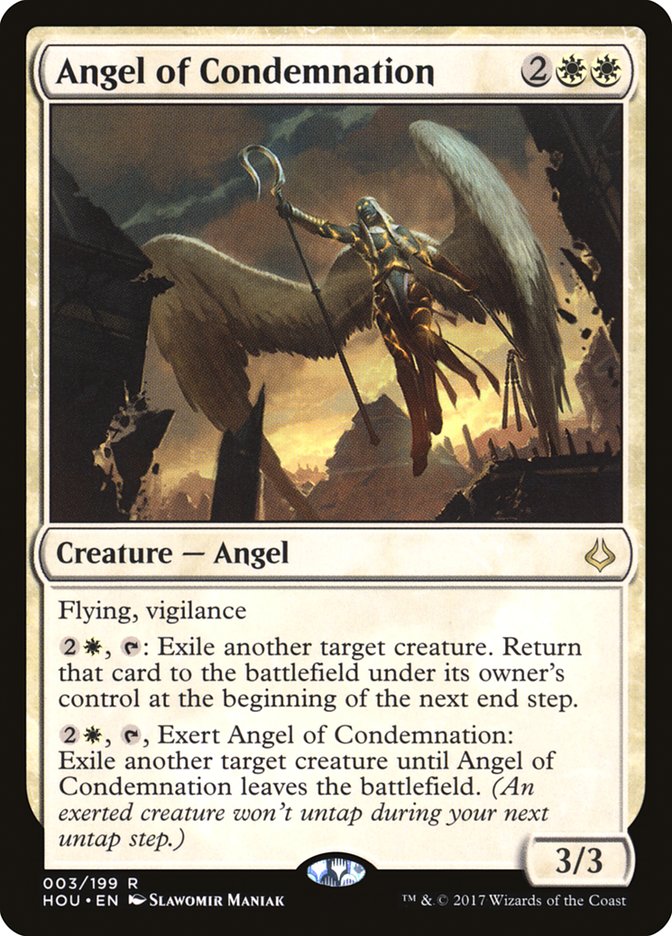 Angel of Condemnation requires a seven-mana investment before it does anything, and the effect you get is powerful but certainly not underpriced. Angel of Sanctions seems quite a bit better, and that one isn't seeing a ton of play right now. I'm just not a fan of midrange creatures that require you to cast them, wait around, and then spend mana to active them if you want to do anything. Future bulk rare.
Driven//Despair - $0.99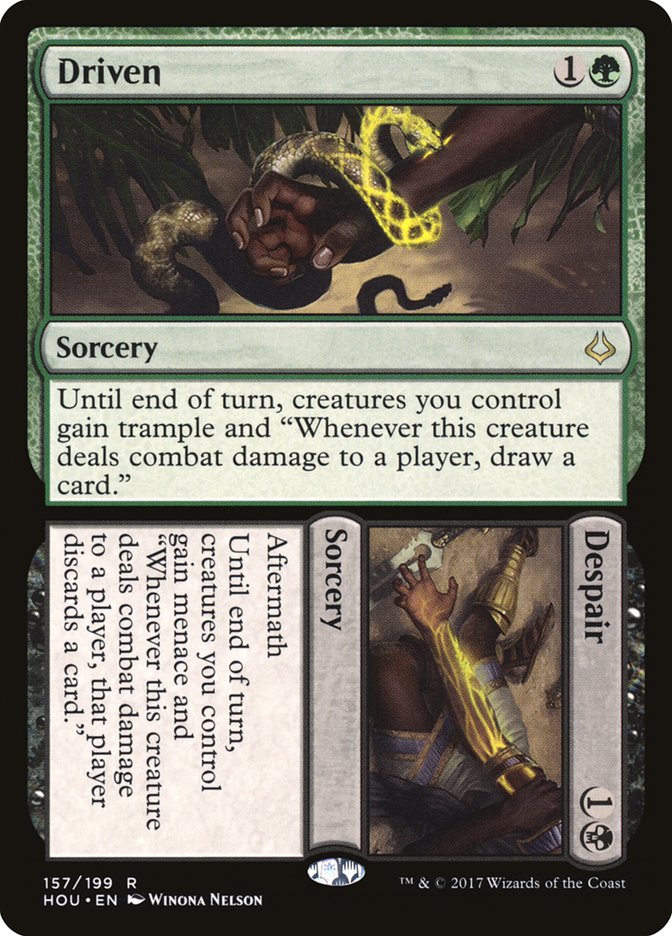 There are multiple top-tier G/B decks in the current Standard format. While I'm normally bearish on multicolored cards because even the better ones only tend to show up in a single deck, color me intrigued.
Driven//Despair is sideboard tech at the very least. It's not just a win-more: in the right kind of battlefield stall, this might be able to get you ahead in the damage race while refilling your hand in the late-game. If the format either moves away from blocking or toward tokens, Driven gets even more powerful. If the right metagame develops, this could end up being a staple. At just a buck, I'm grabbing a set.
Reason - $0.99
Reason

Card Type: Sorcery

Casting Cost: U

Card Text:

Scry 3.

Believe

Card Type: Sorcery

Casting Cost: 4G

Card Text:

Aftermath

Look at the top card of your library. If it's a creature card, you may reveal it and put it onto the battlefield. Otherwise, put that card into your hand.
It's finally time to see if scrying a card is really "worth" half a draw. If so, just the Reason half of Reason//Believe should be worth playing. I feel like every one-mana blue cantrip we've ever had, even the ones that look bad, has ended up finding a home somewhere.
I'm not sold on Reason being good, but this is the type of card that ends up seeing a ton of play if WotC missed the mark even a little. At just $1, this type of upside is hard to find. I'm buying.
Swarm Intelligence - $0.99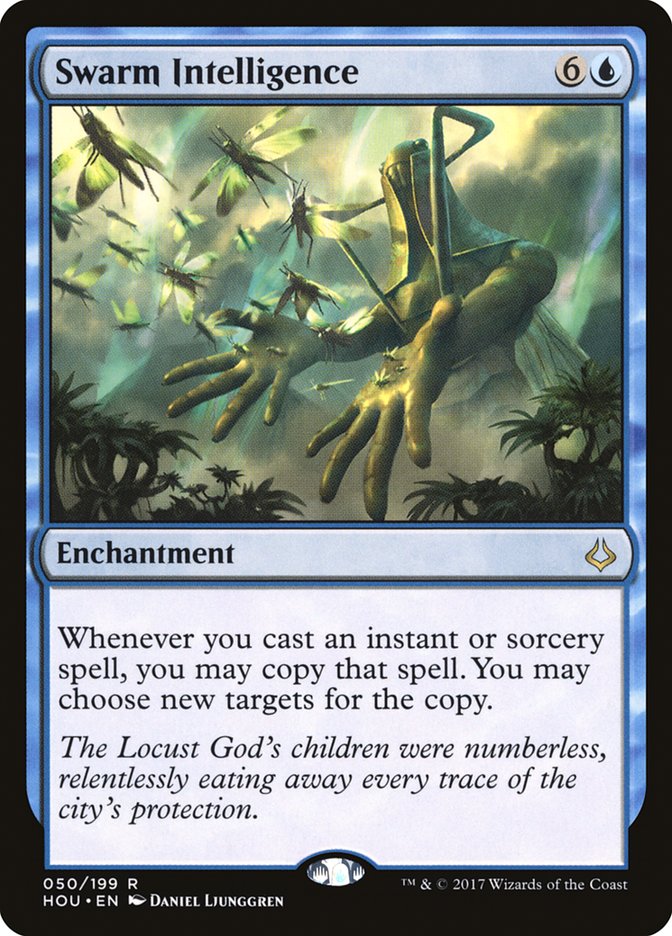 Foils will be worth a little bit because this is a sweet card in the right Commander deck, but don't let that stop you from thinking that Swarm Intelligence is anything other than a future bulk rare.