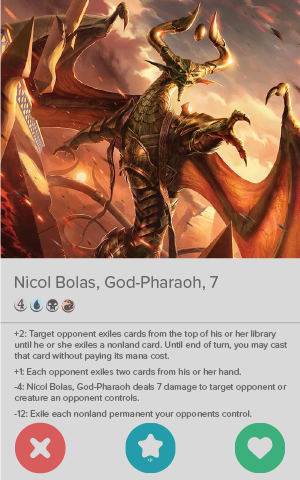 Ari Swipes Left: Sometimes what you have right now is the best it can get. Torrential Gearhulk is still my number one choice for Standard. Nicol Bolas, God-Pharaoh is certainly good; it just isn't going to be as good as the automatic instant speed two-for-one machine. I'm not saying I won't take a look at a Nicol Bolas list every once in a while, but Torrential Gearhulk is the one on the registration sheet.
Tom Swipes Left: Maybe playable. Just not for me. I intend on playing decks full of cheap creatures that will pound Grixis Control players before they can land Nicol Bolas, God-Pharaoh. Even if they do hit the magical number seven and land Nicol Bolos, the hits won't be that good, hands will be empty, and seven damage will be overkill. Against any deck with counterspells, it's a sorcery-speed seven-drop that has a chance of hitting situational cards off the top of the opponent's deck or exiling two obvious blanks like Magma Spray or Harnessed Lightning.
Nicol Bolas is simply not my type.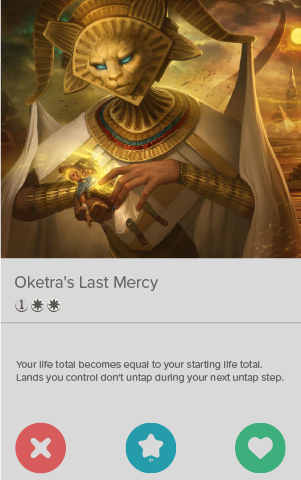 Ari Swipes Right: This is very similar to a card called Lay on Hands in the World of Warcraft Trading Card Game a decade ago, which was a one-mana instant that reset your life total and skipped your next turn. The lower cost made it easier to combine it with a big battlefield-stabilizing effect for a full reset, but I think there is still room for Oketra's Last Mercy to matter. When you are playing hard lifegain, your goal is to try to get a card of value out of it. If your opponent is trying to convert cards into damage, Oketra's Last Mercy is worth a lot of potential cards. Similar to Lay on Hands, you can use it with more expensive but stable threats to erase tempo disadvantages. Just don't try it with planeswalkers, as you aren't protecting them.
There is a bit of risk here. Setting your life total upwards is still gaining life, so if you aren't careful, you might find yourself on the wrong side of a Skullcrack. Always be prepared and protect yourself from the worst-case scenario.
Tom Swipes Left: Oketra's Last Mercy is unplayable in Limited and unplayable in Standard. At first glance, this looks playable in Modern against Burn until you realize that Timely Reinforcements and Rest for the Weary are usually good enough. The main drawbacks to those lifegain cards was being bad against Skullcrack, which of course Oketra's Last Mercy is too (any upwards change in a player's life total is considered lifegain).
I wouldn't want Okerta's Last Mercy even if your lands untapped next turn. That clause is just extra baggage on an already unattractive dud.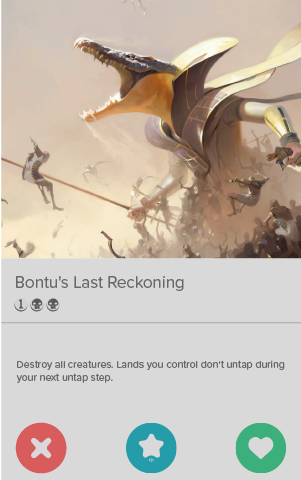 Ari Swipes Left: When I'm casting a sweeper, I'm admitting that I can't go card-for-card against the current game state. I'm trying to reset to a point where I start winning if I go card-for-card, or where I'll be able to rebuild ahead of my opponent.
Bontu's Last Reckoning does neither of these. My opponent gets two turns of action before I get to make my next play, meaning I'm right back to being behind on tempo. I'm also a turn behind on rebuilding. Unlike Oketra's Last Mercy, it's really hard to end up ahead on the exchange; you are just at parity.
The only thing that could excite me about this card is if there was some way to recast it that meant the mana efficiency mattered. The second sweeper often lets you win via pure card exhaustion, and there isn't really an alternative card to do the job right now.
Or it could excite me by ever killing a Gideon, Chandra, or Heart of Kiran. Which it won't. See ya later, alligator.
Tom Swipes Right: Unlike Oktera, Bontu knows how to go out with a bang. The drawback of your lands not untapping sounds pretty bad until you think about it from a different perspective. What if Bontu's Last Reckoning cost 1BB and destroyed all but one of your opponent's creatures, and then you could play 1BB in your next upkeep to destroy the last one? That'd be pretty good, and worth paying extra for.
The cheap-ish cost of three mana also allows a follow-up play on the same turn. Even if it's something as lowly as a Glint-Sleeve Siphoner, you're still on the battlefield first after the sweeper.
Against hyper-aggressive decks, you'll be happy to get three creatures with Bontu's Last Reckoning early in the game. Not dying is priceless.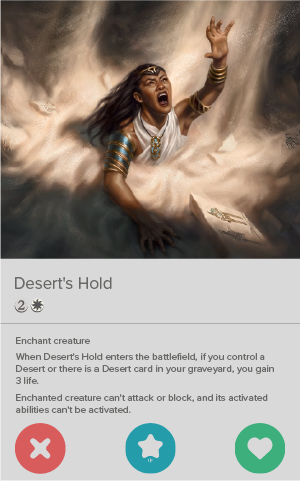 Ari Swipes Right: I'm reminded of Faith's Fetters from my youth, but I already know Desert's Hold isn't going to meet the same expectations of reality and nostalgic memory. I'm still going to try Desert's Hold, and if it doesn't go anywhere from there, I won't regret it. Lifegain linked to removal is always a brutal combo for aggressive decks, and Desert's Hold being Arrest can solve some of the issues these effects have had in the past.
I guess it isn't amazing against Walking Ballista. Or Winding Constrictor. Or Vehicles. Or Gideon. Or Whirler Virtuoso. Or Rogue Refiner. But that isn't going to stop me from trying.
Tom Swipes Left: Desert's Hold is competing with Stasis Snare for the same space. Three-drop removal at sorcery speed isn't good right now, especially when it doesn't exile. Three life can certainly be nice, especially when trying to fade an opponent's reach like Glorybringer or Walking Ballista, but I don't believe that small bonus is worth it, especially when you have to somehow fit Deserts in the mix.
I'd hold off on this one until I see a Desert that's an auto-include in a white deck or until Stasis Snare rotates out.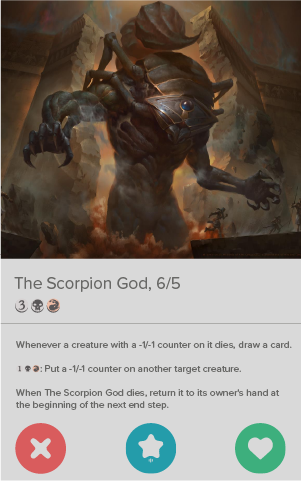 Ari Swipes Right: A 6/5 body is big enough to make your opponent stop before attacking again. Except they really can't before The Scorpion God starts chewing through their creatures. There's a pretty sweet mid-point here where if their creatures are small you will machine-gun them down, if they are a big bigger (3/3) they won't be cheap enough to swarm around your 6/5, and if they are big enough to match The Scorpion God in combat, you can easily turn that into a trade that isn't profitable on cards or mana.
There is a lot of competition in the five-drop black or red slot, but The Scorpion God appears to blend the resilience of planeswalkers with the sticky impact of a creature. It's not an assured staple and isn't super-efficient, but The Scorpion God is rock-solid.
Tom Swipes Right: The Scorpion King God runs the risk of being "just another big thing" that doesn't affect the battlefield enough immediately. Sure, it's still removed by the wealth of exile effects running around, but in the right shell I can see The Scorpion King being completely outrageous.
The Scorpion God competes with some space with Glorybringer, which can be a concern if there aren't enough copies of Grasp of Darkness going around to keep it in check.
It's nice to be able to legend-rule away The Scorpion God to have one untapped after attacking. It comes back, so no harm, no foul.
Between the solid power and toughness, the ability to draw cards, killing creatures, affecting combat midway through, and its extreme difficulty to kill without exiling, there is simply way too much going on here to dismiss The Scorpion God of as just another mid-range clunker.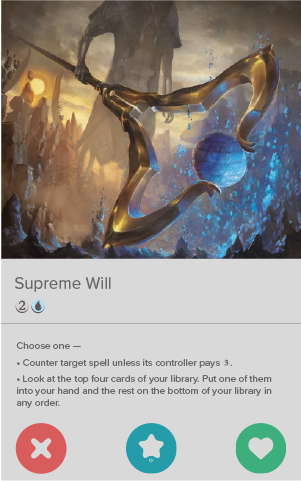 Ari Super Likes: Draw cards or counter spells, you say? Yes, please.
I'm just going to spend some time thinking about later this game. I've spent every turn casting an answer and just pass on turn 6. When I have six untapped mana, you are dead to Torrential Gearhulk regardless of whether you cast a spell and let me counter it or let me Impulse into the next Construct. There isn't a winning solution, and I didn't even have to give you a turn unopposed to cast a Glimmer of Genius.
Yeah, that's definitely what I'm into.
Tom Swipes Left: I'm going against the grain on this one and saying that, despite having two playable modes, I think I want more out of the card. Supreme Will is does a little more of what Censor does, at what I consider significantly more mana. When you get to the number three, you're now competing with Disallow, and I'd rather have the hard counter and the ability to counter a trigger as my other mode. As far as card selection goes, I'd rather play with Anticipate or pay one more for Glimmer of Genius or Hieroglyphic Illumination.
I like Mana Leak and I like Impulse. I don't like either for three mana.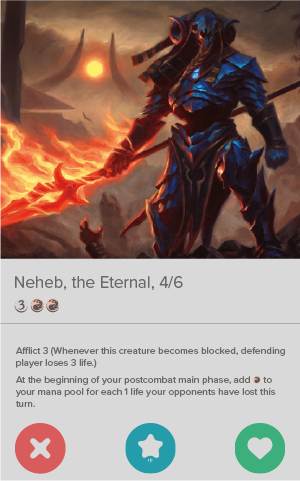 Ari Swipes Left:
Afflict 3 makes blocking difficult for your opponent. You know what else makes blocking difficult? Actual evasion like flying. Maybe Neheb, the Eternal gets in through a bonus chump block..... like it had haste and attacked an additional time. And you can use your free mana to cast spells, like removal. Maybe the Cut half of Cut//Ribbons would be nice, especially if you didn't have to pay a card for it. And that legendary part is a little unfortunate; sometimes you get lucky and want both of your creatures.
If only we were so lucky to live in a world where there was one magical card that did all of that.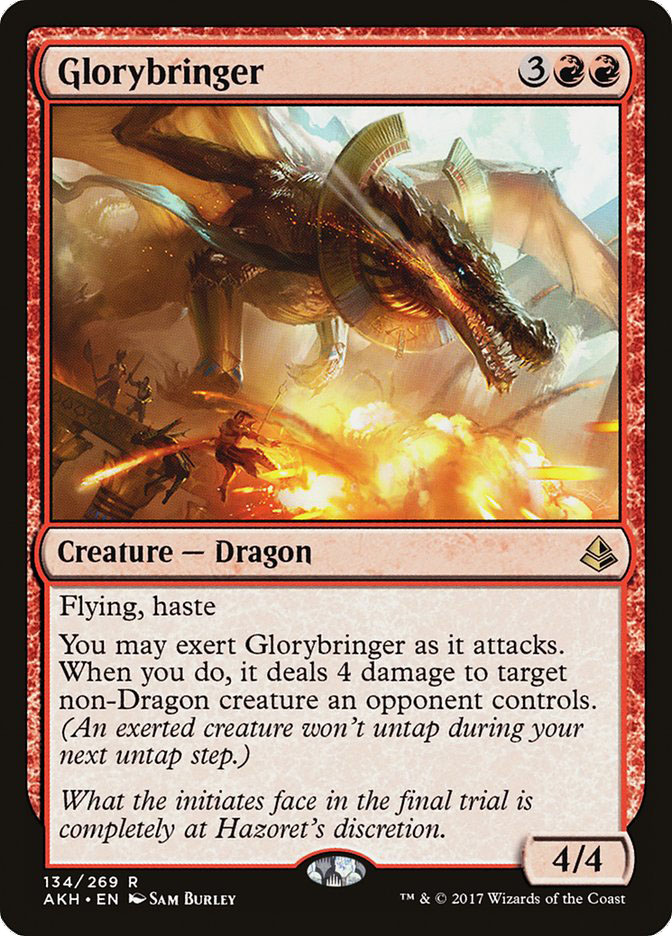 Tom Swipes Left: I remember Radha, of Keld as a mana-producer and attacker combo. Neheb, the Eternal is doing similar things for way more mana. Honestly, what are you trying to cast after your five-drop? You do get the mana regardless of how you dealt damage, so two from Chandra, Torch of Defiance acts as both +1s at once. Another saving grace is you can cast Neheb, the Eternal in your first main phase, attack with some things, and then make some mana based on unblocked damage.
Marginal utility aside, I just don't see relying on Neheb, the Eternal surviving until a postcombat main phase to crank out your huge Dragon or whatever.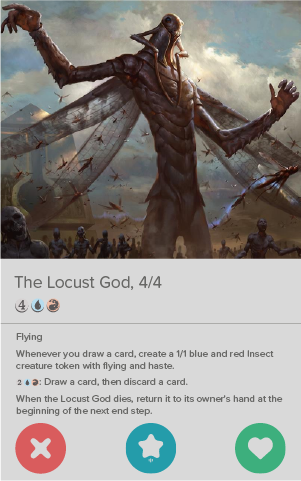 Ari Swipes Left: The Locust God just is too expensive and doesn't have the immediate payoff of The Scorpion God. I tested enough with Curator of Mysteries to know a 4/4 blocker isn't quite there. I might be underestimating the recursive aspect here, but it seems really easy to fall behind on tempo here.
The other issue is that, unlike prior cards like Niv-Mizzet, Dracogenius or Meloku, the Clouded Mirror, the cost per activation is too high for you to immediately take over with one untap step. A four-mana looting flier isn't burying anyone the way one-mana tokens or two-mana card draw or pings will.
I also have no idea what's going on with the style here. Why are your bugs blue and red? Just because you hang out with Bolas doesn't mean you need a matching wardrobe.
Tom Swipes Left:
The Locust God looks like what all mythic U/R big things do: cost a lot, fly, and have some card advantage tacked on. We've seen this in Niv-Mizzet, the Firemind … and Niv-Mizzet, Dracogenius. This is basically Niv-Mizzet, the Locust.
Buzz off, honey. I've seen your kind around before.