Did someone say Modern? Modern is a really fun format to brew in right now, and with the StarCityGames.com® Season One Invitational (#SCGINVI) this weekend as well as a Modern Open to boot, I wanted to explore a couple of ideas that have me excited.
As a brewer, preview season can often hold some surprises within it. While new cards are always exciting, sometimes a new card is revealed that happens to be the perfect fit for a list you have been working on. This is not too uncommon in Standard, where linear strategies tend to receive support from new sets, but when a Modern brew comes together, especially a combo deck, that's pretty rare. Hour of Devastation has managed to do just that though, and it already has me brewing!
For a few weeks now, I have been trying to make Beck // Call work in Modern. The effect it provides feels like it can easily be abused and yet it is seeing essentially zero play. Glimpse of Nature is literally banned and only costs a single blue mana less than Beck with arguably less room to abuse it, thanks to a lack of synergy with tokens or putting creatures directly onto the battlefield. Meanwhile, last week The Locust God was officially previewed on the Mothership, and new life had been breathed into my Beck // Call project.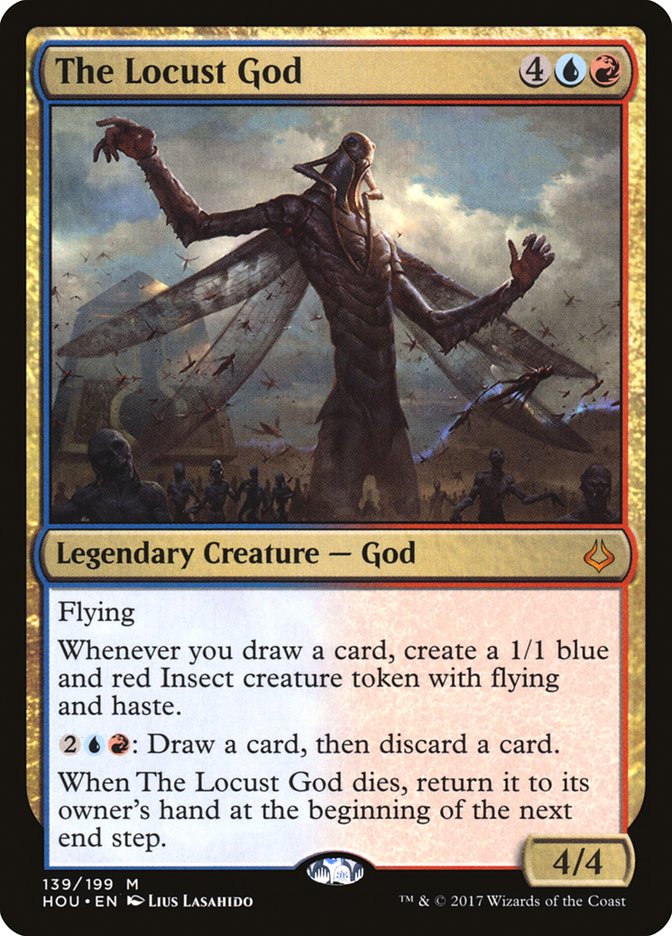 The Locust God is a six-mana creature, not exactly the type of card you would be excited for in Modern, but the fact that it combos with Beck into an instant win is very powerful. Because Beck draws you a card whenever a creatures enters the battlefield and The Locust God creates a 1/1 flying haste creature whenever you draw a card, this amounts to a swarm of lethal Locusts and as many cards in your hand as you wish. Beck specifically is a may trigger on the draw, so you will not deck yourself unless you choose to (perhaps Laboratory Maniac sideboard technology or something).
This interaction hardly makes an entire deck, but it was enough to get me back under the hood and investigating how we could best utilize Beck // Call in Modern. As I mentioned, I already had a shell to get me started.
It Began with a Sprout...
The list I have been tinkering with for a while uses Beck // Call as a card advantage engine in the hopes of setting up Sprout Swarm plus Jeskai Ascendancy. It didn't feel like quite the right home for The Locust God, though, as it has no way to find the six-drop and will usually be winning by that point anyway. I have made some adjustments to that list regardless, though:
Creatures (20)
Lands (17)
Spells (23) Just to catch everyone up, the basic premise of this deck is to set up Sprout Swarm with either Jeskai Ascendancy or Intruder Alarm. This will create an arbitrarily large number of tokens with other benefits tagging along for the ride. Beck is used primarily as a means to draw extra cards and to find your combo pieces. A typical Beck might look something like this:
Cast Beck.
Tap Forbidden Orchard for red, giving my opponent a 1/1. Beck triggers.
I cast Ornithopter. Beck triggers.
I Kuldotha Rebirth, sacrificing Ornithopter, creating three 1/1 Goblins. Beck triggers three times.
That is a three-mana investment that drew you five cards and netted you three bodies. Of course, if we Beck on a turn in which we go off with Sprout Swarm, we can also draw our deck, but that is basically an afterthought. Of course, our Beck turns can get much bigger and more involved than just five cards. Young Pyromancer and some Servo Exhibitions quickly get out of hand and you almost can't help but find a Sprout Swarm in the mix to truly go arbitrarily large and win the game.
I absolutely love this list and it works really well. I encourage you to take it for a spin to find out for yourself. That all said, it does not make for a particularly great shell to incorporate The Locust God into for the Beck // Call combo. Because we have no tutors in this list, we just have to happen to draw The Locust God while we have Beck active and we need that to mean something. This sounds more like a job for Chord of Calling, which is a card I have wanted to include in the list many times. The problem is that the list is more spell-based than creature-based, and including a triple-green card alongside Jeskai Ascendancy is problematic.
Sounds like the perfect time for a spin-off!
In this instance, a deck using Beck // Call plus Chord of Calling is going to have at least some overlap with a deck using Beck // Call plus tokens, so we have a backbone to work from, even if we end up changing a lot in the process.
Chord of Calling asks my deck to include a larger number of creatures than I normally would and it asks that more of those creatures be green than usual (to enable the convoke cost on Chord). If I move in a direction that is more creature-centric, I need to find replacements for stuff like Young Pyromancer and Kuldotha Rebirth, as those cards no longer really fit the shell and were some of my best synergies with Beck // Call.
Tokens... tokens... what creature makes tokens? I could turn to the likes of a Siege-Gang Commander, but four creatures for five mana feels like we can do better. Master of Waves is attractive, but we need to work pretty hard to get devotion to blue for enough tokens to be worth our trouble.
As we know from our use of Forbidden Orchard, though, Beck does not care who puts creatures onto the battlefield for it to draw you cards. As long as creatures are entering the battlefield during that turn, you can turn a profit. This is important because it introduces a peculiar cycle from original Ravnica into our consideration: the Hunted cycle.
Hunted Phantasm and Hunted Troll, in particular, create more bodies than their cost. This is important because, while those bodies do synergize with Beck, they also synergize with Intruder Alarm to untap all of your creatures. The more untaps you generate, the more mana you can make, and therefore the more cards you can draw. But really, all you need to tell me is that I draw six cards off Hunted Phantasm after I cast Beck and you have me hooked!
This feels like a good time to cut to a deck list which we will break down immediately after:
Creatures (24)
Lands (17)
Spells (19) There is a lot going on here, so it will be best to go over some of the main concepts that the deck uses repeatedly. Individual cards all have some unique things they can do, but generally speaking, we are looking to abuse the following interactions: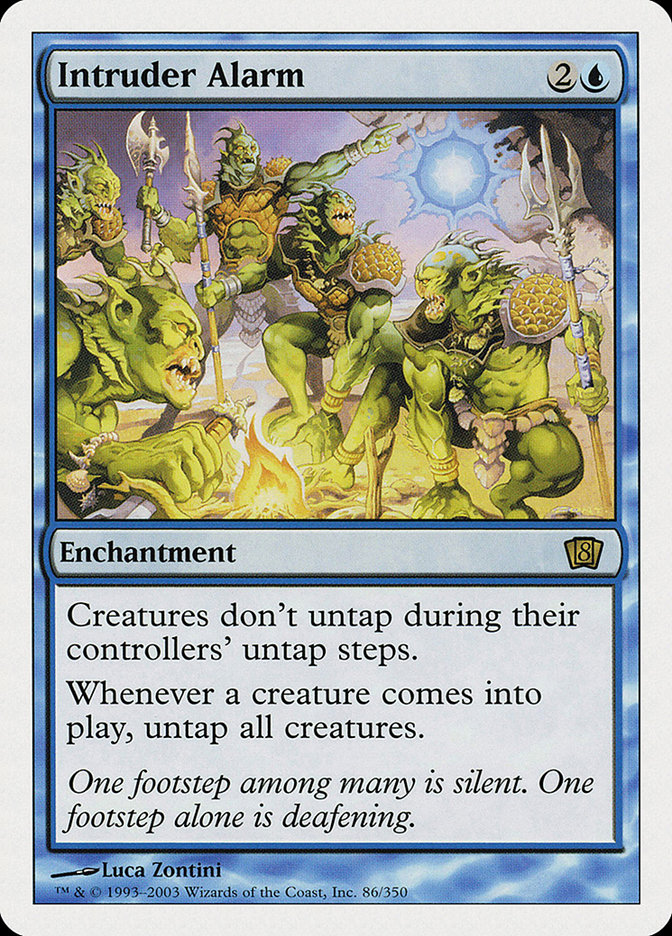 Intruder Alarm for mana: Intruder Alarm can be used to untap our mana creatures. This is important because it allows us to get discounts on spells or to actually begin netting mana. For example, if I cast a Hunted Phantasm with Intruder Alarm and a single Birds of Paradise out, I will end up netting three mana. This is because Intruder Alarm will trigger once for the Phantasm and five times for the tokens. Nest Invader untaps twice, etc. In between each of these triggers, you can tap your Birds of Paradise, gaining a mana. In the case of Nest Invader, this allows us to break even, but Hunted Phantasm actually gains us three mana. Forbidden Orchard is another clever way to untap your mana creatures with Intruder Alarm out.
Beck for card advantage: While casting Beck in this deck can lead to a combo finish (especially once we get The Locust God), it can also just be used for some card advantage, just like the Jeskai Ascendancy version. Nest Invader and Hunted Phantasm both put multiple creatures onto the battlefield at once. Forbidden Orchard donates a body to your opponent. Tapping Kiki-Jiki or Thraben Doomsayer gets you another card. Remember that these plays become much more reasonable with Aether Vial in the picture. For two mana and an Aether Vial on three counters, I can Beck and then put Phantasm onto the battlefield, drawing six beautiful cards. Let them have their Goblins!
Chord of Calling for tutoring: Where there is any strange one-of that doesn't make total sense in the list, Chord of Calling is to blame. This becomes especially true in the construction of our sideboard, which is full of tutor targets. Even in our maindeck, though, being able to go up the chain with Intruder Alarm allows us to form a combo out of nothing as we Chord of Calling for Eternal Witness, rebuy Chord, Chord for Restoration Angel, rebuy Chord, Chord for Kiki-Jiki for the win (arbitrarily large numbers of Restoration Angels).
Those three core components will act as an umbrella for the rest of our deck, generally overseeing things. Still, there are some individual card interactions that are worth mentioning. Izzet Staticaster is most noteworthy here, as it is kind of a strange one-of to see in a maindeck. The card just happens to be pretty good in Modern as a pinger, but in our list it specifically can rid the board of the Spirit and Goblin tokens we are giving our opponent. Playing Hunted Phantasm and then nuking all of the Goblins immediately results in a 4/6 unblockable creature for three mana and that is certainly Modern-worthy.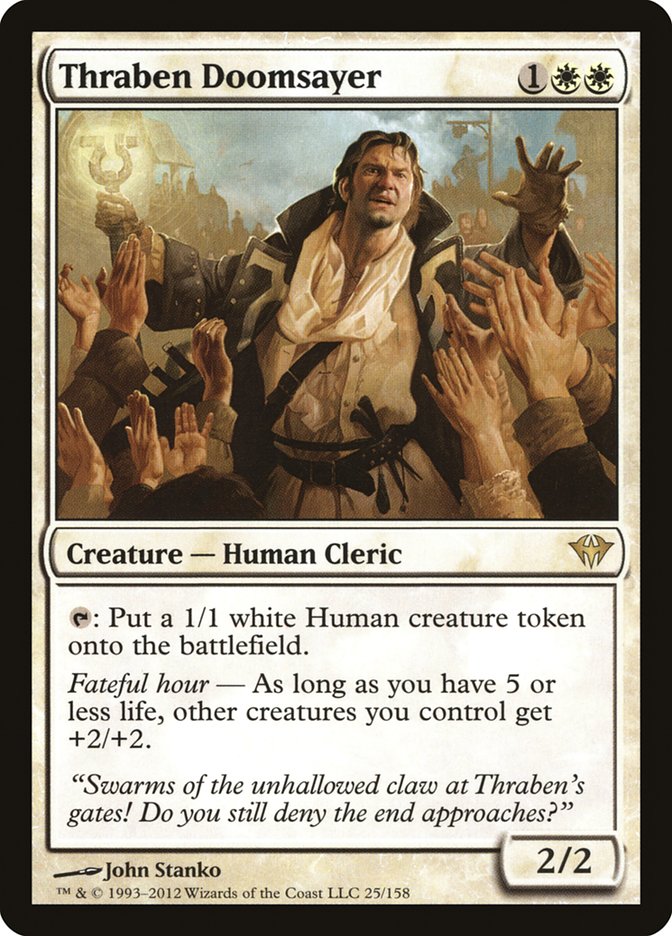 That 4/6 body is worth talking about a little more. Because Aether Vial allows for instant-speed shenanigans, don't forget about the versatility that a 4/6 unblockable creature can provide. It can come down to block and kill most Modern ground creatures, save for Primeval Titan or large Tarmogoyfs. It can threaten opposing planeswalkers with four unblockable damage.
I should also mention that Thraben Doomsayer does have a Fateful Hour ability that comes up and is relevant. Giving all of your squad +2/+2 is strong enough that sometimes you will actively look to damage yourself via Mana Confluence or painlands in order to hit that crucial five-life threshold. This is certainly not a main feature of our list, but it is worth knowing about.
Going Arbitrarily Large
As we layer all of these synergies and mini-combos on top of one another, we ultimately want to get to a point where we are going arbitrarily large in one way or another. Our deck functions in such a way where we have multiple paths and combinations, any of which will do for our purposes here.
Intruder Alarm + Sprout Swarm: This is fairly straightforward and has been the star of our last two decks. As long as you have five creatures out, this allows you to make arbitrarily large numbers of 1/1s without needing a single mana. If you have fewer than five creatures out, you can sub in a mana for the first missing creature and things will work out fine. This combo can be done at instant speed.
Intruder Alarm + Thraben Doomsayer: This is fairly straightforward but is a little more difficult than Sprout Swarm, as you need to shake summoning sickness first. The good news is that we have synergy with Aether Vial here and can Doomsayer at the end of our opponent's turn.
Intruder Alarm + Kiki-Jiki, Mirror Breaker: Another set of arbitrarily large numbers of tokens. This can obviously be some creature that makes the process worth it. For example, I have made arbitrarily large numbers of Noble Hierarchs and then attacked with a Bird of Paradise to get around Ensnaring Bridge. I have made arbitrarily large numbers of Hunted Phantasms for the laughs. You do you.
Kiki-Jiki, Mirror Breaker + Restoration Angel: As anyone who has played Splinter Twin decks in the past knows, this is a two-card combo that can easily be set up entirely by Chord of Calling. Targeting Restoration Angel with Kiki-Jiki and then Kiki-Jiki with the Angel trigger will generate arbitrarily large numbers of 3/4 fliers. This same trick can be pulled off with Zealous Conscripts subbing in for the Angel once we move to the sideboard.
Beck // Call + The Locust God: While it is not available just yet, this will be one end-game available to us very soon. As we mentioned earlier, having cast Beck, The Locust God will make as many 1/1 flying haste tokens as you desire. Each 1/1 will draw you a card, which will create another 1/1. Technically this does not go truly arbitrarily large, since you are limited by the number of cards in your deck, but through drawing all of those cards, you can also just set up one of your other combos if it is necessary.
It is important to remember that The Locust God is a creature and can therefore be found with Chord of Calling. This makes comboing off with our Insect Overlord much easier. If we cast Beck and then have enough creatures and mana to Chord for The Locust God, it entering the battlefield will trigger our first draw, which then triggers The Locust God, and so on and so forth.
All of this talk of the new Izzet legendary creature probably warrants a list. While the above list is legal in current Modern, here is where I want to begin testing once Hour of Devastation releases.
Creatures (24)
Lands (17)
Spells (19) Other than The Locust God itself, the only addition I definitely want is some sort of tapping draw engine. For now I have Azami, Lady of Scrolls, as the effective haste makes it a better candidate than Merfolk Looter, but the correct choice could easily be Bonded Fetch instead, which is cheaper for Vial and Chord purposes. The idea here is that I want a creature that lets me go arbitrarily large in the situation where I have The Locust God and Intruder Alarm but no Beck. Azami subs in as a creature version of Beck perfectly while just being an all-around solid card when Intruder Alarm becomes involved.
I don't think you will be seeing either of these lists at the StarCityGames.com® Season One Invitational, as the lists are rather complicated and iteration still needs to occur. Perhaps someone has secretly been working on Jeskai Ascendancy combo, though!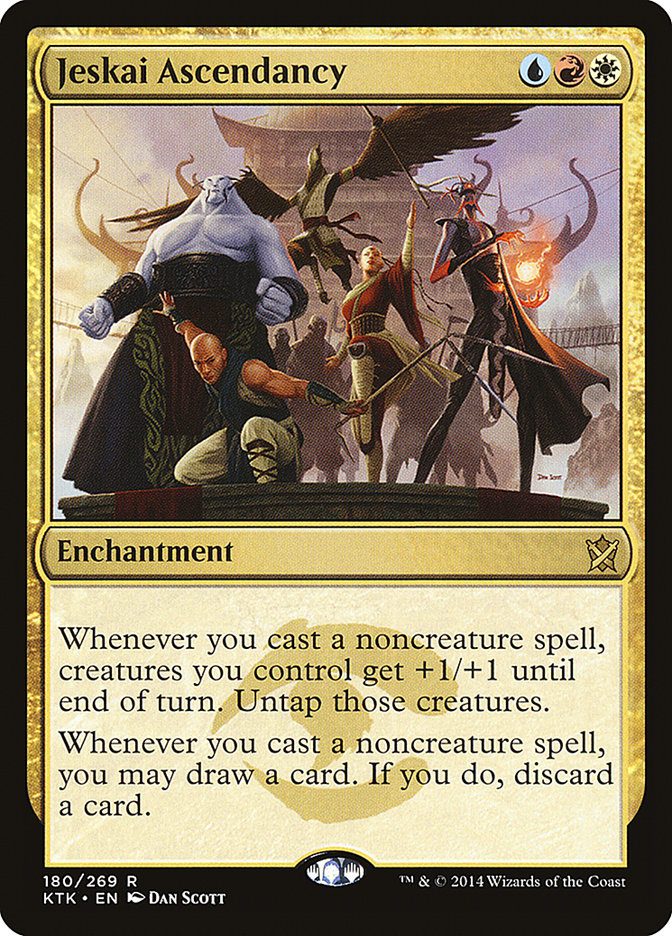 Regardless, both of these concepts have been earning me plenty of wins and still have a lot of room to be improved. In particular, we have a list using The Locust God but don't even know what other goodies Hour of Devastation will possibly offer the deck! Even without Beck // Call present, the Season One Invitation should still be exciting with Modern and post-banning Standard on display, so I will definitely be watching!