This weekend's #SCGATL is a highlight of the SCG Tour®: a Team Open. With three decks across three formats, there are many opportunities to make a choice that turns out to be great and event-defining.
While I don't have insight to offer on current Legacy as it drifts further and further out of the Pro Point-generating circuit, I do have a lot of things to say about the decks I've recently favored in Standard and Modern.
How Not to Ruin a Perfectly Good Control Deck
Hour of Devastation was definitely a kind set to control mages. There's no shortage of Grixis answers to try out, and the threats have been clearly pulled back a bit. With Michael Hamilton's win in Cincinnati, we've been shown you don't need to build control the exact way everyone else has been doing it to succeed. Torrential Gearhulk is still insane, but it doesn't have to be your sole gameplan.
Deviating from the norm does have some strings attached. It is still very easy to build a bad control deck. What do some of the different builds have to offer as guidelines in this process?
Creatures (2)
Planeswalkers (5)
Lands (27)
Spells (26) This deck is fine. There's likely a little bit of tuning going on, but Michael Hamilton wouldn't have won with a non-functional deck.
Creatures (10)
Lands (23)
Spells (27) This is also okay and a completely different deck despite packing the same answers, Glimmers, and Gearhulks as Michael's list.
Let's talk about control and answer selection.
Not Your Daddy's Magic
Magic is not what it once was. "Your life total is a resource" is still a useful thing to know, but it isn't a mantra. You don't really survive a resolved Gideon, Ally of Zendikar for long enough to matter. You can Glimmer of Genius, but your opponent can Cloudblazer and Bygone Bishop to keep pace if you don't stop them, as we saw in both Round 9 and the Finals last weekend.
The threats all matter a lot, and they are all unique. There are also a massive number of ways you can die. Oketra's Monument, Relentless Dead, Bristling Hydra, Rhonas the Indomitable, Prized Amalgam, Falkenrath Gorger.
You don't necessarily have to stop them all, but you need to have a plan for your opponent deploying them.
Let's look at the answer base of Todd's deck.
Todd's answer base does two things: damage to creatures and countering spells in the early phases of the game. They are all the best things at doing exactly that, but they don't have a lot of range.
Todd has no way to answer a resolved Oketra's Monument. A Scrapheap Scrounger is never going to stop coming after him. If his opponent resolves a Liliana's Mastery, there's no way for him to simply clean it up without spending multiple cards or having already invested in a Dynavolt Tower.
Todd's deck instead has a different solution to answering "unanswerable" threats: if a player loses the game, their threats don't matter. With Rogue Refiners and Tireless Trackers and Dynavolt Towers, he can actively pressure a life total beyond the typical "Torrential Gearhulk into Torrential Gearhulk" fast kills. He is riding the line close to the Temur Energy decks that are more midrange, exploiting mirrors by being a little bigger and a little heavier on card advantage.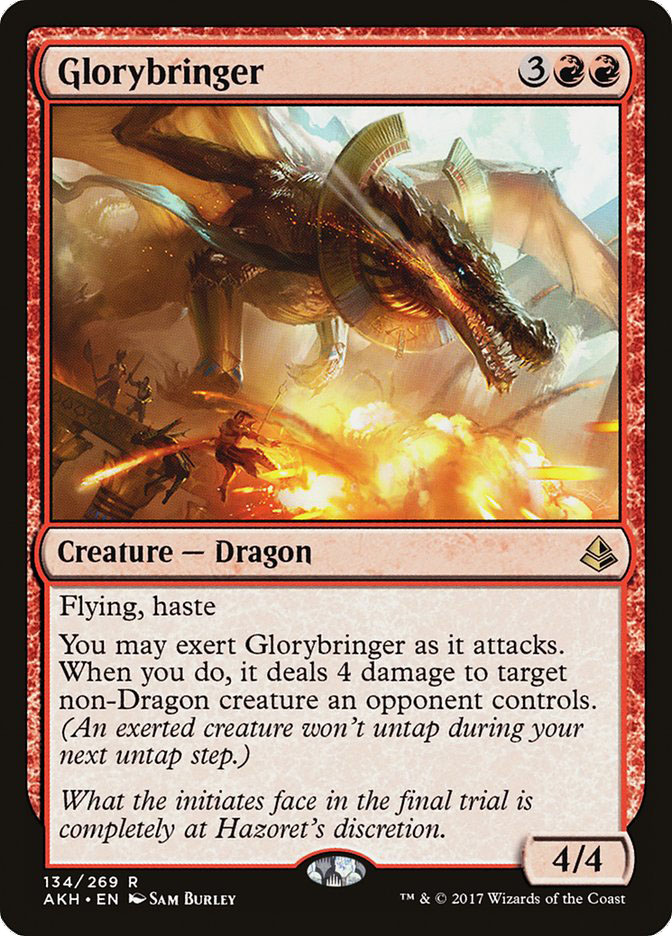 Similar to how Michael was able to crush opponents in post-sideboard games by turning up the heat, I wonder if Todd's deck could benefit from access to Glorybringer somewhere in the 75. That may also be the wrong threat altogether. Todd's cards clearly lose effectiveness as answers in a very long game, but because all those cards can cycle, you could in theory you could in theory play some card that is acceptable in the earlier phases of the game but scales way up going later and pretty easily access it when you need it. Kefnet the Mindful is my first thought, but that card seems sketchy at best against opposing long-game decks with Hour of Devastations to kill it.
Now Michael's answer base.
Michael's answer base doesn't do anything extremely well; it just does a bit of everything well enough. If he goes into a long game, he has an answer for an aftermathed Dawn with untapped mana. He can handle a recursive threat permanently.
If you look at his deck, there are only three cards that actually kill his opponents. As much as you think Wandering Fumarole is going to do this, it is mostly just going to attack their planeswalker. He is planning on answering each and every threat until the point where he has hard control. Seven cards, a planeswalker or two, facing down nothing…his kill condition is "eventually."
There's a price here: the spread costs you points on consistency. There's a reason there aren't three Magma Spray or two Radiant Flames or two Blessed Alliance here. Those are the cards that are most likely to line up horribly against their card, and playing too many of these effects is a fast route to a deck that can't Glimmer of Genius into cards that actually matter.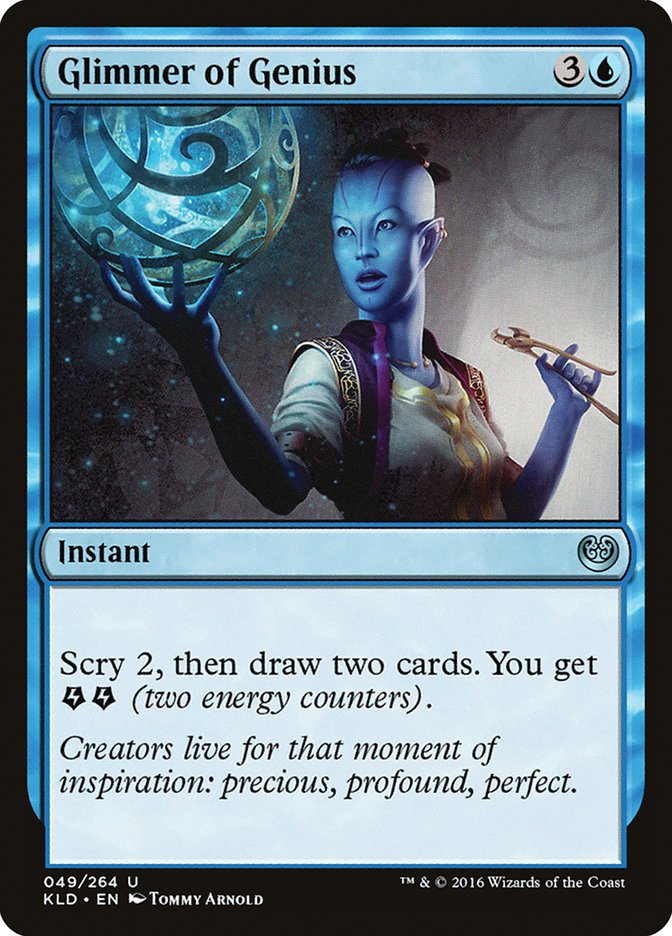 The other problem you can run into here is that the universal answers you are leaning on in these long-game scenarios come at a literal mana cost. While Todd's deck might fail to have an out for weird cards or the game going past a certain point, Michael's deck is sometimes just going to get one-two-three-Gideon'ed right on out of the game. This is why Jeskai Saheeli ended up getting driven out of the format by Mardu Vehicles, and with the surge of Mono-Red Aggro due to Ramunap Ruins, there is definitely a cap to how effective a control deck like this can be in the current metagame.
You don't have to fall cleanly into the lines of controlling midrange or pure blue control when you build a new control deck. You can have a solid answer base with a couple of cards that carry against specific threats you are worried about. You can be pure control and exclude an entire subset of answers because you accept defeat against a specific strategy. That is part of the trial, error, and targeting of any control deck.
Just take a moment and think about what you are trying to accomplish. People often view control as just being about answers and card advantage. There's more to the equation. If something fails, try to figure out what and understand what the pieces are that make it fail. Maybe there isn't a good answer, but maybe there is one that cascades into place once the first few cards are set in stone.
A Pox on Modern
While I really like the Sleight of Hand Death's Shadow deck I played at Grand Prix Las Vegas, I've already moved on. This is the deck I would recommend for the Modern portion of #SCGATL right now.
Creatures (4)
Planeswalkers (9)
Lands (24) W/B Pox is a better version of the Abzan decks that were supposed to beat Grixis Death's Shadow. In practice, that matchup was always close and the Sleight of Hand build made it even closer, as the key was continuing to throw relevant cards at them until their non-cantripping deck eventually flooded out. W/B Pox can lose to Grixis Death's Shadow, but you are fundamentally ahead. You are maxing out on the best cards against them in Liliana of the Veil and Lingering Souls. W/B Pox taxes their ability to try to keep pace by being land-light. Their Fatal Pushes are blanks, further taxing their ability to find relevant cards.
The actual card Smallpox is the big improvement against the rest of the field, providing a kind of nonsense insurance Abzan never had. A Grim Flayer or Tarmogoyf is an okay clock, but it isn't great. Only your best "Inquisition of Kozilek into threat" hands could race a random deck like Tron. Being able to attack all of your opponent's established resources often results in more stable positions where your opponent is multiple pieces away from doing something relevant. Your clock might look slower, but Liliana of the Veil at six loyalty is pretty quick and Lingering Souls is also shockingly fast to close a game with the help of your four-mana planeswalkers boosting the tokens.
It is worth noting that cutting green has a cost of Abrupt Decay and the ability to manage random permanents if they resolve. Your sideboard cards are less shoring up a card or two across the board like Abzan's Engineered Explosives and more hard hitting answers to cover the known gaps in this deck's armor. This current list could stand to gain some ground against artifact and graveyard strategies that don't fold to hand disruption.
The interesting part to me is that Smallpox strategies have always been something I considered terrible, and I think until recently that was a justified opinion. They aren't the only deck that has seen an odd resurgence in recent months, with Brian Coval's Invitational win with Death and Taxes coming to mind.
Creatures (29)
Lands (23)
Spells (8) There are a few specific ways existing Modern decks spike to higher-tier status, and it happens that W/B Pox has managed to hit on all of them.
The first is a new printing. In this case, it was Fatal Push: not a threat or an answer that needed a new shell, but just a card that let an old deck stop playing bad cards. Old Pox decks were closer to 8-Rack, a deck which does some good stuff but is really composed of a lot of bad cards. Due to the very specific Flagstones of Trokair mana needed to support Smallpox and the huge anti-synergy with Path to Exile, there just wasn't a card that fit the mold of an efficient reliable answer for this deck. You couldn't field a 60-card deck of good cards, so it was better to just play bad ones that occasionally worked well together.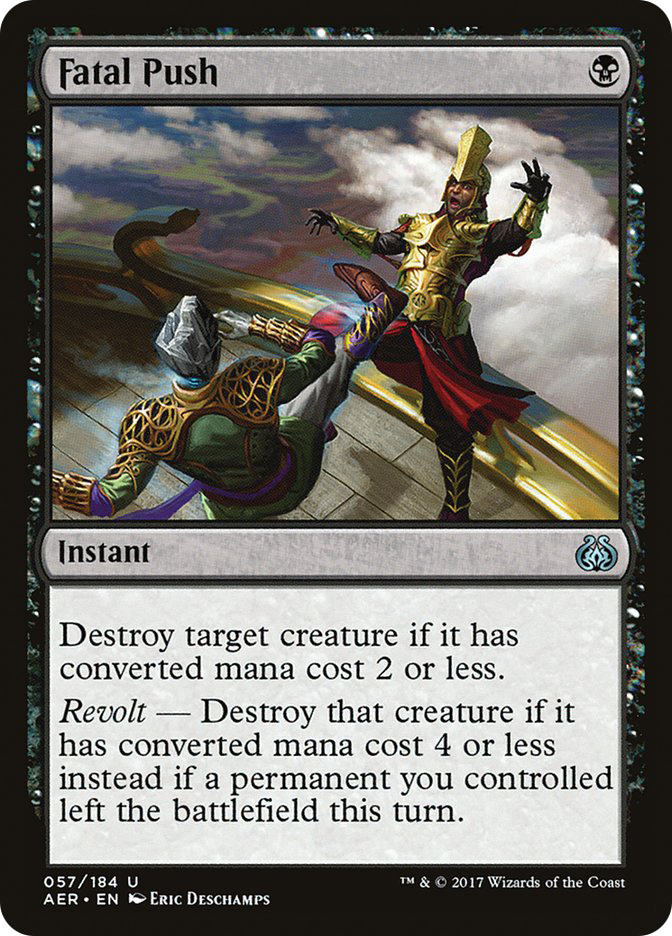 With Fatal Push, the new W/B Pox deck is just a normal B/X deck. You can just play all independently good cards. This lets you keep more hands, not auto-lose to random cards that interact well against you like Leyline of the Void, and just generally win more games. Don't pick up W/B Pox expecting something wild and crazy like "draw step, Funeral Charm." You just are using good answers to trade for your opponent's relevant cards, letting a few of your cards put you up on an exchange, and assuming that's good enough for a win.
The second fortunate event for W/B Pox is a large metagame shift. There are a lot of cards the Smallpox strategy is way worse against than a Tarmogoyf one, the most notable being that anything that puts your opponent up a card is borderline unbeatable. That previously meant Ancestral Vision, but why would you play Grixis and that card when you could play Grixis Death's Shadow? It also means Kitchen Finks and Eternal Witness, but there's been a bit of a disconnect in the Collected Company decks as of late. The Death's Shadow deck isn't inherently a bad matchup, but the Devoted Druid – Vizier of Remedies combo is horrendous against it despite being very powerful elsewhere. That has meant the briefly popular Counters Company deck is almost a non-issue for Pox, though I think there is room for a Collected Company deck to pop up that is not full of super-fragile blanks that keeps pace with Death's Shadow and crushes Pox.
Moving forward, I might try to compile a list of these lower-tier decks and document these kinds of context issues so that, when things change, there's an easy way to look and see what might be the next best thing. Covering everything is ambitious and there will always be something you missed because the answer wasn't quite obviously enough to try like adding Fatal Push to Taking Turns, but it's a good start to knowing when Death and Taxes becomes great because Mirran Crusader and Thalia, Guardian of Thraben are amazing.
With Friends Like These
One final thought on the team structure: "you do you" is often going to be the best advice you can give to your teammate. People are used to Team Limited, where decisions are often unique to that spot and an extra set of eyes can help find something you missed due to tunnel vision. In Team Constructed, you should be able to know your deck. In fact, your teammates should trust you to know the deck better than they do and the reverse should also be true. When you are asking them, you are the expert asking them to cover your bases. Try to ask questions that maximize their ability to add input, not "Should I play this?" but "If I play this, what cards could they have that I might not expect?"
Team events are great, but at the end of the day, for Team Constructed, the best thing you can do for the team is be able to trust in your own instincts and decisions.