One of the biggest pieces of advice I ever received as a writer was to "just sit down and write." It didn't matter if you had no idea what you were going to write. You didn't have to wait for that perfect thought to enter your brain from which a novel would spring forth.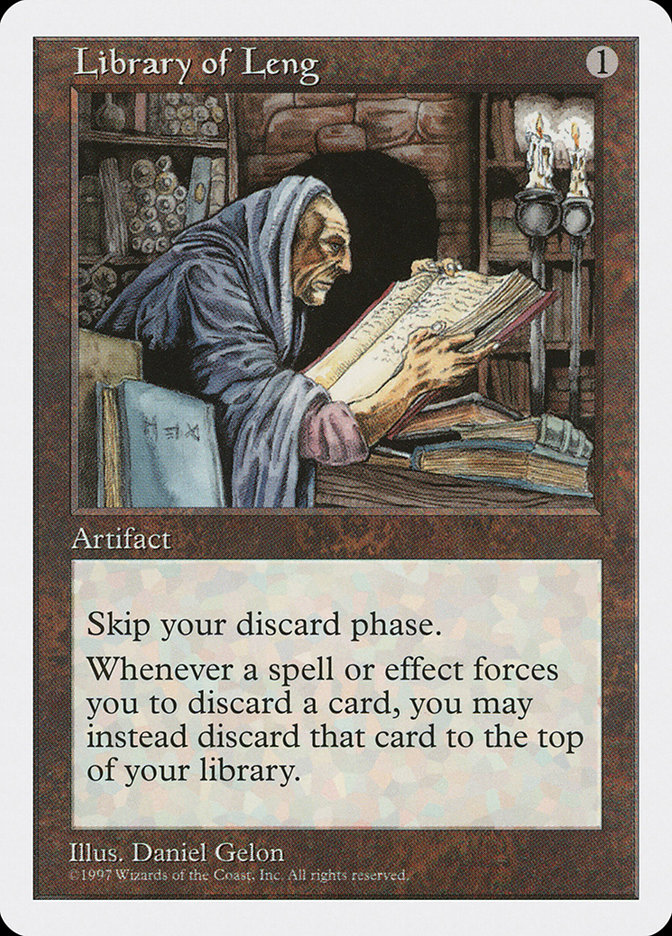 If you want to write something great, just start by writing. Once you sit down, you will find the words flow from you so much more easily than expected, and eventually some idea will catch your mind's eye and you will be off and running. It sound too simple to be true, but as someone who has turned to this countless times, I promise you it is spookily effective.
I think the simplicity actually makes sense when you dig deeper, though. How often have you been out on a date and all of a sudden you think up a great stuffed pepper recipe that you want to cook that weekend? Never? Hmmm. All right, well, surely you've been out playing basketball when an amazing new guitar hook comes to mind that completes that song you have been working on for months! No? It would seem to me that the most consistent progress you can make on a given activity will be when you are focused on that activity. You cannot count on your brain simply stumbling into a solution when you aren't even giving it a direction to aim at.
Now, of course you can stumble upon ideas randomly. We all do. But what you stumble upon randomly is, in fact, random, and that is the problem. You are hoping for a specific solution out of a random process. You are much more likely to come up with a new recipe while in the kitchen cooking something else, or while watching a cooking show, or taking a cooking class, than you are during yoga, even if yoga-inspired lasagna has a nonzero chance of occurring.
By sitting down to write, you are taking that random chance event and you are aiming straight for it. You are focusing your thoughts and efforts in a direction that has the greatest chance at yielding a result. Now, you could very well still draw a blank, as there is no way to demand a novel thought into existence, but at least you are giving yourself the best chance by sitting down to actually write.
There is also some forces at work here that are a little more difficult to wrap one's head around, but I will do my best to explain. When I write, while there are certainly sentences I plan out ahead of time before typing, usually I have no idea where my sentence is going to end up as I am forming it. I don't know, on a conscious level, all of the exact words that will be in this very sentence, nor when this sentence will end. I am simply channeling myself through my keyboard in very much the same way you channel through your mouth when you speak. Do you know what you are going to say before you say it? You might have an idea of what you want to say generally, but you certainly aren't planning out every word you are going to speak before you speak it. You simply engage in the act of talking and your feelings and thoughts come out as sounds. If there is planning involved, it happens on a subconscious level that we do not have access to.
Clearly talking and deck building have many degrees of separation between them, but at the root of both of these is idea generation. If you can generate ideas seemingly out of nowhere and then express those through sound, you can generate ideas seemingly out of nowhere and then express them in card form. Iteration and improving your idea over time are essentials part of deckbuilding that will come later, but right now we are simply focused on generating ideas.
Capturing Ideas
Of course, not all of your ideas are going to be had when you want them to be. Sometimes you will be blindsided by an idea out of nowhere and it is important to capture these ideas when they arise. How many times in your life have you thought of a cool invention or idea for a new product and then let that idea drift off into nothingness? The idea was there, but for whatever reason you deemed it not worthy of your time or investment to pursue that idea further. An idea that is left to drift away is not useful to us. We need to capture these ideas when we have them so that we can continue to move forward with them and see what else springs to mind.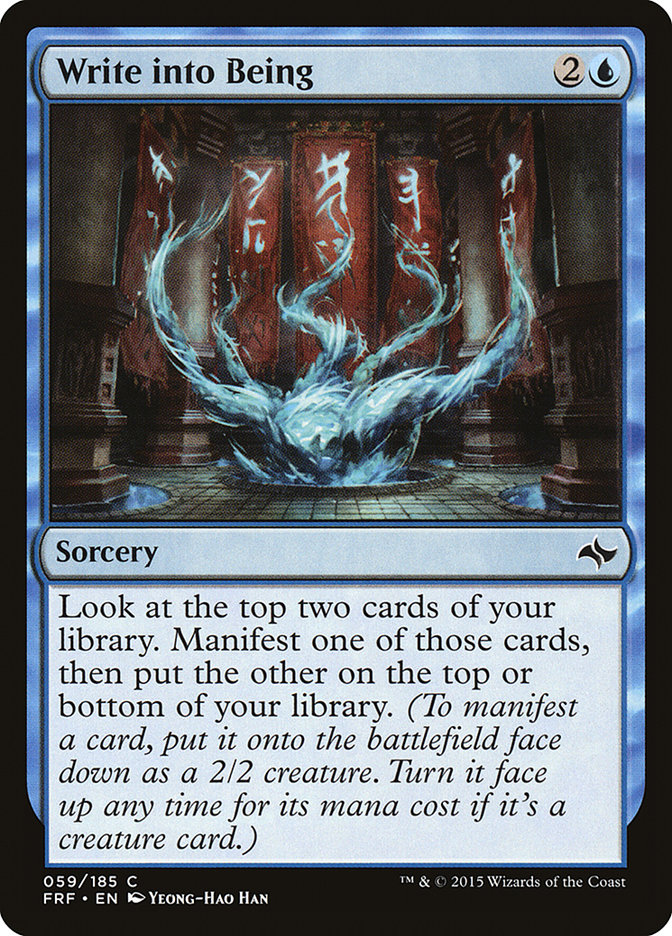 This is a skill I developed doing stand-up comedy that is equally useful to a deckbuilder. As a comic, you are sort of always in the mind space of comedy. You are constantly looking for moments to insert zingers or one-liners, and as a result, jokes come to you much more often than book ideas might come to a writer. It is important, then, to be prepared to capture these ideas when they do come to you. Phones have made this very easy, but even just having a small pad of paper on you at all times works fine. When I would think of a joke, or a premise, or a funny situation would arise, I would simply make a small note about that thing:
"Absurd scented candle types."

"Car accident between two limos."

"Guy named Timbob."
These are all real notes I have left myself in the past. They are short and somewhat vague to a person reading them for the first time, but they were enough to trigger my memory at a later time.
Generating ideas for decks is very similar to this. Like comedy, if you have an idea for a deck, or a cool interaction that comes to mind, or a sweet sideboard idea, you should make a note of that and capture it. Your ideas are not useful if they are not remembered.
Capturing ideas in the wild is one thing, but what about when I am sitting down to brew? What about when my focus is completely on Magic? This is where I cycle back to the unconscious mind at work and I encourage you to chase your ideas.
Chasing Ideas
So let's sum up what might have happened to get us to this point. Over the past week, let's say I noted a few ideas for decks. Maybe I read a cool article, or watched a stream, or just thought up something cool. Now it is Saturday and I am sitting down at my desk ready to brew. I have my notes with me. I have Magic Online open. I have StarCityGames.com® open for access to the advanced card search (which has been my preferred search engine for over ten years at this point). I am ready to go.
Now all I need is that first breadcrumb to get me started. This could come from one of those notes I made, or maybe from a deck I have already been working on, or maybe it's a completely new idea. However it comes, what is important is that I chase it. No idea is bad until it is bad. That is to say, ideas at their genesis are never bad and you should always be willing to chase them. Eventually you can move off them as you begin to notice their flaws or holes, but at the beginning, we have to be optimistic. All good ideas and bad ideas begin from the same place. Plus, exploring bad ideas has value as you rule out things or find a new idea to jump on to in the process.
For my breadcrumb this week, I began with my Dreamstealer decklist from last week.
There are a few changes I have made over the course of the week, so here is said decklist for those interested.
Creatures (18)
Lands (20)
Spells (22) So I began by just making some small improvements to this list. I added some Looming Spires to give some "free" pump spells to the list. I decided there were too many actual pump spells, so I swapped a few out for Hope of Ghirapur. The idea here is to add a few more creatures who can receive those pump spells, but Hope also protects our combo turn thanks to its Silence effect, so it felt worth trying. Another artifact creature helps enable the delirium on Scourge Wolf too. It was actually here that I found a new idea to chase.
In the process of looking up artifact creatures to enable delirium, Scrap Trawler showed up and stared me right in the face. I didn't know where I was going to end up, but I knew I was going to chase Scrap Trawler for a bit. The card has made a splash in Modern but has been relatively quiet in Standard, and Hour of Devastation brought new artifact toys to the format.
That is all it takes, though. Magic Online just happened to include Scrap Trawler in the same frame as Hope of Ghirapur and something in my brain decided it was worth pursuing.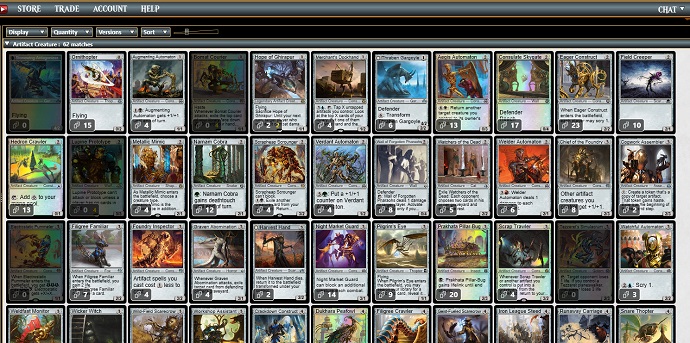 All I do, as a physical being, is step out of the way and let my mind ramble from here. We have an idea to pursue, even as vague as a single card, so we are going to pursue it. It doesn't need to make sense to you and you definitely don't need a destination in mind. The idea is leading; all you need to do is chase it.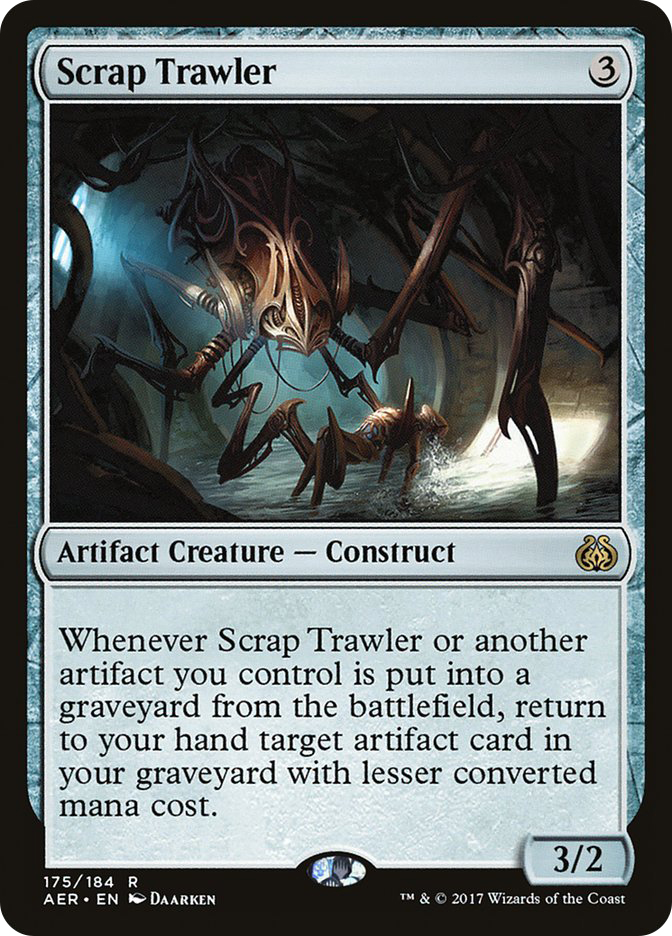 Even odder than focusing in on Scrap Trawler, I actually focused in on its creature type. Metallic Mimic is a card that I have been using in a lot of Standard lists and it seemed like a reasonable artifact to include alongside Trawler, so naturally the Construct creature type came up. After doing a quick search for Constructs in Standard, I was very surprised to see many of the strongest artifacts in the format sporting that creature type. Scrapheap Scrounger, Bomat Courier, Walking Ballista: they were all Constructs. Construct tribal is not normally something I would consider, but with this level of quality, we might just gain that linear bonus for free.
I began fleshing out the idea further, including some sacrifice effects to enable Scrap Trawler as well as some other speculative ideas. Stoneforge Masterwork and Key to the City both seemed like reasonable artifacts to include in the shell at this stage, so I did. In fact, Stoneforge Masterwork took off running as its own new idea to chase. I was knee-deep in this idea already, so I jotted down Masterwork in my notepad for later but stayed chasing the Trawler that was in front of me. Here is where I landed.
Creatures (30)
Lands (22)
Spells (6) This list didn't just form instantly, of course. I probably spent a few hours on arriving at 75 cards that I could justify joining a queue with and getting some testing in. Testing will come at a later time, though, when I am looking to iterate and improve on ideas. Right now I am chasing ideas and want to remain in this mindset so long as it is available to me. This Construct Tribal list is kind of cool, but it also moved pretty far away from the all-in nature of Dreamstealer. I note this because my mind was still in Dreamstealer mode, so with the addition of Scrap Trawler into the mix, I felt the urge to blend the two ideas.
Again, I have no idea where this is going to go exactly, but I want to chase it to see where I might end up. Scrap Trawler has a lot more potential to it than just being a reasonable three-drop in a tribal deck. In Modern, the card is used as a combo engine that is both explosive and resilient. Is there any way to capture that same essence in Standard?
While we don't have access to Chromatic Stars or Ichor Wellsprings, Standard does have plenty of cantripping artifacts to use in their place. The Implement cycle and Prophetic Prism make for excellent "eggs." Of course, Krark-Clan Ironworks is nowhere to be found, so we will need a new sacrifice engine and a new way to ultimately win the game, but there is definitely something here.
When looking up sacrifice outlets, the best options seemed to be creatures who wanted to attack for lethal. Ravenous Intruder and Defiant Salvager both offered a free sacrifice outlet that increased their size. If we could loop enough artifacts out and get a combat step in, both of these creatures could not only be our sacrifice outlets but also our win conditions. A gem from the first list comes back big time here in Key to the City. That gives both of these creatures a free pass into the red zone while also being an artifact and a discard outlet for Scrap Trawler synergy to boot!
Scrap Trawler does offer an interesting puzzle where you want to have some number of more expensive artifacts to start your chain over. KCI is again the perfect card here, but we don't have access to that. While searching for options, Gate to the Afterlife came up and everything clicked. Gate to the Afterlife is a great card with Scrap Trawler, as it effectively turns you into an Aristocrats deck. Now your sacrificing lends you life and it also digs you into your deck while filling up your graveyard. All of these things sound great, but Gate goes even further than that. Gate can self-sacrifice, which triggers Trawler, and then it finds a seven-cost artifact in God-Pharaoh's Gift. This is an absolute perfect idea to stumble into and now we are definitely chasing it.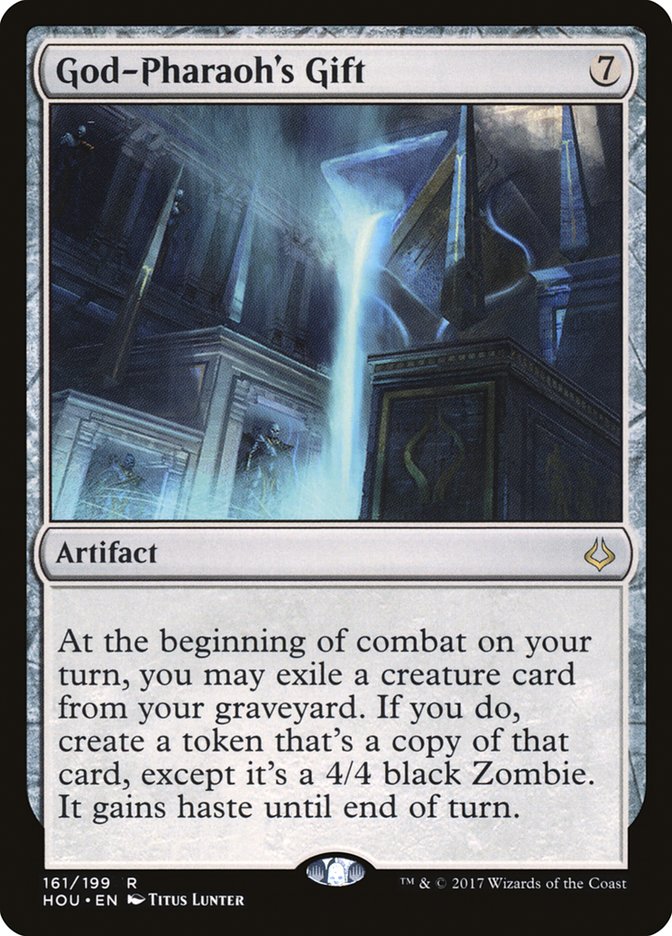 God-Pharaoh's Gift costs seven, which means that if you sacrifice it to something, it will trigger Trawler and be able to get back any artifact from your yard, including Gate to the Afterlife. Gate to the Afterlife conveniently fetches God-Pharaoh's Gift from not only your deck or hand but also your graveyard. This gives our top-end some real resilience and power. Factor in that God-Pharaoh's Gift is just a good card in our list, as it brings back hasted Ravenous Intruders and 4/4 Ornithopters, and I think we have a great shell to build here.
Creatures (24)
Lands (18) I am not thrilled with my manabase here and probably need to find room for one or two more lands, but that is something we can tackle in iteration (and this is definitely a deck I will be iterating on). In terms of raw idea value, this deck looks extremely awesome. It is an explosive combo deck that can also just go long and grind out basically any deck without ways to exile our graveyard. We have a ton of incidental lifegain to keep us alive against aggro and our primary engine gives us access to many cards in our hand and graveyard. This makes this shell really interesting insofar as it can attack the metagame from many different angles without sacrificing power level.
This fact is even more apparent when you look at that sideboard. Yes, that's Imminent Doom. This deck happens to play really well with Doom, as we have cards all the way up the curve to eight, with Walking Ballista and Battle at the Bridge filling in at various spots as needed. I have no idea if the card is good, but it seems really interesting to me. Our deck would probably like it more if Ornithopter did anything for Imminent Doom…
Uh oh....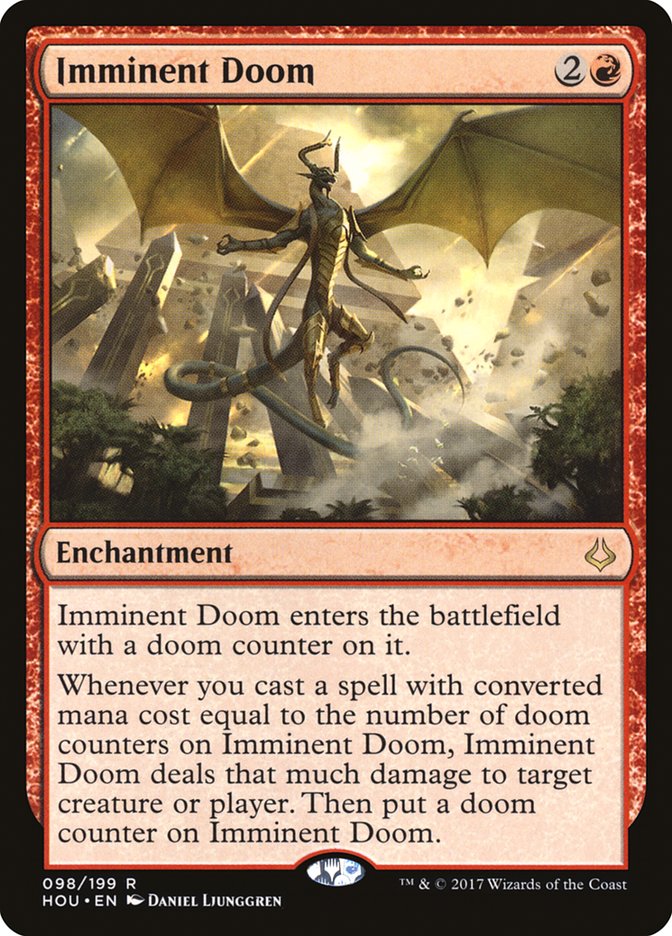 Imminent Doom just took off running.
Time to chase.