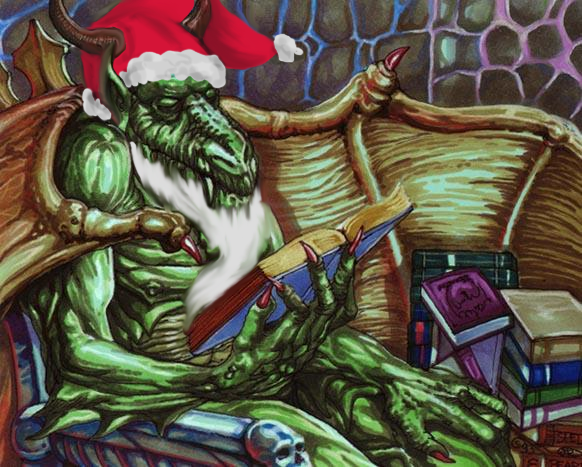 You better watch out

You better not die

If you do, Embalm

Or Eternalize

Santa Bolas is coming to town




He's killing the Gods

Trashing the place

Making blood run

Out of Kefnet's face

Santa Bolas is coming to town




He sees you in the graveyard

He knows you can't come back

He gives his gift of Eternalize

What a megalomaniac




So use Champion of Wits

To fill up the coffers

Then Refurbish back

What the God-Pharaoh offers

Santa Bolas is coming to town




Or cycle until

Your graveyard is rife

When you get to six

Santa Bolas is coming to town




He sees you in the graveyard

He knows you can't come back

He gives his gift of Eternalize

What a megalomaniac




You better watch out

You better not die

Amonkhet is doomed

I'm telling you why

Santa Bolas is coming to town
I get it.
Amonkhet was doing just fine.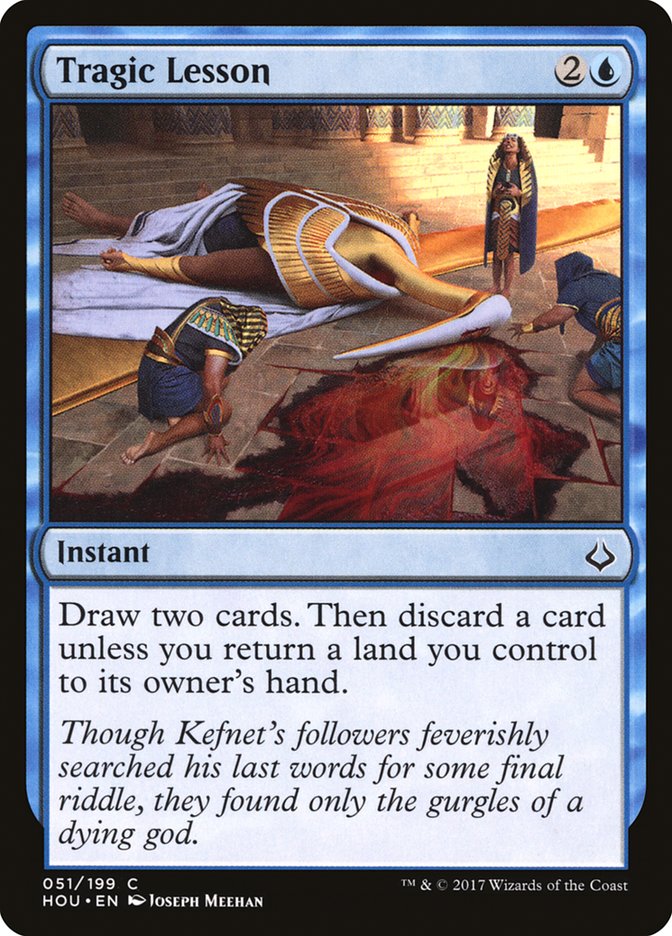 There were some cool Gods people like to worship, if you died you got to turn into a mummy, there were neato pyramids and stuff, and The Gatewatch was hanging out like always...and then Nicol Bolas had to show up and make the rivers run red with blood, kill the Gods, and cause a huge ruckus.
If you ask me, though, I think Nicol Bolas is just a little misunderstood.
Like, take Santa Claus. Here's a two-thousand year old man who shacks up in the middle of nowhere with a bunch of house-elf slaves doing forced labor.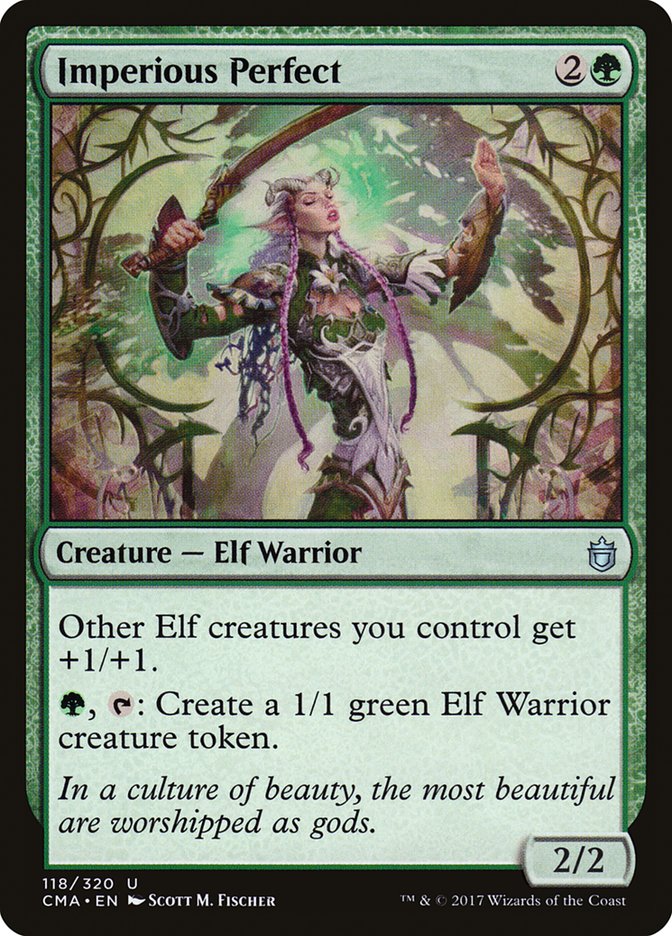 "But you should see our dental plan."
He only works one day a year, and when he does work he breaks into people's houses, eats their food, and terrorizes their children... and he's beloved! Anyone can sound bad if you frame it negatively!
And while some bad things did happen when Nicol Bolas, God-Pharaoh arrived, something else arrived with him: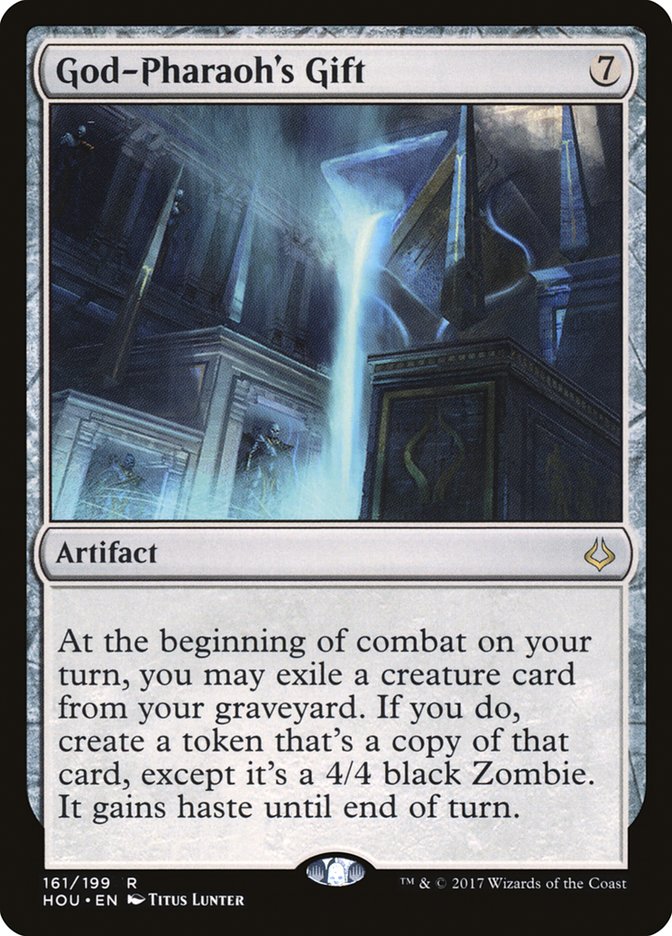 He came bearing presents! And not only that, it's not even legendary— what's better than one present?
Lots of presents!
God-Pharaoh's Gift is an impressive Magic card that has both an immediate impact on the game as well as long-term implications that are almost impossible to grind out. After having it cast against me in a Sealed PPTQ last Sunday, I knew I wanted to give it a spin in Standard. I returned home and immediately threw together this experiment: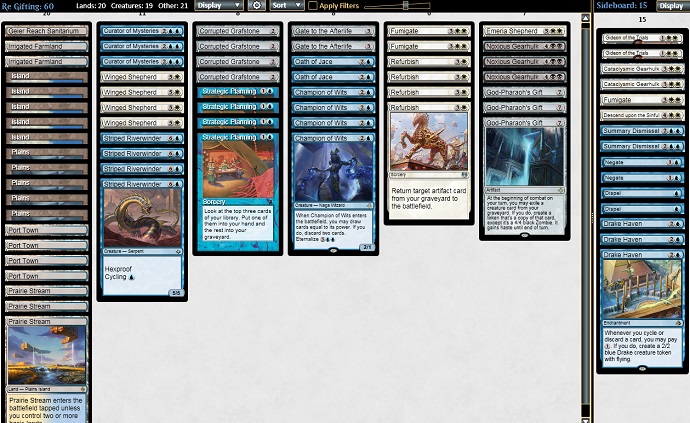 Woe unto whoever copies this as a finalized list.
Think Once
When it comes to brewing a new deck, people often waste a lot of time in the "thinking" phase. Not to say you shouldn't put a lot of thought into your new creation, but it is often best to just throw together a sketch and starting playing as soon as you can. You will learn much more after playing a few games than you would just scouring Gatherer or theorizing, even if the sample size is small.
This first draft had an awful sideboard and was woefully unprepared for aggressive decks like Mardu Vehicles and Mono-Red Aggro, yet performed surprisingly well for being so untuned. Turn 4 God-Pharaoh's Gift made many games blowouts, and it was clear there were good things happening.
However, there was some serious deckbuilding tension.
Gate to the Afterlife was a nice tool for getting God-Pharaoh's Gift onto the battlefield quickly, but it required you to play a ton cycling creatures and really dedicate yourself to getting your graveyard full quickly. Trying to mix it with the Refurbish plan caused a lot of tension, because if you are tutoring up God-Pharaoh's Gift you only want one or two copies, but if you want to get it in your graveyard reliably you need to play the full set of them.
After playing various versions of the deck, we ended up splitting the difference in the original list and came out with two decks— one based around using Refurbish to put God-Pharaoh's Gift directly onto the battlefield, and one based on cycling synergies to cast and activate Gate to the Afterlife.
A Tale of Two Decks
Creatures (18)
Lands (23) Creatures (28)
Lands (19) While the actual execution for each deck is different, the gameplan is mostly the same: get through your deck quickly, maybe interact with a sweeper, and get God-Pharaoh's Gift online as soon as possible. Other color combinations like Mardu and R/W were considered, but the blue cards were too important to give up and three-color manabases were awkward.
Both decks run full sets of Strategic Planning and Champion of Wits, as together they form the premier graveyard/sifting package in Standard. If you want to get cards into your graveyard while also looking for specific cards, there really isn't a better way to do it. Champion of Wits also does double duty as an excellent target for God-Pharaoh's Gift, offering you card advantage and promising that you'll never run out things to bring back.
Oath of Jace is more specific to the Refurbish deck, but it serves as Champion of Wits five through seven. It is of absolute importance to get God-Pharaoh's Gift into your graveyard as soon as possible, and the turn three looting effects curve perfectly into a turn four Refurbish. Oath of Jace also can help you dig for your good creatures once God-Pharaoh's Gift is on the battlefield.
One of the hardest aspects of the deck to nail down was the creatures you would be returning to the battlefield. God-Pharaoh's Gift setting the size of the creature to 4/4 throws traditional ideas about reanimation targets out of the window; rather than wanting huge creatures, you would actually prefer smaller creatures with better abilities.
My first draft of the deck had Noxious Gearhulk, which remains in the deck as a way to catch back up from fast starts and actually interact with the battlefield. For the U/W deck, it also serves as a backup Refurbish target to increase the utility of the card. There aren't many great artifact creature bombs available, and although we don't want too many uncastable cards in our deck, Noxious Gearhulk does enough good things to be worth the slot.
With the U/W version of the deck being much more interested in direct reanimation, I tried a number of junky cards like Emeria Shepherd, but I often found myself just bringing back Winged Shepherd because I wanted both an evasive attacker and a blocker. This had me considering Aerial Responder, which brought me to the true prize: Angel of Invention. Angel of Invention is already a solid Magic card, but when you bring it back with God-Pharaoh's Gift you end up with this: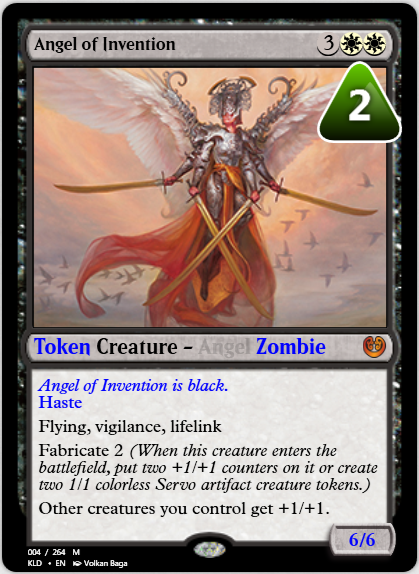 The fabricate +1/+1 counters end up layering on top of the base 4/4 stats, giving you a 6/6 haste, lifelink, vigilance, flying creature. That's already quite the monster in a vacuum, but when you put it in the context of the format, your Zombie Angel can't really be touched by much.
The list goes on and on, but six toughness is just enough to survive all of the damage-based sweepers and many of the spot removal spells as well. Remember: even though the ability eternalize normally removes the mana cost, the God-Pharaoh's Gift ability does not— one Fatal Push will not undo your hard work!
Angel of Invention being a very reasonable card to just cast and buy time is a huge selling point over ridiculous options like Ulamog, the Ceaseless Hunger or Emeria Shepherd.
While the cycling elements were cut out of the U/W version of the deck, Winged Shepherd remained because of how great it was to return with God-Pharaoh's Gift and how easily it found its way into the graveyard. Free Serra Angels with haste are no joke!
While the U/B version of the deck is much smoother with all of its cyclers and has an easier time of getting God-Pharaoh's Gift onto the battlefield, it does lack the power of true reanimation targets like Angel of Invention. Without the extra discard effect of Oath of Jace, it's hard to justify putting any uncastable creatures in our deck.
The big payoff card to bring back for the U/B deck is Archfiend of Ifnir, which will often end up decimating your opponent's battlefield the turn after it comes onto the battlefield. The issue? The first turn you tap out to put God-Pharaoh's Gift onto the battlefield, you often don't have a lot of mana to cycle stuff. As such, if you are very behind when you get to your first God-Pharaoh's Gift trigger, you may not survive to see another one.
The upside is that Horror of the Broken Lands and Vile Manifestation kill very quickly and are never dead cards in your hand. Vile Manifestation in particular is a fantastic, Tarmogoyf-level threat in the deck, both on offense and on defense.
Both decks are light on interaction but have home-run power waiting in the wings with their sweepers.
Fumigate is a fantastic Wrath of God variant, and the extra life buys you plenty of time to get your engine online. It's also often unexpected from your opponents, who will be trying to pressure you heavily before you can get set up. A third Fumigate may be a necessary evil in the maindeck.
For the U/B deck, I don't think I've seen a better Yahenni's Expertise deck. Time is again all you really need, and the deck has an astounding sixteen awesome cards to cast off it for a major tempo boost. If you've spent your first few turns cycling and land a Yahenni's Expertise on turn four that also casts Gate to the Afterlife, you are going to be very far ahead of your opponent.
Each sweeper effect is a huge part of buying the time necessary for each deck to get its gameplan in motion.
The decks' sideboards are fairly similar as well.
With the lesser reliance on cycling cards, the Drake Havens out of the U/W deck are more of a supplemental threat than a full-on plan, but in the U/B deck a resolved Drake Haven against any control or slower deck will be nigh-unbeatable. Dispel and Negate are around to help them resolve.
There's also a battery of lifelink creatures in each sideboard for the aggressive matchups, which serves a dual purpose. Not only are they great early blockers to help stem the tide into the midgame, but they also give you bodies to get back with God-Pharaoh's Gift to become 4/4 hasted lifelinkers once your engine is online.
Pick a Side
Each deck has its merits, but the U/W deck has been more impressive overall. Being able to play more "real" cards like Thraben Inspector and Cast Out gives you more interaction, and the payoff of Angel of Invention is very high. Fumigate is a beating against many decks in the format, and the sideboard is also quite good.
The U/B version is a much better Yahenni's Expertise deck, so if that is a better card in the metagame than Fumigate, that's a pretty big draw. It also deals with decks that go wide much better with access to Archfiend of Ifnir.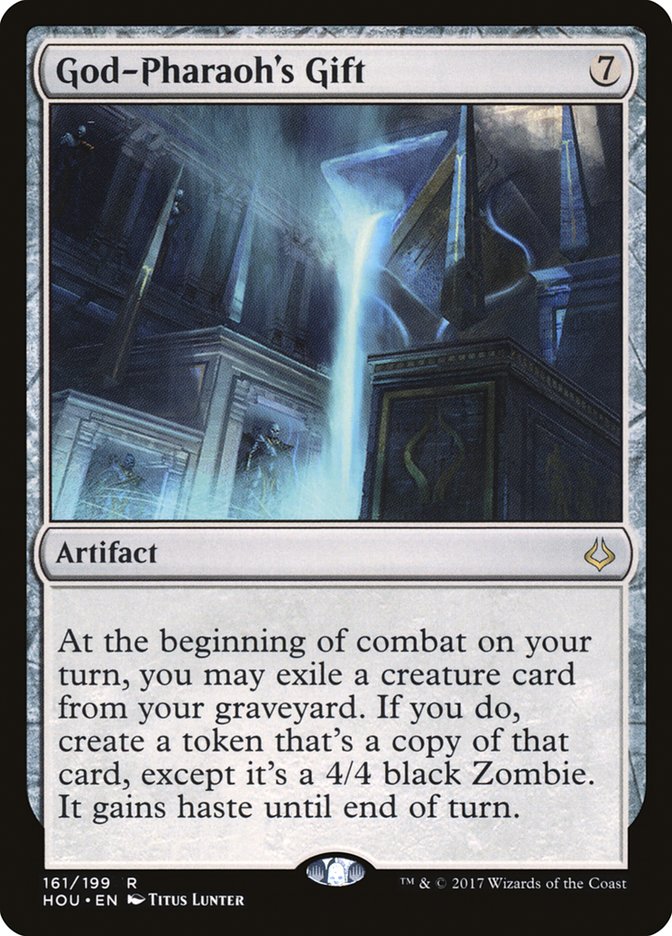 God-Pharaoh's Gift is a very powerful Magic card, and there are a number of other ways you can go with it. From other color combinations to full on combo decks with Marionette Master, I would not be surprised at all to see creatures returning from the graveyard as 4/4s at the Pro Tour next weekend.
Santa Bolas has given us an intriguing gift, and with the wrapping paper still torn up on the floor, it's going to take some time to fully figure it out!