I've said it once and I'll say it again: writing is tough. Honestly, the most difficult part of it is selecting a topic, but even that can be killer.
Modern and Legacy? That's so last week.
Limited? I'm pretty good, but I wouldn't call myself "write an article on the ins and outs of Hour of Devastation for StarCityGames.com" good.
Standard? If I'm not mistaken, the Pro Tour starts in about twelve hours. I don't have the audacity to think that more than two-thirds of what I could say about the format won't be invalidated by Saturday morning, American time.
So in lieu of thinking of a topic, I asked the internet for a topic! It feels like if I'm going to do a mailbag article, this is one of the best times to do it. I wanna answer as many of these as possible, so we're jumping right in!
How do you choose decks to play or test with? Is there any effective way to test by-oneself?

— TSSaloic (@TSSaloic) July 25, 2017
This is a two-parter, but the short answers are "I play to win and try to pick decks accordingly," and "no."
To expand a bit on the first part, when I'm choosing a deck for a tournament, I'm not trying to reinvent the wheel. I'm not under the illusion that I'm one of the Sam Blacks or Zac Elsiks of the game, and this leads me to the conclusion that trying to build a deck from the ground up would put myself at a serious disadvantage, particularly when compared to playing a deck that is already refined, and tuning it to my tastes.
Choosing which proven archetype I'll play has a bit of a process to it. Using #SCGATL as an example, I knew that I would be playing Modern, and narrowed my deck down to Death's Shadow, Lantern Control, G/W Elves, and Affinity. Why these four decks? The reasoning actually frames my process quite well.
When looking for a good choice for a tournament, I generally want a deck to fit into one of four categories:
1. Deck with highest number of positive matchups. These are the "55 decks" or decks that are 55% against most of the field. They tend to have a lot of play to them and playing them perfectly puts you slightly favored against a majority of archetypes, but there tend to be a lower number of "free wins."
2. A metagame call. These decks are decks that may not have the highest win rate, but they are well-positioned against what other people are doing. They tend to be a bit more linear or pointed at beating specific strategies.
3. The most busted thing. These decks are attacking from an angle that a format isn't accustomed to. These decks tend to have a higher number of non-games resulting from their strategy being implemented.
4. The tried-and-true deck. This deck is generally something that has been around forever, is still playable, and doesn't have much of a reason not to play it outside of the average player's familiarity with the archetype. These decks tend to fit into another category as well, but get extra points due to their tenure.
For the Modern portion of #SCGATL, I had to look at the decks from my perspective, and which decks I knew how to play. Modern is a format of familiarity, but it doesn't stop there. This led me to consider if I wanted to play the deck with the highest number of positive matchups in Death's Shadow, the metagame call in G/W Elves, the busted Lantern Control, or whatever this year's version of Affinity is.
I ran some games on Magic Online. After a few Leagues I settled on a list for Lantern Control that I figured would work reasonably against the field I planned to play against at the Open, and I locked myself in.
Tackling the latter part, I think that it is difficult to effectively playtest alone. It's reasonable to become faster at goldfishing a linear combo deck a la Legacy High Tide, but it's very hard to improve when playing with oneself. I generally find it more effective to try to play with people who are of similar playskill but a different mindset, or people who are flat-out better than you.
I play on Magic Online a great deal because you deal with a wider array of players, decks, and playstyles from opponents, and once you're entrenched, the accessibility is unbelievably convenient.
I can't say that it is literally useless to playtest alone, but I don't think that it is going to match playing with other people, pound for pound. There's a reason that there are more successful people on professional testing teams than there are loners on the Pro Tour.
Jarvis Yu. Answering for a friend.
What do you do to maintain sanity during long wait times between rounds at big tournaments?

— Andrew Gordon (@agordonandstuff) July 25, 2017
I've had a couple of different strategies throughout my life and they were both effective for different reasons.
For a long time, I had a tournament playlist. It would only be two or three different songs, and I would make a point to distance myself from people after every round, listen to the entire playlist exactly once, and try to get myself in a reasonable headspace in time for the next round.
It was great because I used the music to get myself out of a tilt, or come down from the high of a win, and reset to a base level of emotion. I used it for a long time in order to keep myself grounded and make sure that I was playing my best at every point of a tournament, coming into the thirteenth round the same way that I went into the fourth round.
Lately, I've been doing that less and less. I have good friends on the SCG Tour® and have a good network of people to help me wind down (one way or another) after a match, and it does wonders for my mental state. Having friends to vent and talk to (not to be confused with sharing bad-beat stories) does significantly more for me than hearing Promises for the eleventh time that weekend. Admittedly, music is much better at bringing me back to earth out of a dominating victory than my friends cheering me on afterwards. That being said, I think the former is much more valuable than the latter.

This is tough! I'll add a caveat and say "Top Five Cards I Wish Were In Top-Tier Modern Strategies:"
3. Bant Charm
Is "good games" sporting to say to the person who lost?

— Morgan Wrektworth (@MTGValkyrie) July 25, 2017
This is complicated. I think that it is pushing unsporting to say it as the victor, fine to say as the loser. Generally speaking, instead of saying "good games," I say "thanks for the games." It feels like it conveys the sentiment that "good games" wants to communicate, without the feel-bads associated with someone losing to mana screw or something of the like. That being said, I think it's incredibly disrespectful not to shake someone's hand after a match.
It's worth of note that I was raised in the South, so manners are completely different in this part of the United States from how they are in other regions.

My favorite format to play is Mental Magic, but my favorite sanctioned format is Legacy! Also I've written four articles on U/R Prowess this year, so uh, I'll let y'all connect the dots.
Assuming the funds to do so, if you could play any Vintage deck, what would it be?

— K. Wilder Newyear (@WilderNewyear) July 25, 2017
This is tough. I owned a five-proxy Dredge deck for a while (I was proxying three of the four Bazaars, an Ancestral Recall, and a Black Lotus), and loved that deck. My infinite-proxy deck was a Bant Fish variant that I recall playing endlessly at the local card store, so it would probably be some fair Noble Hierarch-fueled amalgamation, given this infinite money scenario.
What positive and negative effects does streaming have on your game play?

— TJ Rogers (@RedBaronMTG) July 25, 2017
On stream? It hurts your performance in a pretty big way. While streaming, a lot of mental energy goes into maintaining the stream itself, interacting with chat, and making sure nothing miscellaneous is going wrong, all while having to play a game of Magic. Just to fire up the stream, I have to have all of the following open:
1. OBS - this is the software that I use to broadcast to Twitch.
2. Magic Online - this is where the games of Magic occur.
3. Twitch Chat - In order to interact with people while streaming, I have to make sure I can see what they are saying
4. Nightbot widget - This is one of the bots that I use for my stream to automate several of the processes that I run (including song requests)
5. Spotify - this is the program that Nightbox plays music through
6. Streamlabs widget - This is what makes all of my notifications and templating work on OBS. Animation for a follow? That's Streamlabs. Sound for a donation? Streamlabs.
7. Google Chrome - This is to have my Twitch Dashboard open. This ensures that the broadcast is actually reaching Twitch, there aren't server issues on their end, and monitor when I gain or lose viewers.
That's just for the basics of when I stream Magic! That doesn't go into having guests on Stream, publishing decklists through Imgur, operating other bots, and so on. As a result, I'd say there are probably one or two plays an hour that I'll click through, and as the spell or ability is resolving, I'll say out loud, "Wow, that was wrong. I should have done X, Y, and Z instead."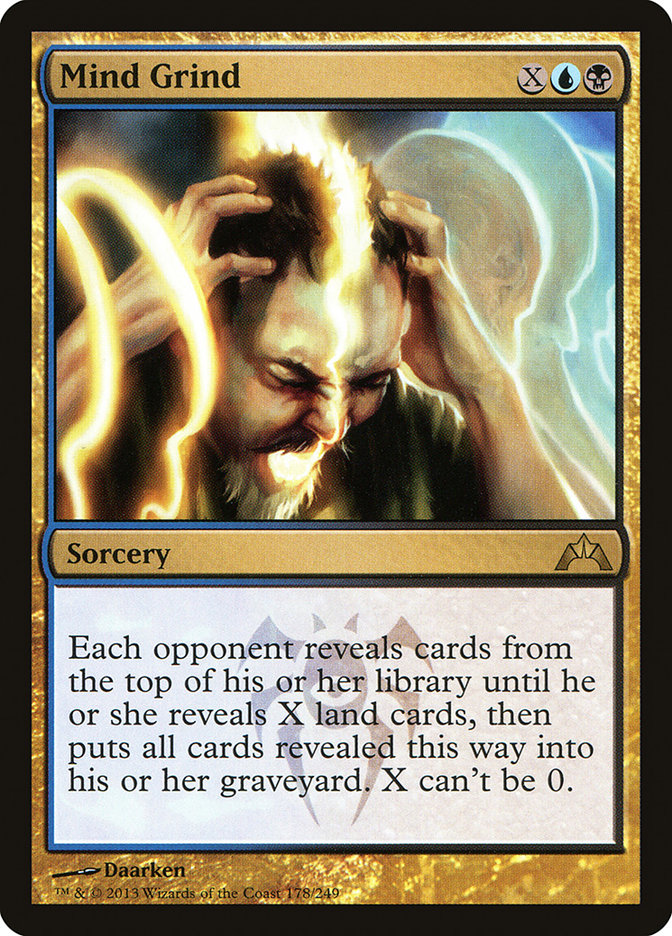 In terms of how streaming affects my paper play, I think the biggest thing that it does is that it helps me juggle multiple games at once. For team tournaments this is a pretty big deal, and it helps me see what my teammates are doing while remembering what is occurring in my game simultaneously. This mattered a couple of times during #SCGATL and there are instances during group playtesting where this comes in handy.
The other big thing that comes with streaming Magic is that I talk through my plays more frequently. On stream I get in the habit of verbalizing my thought processes (in order to communicate with chat the reasons that I do things), and it's not the easiest thing to turn on and off. This is one of the large reasons that I'll rarely stream the day before a tournament, and if I do, it will be a relatively uninteractive stream. Playing on-stream versus off-stream has a totally different mentality and physical composure.
What's your best MTG story this week? Awesome play in a game, great stream, etc.

— Ryan Watters (@RyanWatters2) July 25, 2017
Have I got a treat for you:

Raspberry is pretty great. I loved Cotton Candy when I was a kid, but I doubt that I'd like it as much today.

If I had to guess cards that were on a sort of "watch list" from the perspective of Wizards of the Coast, it would be these:
That being said, I think that Modern is in a pretty great place right now, and I really hope that Wizards doesn't unravel the whole thing by pulling a thread.
If you were to start playing Pauper, what deck would you pick to start with? (This is assuming you don't play currently.)

— Jared, The Card Guy (@Jrodbad) July 25, 2017
I'm not positive what's good, but I'm confident it would involve Glistener Elf, Rotting Rats, or Delver of Secrets. There are a lot of ways to go from there, so it's hard to say!
What are some tips for not getting yourself down when you feel underqualifed/ un-valued by other players? (Besides "beating them")

— Topplegeist' (@nopiewinston) July 25, 2017
This one is pretty hard, and lot of what goes into beating this feeling is the same advice I'd give anyone who was dealing with impostor syndrome. Obviously you can tell yourself "it's in your head" over and over, but that won't necessarily make the voice go away.
The best thing that I can say is to try your best not to compare yourself to other people. To use myself as an example, it did a number for my peace of mind to stop comparing my results to my colleagues and stop trying to stack myself up against them.
Despite us grinding for the same amount of time last year, Todd Stevens is a much more successful Magic player than I am, and that's okay! That doesn't mean I'm not a successful Magic player. Comparing myself to Todd doesn't do anything for myself other than diminish the accomplishments that I have, and as a result, I'm not going to do it.
There's some sort of old saying involving sunflowers that I can't quite remember, but it's something to the tune of this:
"The fastest-growing sunflowers aren't the ones that see if they are taller than their neighbors, but the ones who keep their face to the sun."

Always play your best. If the risk is the correct calculated risk, then take it. If not, you don't need to put yourself in a position to lose. Even when you're up a game, remember that you're just one non-functional mulligan to five away from losing the entire match, so don't give yourself that chance of having to draw another opening hand and hoping that it is more playable than your opponent's. If you can play it safe and win a match in two games, don't give the opponent the third game.
What's your opinion on post-Divining Top legacy? Would you ban/unban anything?

— Tony J Laflamme (@BigTonyL82) July 25, 2017
I wish that Deathrite Shaman was banned. I think the card is too good and wanted it gone before Sensei's Divining Top, if that says anything about my distaste for its legality. Grixis decks having access to a mana creature that translates reasonably to the late-game is completely unreasonable.
On to the Pro Tour!
That's about all that I have time for today, but if this is something that you enjoyed or want more of, make sure to leave some feedback! What readers say has a heavy impact on what I do (or don't) continue in my writing.
This time next week we'll have had a few days to sink our teeth into the data from the Pro Tour, and we'll all be working a mile a minute to break the format from that point.
Frankly, I'm looking forward to it.