My preparation for Pro Tour Hour of Devastation was similar to how it is for most events. I worked on building sweet decks based on fringe uncommons that may or may not be playable while other people tested the good decks.
I don't think I've written about the parallels between this and how I've lived my life before. People ask about how finances work for becoming a professional Magic player. The answer is that I do pretty well for myself, and once you're successful, the money's there; the trick is that it's a big risk. Working toward becoming a professional Magic player is a full-time job, and you spend a lot more than you earn getting there most of the time, and it's very hard to know if the payoff will ever come. I came from a privileged enough background that I could afford to take the risk. I didn't need to work to support myself and pay off loans as soon as I graduated from college. Thanks to my family, I graduated with some money, rather than some debt, and that let me open a game store, where I could play Magic at work.
Ultimately, as things turned out, I probably could have done everything I did without the money I had, but it wouldn't have been reasonable to do so; the risk simply would have been too large. I feel the same way about preparing for Pro Tours with a good team. If I were working by myself, I'd need to learn about the obvious good decks, because most of the time, one of them is the best, but every few PTs, I get to play something unusual because I can trust my team to tell me what to do when my experiments don't pan out.
This was one of those times. None of my other experiments were quite good enough.
Creatures (26)
Lands (21)
Spells (13) The morning before the PT, Corey (I think) noticed that someone went 5-0 in a League on Magic Online with R/W Tokens. I liked R/W Tokens when I played it before, and Shefet Dunes is a huge improvement for the deck. Also, Servo Exhibition happens to be one of the best cards against red.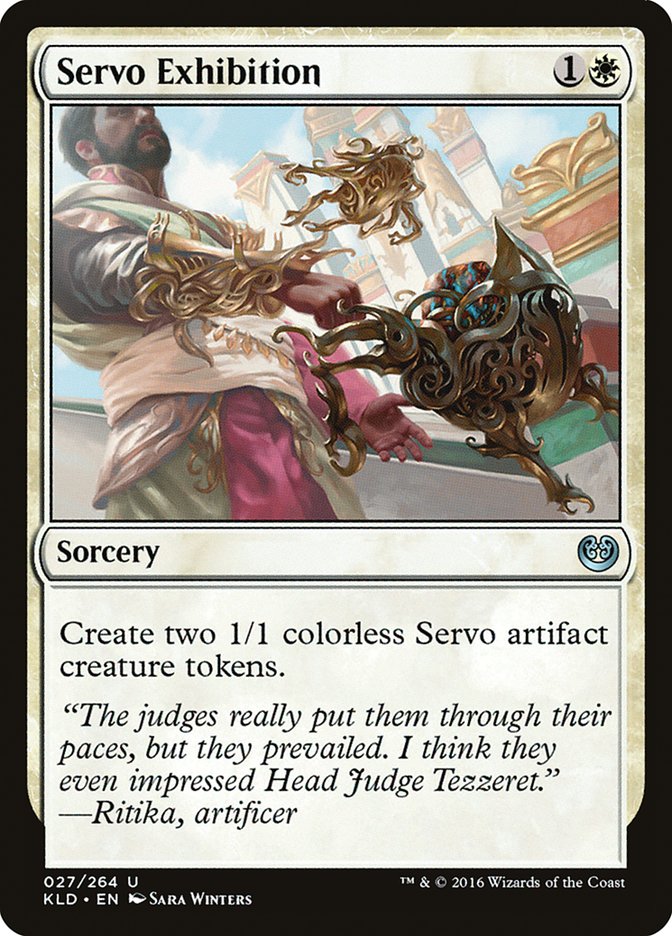 We tried it, and it looked really promising after the first few games. I liked the deck a lot against red, but then I found that I ran into a lot of people who were trying to go wide to block against red, and when that happened, I had no way to win because I didn't have any reach. I had to be able to attack, so cards like Oketra's Monument were basically unbeatable. Beyond that, the mana was just too inconsistent.
I decided I couldn't play that and didn't know what to do. Gerry asked me why I didn't just play red, and told me that I should, because it's definitely the best deck. At the time, he was planning to play Temur Energy, so I asked why he wasn't going to play red. He said something about not having the cards in front of him, and Corey wasn't having it. He asked Gerry what he needed and said we could definitely get him the cards. I agreed to put it together on Magic Online and try some games. I asked if he had a list he liked, and he said there was one that went 5-0 in a Daily recently that he thought was pretty close.
I went something like 6-1 or 7-1 on Magic Online, and it was clear that I didn't have anything better. The list we started with wasn't actually great. The sideboard was very bad, and I was able to identify that and make changes to improve it, but I didn't play quite enough to work out things that I concluded very quickly during the PT, like that I wanted more land and the fourth Hazoret the Fervent.
Anyway, the tournament started with a draft, and, as you may have seen on Twitter, that went well for me:
I started the draft by taking Struggle // Survive over Dreamstealer because I don't like black in this format. Then I took Bloodwater Entity because I think U/R Prowess is a very strong archetype. Third pick, I took Hour of Promise over Desert of the Fervent because I think it's a bomb in the multicolor green decks, where the cards I had already would still play well, and the Prowess deck doesn't care that much about Deserts anyway.
Fourth pick, I had to decide which archetype I was pursuing, as the pick was between Desert of the Indomitable and Aerial Guide, and I went with the Desert. I don't remember exactly what happened after that. I think I might have been rewarded with a fifth- or sixth-pick Desert's Hold, but that just doesn't sound realistic.
At the end of Pack 1, with one or two cards left, I tabled a Manalith. This was crucial. Not only did my four-color deck with no mana fixing desperately need a Manalith, but it meant that in Pack 2, when I saw two early Manaliths, I felt comfortable taking good cards for my deck over them, thinking I could get them on the wheel because no one was fighting me for five-color nonsense. I was right, and I tabled two Manaliths in Pack 2 that were absolutely necessary for my deck.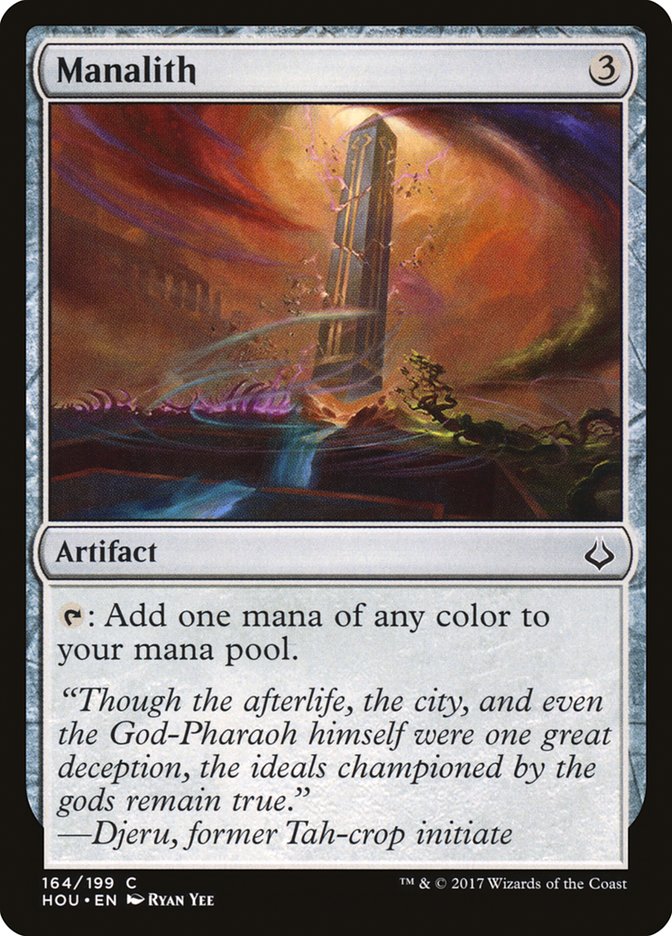 Power.
In the second pack, I opened Ramunap Excavator and Ipnu Rivulet and I wasn't sure what to take. My deck wasn't great for the Excavator yet, but Amonkhet is where most of the best cards for that (Evolving Wilds, Cradle of the Accursed, and Grasping Dunes) come from, and Ipnu Rivulet would be a good way to make sure that my deck that was heavy on removal and yet, with Hour of Promise, would be able to win long games. I went with the Excavator, hoping to table the Rivulet. I didn't get the Rivulet back, but I got all the lands mentioned above from Amonkhet, so the pick worked out.
Going into Pack 3, I liked my deck, but I was worried about not having enough cheap interaction and falling behind with my two Sunset Pyramids. Fortunately, I got a third-pick Wrath of God Invocation, the actual perfect card for my deck, and picked up a Magma Spray.
In the first round, I lost a game I thought I couldn't lose when I set up a turn where I played Wrath of God and activated Cradle of the Accursed against a W/B Zombies opponent who had two cards in hand and had accidentally shown me that one of them was Act of Heroism. Unfortunately, the other was God-Pharaoh's Gift, and while I had Abrade in my hand, I didn't have the mana up to cast it, and while I had Angler Drake in my hand as well, I had neglected to find a second blue mana while I had Ramunap Excavator going with Evolving Wilds. I could have played Evolving Wilds from my graveyard instead of Cradle of the Accursed the previous turn with my Excavator before killing it with Wrath of God, but I didn't think about the blue issue, and I couldn't cast the spells I needed to win the game.
During that game, my opponent also cast Torment of Hailfire, so I sideboarded in Countervailing Winds and Gideon's Defeat, cutting Magmaroth and Quarry Beetle, and won the next two games. As it happened, I ended up cutting those two cards for Gideon's Defeat and Electrify in both of my next two rounds against white aggressive decks, where I felt like killing their creatures was a better strategy than blocking because the first deck was G/W aggro with lots of Appeal // Authorities and Overcome, while the next deck was U/W Skies.
I was delighted to start with a 3-0 with a sweet deck, but I didn't know what to expect from underprepared Ramunap Red. I knew it probably was the best deck, and that preparing for it was harder than anyone wanted to admit, but the room still might be very hostile.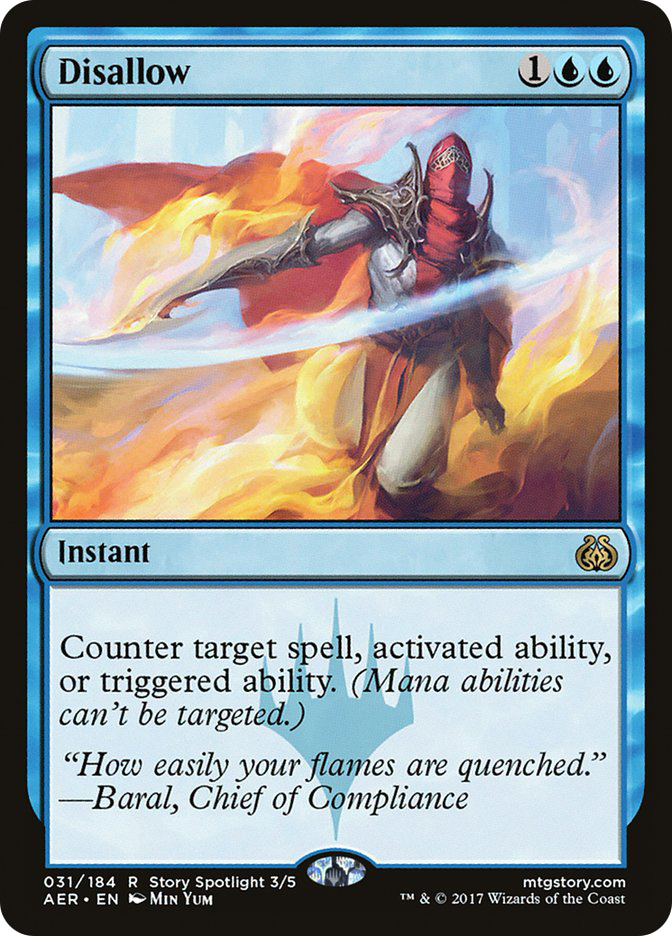 In the fourth round, I played against U/R Control, one of the worst decks against Ramunap Red, and won pretty easily. It's hard for them because your threats cost less than their answers, and if they have to use a sorcery to sweep the battlefield, you get to hit them with a haste creature, and then at the end of the game, you have a bunch of reach that they can only stop with Disallow.
In the fifth round, I played against U/R God-Pharaoh's Gift, another easy matchup against someone who was hoping to beat the people who were trying to beat red.
After that, I started playing red mirrors. Once my opponent also had black cards, and at one point in the Swiss I played against Sam Pardee playing B/G, whom I eventually lost to in the semis, but the rest of the tournament was red mirrors. It was weird winning so many of them. I had no idea how much to attribute to luck versus decisions versus decklists. My deck wasn't perfect, but I assume theirs weren't either. My sideboard wasn't as good as Paulo's, but I think it was better than most of my opponents'.
Ultimately, I think I was sideboarding better than most of them. I suppose I should drop my list for reference before continuing:
Creatures (26)
Lands (21)
Spells (13) My plan was to bring in my entire sideboard. On the play, I'd cut 3 Cartouche of Zeal, 4 Falkenrath Gorger, 4 Ahn-Crop Crasher, and 4 Shock. On the draw, I'd cut Village Messenger instead of Shock. If my opponent showed me that they were leaving Crasher in, I'd keep Shock in instead of Messenger on the play, and I'd also add two Falkenrather Gorger over Collective Defiance.
I expect that, in general, people are slowing down their decks and adding more big stuff, and Shock matches up badly against the big stuff. On the draw, I want to be able to Shock their first creature to avoid taking too much early damage, but on the play, I want to make sure I can be proactive in the early-game.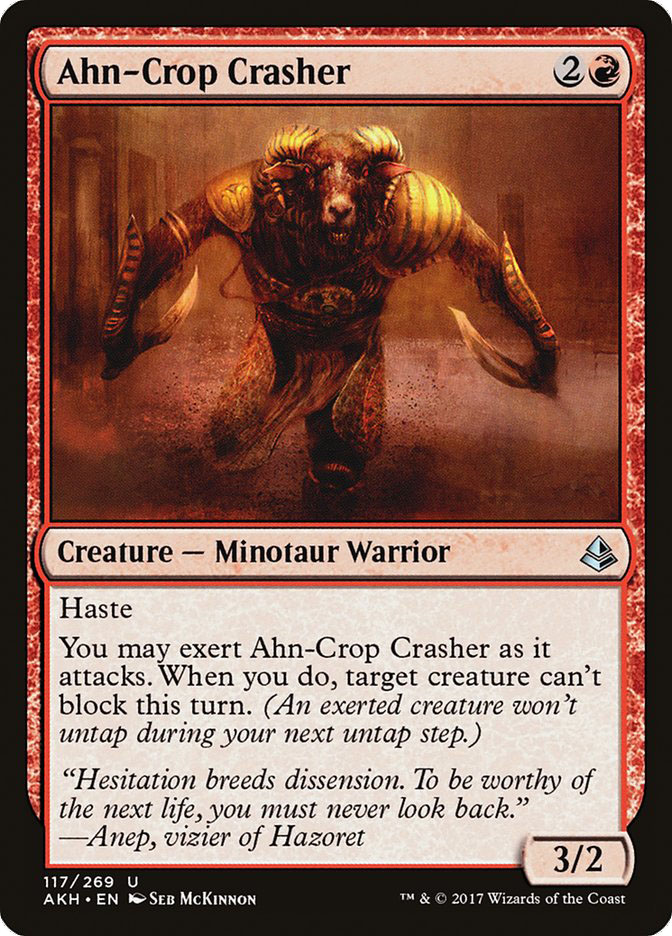 Crasher is a good card in the deck, but I don't know why people would want it in the mirror where it almost always trades with a creature or instant that costs less than it.
My loss in Round 8 against Seth Manfield really solidified the other lesson. I ended up keeping a one-land hand on the draw that had a bunch of good two mana spells. In most red mirrors historically, that hand would be great, but it's actually horrible in this matchup, and I realized right after that game that the only thing that really matters is Hazoret, and you just want to keep hands that are likely to have four lands on turn 4 to be able to cast it.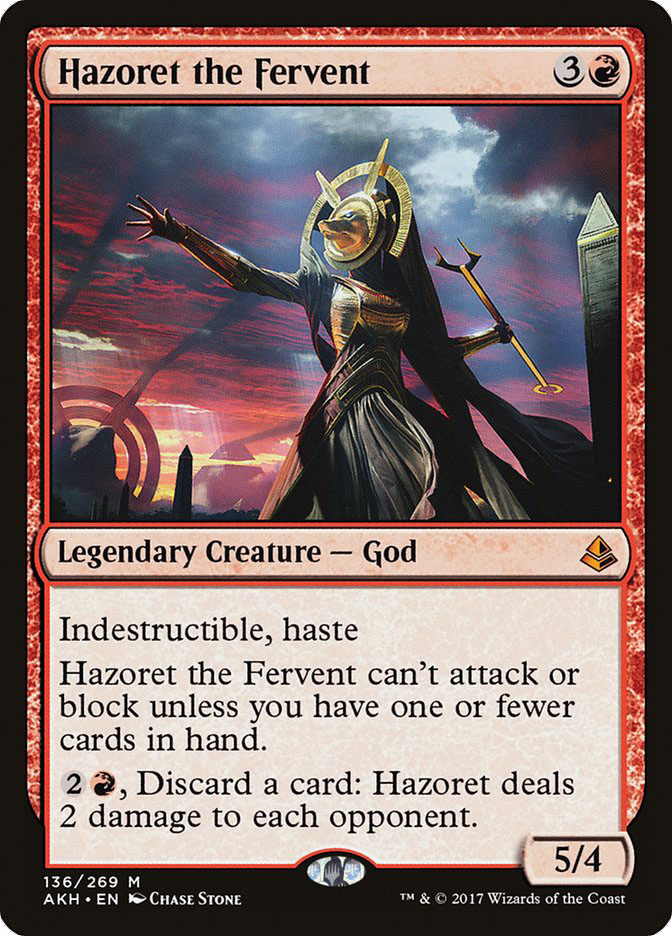 I didn't like my Draft deck in the second day as much. The draft is available in the Draft Viewer here. I basically just started blue and tried to keep taking blue cards to stay open, and kind of fell into U/G Ramp by the end of the draft.
I got destroyed in the first round I played by a very aggressive R/G deck with multiple Struggles and Ambuscades to deal with my big creatures, and narrowly won my next two matches.
After winning my first three Standard matches on the second day, I just needed a draw to lock a spot in the Top 8. Unfortunately, Paulo, Pardee, and I were the only ones with two losses, and we'd all played each other, so we all got paired down and had to play again, and we all won again. This meant that in the final round, we could all play our matches or take draws.
I had the worst tiebreakers of the three of us, but better tiebreakers than anyone who could catch me on points. This meant that if I drew, I'd finish third if they drew ahead of me, but if I played and won, I'd finish first. If I played and lost, I'd actually still finish third, so I had nothing to lose by choosing to play.
If Paulo, who was in first, played, he risked falling behind Pardee if he lost and Pardee drew. It's possible that Pardee should have played, theoretically, knowing that I was playing, to stay ahead of me, since he'd be ahead of me either way if we both lost, and ahead no matter what if he won, so he would only be behind me if I won and he lost, where he'd also be behind me if I won and he drew. I'm not sure if he chose to draw to do a favor to me or to his opponent.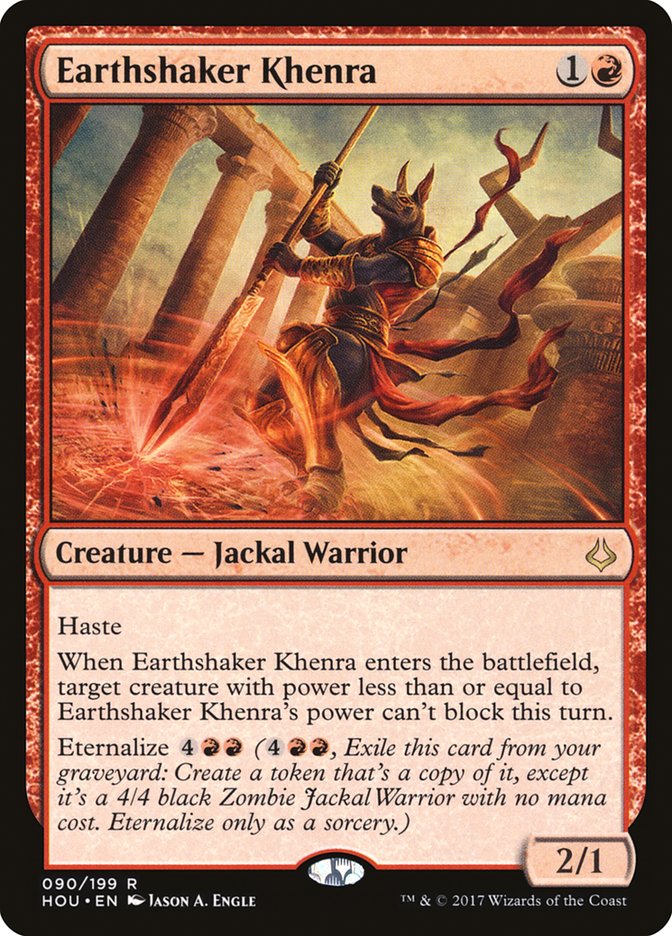 See, for me, it wasn't just about playing for the choice to play or draw in the Top 8; it was much more important. Each place in the top eight earns a different number of Pro Points, and as it happened, I needed fifth place to make platinum. This meant that if I finished as the first seed, I'd be guaranteed Platinum even if I lost in the Top 8. If I finished lower than that, I'd need everyone ahead of me to win their first match, so if I drew into third and I lost in the quarterfinals, I'd need both Paulo and Pardee to win their matches.
As it happened, they did that, and I also won mine, so none of it would have mattered, but I couldn't give up a chance to lock Platinum, so I had to try to knock Yam out of the Top 8. Fortunately, I talked myself into forgetting that he had Earthshaker Khenra in his graveyard by looking at it when he had four lands and Hazoret on the battlefield and actively deciding that it wouldn't matter this game because he was unlikely to get to six mana while he had a Hazoret he could discard lands to, and it cost me the game (well, I'm not sure I would have won otherwise, but I think I was a small favorite if I remembered it). I say fortunately, because everything worked out for me, and I didn't really want to push Yam out of a Top 8 he thought he'd be able to draw into.
Honestly, much less amazing than you'd think.
Playing a stock red deck that I had no attachment to, I basically just felt like a spectator watching a deck win on my behalf. Yeah, the decisions I was making in games were interesting when I was making them, and the drafts were great, but the emotional experience was entirely different from succeeding with my own deck.
Beyond that, at the end of the day, I think I kind of think of tournaments as a single, long, iterated game. I'm just not that invested in the outcome of any given event. This means I take losses well, but I also just don't get that excited when my wins happen to line up right in a single event. It's great that I get to play in Worlds, and I felt pretty bad about the idea of failing to maintain Platinum, but I think the emotional experience of that is more like relief.
I feel like expressing anything other than pure joy when you succeed at your own difficult goals in Magic is frowned upon, like being ungrateful or something, but I don't know. I've been at this for a long time, and this is where I'm at with the game. This isn't to say I don't love it or playing it any less, but a single result may not be as exciting. And, to clarify, I'm absolutely grateful to my team for their help in preparing, and especially to Gerry for convincing me to play this deck.