Another Pro Tour has come and gone, and it's left everyone seeing red.
So it's sorta like I predicted, right?
Right?
...can't a humble Magic writer at least get some partial credit?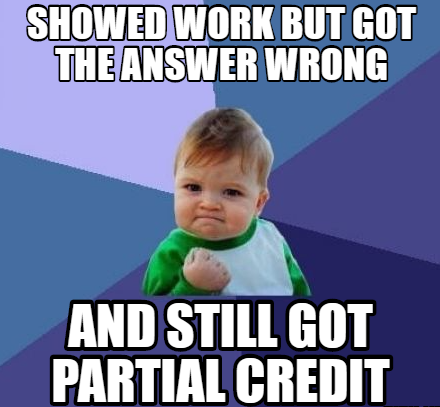 Last week, I gave my predictions for how Pro Tour Hour of Devastation would shake out, and while I wasn't as accurate as I was with Pro Tour Amonkhet, they still came out pretty well overall. Before we get into four Hour of Devastation cards likely to impact #SCGNY, let's take a peek and see how we did.
Sometimes figuring out why you were wrong is more important than being right!
Prediction One: Mono-Red Aggro will be the "Level 0" deck of the Pro Tour.
Partial Credit!
If you had read my article last week, Pro Tour Hour of Devastation should not have been much of a surprise to you. However, while I thought Ramunap Red would be all over the place at the Pro Tour, I also thought that I was going to have a pretty bad weekend. Anyone who needed to know about it knew about it and had at least two weeks to figure out how to beat it – usually Ramunap Red isn't that hard to beat if you know about it and are trying.
Creatures (26)
Planeswalkers (2)
Lands (24)
Spells (8) I am still in disbelief that many of the major teams ended up just playing the deck, with a large amount of the game's top players just slinging Shocks and eternalizing Earthshaker Khenra. My disbelief is furthered by the fact that zero Mono-Red Aggro decks made the Top 8 of the Magic Online PTQ last Saturday, further cementing the fact that the deck is beatable if you try.
Either way, I'm taking partial credit for this one.
Prediction Two: There will be at least one Cryptolith Rite deck in the Top 8.
Incorrect!
Unfortunately this prediction was pretty closely tied to my first one and ended up being a huge swing and a miss. With most players just opting to play Ramunap Red, not many players were on the plan of "trying to beat it" like I had expected.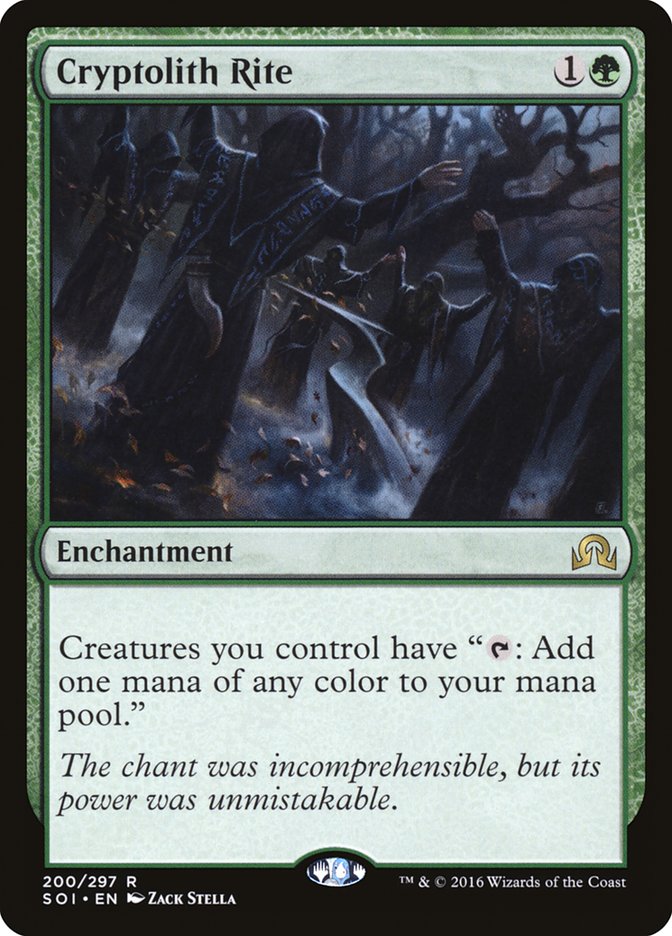 I still think one could build a very solid Cryptolith Rite deck that would have an outstanding Ramunap Red matchup, but that one is going to have to wait for the next Standard Open for me to start work on.
Prediction Three: There will be zero copies of God-Pharaoh's Gift in the Top 8.
Correct!
Thankfully, being wrong about Ramunap Red meant there was no room for other decks in the Top 8 anyway!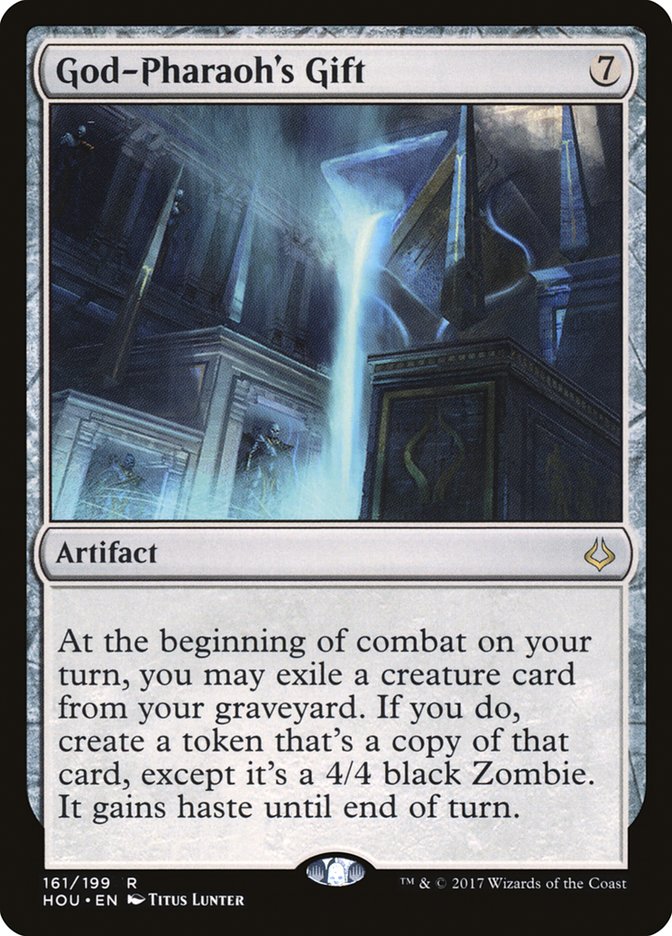 Kidding aside, U/W God-Pharaoh's Gift was mostly held in check at Pro Tour Hour of Devastation, just as I expected. With Abrade everywhere, random Scavenger Grounds floating around, and very aggressive beats coming from most decks, UW God-Pharaoh's Gift's end game never had time to set up.
The card is still very powerful, and if the format slows down and stops being so Abrade-centric, I expect it to show up again.
Prediction Four: Torrential Gearhulk-based control decks will be a non-factor.
Correct!
The facts are in, and U/R Control really just doesn't beat anything. This is a chorus I hear from all sorts of different Magic players online, in person, and in articles.
As a control player myself who would love nothing more than to sleeve up some copies of Torrential Gearhulk and three-mana counterspells, it is unfortunate, but facts are facts. Control is not in a good place right now.
Prediction Five: Andrew Jessup will make the Top 8 of the Pro Tour.
Incorrect!
Okay, I may have gone a little "hot take" on this one. Even the best players in the world can go years between Pro Tour Top 8s, so calling a shot for a single player to make Top 8 of a Pro Tour is pretty outlandish. However, the basic concept was that I thought Andrew was going to have an excellent first Pro Tour.
This started out true, as he rattled off an impressive 6-2 on Day 1. After 2-1ing the first draft on Day 2, Andrew sat at a very comfortable 39th place overall and had a really good chance to doing some serious damage. Unfortunately, Pro Tours are very difficult and there were no more match wins to be had in his final five rounds, leaving him in a disappointing 170th place.
I was obviously a huge underdog with this prediction, but I'm not unhappy I made it.
Overall not too bad, although I must admit I'm still in disbelief of the dominance of Mono-Red Aggro at the Pro Tour.
On to Modern!
With the Pro Tour behind us, it's time to move on to Modern and this week's big event: #SCGNY!
Hour of Devastation hasn't made a huge impact on Modern yet, but it also hasn't really been fully explored either. Modern players often end up playing the same deck for years at a time, so change often comes slowly. However change does come, and being on the precipice of it can be very rewarding.
Here are four Hour of Devastation cards to watch in Modern in the coming weeks.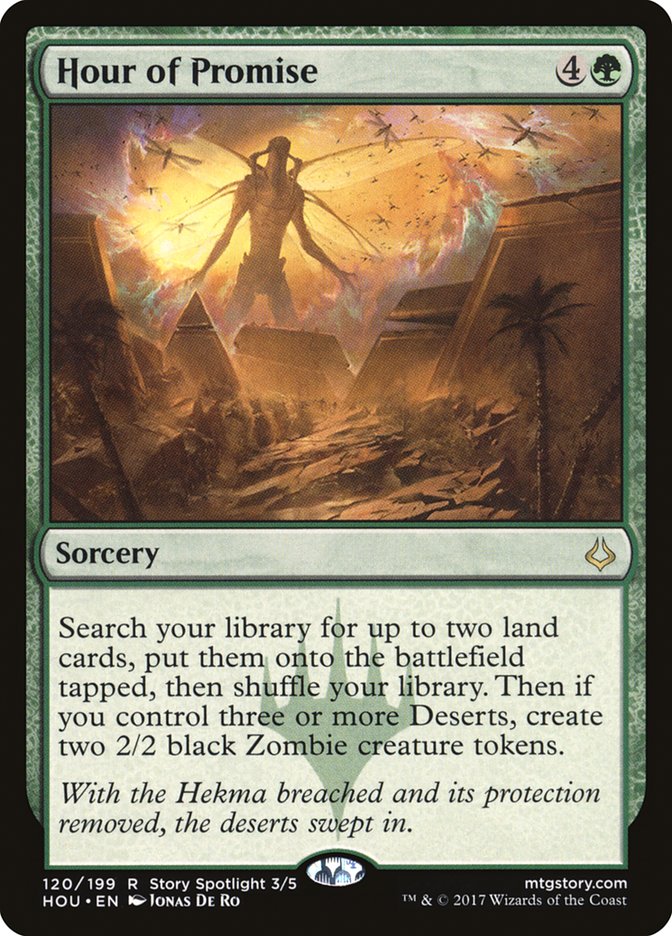 The spell version of Primeval Titan has received a lot of press in Standard, both as a value spell and for its ability to grab a pair of Shrine of the Forsaken Gods to cast an early Ulamog, the Ceaseless Hunger.
However, what about the format that actually has Primeval Titan?
Valakut, the Molten Pinnacle decks line up fairly well against Death's Shadow decks due to their difficulty interacting with Primeval Titan and Valakut itself, but the Valakut deck can run into the same problem that most ramp decks do: drawing too much ramp and no payoff. One Thoughtseize stripping away a Primeval Titan may leave the Valakut player with no payoff at all until they die.
Hour of Promise can be that extra payoff.
Many times, when a Valakut player casts Primeval Titan, it dies on the spot, but they win the game anyway just by making their next few land drops. Hour of Promise provides the same effect, but does so at an earlier stage in the game. Not only is doing things earlier in the game better in general, but it can also throw a wrench in your opponent's plan if they think they are safe until you have six lands for Primeval Titan or seven lands for Scapeshift. It also gives you a really nice nut draw of casting it on turn 3 off a Search for Tomorrow.
A possible sketch:
Creatures (8)
Lands (27)
Spells (25) Finding the right balance of extra payoff cards between Scapeshift, Hour of Promise, and Prismatic Omen sounds complicated, but being able to play a high density of them increases the deck's topdeck potential by a lot.
The love child of Unearth and Reckless Charge (two cards I love), Claim // Fame is one of the coolest cards in Hour of Devastation. It is also a card that gets better in Eternal formats due to the wealth of excellent one- and two-mana creatures. Modern alone contains a ton of the best two mana creatures ever printed:
The list goes on and on, but it's not hard to see how easily Claim // Fame could slot itself into a traditional Death's Shadow or Jund/Abzan Midrange deck. Playing Claim // Fame in your Snapcaster Mage deck allows you to use Snapcaster Mage as a super-Gravedigger, and a deck like Jund or Abzan that's just packed with powerful two drops is always looking for more attrition tools.
However, what if we go a bit deeper?
In Legacy, there have been a few decks that have tried to use Unearth in conjunction with Monastery Mentor to help mitigate Monastery Mentor's upfront cost. You really want to be able to cast a few spells right away after playing a card like Monastery Mentor to guarantee some value, so making it cheaper is very valuable.
Of course, Claim // Fame can't target Monastery Mentor, but it can target the somewhat forgotten Young Pyromancer.
Creatures (12)
Lands (21)
Spells (27) Another rough sketch, but a very sweet thought experiment on Claim // Fame. One of the best ways to make good use of new cards is to find ways they interact with very powerful but forgotten already existing cards. Young Pyromancer fits that bill nicely.
I also couldn't imagine Grixis Death's Shadow ever beating this deck in a million years, so that's a plus too.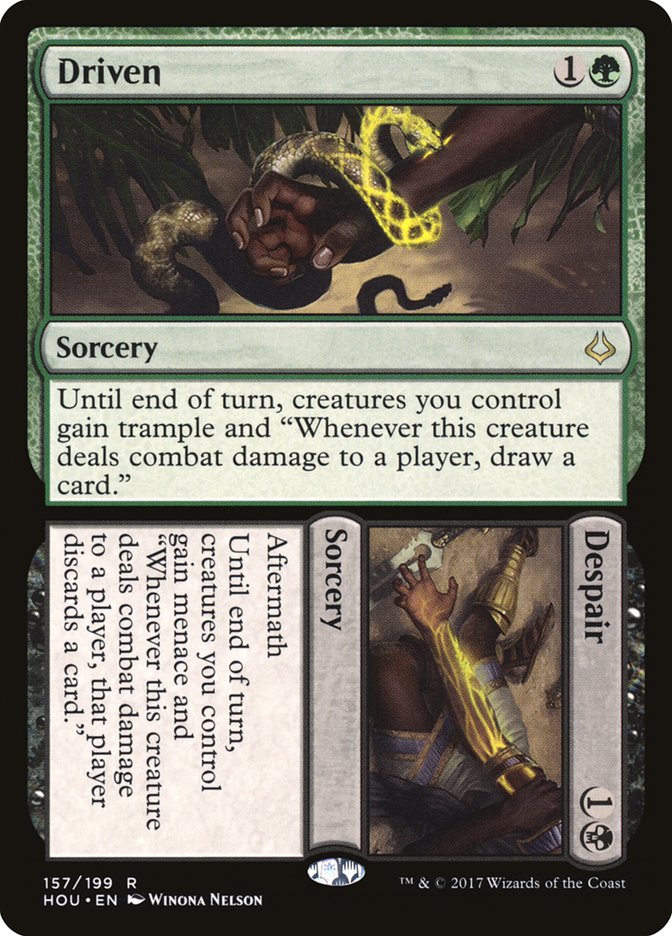 Driven // Despair is a little more niche than our previous two cards, but it's a possible sideboard option for creature-heavy decks against combo decks.
The most obvious application is in Dredge, where a few free turn 2 creatures could translate into a turn 3 Mind Twist. Any card that can be cast out of the graveyard for cheap in Jund colors has to at least be considered for Dredge, and Despair's effect is very powerful. Dredge often struggles against true goldfish combo decks because creating an unbeatable battlefield state is not the same as winning the game on turn 4.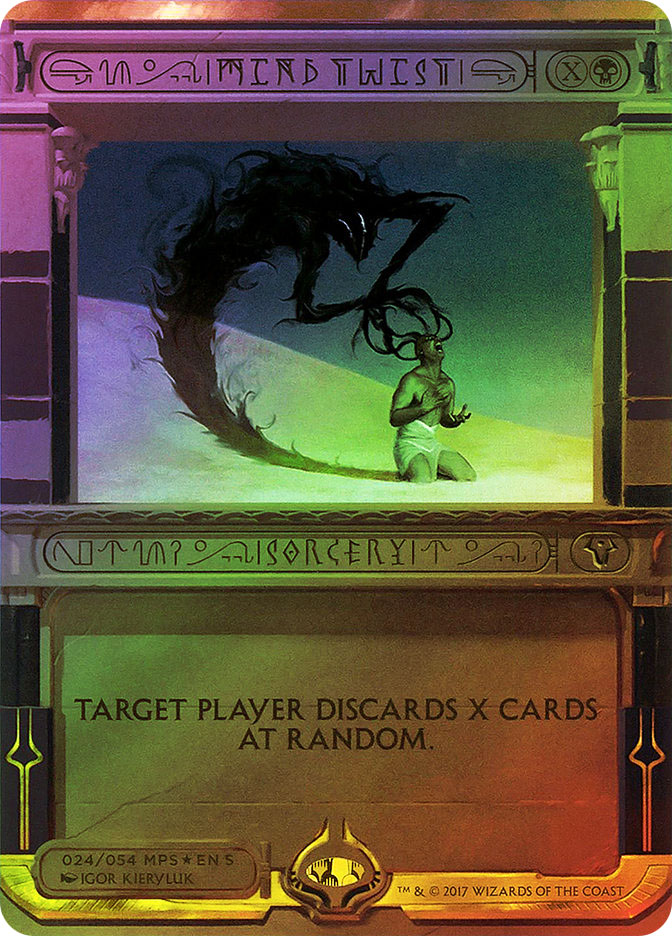 A turn 3 or 4 Mind Twist is just the answer for those scenarios. As a bonus, casting the front side could even lead to more dredges!
Other creature-heavy decks looking for a boost could also benefit from Driven // Despair, even if they have to cast the front side first. The most obvious deck that has a lot of creatures and a lot of mana in green and black is Elves. Elves decks, like Dredge, do a great job of presenting immense battlefield states on turn 3 or 4, yet struggle against decks that can directly kill them on turn 4 or 5.
Driven // Despair is easy to overlook but a very interesting new tool in Modern.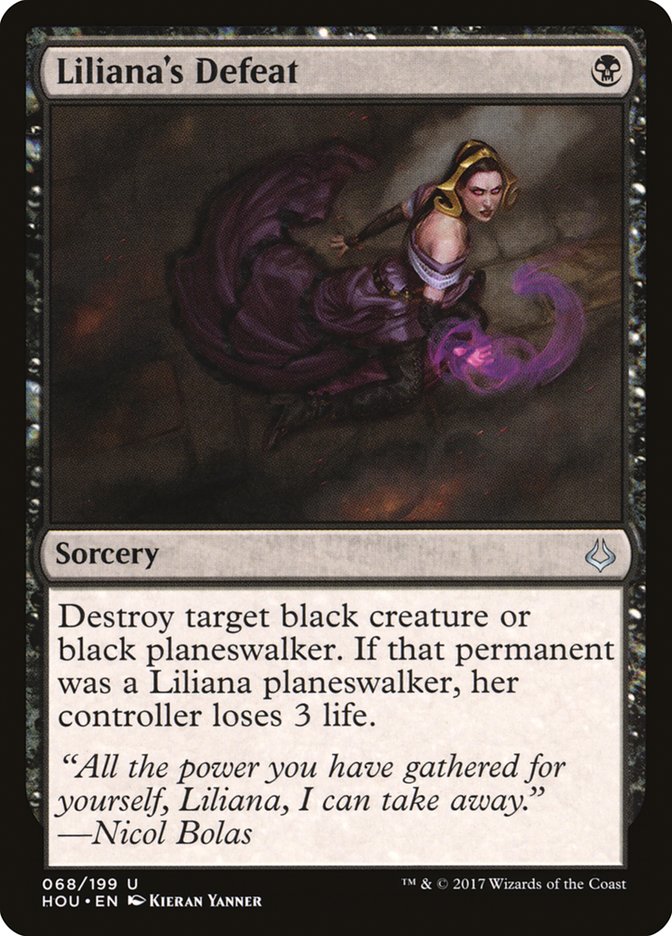 The most simplistic of all the cards we will look at today, Liliana's Defeat does one thing and does it exceedingly well: it provides the format's most efficient and versatile answer to Grixis Death's Shadow's entire threat base.
One of the most annoying aspects of Grixis Death's Shadow is that Fatal Push, the best removal spell in Modern, can only hit half of its creatures. Gurmag Angler and Tasigur, the Golden Fang are surprisingly hard to kill outside of Terminate, Path to Exile, and bigger effects like Liliana of the Veil. These cards are all fine, yet almost always trade down on mana because Death's Shadow and the delve creatures almost always cost one mana. Dark Betrayal was seeing a little play before Liliana's Defeat was printed, but Liliana's Defeat being able to easily kill the most common mirror trumps in Liliana of the Veil and Liliana, the Last Hope with some added value is quite the package for a one-mana sorcery.
As such, Liliana's Defeat is a fantastic option for any black deck looking for an edge against Grixis Death's Shadow, while also being a reasonable card against other midrange decks as well.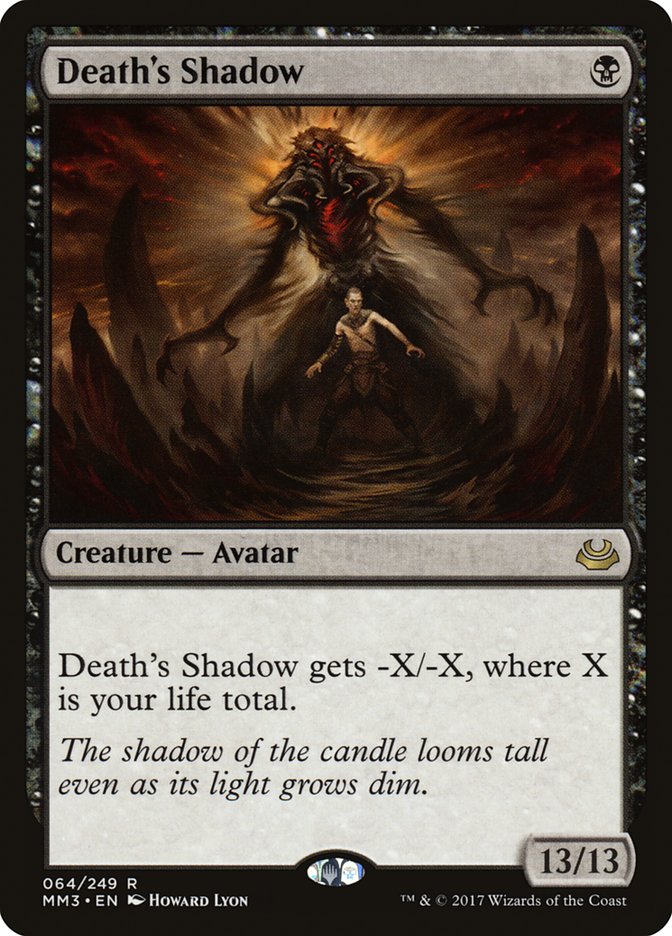 It may seem like we have discussed almost all of these cards in the context of how well they interact with Grixis Death's Shadow, but that's merely facing reality. As Ross Merriam talked about in his article yesterday, it's a Death's Shadow world and we're just living in it.
Grixis Death's Shadow may not be winning every event, but its presence demands attention at all times. Despite that, Modern is still a fairly healthy format. I just hope I find a deck for #SCGNY that's not Grixis Death's Shadow!