At the end of the day, none of the decks I built were good enough to play in the recent Pro Tour over Ramunap Red, but I did have a lot of fun trying a bunch of sweet ideas leading up to the Pro Tour, and today I want to showcase some of the things that are possible in this format. Some of these ideas might need a little work and the right metagame, while others might only be appropriate for casual settings, but with a Standard this big, a lot of things are possible, and I'd hate for people to think haste creatures or Zombies are the only options.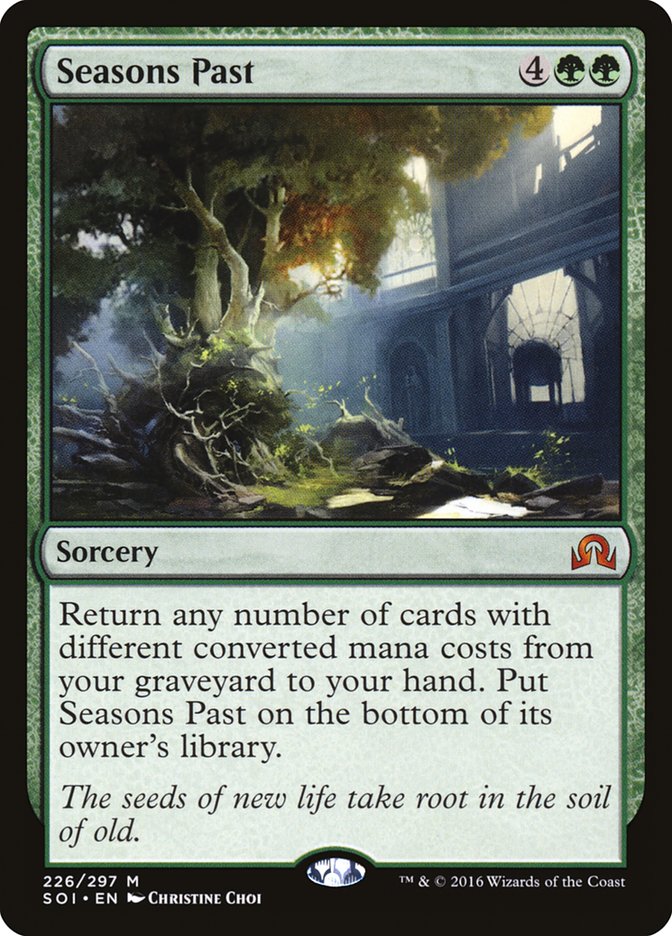 One of the first decks I built was a Seasons Past deck. For those of you who remember my The Great Aurora deck I played at the Magic Online Championships and other events, this is an attempt to recapture some of what was going on with that deck.
Seasons Past fell out of play in Standard when Magic Origins rotated out of Standard and we lost Dark Petition, destroying the Seasons Past loop. As it happens, Razaketh's Rite is theoretically a viable replacement for Dark Petition. It's more expensive than casting Dark Petition with Spell Mastery, but cycling it is great, since it can help with delirium and it can wait in your graveyard until you draw Seasons Past and then allow your late-game engine to kick into full gear.
Explosive Vegetation and Nissa's Pilgrimage were similarly important to that deck, but Hour of Promise is an interesting replacement. It doesn't accelerate you as early, but the blockers can help stabilize when you do cast it, and it still gets you to an end-game where you have a lot of mana to work with.