Another weekend, another Modern Open on the SCG Tour®. This time we were in Richmond, where Kazu Negri Stormed all challengers on his way to the trophy. I have been playing Modern an awful lot over the last couple of weeks, and I wanted to share some insights about the format that I've learned over that time and while I was at #SCGRICH. So I'm going to go over a somewhat random assortment of thoughts and opinions about Modern for y'all this week, and maybe we will get to a greater meaning later on in the article.
But probably not.
The Modern Metagame Can't Get Any Better!
Just take a look at the Day 2 metagame breakdown from #SCGRICH and try to tell me how it could possibly get more diverse than this:
Grixis Death's Shadow – 11

Affinity – 11

Burn – 11

Scapeshift decks – 10

Eldrazi Tron – 8

Jeskai Control – 8

U/W Control – 7

U/R Gifts Storm - 5

Dredge – 3

G/W Company – 3

Jund – 2

Living End – 2

Abzan – 2

Bant Company – 2

Amulet Titan – 2

Skred Red – 2

Mono-White Martyr – 1

Bant Spirits – 1

Bant Eldrazi – 1

Bant Humans – 1

Death and Taxes – 1

B/W Eldrazi Taxes – 1

G/B Tron – 1

G/W Tron – 1

G/R Tron – 1

Kiki-Chord – 1

Kiki-Evolution – 1

8-Rack – 1

Ironworks Combo – 1

G/W Hexproof – 1

Infect – 1

Naya Company – 1

U/B Faeries – 1

Counters Company – 1

Elves – 1

Ad Nauseam – 1

Blue Moon – 1

G/R Ponza – 1

W/R Prison – 1
I'm sure I'll reference these numbers more later on in the article, but this was a good representation of the what I've been playing against online as well, and was basically what I expected for SCG Richmond. Sure, there were a few more Control decks and not as many Death and Taxes as what I thought there would be, but overall I think it's a good representation of the larger metagame.
I honestly don't know how it's possible to get a more diverse metagame than this. The three most-played decks were Grixis Death's Shadow, Affinity, and Burn, and I only played against one of those three on Day 1 and one of those three on Day 2. With every other match being against other decks, it shows just how deep the real metagame is, and that it isn't even likely that you'll play against one of the top decks in any given round. If you add in the next four most-played decks (Scapeshift variants, Eldrazi Tron, Jeskai Control, and U/W Control, then I played a total of five of my thirteen rounds against the top seven archetypes. Even though those seven archetypes took up almost 60% of the metagame, there is still plenty of room for all of the other decks.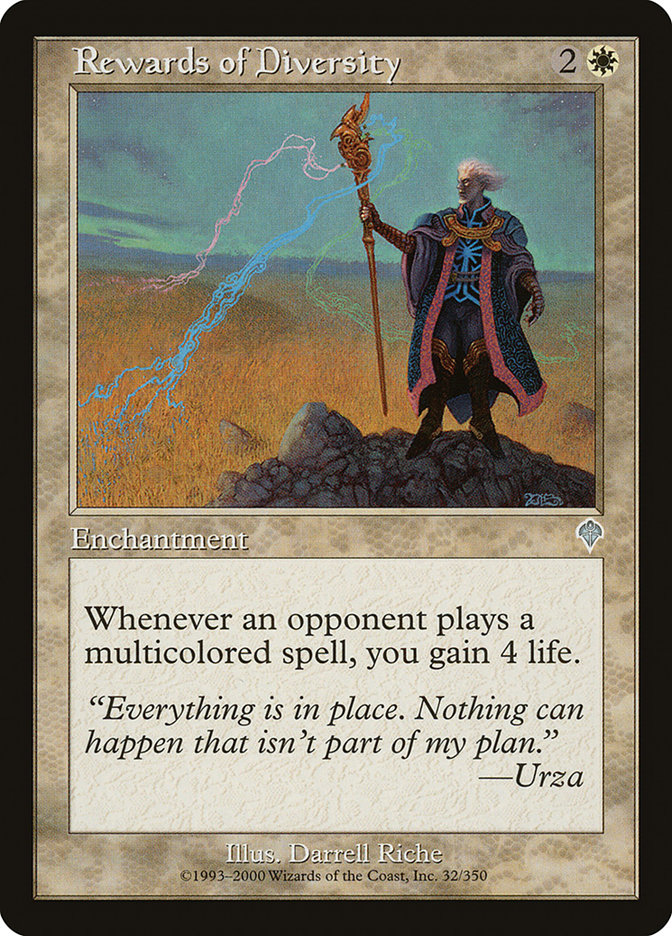 But really think about that. By just going with the SCG Richmond Day 2 metagame, a little over half the time, you will play against one of the top seven decks in Modern, and the other almost half the time, you could play against any one of 30+ more decks. This is what makes playing games of Modern over and over again like I have been over the last couple of months still fun and interesting; the format has never felt monotonous to me, with almost every match playing out differently.
Death's Shadow variants have been under the spotlight since February, but the next couple most popular decks have had an ebb and flow feeling depending on the week. Even now, the stock of playing Grixis Death's Shadow in an event has never been lower, since everyone is used to playing against the deck and has powerful sideboard cards for the matchups. The decks that used to be very soft to Grixis Death's Shadow have either disappeared completely from the metagame or have adapted by now. I think it's a testament to the strength of Grixis Death's Shadow that it still finished second at #SCGRICH in spite of this, but it's no longer a deck I recommend when people ask what they should play in Modern.
Stop Worrying About Bans
This goes hand and hand with the first observation. If the Modern metagame can't get any better, why are people wasting their time trying to change things? "If it ain't broke, don't fix it" is an old saying I could use here but don't want to but kinda just did, so yeah, I guess we're going to go with it. There is nothing in the format that needs to be banned for any reason and nothing that needs to be unbanned for any reason.
Don't touch!
There's no reason for these cards to leave the format because everyone has adapted to them. Also, in my opinion, a deck like Death's Shadow is a great deck to have as the best deck in the format. It's when degenerate combo decks are the best decks in the format that you really have a problem.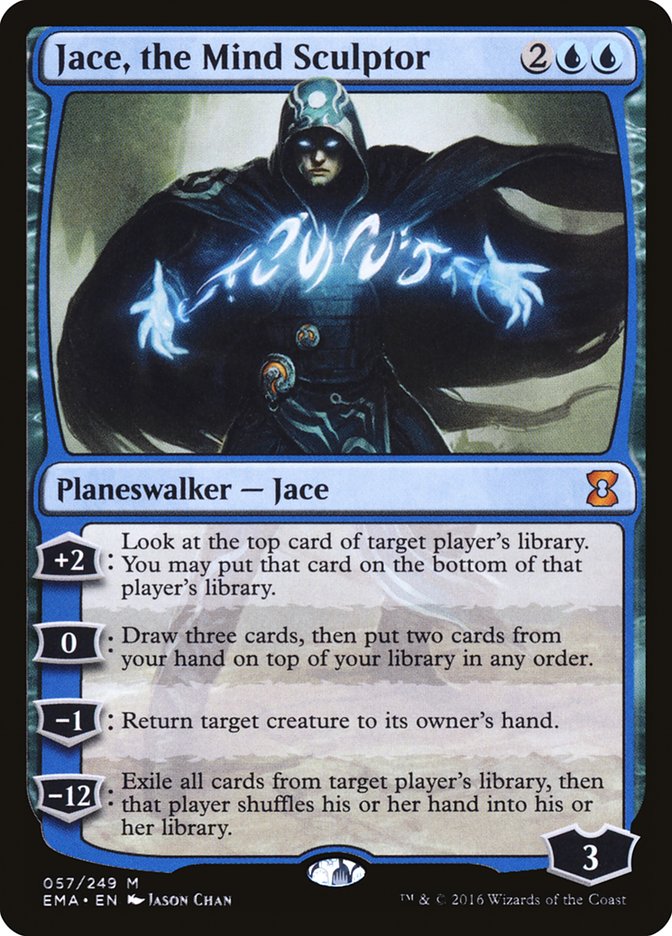 But Todd, this whole "Modern is super-diverse" thing means I can't play control! All I want to do is play Islands and counter stuff!
Well, guess what, your archetype is good again! Well, it's been good for a while now, but finally people are starting to play it. Both Jeskai and U/W Control were heavily played decks at #SCGRICH, and they didn't need Jace, the Mind Sculptor. Be careful what you wish for, because it doesn't take much to ruin a perfectly good format. I can't imagine a reason for anything being banned or unbanned in Modern for the foreseeable future, so don't worry about the banned and restricted list announcements and instead worry about your 75.
Don't Play a Stock Decklist
This may be the most important lesson in my article today, and I can't recommend playing weird cards enough. For someone who plays as much Modern as I do, the biggest reason that I make a mistake and lose a game from it is by seeing a card I wasn't expecting. That goes for everyone else as well; catching your opponent off-guard with a card they weren't expecting is a great way to gain a big advantage in the format.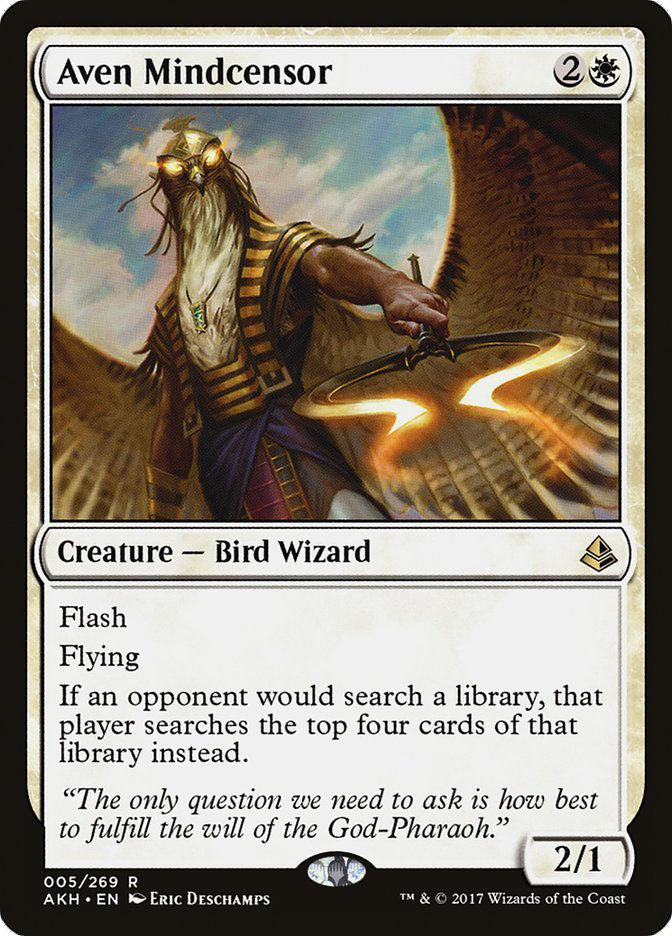 From my G/W Company deck this past weekend, for example, I had two Aven Mindcensors in my maindeck. The reason why I had them was because both TitanShift and U/R Gifts Storm were very difficult matchups for me to beat and I wanted a way to steal Game 1 from them before they brought in more interaction from their sideboard. It worked, as I played those two decks four times and won three of the Game 1s solely because of Aven Mindcensor. Game 1 was crucial because I knew that those decks wouldn't be playing interaction Game 1 for them, something that I said was a mistake for TitanShift last week, but people love to say their deck is "tuned" to be as linear as possible Game 1, even though that may not be an optimal strategy.
When I won SCG Charlotte, going through many Grixis Death's Shadow decks on way to the title, I had a sideboard plan they weren't ready for. Hangarback Walker and Wurmcoil Engine weren't on anyone's radar at the time, and allowed me to make combat on their side miserable because they weren't ready to deal with them. You need to find cards like these for your strategy to bring something new to the table.
But not a card like Chameleon Colossus. Sure, it was a good sideboard strategy against Grixis Death's Shadow a month or two ago, but not anymore. It may have singlehandedly cost Ross Merriam his semifinals match against Grixis Death's Shadow, a matchup that wasn't very bad for him until he sideboarded in a clunky four-drop that had no impact on the game. Protection from black was all the rage a few weeks ago, but now that Grixis Death's Shadow has adapted to be able to beat protection from black creatures in multiple ways, I can't recommend playing them. Don't play an old sideboard strategy that your opponent will be prepared for! Find a new angle.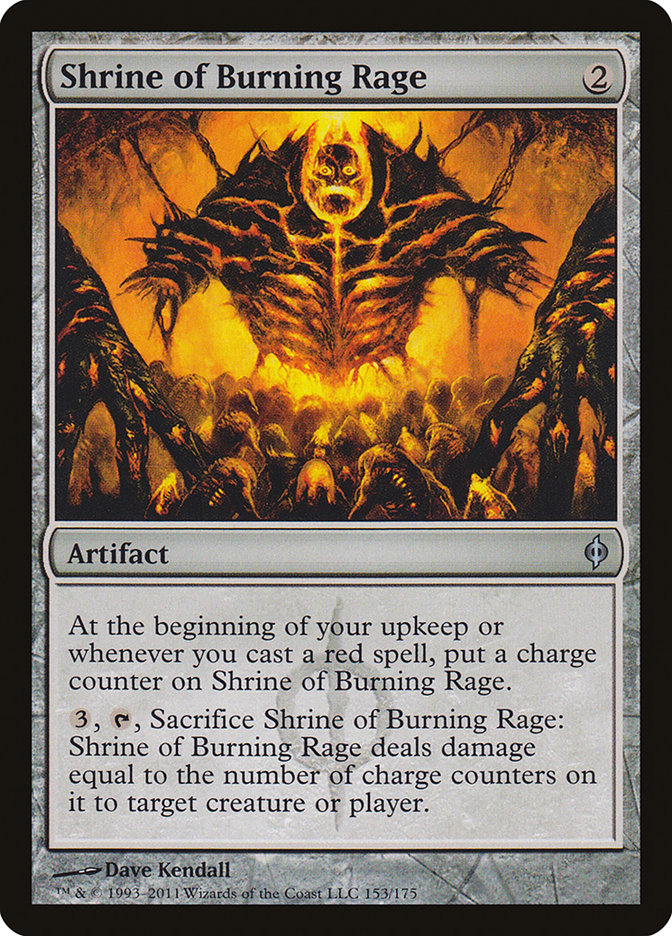 Maybe your Burn deck needs Shrine of Burning Rage instead of Eidolon of the Great Revel? It worked for Loic Le Briand to win GP Birmingham this past weekend, and I can't imagine people were ready for it. Finding cards like this is much easier said than done, but I highly recommend straying a little bit away from the stock decklists when playing a deck, because it's impossible to prepare for the unexpected.
Creatures (19)
Lands (23)
Spells (18) This goes for decks as well as individual cards. Logan Reinhardt was the story of the tournament through the first eleven rounds, starting 10-0-1. This is another example of playing something off the beaten path, as I can't imagine his opponents were prepared for the extreme long game that Mono-White Martyr can play. It's not often that you see a creature deck with four maindeck Ghostly Prison or Wrath of God, and I assume people were needlessly overextending into them all weekend long for Logan. If your opponent has to pick up your cards to read them, there's a good chance you're in a good spot.
So no matter what your favorite Modern deck is, experiment with some different cards that you haven't played before. Focus on what has been giving you trouble in the format and what you could maybe do differently, and try to catch your opponents off-guard.
Kazu Negri Is a Champion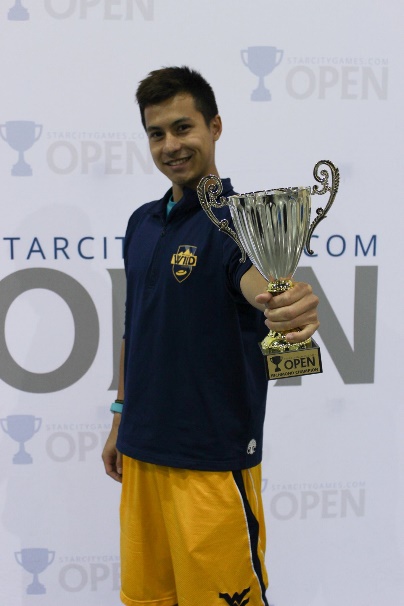 Now, I haven't been playing on the SCG Tour® for the longest time, but I've never been more impressed with an individual I hadn't known before the tournament than I was with Kazu Negri this weekend. He was well-prepared, knew exactly what he was doing, and was confident about his plays. I played against him in Round 9, and I could just tell he was a winner. I don't expect this to be the last time you'll see Kazu holding a trophy.
Congrats, kid, you deserved it!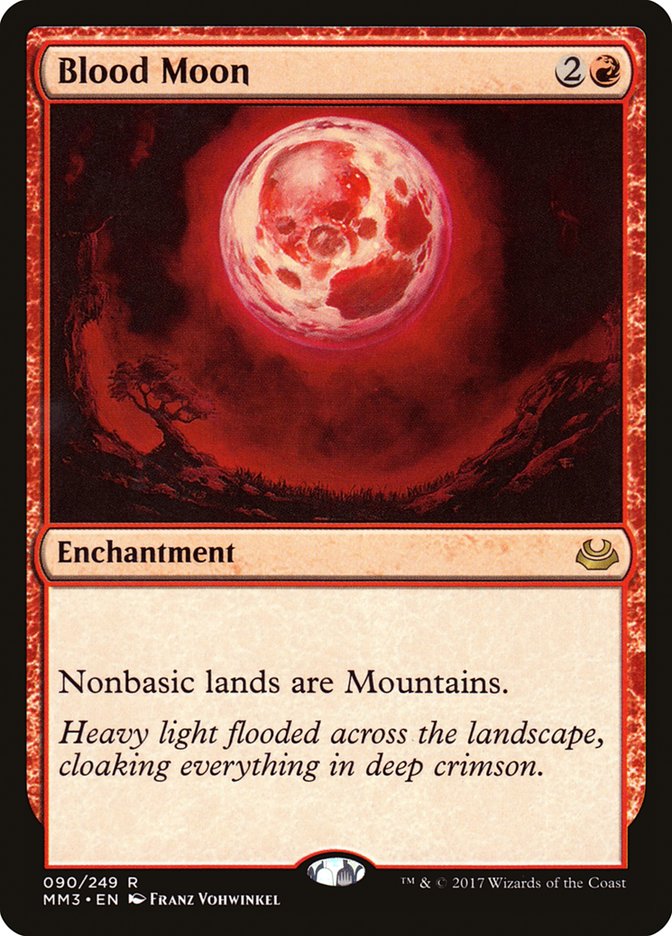 One of the best decisions Kazu Negri made this weekend was to have three copies of Blood Moon in his sideboard, a card that I mentioned was extremely well-positioned last week. The problem has been finding the right shell to play Blood Moon in, as the card can greatly slow down opponents but shouldn't be relied on to lock people out. The best thing to back up Blood Moon with is a fast clock, and U/R Gifts Storm can do just that. Now, this isn't necessarily any new technology, but not all U/R Gifts Storm pilots play Blood Moon, and I simply can't imagine why. Kazu slogged through three matchups that should have been incredibly tough for U/R Gifts Storm to beat on paper in the Top 8, much less as the eighth seed, but had Blood Moon to win the two post-sideboard games we were able to see on camera, both in the quarterfinals and the finals.
Play Blood Moon, and play it with a fast clock. It's a solid to great card against all six of the top decks listed on the Day 2 metagame breakdown from earlier in the article; it just needs to find a home. For now, if you're a U/R Gifts Storm player, have Blood Moon in your sideboard. In my opinion it's also the card that can bring traditional Jund back to prominence, as I think it's a fine maindeck card in everyone's favorite midrange strategy. One thing is for sure: I will be looking to brew with Blood Moon decks again for the next SCG Tour® stop, #SCGKY.
Playing G/W Company Is a War
I haven't touched on what I played and how my tournament went this past weekend, so let's get to that. I played G/W Company to a 26th-place finish, the first time I have registered the deck and not made the Top 8, but I was only one win away this time. Here was my decklist for reference:
Creatures (28)
Lands (23)
Spells (9) The reason playing G/W Company is a war is that every single round is a battle that will take something out of you. You don't get free wins with the deck, and with your main plan of playing Ghost Quarter after Ghost Quarter until your opponent taps out, playing two full days of Magic has never felt so taxing. The other two times I played this deck in paper, I was able to play against multiple Burn and Death's Shadow opponents throughout the tournament, and those matches are usually the least strenuous mentally and the shortest, win or lose. This time I only played against one Jund Death's Shadow Day 1 and one Grixis Death's Shadow Day 2 with zero Burn players in sight, and all of the extra decision trees throughout the tournament took a toll on me. I'm not sure if it's reassuring or disappointing that three of my four losses throughout the tournament were ones that I can point to specific decisions that cost me those matches, and that I had the opportunity to do much better if I was on top of my game.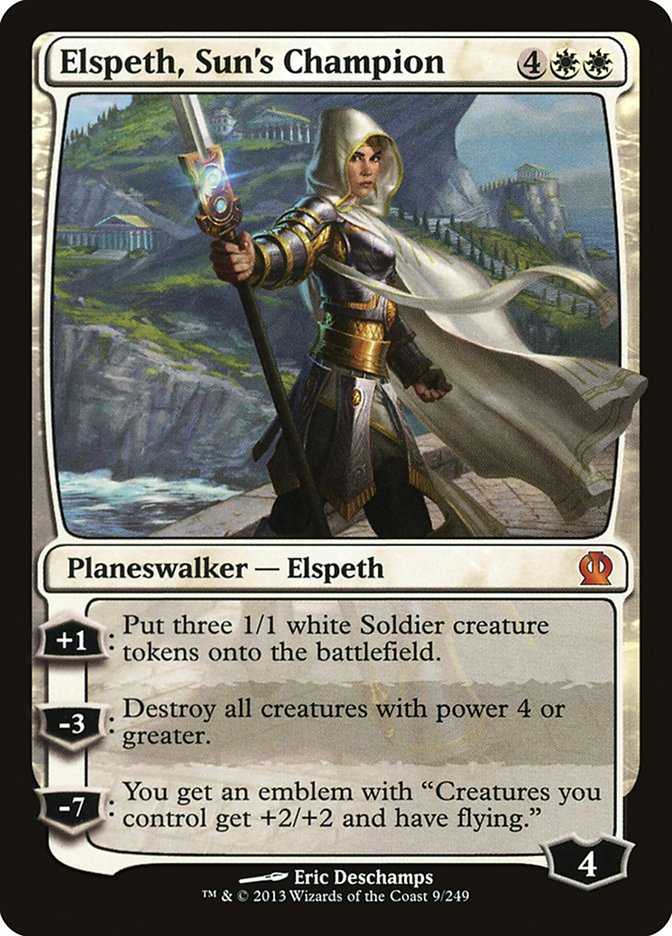 It was ironic that Elspeth, Sun's Champion knocked me out of Top 8 contention in Round 14, as she was the last addition to my decklist to fight Grixis Death's Shadow, Eldrazi Tron, and various control decks. By the time I played that third game against Jonathan Rosum, I was just doing things with the deck and not playing optimally. I made small mistakes and one large mistake during the third game, and losing a good matchup like that to get knocked out of Top 8 contention is a wake-up call. I learned two things from that, first of which is to be mentally prepared to play your deck through every round of the tournament. Doesn't matter if you're playing Burn or U/W Control; before the tournament you need to prepare your mind for every round you are going to play, not just Rounds 1 and 2.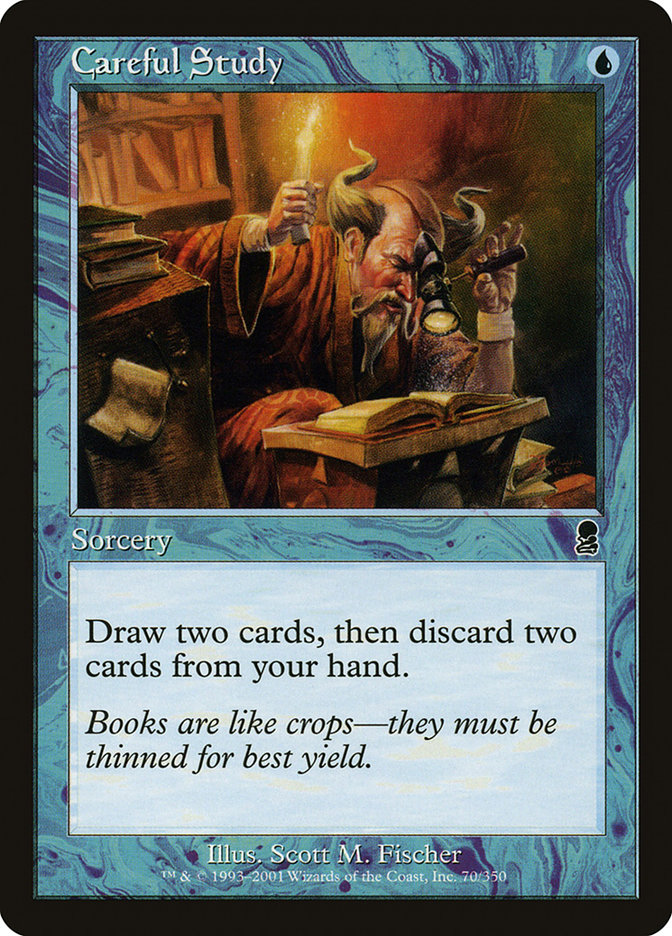 The second important lesson is to do your homework. Jonathan Rosum finished in the Top 4 the week before at #SCGNY, and I knew that he was going to be at #SCGRICH as well and there was a good chance I would have to go through him to win the tournament. I should have known his entire decklist from the week before so I wasn't caught off-guard by his sideboard Elspeth, Sun's Champion that I didn't sideboard correctly for. Sure, I could have looked up his decklist on my phone after seeing the pairing, but I've never been one to do that, and instead I needed to come into the weekend more prepared. Do your homework, know your opponent's decklists, and make sure you are the one catching them off-guard with a card they don't expect instead of the other way around.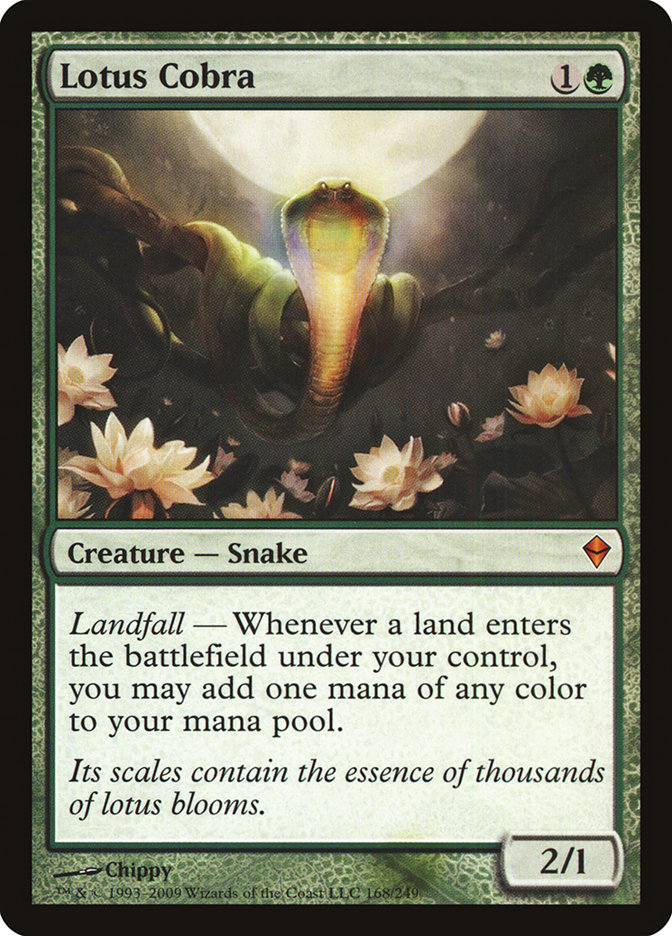 The most common question after a tournament is almost always "What would you change from your decklist?" and I have the same answer I seemingly have had for a while now with my Modern decks: nothing.
Now, that doesn't mean I would play this same 75 again, because I wouldn't if there were another tournament this weekend, but I was extremely happy with every card in my deck. I've gotten to the point where I've played enough Modern that I know what to expect from every card in my list and I was glad to have each and every one of them. If there were another tournament this weekend for me, I would still start with this list but try to see exactly where the metagame was in order to find out what needs to change. The most likely change would be to take out the Elspeth, Sun's Champion from the sideboard in exchange for another card to fight U/R Gifts Storm, which was responsible for two of my losses and won the tournament. That could be another Surgical Extraction, or it could mean playing Scavenging Ooze maindeck instead of Qasali Pridemage and sending the Cat Wizard back to the sideboard.
We have a break on the SCG Tour® for now, though, with the next Modern Open being a month away. You can bet that I will be working every day to find something new that will catch people off-guard at #SCGKY, and now that I've had a taste of winning trophies, I want another one. Time to get to work!