This past weekend was Grand Prix Denver, which I participated in. As many of you know, I took Gitrog Ramp to the event, which I had been working on for about three weeks and felt really good about in such an open metagame. That open metagame came out in full force, as I faced off against eight different archetypes in eight rounds, which was quite the ride. While I may not have expected quite that much diversity, I was expecting an open field, and that expectation had a big impact on how I built my deck for this tournament.
A few weeks ago, I wrote about building decks in Modern that utilize a toolbox package: in other words, any deck that contains some tutors and multiple different targets for those tutors. A toolbox package makes a lot of sense, as one-ofs become amplified to be effectively more numerous. This weekend, on the other hand, my deck got a little attention for having a lot of one-ofs in the list, but not having any tutors to find those one-ofs. This leads to the very reasonable question, "Why?" Today, I wanted to spend some time answering that question, discussing deckbuilding philosophy in general and what I personally find most effective.
The List
Before we get into any of that, let's first take a look at the final list I ended sleeving up for Grand Prix Denver.
Creatures (11)
Planeswalkers (2)
Lands (26)
Spells (21) This list has ten different one-ofs in the maindeck and that number would be greater if not for a last-minute decision to play the second Ulamog over a one-of Kalitas, dropping the singletons from twelve to ten. Still, even nine cards by their lonesome is a high number for a deck with no tutors, especially for a deck with such low card flow as a ramp deck. What is the purpose of having so many unique cards, and is it better than having a list full of four-ofs?
Packages over Playsets
Like most lists, this B/G shell began in a very different place, full of primarily four-ofs that I thought would be good in the current metagame. Beneath the Sands, Jaddi Offshoot, Collective Brutality…all of these cards began as full playsets in the list because they were cards that seemed good in theory and I had neither data nor playtest games to tell me that playing four copies of these cards wasn't correct. They all made sense as four-ofs (unlike some planeswalkers or legendary creatures) and so that is where they began. Over time, however, those numbers began to decrease and spread out over more unique cards. In short, this is to allow for a wider range of answers and threats against more opponents, but that doesn't explain why we would utilize one-ofs here where we cannot reliably find them for those specific matchups.
To explain that, we have to look at the through-line of specific packages of cards. For example, while Never // Return and Warping Wail may both be one-ofs in the list, they more broadly fall under the "cheap removal" package. In fact, that cheap removal package covers a lot of one-ofs and two-ofs in the list.
Here we have twelve total cards that span seven unique cards, but all of them interact with enemy creatures early on in the game. If I asked you what cheap removal or interaction you had against Ramunap Red, for example, you could reasonably list all of the above cards. If you opened up a hand on the draw and saw any two of the above cards with some lands, you would be pretty happy.
That said, you cards still match up very differently against different cards. By having Warping Wail, we have the ability to exile Earthshaker Khenra. Grasp of Darkness gives us an out to Hazoret the Fervent and Glorybringer. Harsh Scrutiny takes out all of the hasters before they can give us problems. And Never gives us an easy answer to Chandra, Torch of Defiance. We could easily have a removal package of just four copies of Grasp of Darkness, four copies of Fatal Push, and four copies of Collective Brutality, but then we would lose the ability to answer a God-Pharaoh's Gift or to kill a Gideon, Ally of Zendikar. We are giving up consistently seeing specific removal spells because the overlap of different removal spells is big enough while expanding the range greatly.
Being different cards with different costs also enables us different ways of playing. If we had only Fatal Push, Grasp of Darkness, and Collective Brutality, we would not have the ability to fire off a turn 1 Harsh Scrutiny on the play, curving into our traditional removal later on. Of course, this is not pure upside, as we could draw a Harsh Scrutiny at a time where we need Grasp of Darkness, so it is more of a tradeoff than one being inherently better than the other. If we look at each card's ability to deal with Hazoret, though, Harsh Scrutiny is much better before Hazoret hits the battlefield, whereas Grasp of Darkness is much better after. Both cards are very efficient ways of dealing with the red God, though, and that is the important overlap we are looking for.
In order for grouping things into packages like this to work well though, you need to be expanding your range without sacrificing too much power level in the process. I can very easily justify a removal package of "3 Abrade, 2 Magma Spray, 2 Collective Defiance" because each card brings a small but different perk to the table while still achieving the primary intended purpose of killing small creatures for cheap. I could not get away with replacing one of these cards with Insult // Injury without my deck playing significantly differently because Insult // Injury moves too far away from the core intended purpose, even if it has some similar properties.
In this way, it is difficult to justify diversity in card choices when certain cards are dramatically better than alternatives. When Lightning Bolt and Path to Exile are legal, if you aren't playing four of either but are playing some other burn spell or white removal spell, you had better have a good reason and even then you are probably wrong. You cannot elevate Magma Spray or Abrade to that same level. Both of these cards are great, but there are common contexts in which Harnessed Lightning or Incendiary Flow is better, so you can much more easily justify a split amongst all of these like cards.
We utilize the package concept once again in our sweepers. The list has one copy of Flaying Tendrils, one Bontu's Last Reckoning, and one Yahenni's Expense. These are all sweepers with a ton of overlap, but again, each brings some a little unique to the table. That said, I am pretty happy with any of the above against decks like Zombies or Ramunap Red, where they are essential components of the matchup.
Unique Effects and Situational Cards
If you take a card like The Gitrog Monster from this list, you can partially justify it by putting it into the same ramp package as Hour of Promise. Both cards do ramp you to World Breaker on the following turn under ideal conditions. That said, The Gitrog Monster doesn't share much overlap with Hour of Promise, so how does it justify its singleton nature? This comes down to the individual card and how it plays out within games.
In this case, The Gitrog Monster is legendary, so having multiple copies on the battlefield is impossible and certainly factors into its decreased numbers. It is also a five-drop that you can only treat as a five-drop when you are not tight on mana. This means you don't need the card early and have plenty of extra time to find the copy at a time when it is actually an appealing play.
The Gitrog Monster actually dips its toe into multiple packages. We have already discussed its similarities to Hour of Promise, but more than that, The Gitrog Monster is a threat in the same camp as World Breaker and Ulamog, the Ceaseless Hunger. It is not quite as good at putting away games as those cards, but it is cheaper and brings some different utility to the table. In all honestly, it might even be correct to cut the Frog in favor of a third Ulamog, but that comes with the downside of just being so much slower against the aggro decks.
An even better example of a unique effect is Ramunap Excavator.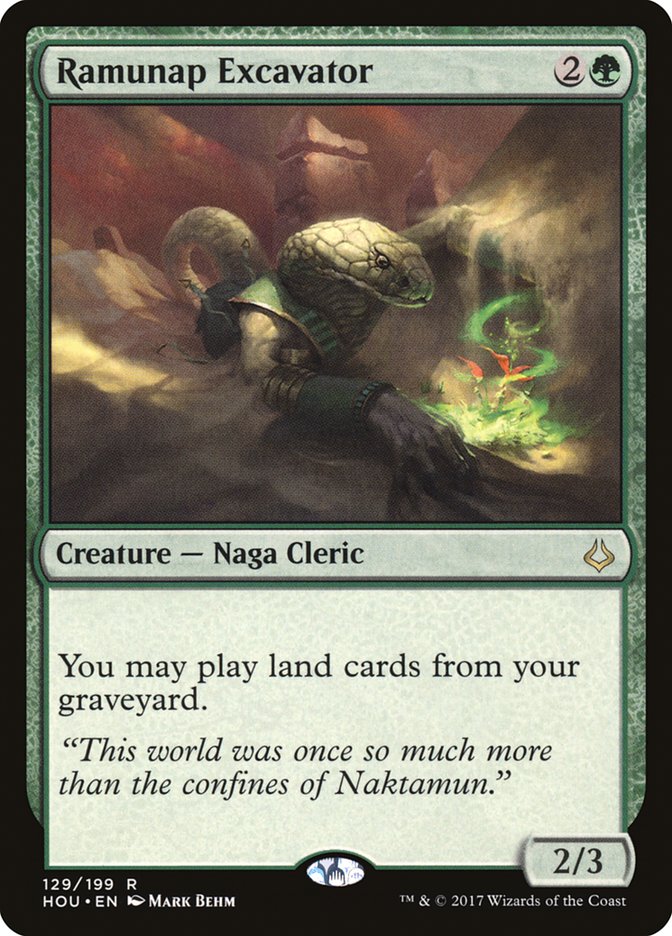 While not legendary, having a second copy of Excavator out has no additional effect. That would be something we would overlook if our entire deck was built to take advantage of Ranumap Excavator, but instead, we have a list that just happens to have a lot of synergy for the three-drop. If we don't draw Excavator in any given game, we should fare just fine, but there are games in which we draw it with The Gitrog Monster or in a long grindy game against control where a second use of Blighted Fen is what we need to put us over the top. In those games, we absolutely love having access to this effect in our list, but we still don't rely on it. Hour of Promise would be a pretty terrible one-of for these reasons.
It is also worth noting that both copies of Liliana in our deck do add additional value to these one-of creatures. Not only do the planeswalkers return a dead singleton to your hand for a second use, but they also fill up your graveyard, making it more likely that you see any given one-of.
Superior, but Not Enough
Sometimes, cards can fall under a package (or multiple packages), but you still need to make a decision as to which cards show up less. Catacomb Sifter and Weirding Wood both fall under the three-drop ramp package that accelerates us to Hour of Promise, but I have chosen to run two Weirding Wood and four Catacomb Sifter.
This is because I want the package of cards that ramp to Hour of Promise to extend past the four-of limit that any single card can accomplish. Unlike with my removal package, though, here I have a clear preference for Catacomb Sifter.
Sifter interacts with aggro in meaningful ways. It pressures opposing planeswalkers. It provides useful card selection for the list (which helps me find some of those one-ofs). Most importantly, it ramps to five mana on turn 4. Weirding Wood is solid, but it just is not able to do all of the things that Catacomb Sifter can, so Sifter gets the nod as a four-of and Weirding Wood is left to round out the package.
You will often see this in decks playing Harnessed Lighting, as they tend to play four copies of that card and then some scattered numbers of Magma Spray or Abrade. This is because the benefits of Harnessed Lighting interacting with energy are so much more valuable to those decks than Magma Spray's exile clause or the Shatter mode, even though both of those are very good upsides to bring to the table.
Keeping Opponents Guessing
One of the huge benefits to playing with a lot of one-ofs and two-ofs making up a package rather than full playsets is that you put a ton of pressure on the opponent for strategic decisions and sideboarding decisions.
Suppose you Mana Tithe or Force Spike someone in Game 1 of a Cube match, only to sideboard that card out under the idea that the opponent will now be playing around your Mana Tithe and therefore you can enjy the advantage of the card without actually needing it in your deck. A very similar effect happens when you diversify your spells within a package. Let's go back to our removal package to illustrate this.
In Game 1, if our opponent sees a Grasp of Darkness and a Fatal Push from us, they might expect there to be three or four copies of each in our list. In Game 2, perhaps our opponent does not activate a creature-land out of fear of it dying while we are actually holding Never and Collective Brutality in our hand. Even though both of these cards have an obvious weakness in being sorcery-speed, we have mitigated this slightly by playing some amount of instant-speed removal.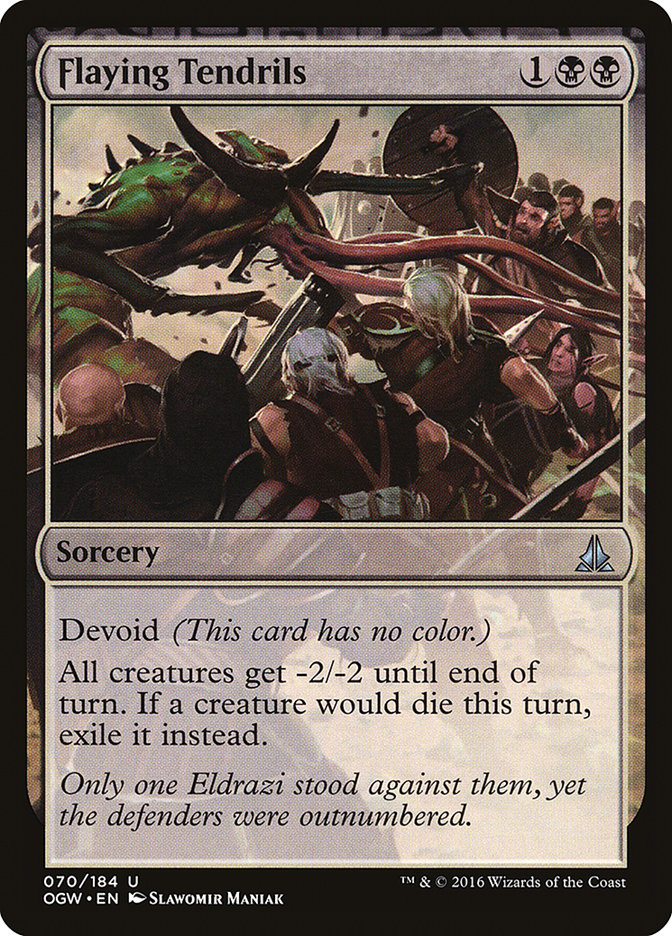 During the Grand Prix, I had a Zombies opponent get three-for-oned by a Flaying Tendrils in Game 1. This made quite the impression on him, so in Game 2, he slow-rolled a pair of Relentless Dead for until he had deployed a Lord of the Accursed. Bontu's Last Reckoning caught him off-guard, being a true four-for-one. Had I only had Flaying Tendrils, this would not have been possible, and had I only had four copies of Bontu's Last Reckoning, then my opponent would have never walked into it in the second game. By playing a diverse package of sweepers, I was able to extract much more value than by playing a single card as a three-of.
This also extends to sideboarding, where players will often sideboard in reaction to the events that they saw in Game 1. One player at the Grand Prix was beaten pretty badly in Game 2 by the card advantage combo of Rumanap Excavator plus The Gitrog Monster. I didn't think much of it until my opponent then played a Crook of Condemnation on turn 2 of Game 3. The card essentially did not matter at all during that Game 3 and effectively put me up a card and up multiple mana, which helped me easily take the match from there.
Easy Sideboarding Decisions
A minor but notable bonus to having a diverse package of cards is that your sideboarding decisions become much easier. This is not only because there should be some obvious cards to take out in most matchups but also because the cards you are bringing in are more obvious. If you look at our sideboard, we actually have a lot of extra copies of cards found in the maindeck. Let's take a matchup like B/G Constrictor to demonstrate this.
In this matchup, two toughness is a very rare thing to find. Sometimes there are Grim Flayers, but for the most part, our Collective Brutalities are worse than I would like, as is my Flaying Tendrils and Warping Wail. We can replace these cards with Never, Doomfall, Gifted Aetherborn, and Bontu's Last Reckoning, which dramatically improve the matchup. If we had just been shaving a copy or two of Grasp of Darkness and Fatal Push for those sideboard cards, the improvement would have been markedly worse, perhaps so minor as to not be worth those sideboard slots at all.
When Not to Go It Alone!
If there are times when it is more appropriate to utilize one- or two-ofs, then there are certainly times when it is less than optimal to do so. Generally speaking, as a format tightens down and the number of commonly played archetypes shrinks, so should the diversity of your removal. When CawBlade was the best deck with 40-50% of players sleeving it up on a weekly basis, playing a wide range of different one-ofs lost some value. The enemy was obvious and it was defined, so a deckbuilder could hone their removal to be best against CawBlade and the few decks that were able to compete against CawBlade.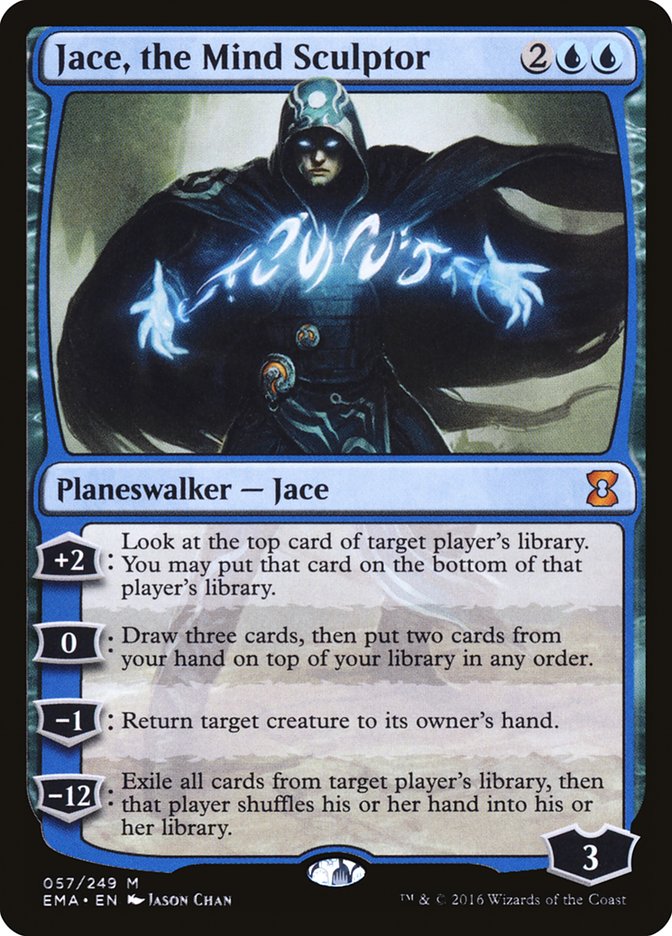 You were rewarded more for having four copies of the best removal spell against CawBlade than you were for having one copy of the best removal spell for four other matchups, just because CawBlade was so prevalent. In fact, CawBlade was so prevalent that you could play cards that were dead in most other matchups but that had great value against CawBlade, such as Divine Offering, and have a better overall win percentage for doing so.
We have already discussed the idea of having a superior card but not having enough of that package (4 Catacomb Sifter, 2 Weirding Wood), but you can imagine this same scenario where you only need four (or eight) of a specific effect and there are clearly superior options for that effect. If I want a cheap burn spell and Lighting Bolt is available, there is almost no chance I should be running anything but four copies of Lightning Bolt. It is just that much better than other options in most matchups.
Wrapping Up
I found myself at 5-2 in the tournament and ended up losing a close match against Zombies to knock me out of a chance at qualification. Still, given the variety of opponents I played against, it is hard not to be satisfied with how my deck all came together. Having such a wide range of answers and situational cards allowed me to win against Ramunap Red, U/B Reanimator, B/G Constrictor, W/B Procession, and R/B Control, despite those decks coming from very different angles. I would have loved to rack up an extra win, but such is Magic. My buddy Brandon Large played the same list and cruised into Day 2 at 7-2 (with no byes), though he ended up finishing at 10-5.
I think the list has improved dramatically over the past three weeks and it definitely felt worthy of being played at the Grand Prix, although I think iteration is always an ongoing process. I did predict Ramp would show up in greater force than it did, so The Gitrog Monster might not be the best maindeck choice if only 5% of the field is on G/R Ramp. Small iteration like that aside, if you're looking for something a little different in Standard and you like your one-ofs with no tutors, might I recommend the frog legs?