It's been a long and tumultuous journey the past couple years of Standard Magic: full of powerful and unique cards; returning to both Zendikar and Innistrad, two of the Modern era's most beloved sets; cruising into a brave new world of Kaladesh that brought us new resources in the form of energy and powerfully resilient threats in Vehicles. While we were plagued with some cards slightly too powerful for the format, we're at a place I believe Wizards foresaw us reaching, which is a healthy metagame with several top-tier decks to choose from.
Speaking of interesting decks you can choose from in the format, this past weekend was the RPTQ I attended, and true to my word, I played a God-Pharaoh's Gift deck with some slight changes from what I wrote about last week.
Creatures (27)
Lands (23)
Spells (10) There were some significant changes from the previous versions, adding lands as well as Trophy Mage to the mix after much reluctance.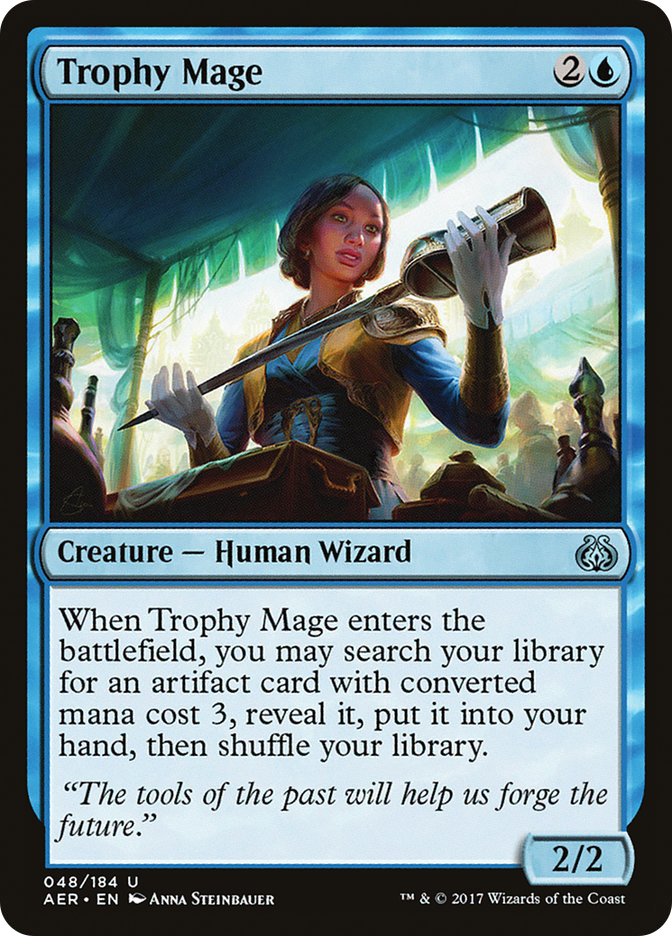 I've been a long proponent of not including Trophy Mage because of how slow it can be against Ramunap Red. It lacks against that matchup, since investing three mana into a 2/2 body and investing five further mana from there just to get blown out by Abrade isn't where I want to be. However, after watching a lot of the coverage of Grand Prix Denver on Day 1, I saw a lot of people gravitating to slower controlling decks and other more midrange style decks like Temur Energy and Zombies, just having the consistency of always being able to find Gate to the Afterlife seemed worth taking a turn off to cast Trophy Mage.
I had a relatively easy go in the Swiss portion of the RPTQ, going 4-0 in a six-round event and then taking two intentional draws to secure my spot in the Top 8, only needing to win one more match to find myself playing in my third consecutive Pro Tour. Unfortunately, I found myself paired against a good friend, John Cuvilier. Not only was he perhaps the most skilled opponent I could have faced in the room, but also we were playing a 70/75-card mirror match. While I was on the play in the Top 8, I ended up losing a close Game 3 after nearly an hour and a half of play. With that much on the line and playing a match where every little advantage you can gain matters, any misstep could cost you the invite.
The God-Pharaoh's Gift mirror match is complicated pre- and post-board. In Game 1, it's a pure race to get as many God-Pharaoh's Gifts and Angel of Inventions on the battlefield as possible with a general rule of "always block." Once those cards are out of the way, it becomes all about Minister of Inquiries and decking your opponent. From my experience, it's relatively hard to win on the Angel plan, since one lifelink hit can get you right back into things, so it generally comes down to decking and managing how aggressively you dig with Champion of Wits for Angels. However, that doesn't mean you get to bypass the "beat you down with lifelinkers" part of the game and just try to aggressively deck them, since you very well can die to Angel of Invention. It's an interesting tightrope to walk, and unfamiliarity with the deck will definitely leave you at a significant disadvantage.
Sideboarded games in the mirror are a lot more intricate and interactive. Kefnet's Last Word was a card in my sideboard specifically for the mirror match, which I expected an increased amount of after it was showcased on Day 1 of the Grand Prix in the hands of very capable players. Between having to consider playing around countermagic in the form of Negate, removal in Abrade, and the biggest blowout of all, getting your God-Pharaoh's Gift stolen by a Kefnet's Last Word, all while racing to get your Gate to the Afterlife active before theirs, it's a lot to manage. Even though I lost, I was supremely happy it was over by the end of it all, as my brain certainly got a workout and a good friend was back to the Pro Tour for the first time in many years.
I thought that the RPTQ would be the last of this Standard I would have the pleasure of playing in, but as luck would have it, I'll be going to the StarCityGames.com®-hosted Grand Prix in Washington D.C. this weekend! This marks the first time I'll be traveling to a Grand Prix since Nashville, when Dark Ascension was the newest set on the block. So this means there's one last look at this format for us and we have a lot to consider as far as what to play goes.
Creatures (24)
Lands (22)
Spells (14) If there's any person I'd want to dodge when traveling to Washington DC this weekend, it's Brad Nelson. As much as I'd like to consider I have a grasp on the ups and downs of the Standard metagame, he understands it on an entirely different level. With the rise of Ramunap Red, Temur Energy was thought to have taken the biggest blow. However, time and time again, energy has proven to be a truly powerful mechanic with all the tools it needs to adapt to any given metagame.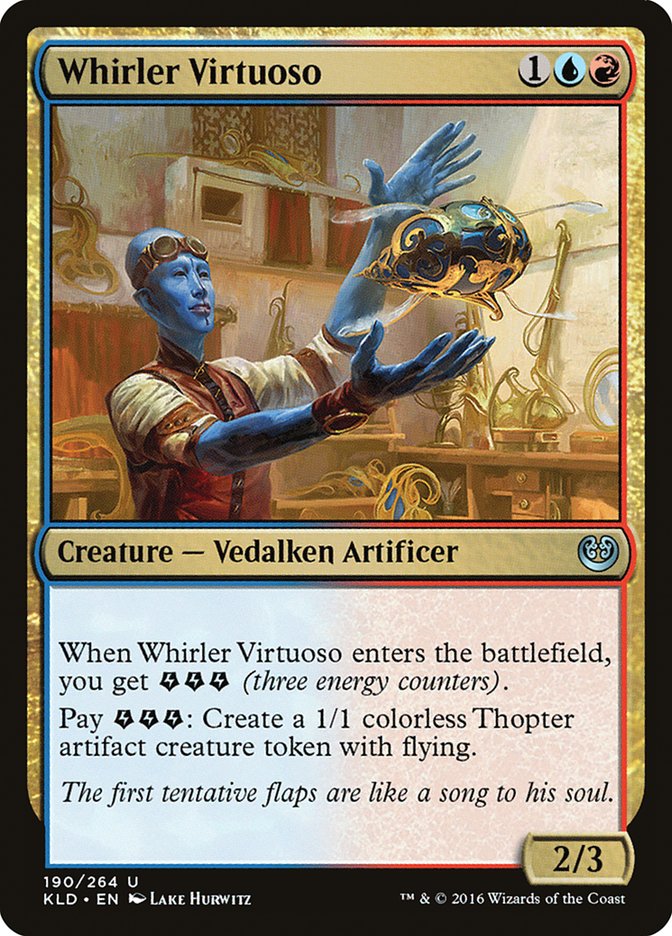 If a card like Pia Nalaar was a good sideboard card in Ramunap Red mirror matches because it created additional bodies to gum up the ground and air with, Whirler Virtuoso seems like an windmill-slam creature for the matchup, with Brad going up to the full four copies as well as some additional early interaction in Magma Spray. There's not much I can say that the champ himself hasn't already said, and you can find a full run down of the deck from Brad himself on Premium!
Does that mean that Temur Energy is the best choice going into Grand Prix Washington DC? Possibly, but that could change as the format takes its final adaptation for Standard's last hurrah and final farewell to Battle for Zendikar and Shadows over Innistrad blocks.
I'll be looking to attack the metagame in a way that has game against Temur Energy while not just folding to the midrange strategies around. Some decks I've seen pop up that are up to the task might be a bit unfamiliar to some.
Creatures (7)
Planeswalkers (2)
Lands (26) While most of the deck looks like a normal G/R style of Ramp deck, you'll quickly note there are two copies of Fumigate in the maindeck along with some interesting sideboard cards to help shore up different matchups.
Regal Caracal is quite underplayed as an answer any white deck can play to halt the aggressive red decks and help turn the corner all in one. Lost Legacy is a concession to any type of mirror match where Ulamog, the Ceaseless Hunger is the only card that matters as well as being a knockout card against Approach of the Second Sun control decks.
All these cards are possible because of playing both Weirding Wood and Gift of Paradise as your ramp spells of choice, giving you a bonus effect of gaining life or drawing an additional card having relevance in a variety of matchups across the board. Usually splashing for double-color cards in a deck like this is frowned upon, but maxing out on both enchantments gives you enough sources that you'll probably have one when turn 3 rolls around.
On the opposite end of the spectrum, we have a strategy that I've long been against because of its vulnerability to the aggressive decks in the format but might be well-positioned with the increase in Temur Energy being played.
Creatures (6)
Lands (25)
Spells (29) Over the past few weeks of playing on Magic Online, it's quickly becoming obvious how incredibly powerful The Scarab God is. It functions as a brick wall against a lot of the aggressive decks that can't beat a 5/5 that never dies, and if you ever get to untap with it, the amount of advantage you gain just snowballs from there. Not to mention that it functions as graveyard hate against recursive decks such as Zombies and God-Pharaoh's Gift decks!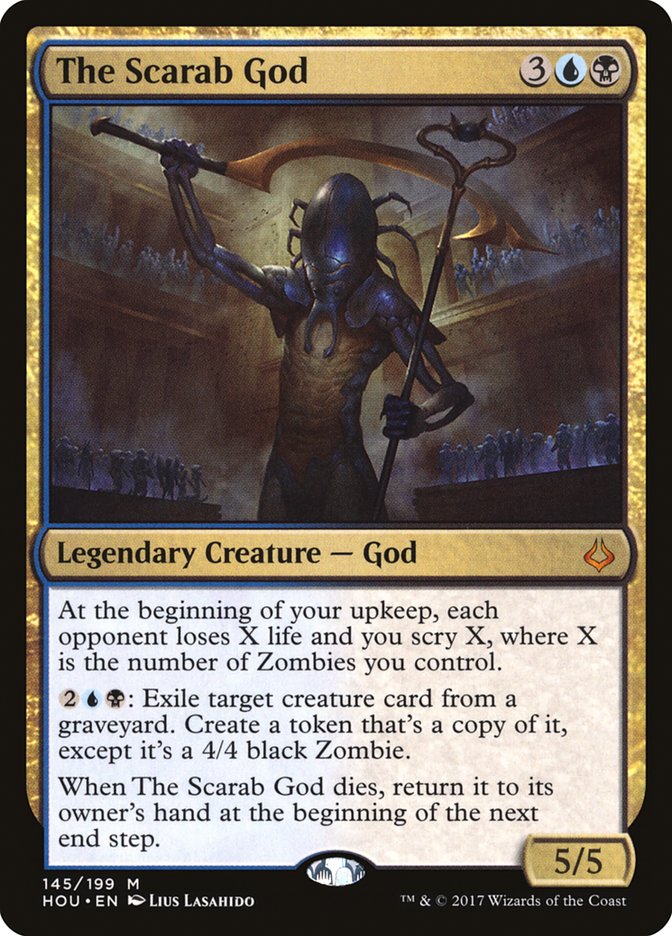 All that being said, U/R Control has always been on the fringe of decks that are viable in my mind, as being reactive is almost always worse than being proactive. With the black splash being virtually free, being able to add an inevitable threat to the deck might give it what it needs to fight the good fight one last time.
One last deck I took some time to experiment with that also featured the all-powerful The Scarab God was what amounted to almost a Kaladesh block deck, utilizing the improvise mechanic to power out one of the hidden gems of Standard, Herald of Anguish.
Creatures (17)
Lands (21) While this deck looks like a pile, it's certainly more powerful than it looks. One of the biggest advantages this deck has is how bad cards like Fatal Push and Abrade are against the deck despite it revolving around having artifacts on the battlefield. Aside from the single copy of Skysovereign, Consul Flagship, not onee of the artifacts in the deck is a truly appealing Abrade target. You'll also note that Herald of Anguish passes the Chandra, Torch of Defiance and Glorybringer test, inherently being a 5/5 while also having a built-in ability to deal with Hazoret the Fervent.
There's no card that controls the battlefield quite like Herald of Anguish, and while it's seen play in various Metalwork Colossus decks, it actually doesn't belong alongside the 10/10 Construct.
Metalwork Colossus demands a bunch of singular high-cost artifacts, while Herald of Anguish wants a plethora of tiny tokens to help cast it and use as fodder to control the battlefield. As long as the metagame is quite hostile toward artifacts, I think erring on the side of not having key pieces to your synergy-driven decks being artifacts is the way to go.
Pia Nalaar is another card that's been severely underplayed in the Standard format, being slightly overshadowed by cards like Whirler Virtuoso. However, in this deck, where she fuels Herald of Anguish and Maverick Thopterist cost reduction while also putting up a decent defense against numerous 2/1 creatures out of Ramunap Red as well as providing two threats against removal-heavy decks, Pia Nalaar might finally be given the chance to shine.
It's a deck I'm super-excited to get more games with under my belt, as it could be more than just a good call for this weekend; it contains zero cards that will be leaving us with the coming of Ixalan.
While I'm not set on what to play yet, I'll be more than happy when it's over because we finally get to say goodbye to some cards that have overstayed their welcome. And even though my love affair with Ishkanah, Grafwidow and Grim Flayer will finally come to an end, I'm ready to enter the world of Dinosaurs and Pirates and who knows what else!