Going into Grand Prix Denver, I had been testing Gitrog Ramp extensively, as I was planning on playing the deck in the Grand Prix. Along the way, I began to learn some interesting things about Hour of Promise's position in the format, as well as just some general knowledge about ramp in Standard. This lead to a lot of interesting ideas for decks and variants of ramp, but rather than entertain them immediately, I decided to focus on my B/G shell and make sure it was best-tuned to take on the field. Now that the Grand Prix is over, though, I can more readily split my time up exploring the format and looking at the different shades of ramp I encountered along the way.
Today, I want to talk about five different directions you can take ramp decks in Standard, from Mono-Green Ramp to Five-Color Ramp to Ramp without green anywhere in sight.
First, to understand how I got to any of that, let me quickly show the list I played in Grand Prix Denver last week. If you are looking for something tested and tuned and have a few days of practice available, I would certainly recommend the following list for Grand Prix Washington DC this weekend.
Creatures (11)
Planeswalkers (2)
Lands (26)
Spells (21) If The Gitrog Monster scares you too much, you can sub it out for another Eldrazi or Kalitas pretty easily, but I still think the 6/6 is more than pulling its own Froggy weight.
While it might not be obvious, one of the principles I was looking to follow when working on the above shell is that I did not want my ramping to depend on fragile two-drops who just eat a Magma Spray and fail to do their job. Catacomb Sifter could be disrupted, but people very rarely kill the Scion over the Sifter, and even if they do, I have gained card advantage and a scry. I specifically wanted to avoid Druid of the Cowl or Channeler Initiate, though, as people are packing cheap removal to fight the aggro decks and I would rather not be caught in the splash zone.
Of course, you can't blank an opponent's removal forever. Eventually they will be able to take out a Zombie token or maybe Harnessed Lightning a World Breaker, but in any case, they are not able to disrupt our primary strategy in a serious way. Instead, they are only able to react to our heavy hitters in ways that put us ahead on cards or tempo.
I wanted to explore what this would look like if taken to an extreme. Can we build a Ramp deck that avoids all meaningful creatures but still consistently climbs to Eldrazi mana as quickly as possible?
The first thing to note when embarking on this journey is just what ramp options we have available to us that come without the burden of legs. Gift of Paradise and Weirding Wood are both quite popular, but what about two-drops? In my Indomitable Creativity list from a few months back, I used Ruin in Their Wake to good effect, as I was playing with eight ways to find Wastes and some important four-drops to ramp to. We can once again explore that route, but I really want a second two-cost ramp spell if we are going to adjust our list from the typical three-to-five curve to a two-to-four curve instead.
Enter Corrupted Grafstone.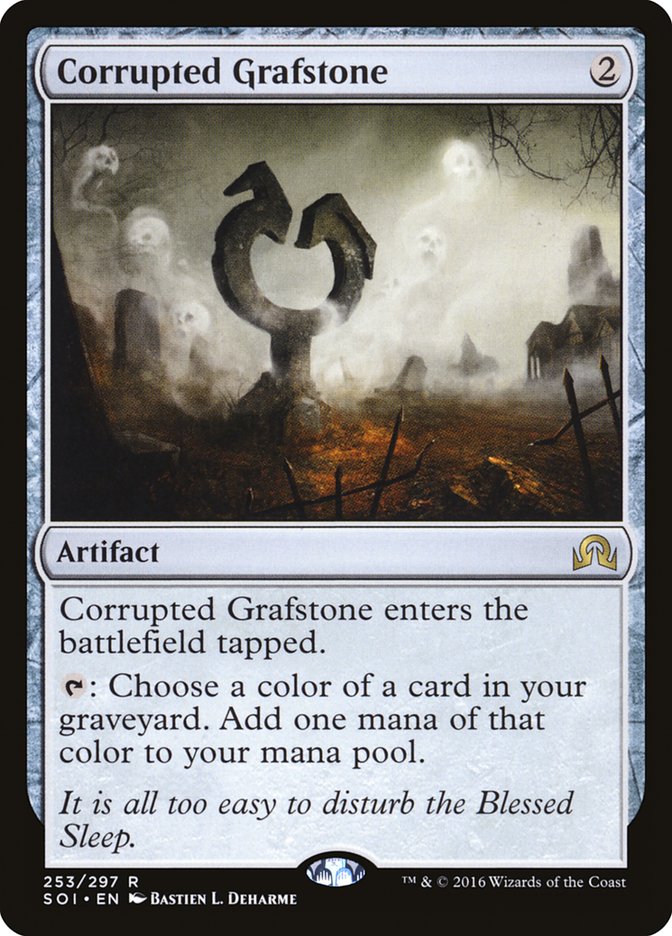 While Corrupted Grafstone has seen very little play, its role as a mana rock is undeniable. If you can reliably get a card into the graveyard early, you have access to the only two-cost artifact that ramps in the format. Here is where we need to pay attention, though, because Ruin in Their Wake and Grafstone intersect at an important point. If we are putting a premium both on finding Wastes and having one-cost proactive spells to enable Corrupted Grafstone, we can knock out two birds with one stone by including 4x Attune with Aether and 4x Traverse the Ulvenwald. Together, we gain a very solid curve of one-drop land fetcher into two-drop accelerant, which places an important position on the curve at four. Will we talk about that momentarily, but let's jump to a list.
Creatures (9)
Lands (23)
Spells (28) We went strictly green here to focus as heavily on our ramp plan as possible. We never need to take a turn off to cast removal or anything of that nature and instead can focus on getting to seven mana, or ten, as quickly as possible and then ending the game when we get there. If we need interaction, such as a sweeper, we can access it out of the sideboard, but we are pedal-to-the-metal in Game 1 situations.
Back to our curve, let's look at that crucial four-drop slot. Here we have the very strong Hedron Archive holding down the fort. There is basically no better four-drop accelerator in the Standard, even if it does give us a small weakness to Abrade. Pushing you straight from four mana to seven mana on the following turns allows for turn 4 World Breakers out of this list and not even Ramunap Red is going to enjoy that race. Because we have such an emphasis on four mana, though, just Hedron Archive would be lacking. Instead, we also have a pair of Shefet Monitors, instant-speed ways to gain some card advantage and mana, while also being easy creatures to get into the graveyard for delirium.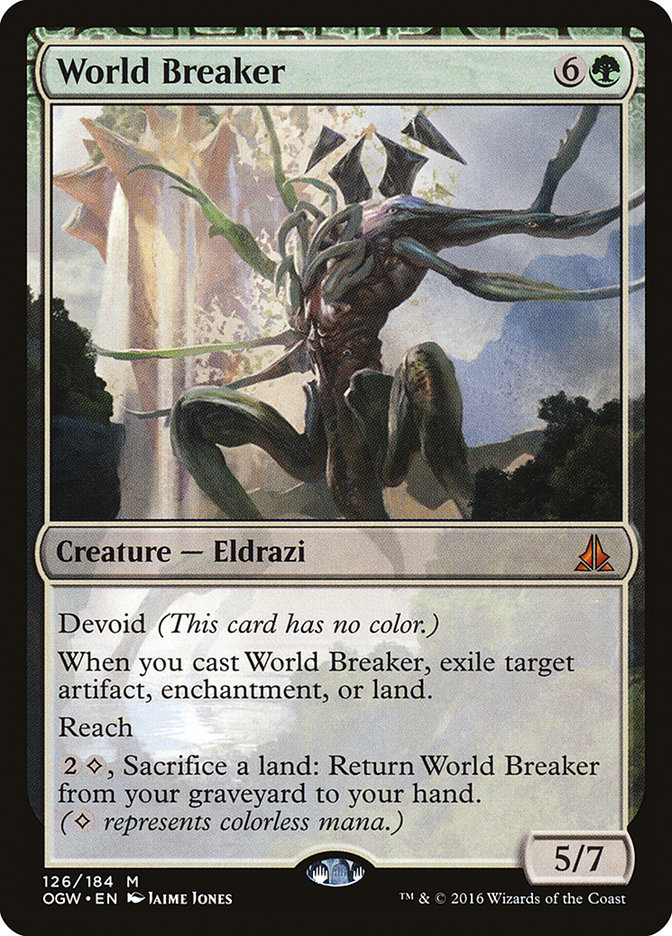 Six copies of four-cost cards to ramp into is still a little lighter than I would like, but we also don't want to be so reliant on a two-drop accelerator as to lose every game we don't draw one. The best possible bridge here is Weirding Wood. Weirding Wood is a three-drop that ramps straight into Hour of Promise, so its primary function is already great, but more importantly, Weirding Wood swings up to a four-drop when we pair it with a two-cost accelerant. In this world, we simply play Weirding Wood on an untapped land and then use our new two mana to draw a card from the Clue, allowing us to maximize mana on every turn. Of course, we could also play another two-drop accelerator with the mana here and go straight into that turn 4 World Breaker.
Breaking Promises
I am going to transition into one of the more out-there suggestions for the ramp class, as it is the only one of these lists that doesn't have Hour of Promise, but it was also the place I landed when looking at deviations of ramp that could utilize Corrupted Grafstone and Hedron Archive as we did above.
While Hedron Archive and Corrupted Grafstone make for really solid ramp spells in our Mono-Green deck, they importantly don't have to be paired with green. In fact, by moving them out of a green shell, we give access to ramp in other colors without the reliance on green. Granted, this will cost us Hour of Promise, which is an amazing card, but getting too caught up on a card can keep us from discovering something new, so I at least want to explore a list without Hour of Promise.
The key to this exploration has to be Corrupted Grafstone, though, as it is the only acceleration available below the three-mana point for a nongreen deck. We can play some Warping Wails as pseudo-ramp that gets us to a crucial mana point, such as four mana on turn 3, but obviously a Ritual effect is not the same as a reliable mana rock. As such, we need cards we can reliably get into the graveyard early to turn on Grafstone. Harsh Scrutiny is one of my favorite cards in the format right now and plays this role really well, smoothing your draw, protecting your early-game, and enabling Grafstone on curve. We also have removal that does the job and could include cycling cards if we really demand the turn 1 play.
Creatures (10)
Planeswalkers (3)
Lands (24)
Spells (23) This list obviously is not as pure a Ramp deck as the others, but in exchange, we gain a lot of interaction in the early- and mid-game that most Ramp decks simply do not have. This allows us to take a little longer getting to our end-game because we have means of keeping pressure off us or disrupting an enemy gameplan. I have used the shell from Gitrog Ramp to come up with this composition for removal and disruption, but that is likely to evolve a bit over the course of the week.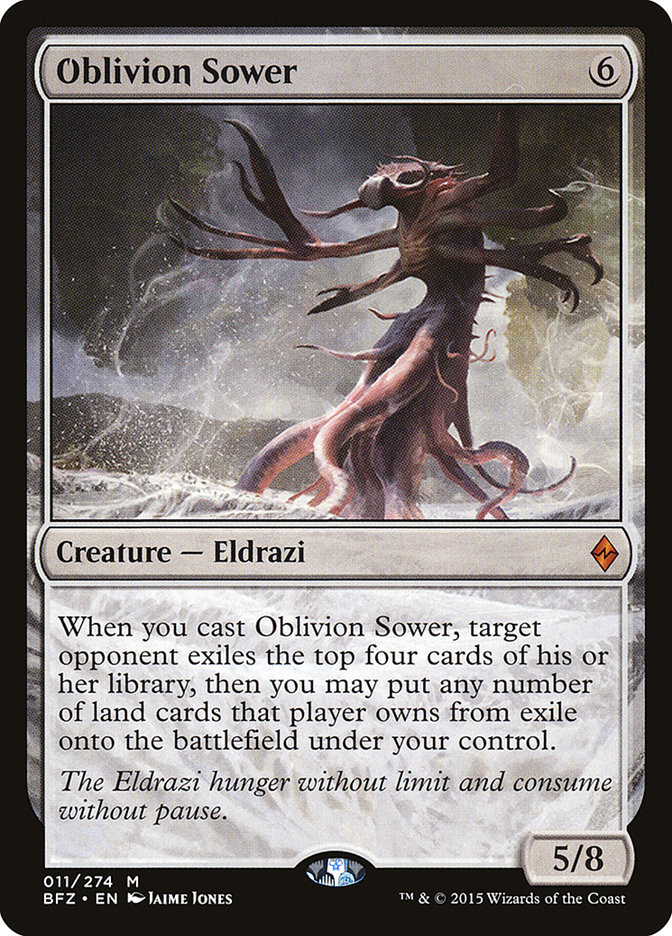 Oblivion Sower deserves some recognition here as being a sort of colorless stand-in for Hour of Promise. A 5/8 is generally better than two 2/2s, and while you don't get to find specific lands, you do get to put some lands onto the batltefield that inch you closer to turning on Shrine of the Forsaken Gods and therefore casting Ulamog. I would say that I generally have nine or ten mana available the turn after Sower is cast.
Sower also has the really nice benefit of attacking Approach of the Second Sun and exiling it from a cast trigger. You can Noxious Gearhulk your Sower for eight life, if need be. Last, you can exile enemy lands in the graveyard via Scavenger Grounds as well as Never. This is important because Oblivion Sower gives you all lands in the opponent's exiled zone.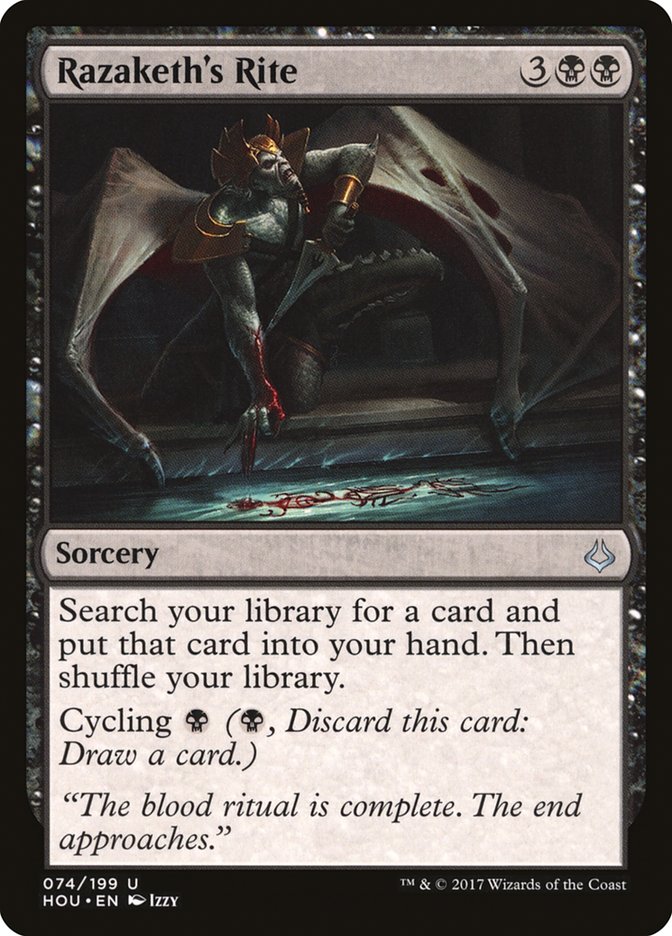 Razaketh's Rite is a card I absolutely want to try out in this list as a one- or two-of at some point. It cycles for a single mana, which is big for Corrupted Grafstone. It also helps us to find our more situational cards in a consistent manner. One Kalitas, one Liliana, one Ob Nixilis, two Ulamogs…all of these cards benefit from being found when they matter most. Granted, five mana is not inconsequential, but the cycling outlet helps mitigate this and we will often have plenty of mana lying around anyway. My next iteration of the list is to try two copies of Razaketh's Rite in place of the maindeck Gifted Aetherborn, moving one or both of those to the sideboard. This would also help me to get the mana ratio slightly more in line, as I was debating going up a land anyway and a few cyclers aid that concern.
Here is the slightly different take on the deck that I plan to play with this week.
Creatures (8)
Planeswalkers (3)
Lands (24)
Spells (25) Ramp Around the Rainbow
All of these monocolored ramp decks are nice and all, but what does ramp look like when it gets a little more eclectic? More specifically, we looked at a ramp deck that didn't contain Hour of Promise, but what if we could play a deck that had even more copies of Hour of Promise? If our entire deck is centered around the resolution of this five-cost spell, what if we played six copies of it? Seven, even?
Razaketh's Rite might be the card that comes to mind when I say this, but I want actual copies of Hour of Promise, meaning they need to be castable once I hit five mana. If I need to take my turn 5 off to go find Hour of Promise and then cast it on six mana, much of the effectiveness of the spell has been lost, as it is no longer accelerating me to World Breaker (although is probably still on time for Ulamog).Only one card in Standard can do that, although it might be one you have forgotten about.
Allow me to converge your speculation:
Creatures (14)
Lands (23)
Spells (23) Bring to Light has consistently remained one of the most appealing cards in Standard, but it has rarely found the legs to be as effective as it is intriguing. In theory, a ramp shell is one of the easiest places to reach a full spread of five colors, especially if we turn to Servant of the Conduit and Channeler Initiate, which both act as Birds of Paradise in this shell. Weirding Wood, Attune with Aether, Evolving Wilds, and Aether Hub all go a long way in helping the quest for five colors as well, making it rather likely that you have access to domain by the time you can Bring to Light.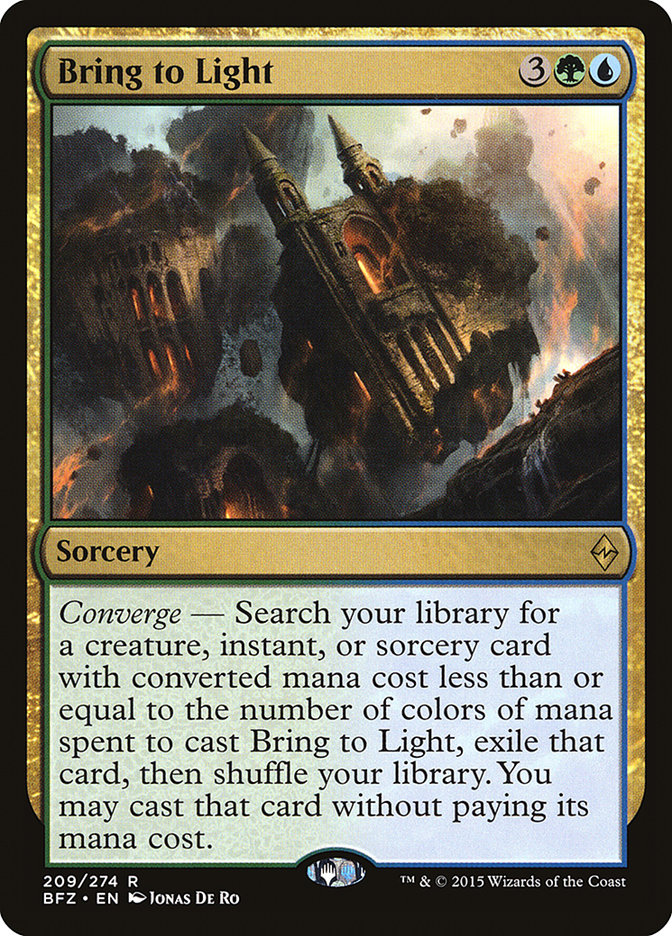 Of course, Bring to Light would not be maximized if it could only be Hour of Promise, so we also have a light tutor package in the maindeck as well as a lot of silver bullets in the sideboard. It is very important to remember that Bring to Light can only find creatures, instants, and sorceries, which is why a single Beneath the Sands is in the list and why we are playing a card like Anguished Unmaking over Cast Out.
I would say this list is the most unrefined of all of the lists we are looking at today, but it also has some of the highest potential because it can access any color, any land, and any spell. Because of that, iteration is likely to be very fruitful for a list like this, as we can continually make huge improvements to the list. For those of you wanting something a little more mainstream, though, don't think I have nothing for you!
Going into this weekend, I would definitely recommend Gitrog Ramp if you can get enough games in with it, but if you are looking for something a little simpler with a lot of power behind it, G/R Ramp is a solid choice. I have seen different lists with slightly different configurations, but this is the list I prefer at the moment.
Creatures (9)
Planeswalkers (2)
Lands (26)
Spells (23) One Neheb, the Eternal has been really solid for me in testing, effectively filling a similar role as The Gitrog Monster in being a fifth(-ish) copy of Hour of Promise while having that crucial sixth point of toughness. Neheb generally needs help from the Eldrazi to actually end a game, whereas The Gitrog Monster can handle things on its own more often, but Neheb has much less risk involved too.
I am also a big fan in giving up that fourth copy of Kozilek's Return in the main for Chandra, Flamecaller. Chandra still gives you a sweeper effect, albeit a little slower, but it is much more a threat against control and midrange than Return is. Plus, with Hour of Devastation and Kozilek's Return already covering the five-damage sweeper role quite well, the diversification just feels right to me.
Hour of Promise is a powerful and somewhat versatile card, so I am excited to see where people take the card. In particular, Eldrazi are basically the best end-game to ramp to in the current Standard pool, but Hour of Promise will exist through rotation while Eldrazi won't, so keeping that in mind as you continue to brew might give you a head start on the competition.
Good luck to everyone at Grand Prix Washington DC this weekend!