With Ixalan just around the corner, we'll be saying farewell to both Battle for Zendikar block and Shadows Over Innistrad block. #GPDC will be the final hurrah for the current Standard format, and I can honestly say I'm sad to see it go. The last year has been a rocky one for Standard, featuring the banning of five cards:
These five cards have, at one point or another, dominated the Standard format and consequently made me a bigger fan of Modern. But that's not what we're going to be talking about today. For those of you attending #GPDC, I wanted to give you everything I have on one of my favorite decks in the format: W/U Monument. While it hasn't changed much in the last few months, including with the release of Hour of Devastation, there are some things that you need to know if you plan on piloting this deck this weekend.
First up, here's the list I recommend, and the one I'll likely be playing.
Creatures (24)
Lands (25)
Spells (11) Testing Dump
As you can see, not a lot has changed since the StarCityGames.com® Season One Invitational. A couple of Shefet Dunes were a welcome addition to the manabase, giving you a little more to do with your lands if you started to flood out, and, if you're familiar with the deck at all, you'll know that this deck floods out quite a bit. That is partially due to Cloudblazer taking up the top slot, but also the clues you generate from both Thraben Inspector and Bygone Bishop. While I've tried playing fewer lands, you can usually find ways to spend the excess mana as the game progresses.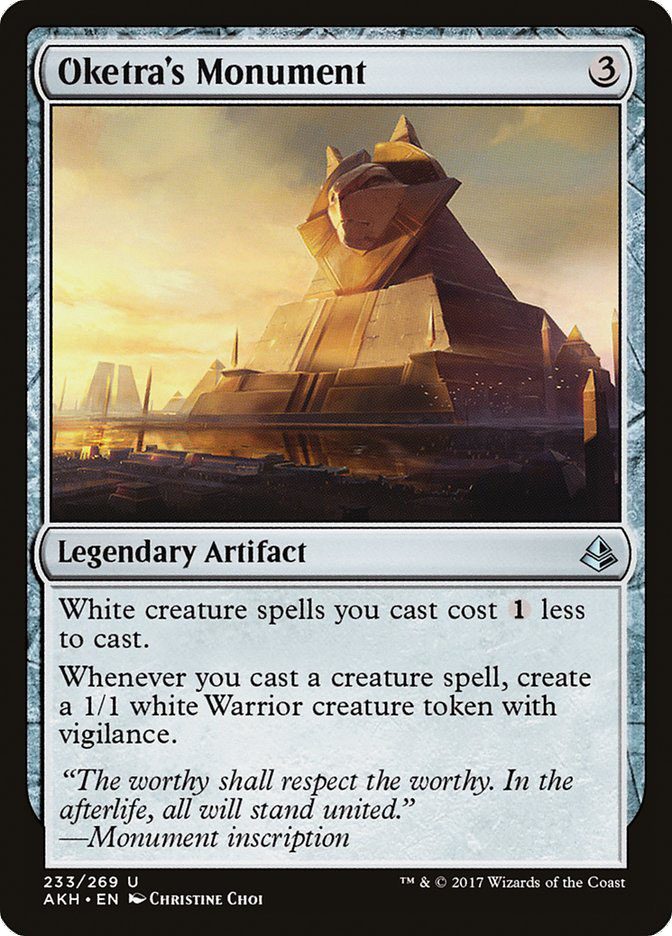 If you've played this deck before you probably already know that casting your two-drop creature on the second turn of the game isn't always correct. If you have an Oketra's Monument in hand it is often correct to wait a turn or two before casting your two-drop so that you create a 1/1 warrior. Every creature you can create matters for pushing you closer to summoning Ormendahl, Profane Prince. While most decks that have Westvale Abbey use it as a backup plan, this deck wins many games by transforming it. At the very least it can speed up your clock by a turn or two, and there aren't too many spells in Standard that can deal with such a large, indestructible threat.
W/U Monument is a midrange deck, plain and simple. And, to be clear, it's one of the best midrange decks for fighting other midrange decks and aggressive strategies. We're usually an underdog to ramp and certain versions of control, but that is the cost we pay for being a bit slower than other midrange decks. And, if I'm being honest, that's the price we pay for relying on one card to do a lot of the heavy lifting. Do you really think Bygone Bishop would be a format staple without Oketra's Monument?
The main draw for playing this deck is the raw power of Oketra's Monument, as well as the one-sided wrath of Dusk // Dawn. While Dusk // Dawn won't do a whole lot against Ramunap Red or control, it will singlehandedly swing unwinnable games in your favor against the rest of the format. Temur Energy will really feel the heat that this card brings, but it is also serviceable against Zombies, thanks to Liliana's Mastery and Lord of the Accursed, as well as B/G Constrictor with all of their +1/+1 counters. You also don't want to underestimate the back half of the card since games with W/U Monument can go pretty long, and bringing back creatures with it is reliable. Plus, when you have Oketra's Monument in play, you can regularly cast the creatures on the same turn you use the back half!
At times you will feel like you're playing a different format, in both a good way and a bad way. You'll have draws that feature Oketra's Monument and those that don't, and those two draws will feature drastically different games. While you can still win games without casting Oketra's Monument, it's never easy. This doesn't mean you should aggressively mulligan to find Oketra's Monument though, especially since drawing a second copy can be pretty bad (it's Legendary, which is something I missed at first), and you want to make sure to hit all of your land drops to be able to crack your clue tokens.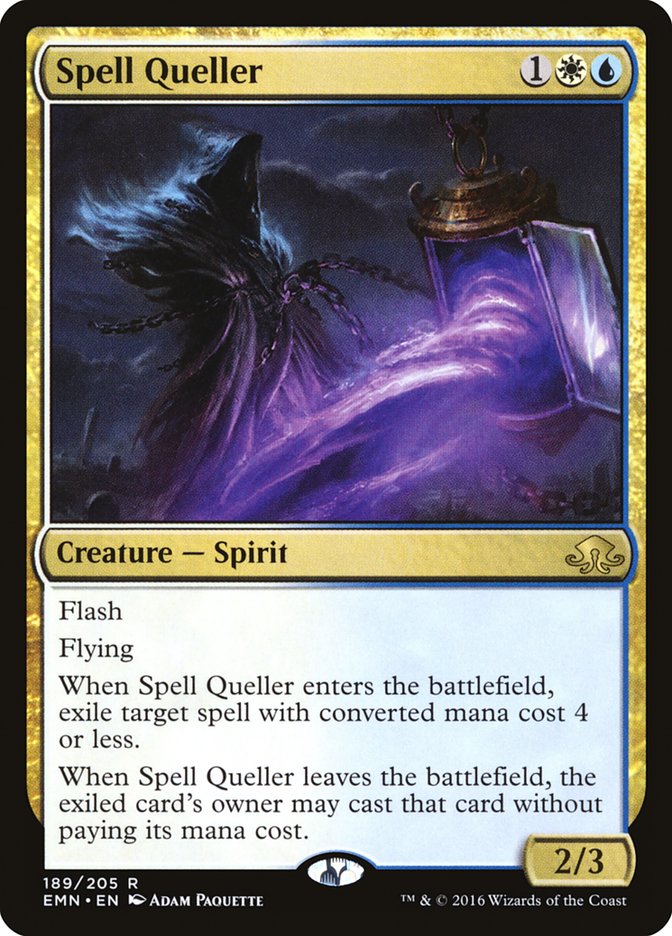 Don't be afraid to cast Spell Queller onto an empty battlefield, you don't always need to get the value from exiling a spell with it. While saving Spell Queller for the right spell can be important, and could change the texture of a game, the truth is that it will be a lightning rod for their removal spells. The damage you can start to accrue from a lone Spell Queller could be enough to tip the race in your favor a few turns down the line. Much like Snapcaster Mage in Modern, I don't think people beat down with Spell Queller enough. If it's your only threat, or it changes the clock you're putting on the opponent, the value you gain by casting it immediately could drastically outweigh the advantage gained by exiling an opponents' spell.
As far as sequencing is concerned, it's almost always correct to lead with Selfless Spirit over Hanweir Militia Captain. For starters, your Selfless Spirit should be used to protect your more important creatures. Plus, flying is a bonus in the early game, and can allow for some cheap shots before you get into the more important turns of the game. Chip damage is a big deal in this deck, and is one of the easier ways you can win games without Oketra's Monument.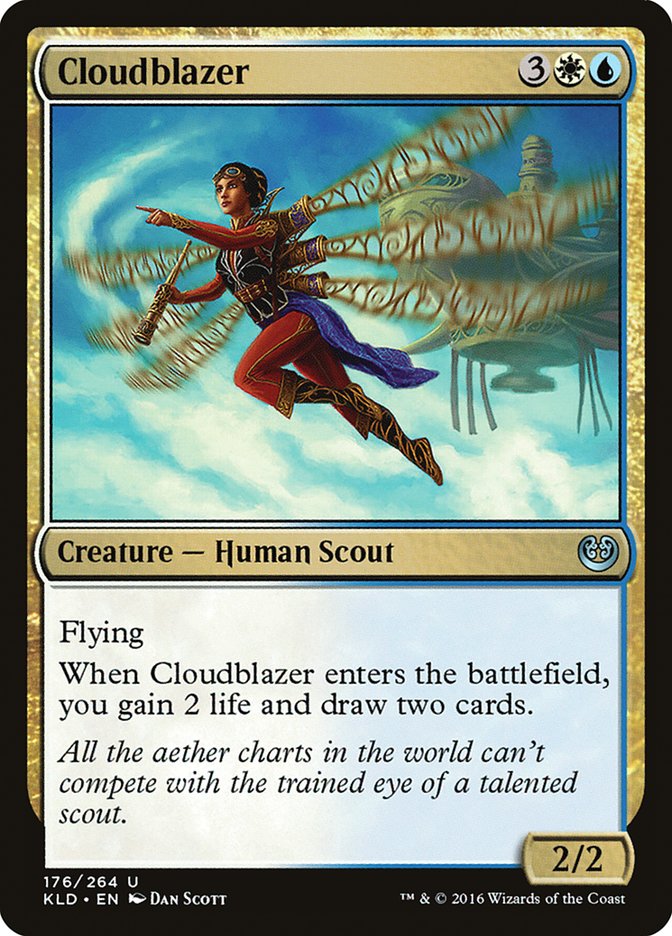 If you reach a point where you have the option to cast Cloudblazer or hold up a counterspell, it is generally correct to cast Cloudblazer. However, if you're playing against ramp or Torrential Gearhulk that might not be the case as decks that have one or two important cards that are must-counters are the exception to this. I just wanted to be clear here, because I see a lot of people playing too passively. You want to utilize your mana to the best of your ability, and Cloudblazer is a slam dunk in terms of what you accrue from mana spent. Just think about the worst case scenario, and if you'll lose on the spot for tapping out, contemplate the impact your decision will have on the rest of the game. If all you're going to be staring down is a Glorybringer, and you're at a healthy life total, just jam!
The Matchups
With the random thoughts out of the way, let's get into the decks you'll be playing against, and how you should approach each matchup. Sideboarding will be a little tricky in some scenarios, and you'll likely have to get a little scrappy with some of your changes, but the deck is very good at shifting gears. In some spots, you'll want to slow the game down and utilize the extra cards generated by Cloudblazer and Bygone Bishop. In others, you're on a short clock, and you need to try to close the game as quickly as possible.
Ramunap Red
Thraben Inspector is your most important card in the matchup. I would snap keep just about any hand that had Thraben Inspector as my first turn play, so long as I had at least one other land and one other spell. As the game progresses, you want to use all your resources to keep your life total high. Trade creatures away as quickly as possible, and try to get a foothold on the battlefield. As the game progresses, you'll want to leverage Oketra's Monument as best as you can, but that won't always be possible. They usually play some number of Abrade, but there is a good chance they'll have to throw those at your creatures first.
While it is often important to play Oketra's Monument as quickly as possible, you might not always have that luxury against Ramunap Red. If taking the turn off to cast an artifact will put you too far behind, then it might not be worth it.
A "tempo black hole" if you will.
Here's how I sideboard (this one's easy!):
Out:
In:
While Cloudblazer could be swapped out for Angel of Sanctions, I do like the extra life gain and cards generated. And since you don't have a whole lot of time to be casting five drops, I don't recommend bringing in three more and leaving Cloudblazer in. A 2/2 split might be worthwhile though.
Temur Energy
Dusk is your most important card in the matchup since their creatures will easily outsize yours, the trick is finding the right spot to cast it. You don't want to cast it too early and lose to a Glorybringer, but you also don't want to wait too long and take too much damage. I would say that casting it to kill two or more creatures is ideal, and only cast it to kill one creature if absolutely necessary.
Out:
In:
This is the matchup you want Essence Scatter the most. Not only can it stop them from generating a bit of energy, but you solve most of your problems before they start. Cards like Glorybringer and Bristling Hydra can be huge headaches once they've hit the battlefield, and especially so when your opponent gets access to a few sweeper effects. While using Essence Scatter to counter something like Rogue Refiner can be fine, just use your best judgment on what to counter and when. You don't want to hold your counters too long, but you also don't want to use them on something that's going to get swept up by Dusk in a turn or two.
Declaration in Stone isn't that useful in the matchup, but starts to get a lot better when you see a Rhonas the Indomitable from the opposite side of the table. If that's the case, feel free to bring it in.
B/G Constrictor
Another matchup where Essence Scatter shines. Your plan here is very similar to the plan against Temur Energy, except Dusk won't always be a home run. In fact, you might have to take a big hit from Verdurous Gearhulk and/or Winding Constrictor before firing it off. Their removal isn't too tough to beat, but the games you're going to lose involve an early clock followed by two or three copies of Fatal Push or Grasp of Darkness.
They'll have a tough time beating Oketra's Monument, but you'll also have a tough time beating a large Walking Ballista.
Out:
In:
While Angel of Sanctions might be decent, I don't think it's worthwhile here. Grasp of Darkness and other non-Fatal Push removal spells make it unreliable, and you're also playing against a deck with creatures that have "enter the battlefield" abilities. Stasis Snare, while similarly dangerous, won't get destroyed often enough to care.
Selfless Spirit comes out because of how bad it is against Walking Ballista. Plus, any sweeper they have after sideboard will be hitting your toughness as opposed to dealing damage, such as Yahenni's Expertise or Flaying Tendrils. You can cut one Oketra's Monument in some matchups, including this one, because it will rarely get hit by artifact destruction, and post-sideboard games will likely go longer than usual.
W/U Monument
I'm not going to sugarcoat it. The mirror match is awful. In fact, there is a small chance you don't even get to see sideboard cards because game one usually takes forever. Angel of Sanctions is one of the better sideboard options, but will occasionally get hit by a Stasis Snare or Declaration in Stone. In previous builds, I've had some copies of Fragmentize, but I think we're long past that.
Oketra's Monument is probably the most important card, but the game is literally won or lost on the back of flying creatures. If you can get an active Bygone Bishop, you might just beat out the advantage gained by an opposing Oketra's Monument. If you have both going, and your opponent doesn't, then you're a huge favorite to win the game. There is so much jockeying for position in the early turns, but it all boils down to who generates the most creatures. The game will very likely come down to a board stall, and one person will eventually overpower the other.
Out:
In:
While fliers are important in the first game, post-board is much more about controlling which creatures resolve. Essence Scatter, Spell Queller, and the removal spells do a great job of containing opposing Spell Quellers and Bygone Bishops. Selfless Spirit can be great at deterring alpha strikes, so cutting them could ultimately be a mistake, but I don't like it nearly as much as Hanweir Militia Captain and I can't think of any other creatures I'd rather cut.
U/R Control
Game one of these matchups will be a bit tough, but not unwinnable. Torrential Gearhulk can be a major problem, but you do have ways to interact with it. Countering it via Essence Scatter or Metallic Rebuke will often win the game on the spot. I've even hit a few with Dusk before, and then later used Dawn to bury them in card advantage.
They will have a very tough time beating a resolved Oketra's Monument unless they have Abrade, and they will have ways to contain your board from getting too big. Your plan should be to deploy two creatures, three if one is Selfless Spirit, and ride those to victory. You don't have many counterspells in the first game, but your entire plan shifts after sideboard.
Out:
In:
I would bet that Hanweir Militia Captain never flips in this matchup, and therefore it's the worst creature of the bunch. Stasis Snare and Dusk are you ways to kill a resolved Torrential Gearhulk, but I think the primary plan should be to keep it from hitting the battlefield. You can survive a few hits from it, and hopefully chump block it should the game come down to that.
Mono-Black Zombies
I've seen some smarter players sideboard out both Lord of the Accursed and Liliana's Mastery to dodge Dusk, but I don't even know if that's correct. If their creatures aren't larger than yours, you should be able to out-position them on the battlefield.
In all honesty, I haven't come close to losing this matchup yet. Your plan is to just trade when it's necessary, and then try to flip Westvale Abbey to close it out. You should be able to overload their removal spells and ultimately beat them with fliers.
Out:
In:
The Bad News
There are two decks in the format that are very bad matchups, and there isn't a whole lot you can do to make them better. I will say that Gerry Thompson recently reminded us that Invasive Surgery is a card that exists in Standard, and happens to be quite good against one of your bad matchups.
G/X Ramp
You don't win quickly, and you're relatively vulnerable to sweeper effects. Both of these things play right into the ramp player's plan. Game one is nearly unwinnable, but after sideboard you have a few tools to help shift the matchup in your favor.
Out:
In:
Try to save your early counters for Hour of Promise, but don't be afraid to use one to save your squad from a sweeper effect; you do have to kill your opponent, after all. Essence Scatter, while not perfect, may be the easiest way for you to steal games. Ulamog, the Ceaseless Hunger has a strong effect against you, but you can survive the triggered ability if you're able to eliminate the creature itself from the equation. There's a good chance your opponent also has access to Walking Ballista, World Breaker, or some other midrange creature, so you will have a couple targets for Essence Scatter, and those targets will be important to counter.
I'm not going to sugar-coat this for you: Ramp is a bad matchup. You can win, but it won't be easy. You'll get into some spots that you feel is be impossible to lose, only to have everything crumble in the blink of an eye. Trust me, I've played both sides of this matchup, and I'll take the ramp side all day long.
I don't have a lot of experience playing against this archetype, but I do know that it is almost impossible to beat the deck when they get God-Pharaoh's Gift to resolve. We don't have any disenchant effects, and we don't have any graveyard hate. We barely have counterspells that can hit Gate to the Afterlife and therefore we'll be treating them like they don't exist. Luckily, we have a few sideboard cards that can provide us some help, but I don't think it will be enough.
Out:
In:
Maybe I'm being a little pessimistic, since we do have Spell Queller and Metallic Rebuke for a little interaction, but I'm not convinced it will be enough. Regardless, you can still win if you have the right draw and their plan doesn't really come together. Just hope for the best (and that you don't play against it)!
Conclusion
As we say farewell to this Standard format, I'm really hoping that Ixalan will bring some good tidings as I really don't know if Standard will survive another broken format. So far, a lot of the cards previewed seem to be on the lower side of the scale in terms of power level. While the cards previewed so far may not look to match up well against energy and vehicles, there's still a lot of cards to come.
Personally, I'm looking forward to playing Pirate tribal!
But at the same time, we're also losing two blocks that have seemingly been around forever. I have to think back quite a long time to remember a white deck that didn't have Gideon, Ally of Zendikar in it. Bant Heroic, I think. Regardless, it's the end of an era, and I'm happy it's ending on a high note: a healthy Standard format featuring ten or so playable archetypes where most decks are interacting with each other.
After this weekend, I'll be shifting focus toward Ixlan Standard in both the Versus Series as well as my articles. And while the power level might not look like it's there just yet, I'm pretty happy about getting to cast some Dinosaurs.
Rawr.