#MTGXLN is on its way and with that there are also some sets that will be rotating out of Standard. Let's take a look at some key cards as well as role cards that we'll be losing, and possibly some new cards from #MTGXLN that might replace them.
Removal
Any Standard format is defined by its removal. If we take a look at some of the removal that will be leaving us, we see there were quite a bit of goodies.
Out:
Grasp of Darkness and Blessed Alliance are probably the two biggest losses for decks that used them, especially against Ramunap Red. Hazoret the Fervent's value in Standard may go up even more than it already is without these two maindeckable cards to answer it cleanly. I imagine U/W Approach loses a lot from the absence of Blessed Alliance since it was a good way to gain life along with being removal. That being said, #MTGXLN does bring us another answer to Hazoret the Fervent in the form of: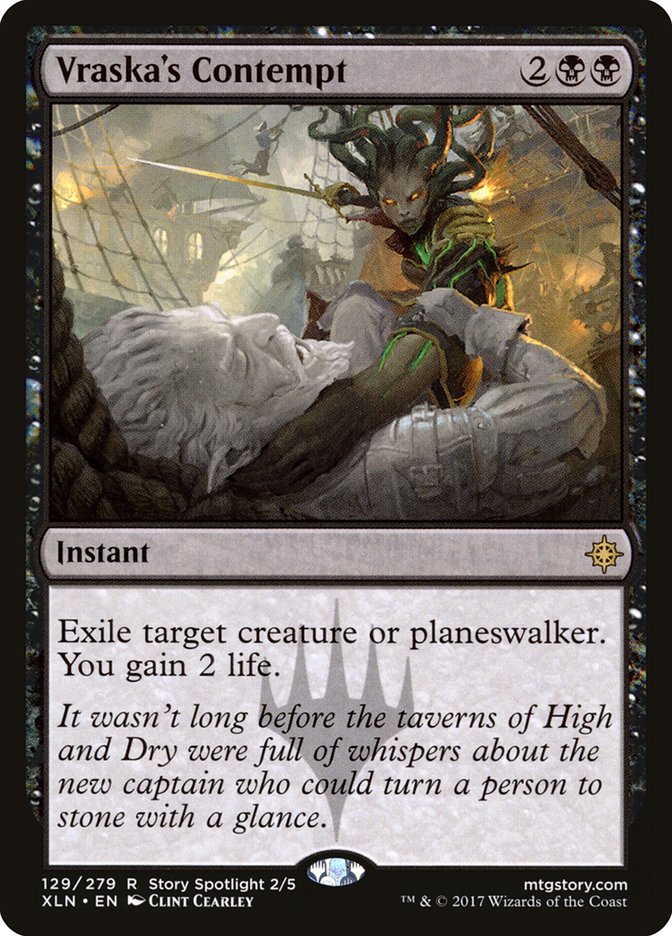 While this card does cost one more mana compared to its predecessor, Hero's Downfall, you are getting 2 life and the ability to exile out of the deal. This allows you to answer cards in the format like Scrapheap Scrounger, embalm creatures, and the various gods with relative ease. Alongside Torrential Gearhulk, this card can even come back to do more devastating work on your opponents' precious permanents.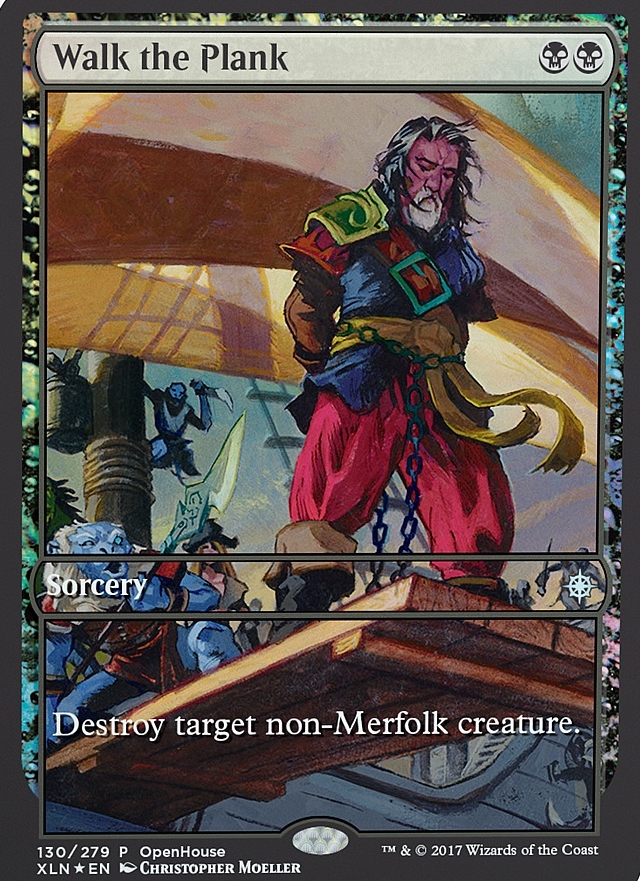 This card is likely worse than Grasp of Darkness in many ways. While you do get the added benefit of being able to nab creatures with five or more toughness, it still can't touch Skysovereign, Consul Flagship. Losing out on instant speed is a significant downgrade, but hopefully Vraska's Contempt can make up for that.
Knowing how your removal lines up against the threats of the format is an important part of deckbuilding. Speaking of threats, there are quite the number of threats that will be leaving us when Ixalan comes out, and personally, I say good riddance! All of these cards have had their time to shine and I am ready for something new!
Threats
Out:
Just like most every rotation, there's no shortage of powerful cards that are leaving the format. Many of these threats were defining cards in Standard at one point or another, and many current decks will have to adapt with the loss of these threats. Thankfully, Ixalan has some threats of its own!
These guys aren't messing around. Two huge green creatures that will make anyone who's trying to rumble on the ground look like mince-meat. Carnage Tyrant is definitely a beating for any control deck and could potentially break midrange mirrors simply due to its size. Ripjaw Raptor, on the other hand, shines more against aggressive decks as a brick house that threatens to draw cards when it blocks.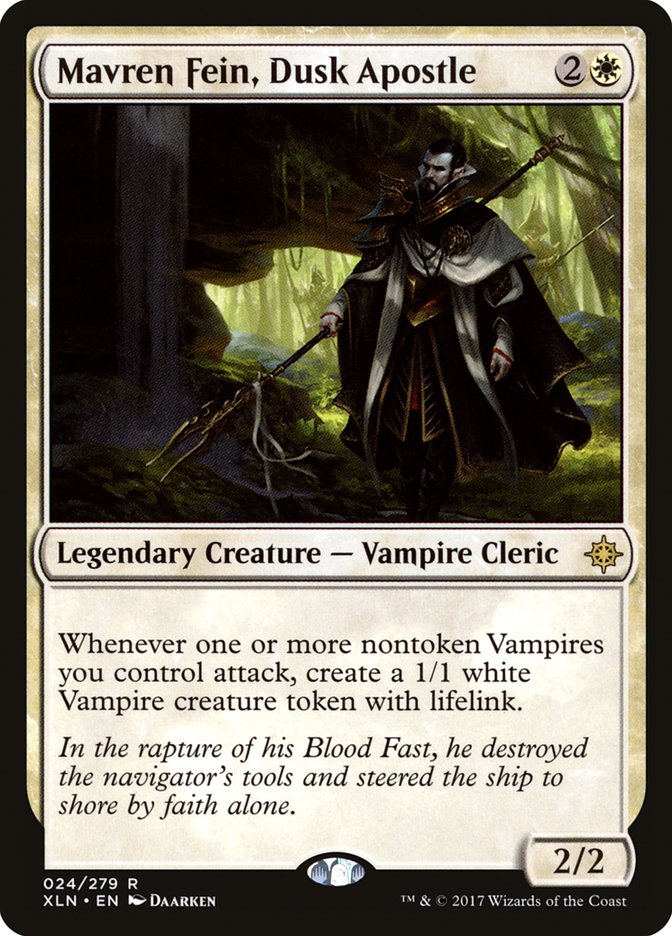 This card is super sweet and allows you to work with other vampires to swarm your opponent. The value of this card in Standard definitely depends on the other vampires that surround it. It's unfortunate that so many vampires are rotating out of Standard with the release of #MTGXLN, but there are still some quality vampires such as Yahenni, Undying Partisan and Gifted Aetherborn in the format.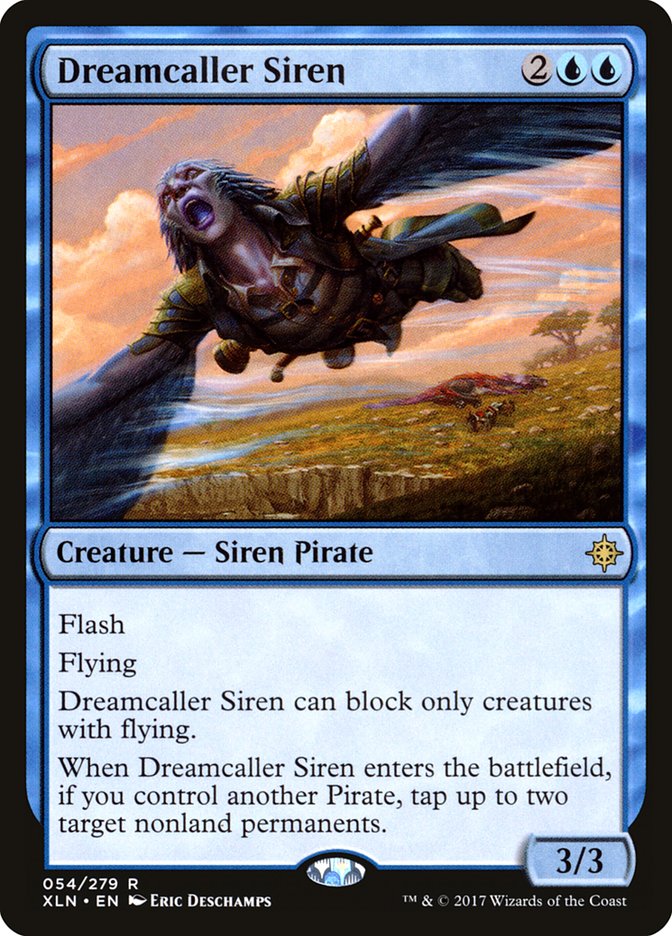 This card has the ability to take control over the air in standard, barring any pesky vehicles getting in the way. It's a pirate synergy card that looks pretty appealing, so let's look at some other pirates from the set.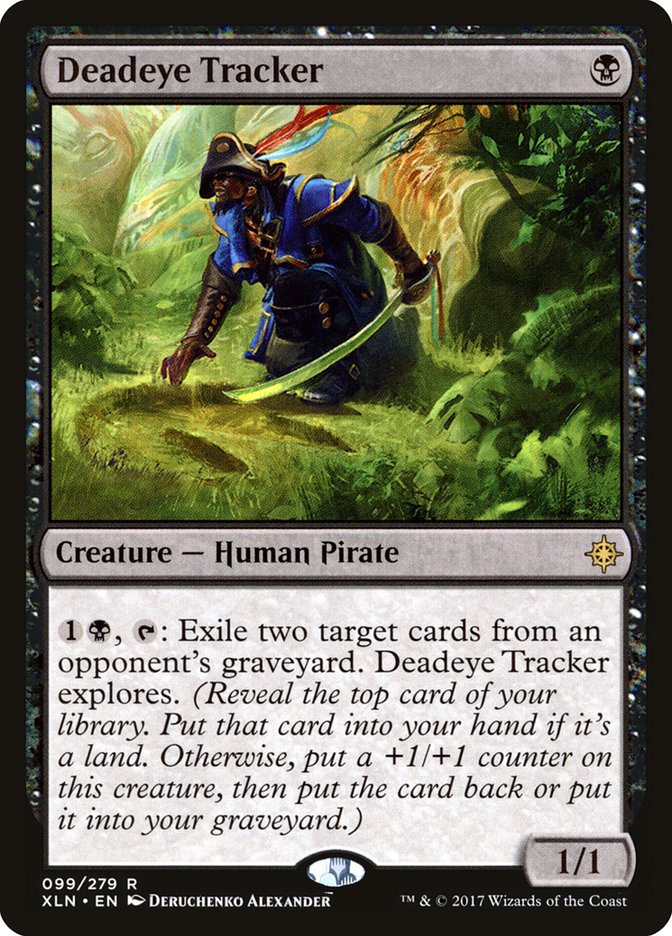 Deadeye Tracker is a pretty interesting card that could have some sideboard applications against God Pharaoh's Gift decks. It's also pretty nifty against anything else that has Eternalize of Embalm. I wouldn't be surprised to even have it see maindeck play as a one drop pirate.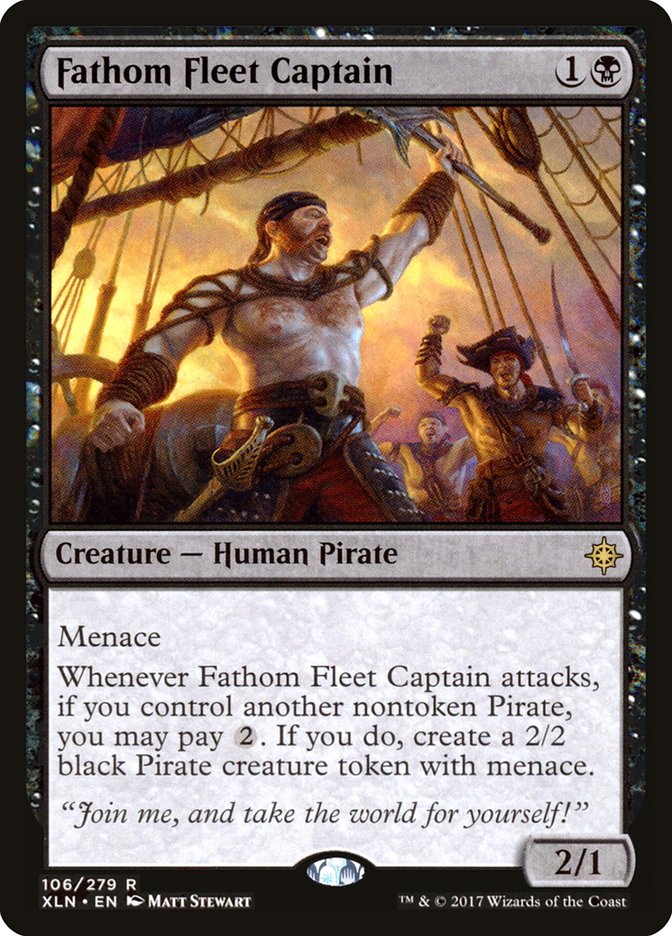 Fathom Fleet Captain also has some pirate synergy text as well for a pretty nice payoff. If it goes unanswered, your opponent is going to have a lot to deal with. Currently, against most decks in the format, menace can be pretty hard to deal with. Think of all the time Kari Zev, Skyship Raider has been able to attack unscathed from Ramunap Red.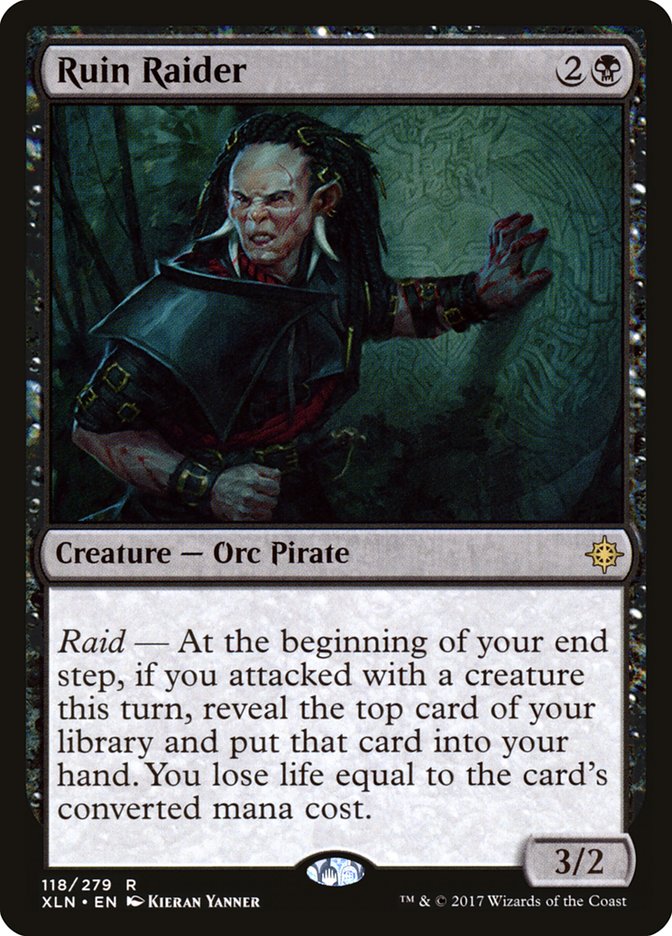 Ruin Raider reminds us of a card very near and dear to all of our hearts, Dark Confidant. This card can really get the card advantage rolling in any aggressive deck, including pirates. I don't believe that you would want a high mana curve in a pirate-based synergy deck, especially when you're including Ruin Raider. You can maybe top out at The Scorpion God or The Scarab God depending on your colors, but most likely not any higher than that.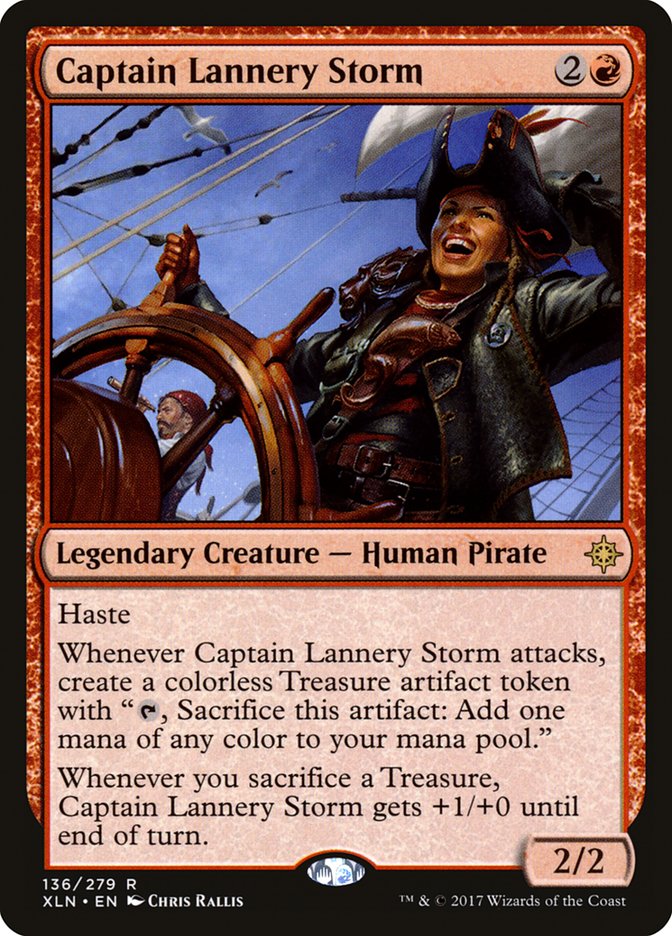 Captain Lannery Storm is one of a few red pirates that have been spoiled so far, but it is awesome! Maybe Ahn-Crop Crasher has a new tag-team buddy for Ramunap Red as curving this card into a Glorybringer on turn four can be pretty devastating for your opponent. Oh and don't forget… Kari Zev, Skyship Raider is also a pirate!
Utility
Out:
Losing these cards is a quiet, but huge blow to Standard. Many decks leaned on these cards as a backbone and they will no longer be around for support. Mardu Vehicles may have a tough time getting artifacts in play without the help from Thraben Inspector. There will no more splashing off-colored planeswalkers easily due to having access to Oath of Nissa, and no more extra copies of each threat in your deck due to Traverse the Ulvenwald. However, one of the very best utility cards ever printed was Pithing Needle, and #MTGXLN has a new version of the fan favorite.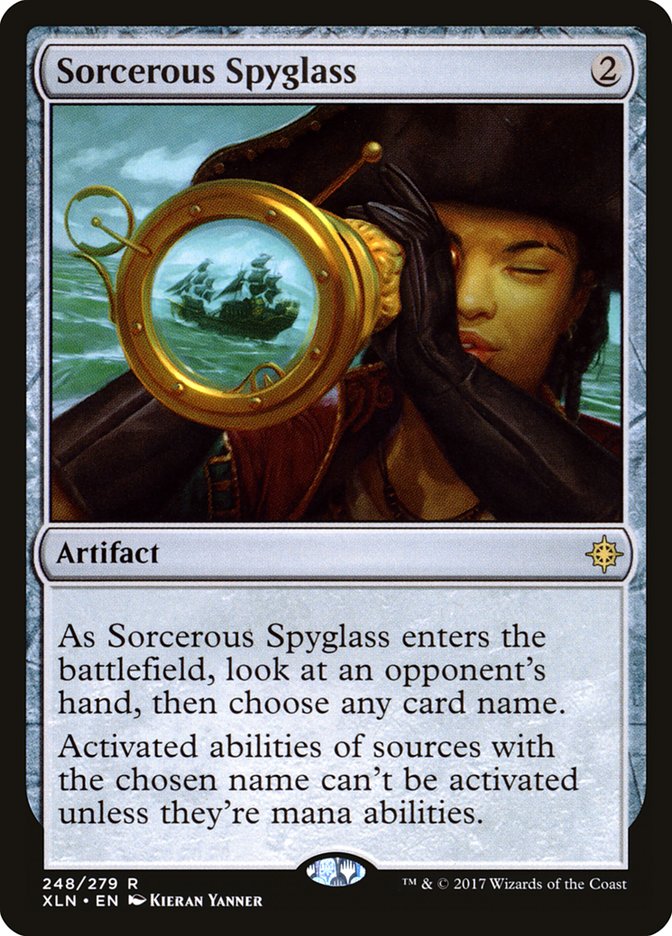 This card has some nice potential for Standard, but Abrade is definitely going to be keeping this a bit in check. I could see Sorcerous Spyglass being in maindecks for the current format. Between Ramunap Ruins, Heart of Kiran, any creature using energy, and various planeswalkers; there are so many good targets for Sorcerous Spyglass and you get to look at their hand!
Lands
Out:
What are we bringing back in their place?
That's right! They're back!
Standard now has five ally-color cycle lands, five ally-color buddy lands, and five enemy-color fast lands. This means a few things: For starters, cycle lands and buddy lands work great together! Midrange and control decks that want their lands to come into play untapped in the late game are the biggest benefactors with this reprint. Specifically, the shard based three color decks are more viable now that they have access to ten lands for each color pair between their shard. Finally, aggressive strategies will likely want to stick with either being mono color or enemy based because they benefit most from fast lands.
It seems like everyone I know who plays Magic will be attending #GPDC, and I think the tournament will be quite large. I'm super happy that StarCityGames.com® is hosting the event because they run excellent events. After starting 8-1 at #GPINDY , I was 10-2 going into the final draft where I had a good G/W deck. I unfortunately went 1-2 in that last draft to end 11-4, and I couldn't be hungrier for a trophy this weekend. For those of you who don't know, I played Ramunap Red at #GPDEN two weeks ago, and although my record was only 8-6, I still think it is a good choice for the coming weekend. The decks that I'm considering for #GPDC are:
Creatures (23)
Planeswalkers (2)
Lands (24)
Spells (11) If I decide to register Ramunap Red this weekend, it's likely going to look something like this. If I decide to cut Collective Defiance, I may go down to fourteen Mountains. I think Abrade isn't as great right now as the Temur Energy decks are moving away from Vehicles. I'm still not a fan of Village Messenger, and although I'm not thrilled with Soul-Scar Mage either I think it's necessary for mirror matches. The other matchup that Soul-Scar Mage is good in, B/G Constrictor, has flown off the radar, and I don't expect to see much of it this weekend. I'm trying Hour of Devastation in the sideboard right now, but they might turn into Cut // Ribbons, especially if I go to fourteen Mountains. Ramunap Red is definitely a good choice for this weekend and I wouldn't fault anyone for playing it.
Creatures (23)
Planeswalkers (2)
Lands (22)
Spells (13) I'm not too well versed in the art of Temur Energy yet, but I do intend on playing the deck all week to get a sense of it and there is a good chance I end up playing it. I'm not sure if the black splash is correct, but if Gerry Thompson's Woodland Wanderer idea is good then I'm on board! You can't go wrong with traditional Temur Energy this weekend either. Even though it has a target on its back, the deck is very resilient and malleable. I'm still curious if Solemnity is good against this deck and perhaps it's the answer.
Creatures (26)
Lands (23) According to Mike Sigrist, this deck has a very good matchup against Temur Energy. I've heard it the other way around from other people, but I'm one to give Siggy the benefit of the doubt. I took Corey Burkhart's list from #GPDEN because he had an Aethersphere Harvester in the maindeck, a card that I think would be a mistake to not include when you have access to four Trophy Mage. I've played a little bit with this deck so far and I have to say, I'm not the biggest fan. The deck has many decision points and requires precise sequencing, making it a difficult deck to pick up and learn.
Not only that, but there are some games where you don't draw any relevant spells, and I really don't want to sign up for a deck that I know will lose some games before the tournament starts. That being said, I could see a world in which I play this deck at
#GPDC
, and that is saying something about its power level.
Regardless of how the tournament goes, this weekend is going to be a blast! So many of my friends will be in attendance for #GPDC and I can't wait to battle! As always, feel free to stop by and say hello at the event. Also, a special thanks to the person who turned in my boogie board at #GPINDY, I was super happy when I got it from the lost and found on Sunday morning. Tune in next week for hopefully some more sweet #MTGXLN cards to be previewed!