Standard is about to rotate with the new set Ixalan coming out. Whether Dinosaurs, Merfolk, Pirates, or Vampires have you excited, there is something in this set for everyone. Ixalan was the first set that I really worked a lot on at Wizards of the Coast, and I'm really proud of it. Aside from it being one of my favorite Limited formats, I believe that Standard is going to be really great with Ixalan and more sets to come.
Something that I like to do when looking into a new Standard format is examining how existing strategies change. Temur Energy, Ramunap Red, U/B Control, and B/G Constrictor are a few decks that lose some things but also have the potential to evolve. Let's take a look at Robin Dolar's winning U/B Control list:
Creatures (6)
Lands (26)
Spells (28) Immediately the manabase needs to change, and although we lose Choked Estuary and Sunken Hollow, Drowned Catacomb is a huge gain for this deck! Checklands are the perfect lands for control decks that want their lands to enter the battlefield untapped later in the game. The only maindeck cards that are lost are Grasp of Darkness and Flaying Tendrils. To replace these cards, we have access to cards like Vraska's Contempt and Walk the Plank. If I were to make a list, it would look something like this:
Creatures (6)
Lands (26) I think Vraska's Contempt gaining you two life and being able to be played again off Torrential Gearhulk is well worth the additional mana from Hero's Downfall.
The sideboard has a few spicy cards. I am really into the combo of The Scarab God and Siren Stormtamer. It allows you to protect your Scarab God and have the ability to rebuy protection. I think, going forward, U/B Control could be a top contender in the metagame. Maybe it can even be three-color, like Esper, because of the cycle lands and checklands.
There was another Grand Prix in Washington DC this weekend, where I went a solid 11-3-1 with Mono-White Eldrazi. I audibled the morning of at 8:50am off G/W Ramp because I logged into a League and lost two matches to Ramunap Red. Matt Severa won the tournament with Mardu Vehicles, and I think going forward it is still going to be a forced to be reckoned with. However, the loss of Thraben Inspector is a pretty big deal. Let's take a look at his list.
Creatures (24)
Lands (24)
Spells (12) Severa's list is a lot different from a normal Mardu Vehicles deck in that he is sporting maindeck Though-Knot Seers and sideboarding Gideon, Ally of Zendikar. I was really impressed with Thought-Knot in the Eldrazi deck, so I can only imagine how great it was for Matt. I wish I had access to his list for the tournament because it looked fantastic. This deck loses Archangel Avacyn, Thraben Inspector, the creature-lands, and Gideon. I think the deck will either have to stay base R/W splashing black or go into B/W splashing red because the fastlands are key for this deck.
Creatures (15)
Planeswalkers (5)
Lands (24)
Spells (16) Losing Thraben Inspector makes Spire of Industry and Unlicensed Disintegration a little more unreliable. I imagine curving Heart of Kiran into Gideon of the Trials is pretty nice, and with Gideon's other half taking most of the spotlight, maybe it's time for the new Gideon to shine. Captain Lannery Storm is sharing room in the three-slot with Pia Nalaar, but it also creates artifacts and helps you guarantee four mana the following turn. This deck has a lot more reach with Chandra, Torch of Defiance; Unlicensed Disintegration; and Lightning Strike, so you can definitely close out the game with ease!
B/G Energy/Constrictor is another deck that keeps a lot of its core cards going forward. This deck has fallen out of popularity as of late, but with the rotation coming, I can definitely see this deck coming back with a vengeance! Let's take a look at the list the made Top 8 of GP DC:
Creatures (23)
Planeswalkers (3)
Lands (20)
Spells (14) The biggest loss for these types of decks is probably Nissa, Voice of Zendikar. We also lose Hissing Quagmire, Catacomb Sifter, and Grasp of Darkness. I think Energy is likely the best way to build this deck for Ixalan and it would look something like this:
Creatures (23)
Lands (18)
Spells (14) Walking Ballista just met one of its newest potential best friends. Being able to go late and draw cards off this synergy is nothing to scoff at.
Deeproot Champion synergizes well with Winding Constrictor and the deck does play a fair number of noncreature spells, but maybe it's not great. Explore also works great with Winding Constrictor and that is why I also included Deadeye Tracker as a piece of utility, as well as hate against graveyard synergy decks. Explore also works well with Scrapheap Scrounger, so perhaps it should be in here as well...
Temur Energy is another deck that loses virtually nothing over this rotation. Some lists play Lumbering Falls and Game Trail, but they are easily replaced. Tireless Tracker is probably the toughest sideboard card to replace, but I'm sure you can find something. Hostage Taker seems like a pretty appealing card if you are already splashing black for The Scarab God. I also think that Siren Stormtamer could be pretty useful here to protect The Scarab God, Glorybringer, and maybe even Skysovereign. Maybe Shapers' Sanctuary is a card that would be good against certain matchups. I'm not going to bother posting a Temur Energy list here, as I think it's pretty self-explanatory what you would do.
Only one copy of Ramunap Red showed up between both Top 8s, but this deck is still going to be a huge pressure on the speed of the format. If we take a look at Jose Neris's list from GP DC, I see quite a few things that I like. First off, no Village Messenger.
Creatures (24)
Planeswalkers (2)
Lands (24)
Spells (10) I'll just leave this here: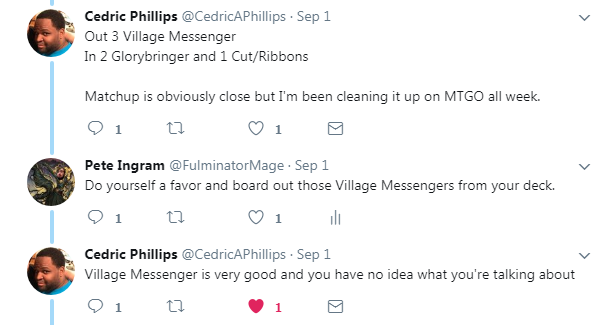 Cedric Phillips was playing in the Magic Online PTQ on Sunday, while Jose went on to play in the Top 8. I'm not saying I'm right, but I'll just let the results speak for themselves. Going forward, I think Ramunap Red will look something like this:
Creatures (24)
Planeswalkers (2)
Lands (24)
Spells (10) I suspect that Ramunap Red will still be a top-tier strategy going forward, but perhaps a new deck may emerge that could halt it in its tracks and potentially slow the format down a bit. It's hard to imagine Temur Energy not being able to mold itself to take down anything that emerges, but there were only three copies in both Top 8s this weekend. Standard has honestly never looked better in my opinion.
Aside from all of these old decks being modified to fit the new format, there is going to be a ton of brewing to be done as well once the full Ixalan card image gallery is complete. Dinosaurs, Merfolk, Pirates, and Vampires are all tribes with lots of cards for each; that could mean at least four new decks for Standard. I think Hour of Promise is still a very exciting card, even without Shrine of the Forsaken Gods and various Eldrazi.
Some of my favorite Ixalan cards have yet to be revealed thus far, and I am really excited to get more reactions from players. I think my favorite card in this set is one that you all haven't seen yet, so be on the lookout! I have gotten a lot of positive feedback on both current Standard and how Ixalan looks, and I'm really happy that I was a part of making that happen so people can enjoy playing Magic!
What are your favorite Ixalan cards so far? And what decks are you starting to brew?