Last week I wrote about some Ixalan cards that I thought to be Constructed-viable. We're still under halfway on the Ixalan previews, so there are still a lot of unanswered questions. In the meantime I'm working with the tools I see now.
I had a chance to experiment with Rowdy Crew and it's as good as I expected, if not better.
I don't know the math on getting the two +1/+1 counters or how much the distribution of card types in your deck affects your chances, but it seemed like it was happening frequently enough, maybe 35% of the time blind and a little more if I could better set it up.
"Rowdy Crew Is High-Variance"
Not true.
Many aspects of Magic are luck-based: the cards you draw, the opponents you play against, the cards they draw. When randomness is boiled down and put directly on the text of a card, people start to lose their minds.
Rowdy Crew honestly reminds me of this card: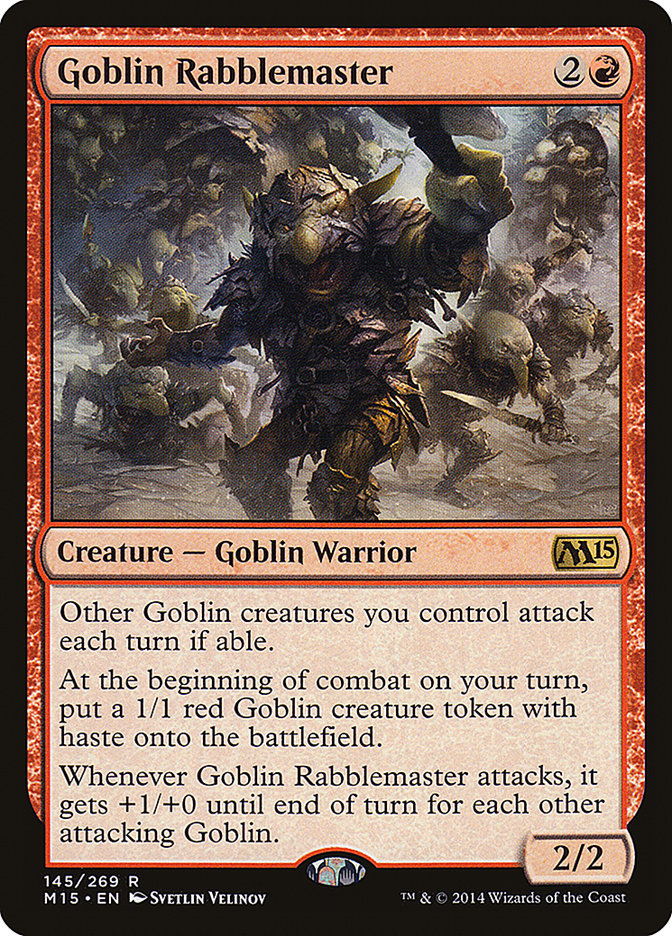 Rowdy Crew reminds me of Goblin Rabblemaster because they both seem to have a downside, thus making them hard to evaluate without seeing it in action. Being forced to attack with all of your other Goblins into the maws of huge blockers sounds awful. So does discarding your two best cards that you desperately needed to win the game.
Turns out the times that Goblin Rabblemaster went unchecked and attacked for six (4/2 + 1/1 +1/1) were outrageous. Then eight next turn. It's not really what you expect from Goblin Rabblemaster, but it happens. You expect a 2/2 that they must kill that gives you a 1/1 or more. A good baseline.
You can't look at missing out on two +1/+1 counters or discarding a good card as a failure. Rowdy Crew is at minimum a 3/3 with trample for 2RR that draws a card. But it could be at best…
A 5/5 with trample for 2RR

A filter for your hand, effectively looting away bad cards

A way to get a card you want in your graveyard or mill over cards like Earthshaker Khenra
…just like Chandra, Torch of Defiance is at best an emblem that does five damage when you cast a spell. I'm generally happy with a 3/3 with trample that draws a card. If you're also okay with such a card, but with more potential, then Rowdy Crew is the card for you.