Sometimes it is easy to predict a certain set having a bigger impact on older formats than is the norm. When a set like, say, Scars of Mirrodin releases, we can expect that its central theme of artifacts is going to mingle with the Modern card pool in a much more pronounced way. A larger card pool leads to more interactions, and more interactions lead to a higher likelihood that one of them is broken. Sets themed around the graveyard often have marked effects in Modern and Legacy. Meanwhile, tribal sets, or sets based around big-mana things, tend to have less of an impact, save for the occasional Goblin or Griselbrand one-offs.
For these reasons, based on theme alone, one might expect Ixalan to primarily impact Standard. It is built around tribes which have not had much or any support throughout all of Magic history. There are three total Pirates currently in Modern, and before the creature-type errata takes place, there are zero total Dinosaurs. On top of that, the new keywords in the set don't really seem primed for Modern, Legacy, or Vintage either. Somehow, in spite of all of this, Ixalan looks to ripple across Modern largely on the back of individual cards that don't necessarily fit the linear themes of the set. While there are always a few cards from each set that make it into older formats based on inflated power level or uniqueness, Ixalan seems to be quadrupling those normal efforts.
With only a little over half of Ixalan previewed thus far, there are a couple dozen cards that all have a fighting chance to see play in Modern. Some of these cards are shoe-ins with homes already in mind, while others have the potential, but we will need to see if that potential can be realized. Today, I wanted to go over the cards previewed thus far that I think can have an impact on Modern. Along the way, we will do some brewing and see what sorts of lists might arise after Ixalan.
The Shoe-Ins
Ixalan has a few reprints and a few new cards that feel custom-built for Modern. It isn't really a question of whether these will see play, but more of where they will see play. The first card to jump out from this list has to be Opt.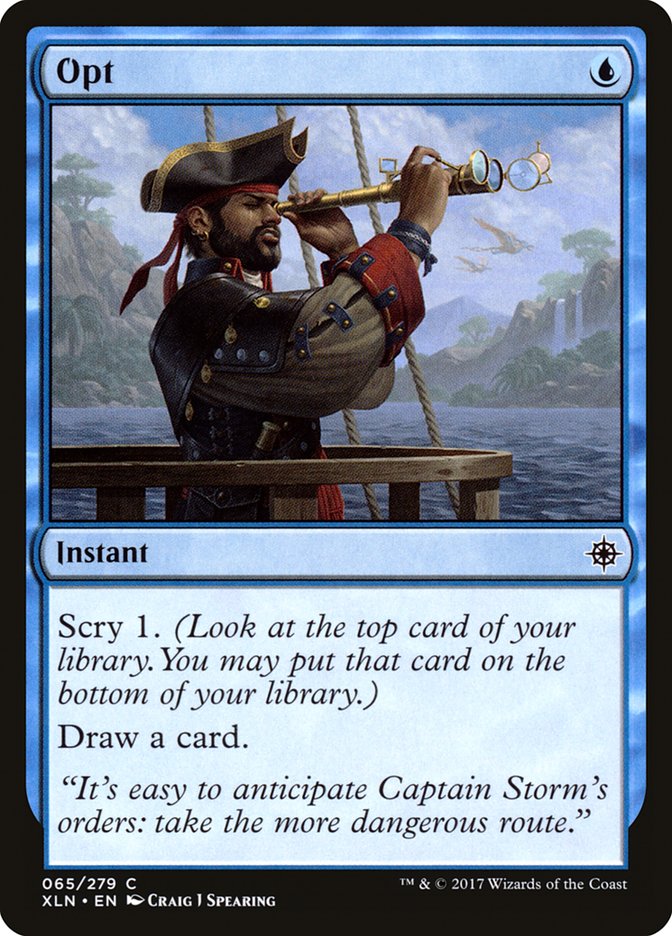 The hype around this card seems warranted as it should provide some more consistency to blue combo decks. With Preordain and Ponder both banned, that opens the door for the slightly weaker options. Serum Visions is widely played at this point, but Opt seems to compete with Sleight of Hand, Thought Scour, or even Remand when looking at a Modern Storm list, for example. In that role, some storm players might choose not to Opt, but I suspect it will ultimately find its way into most blue combo decks.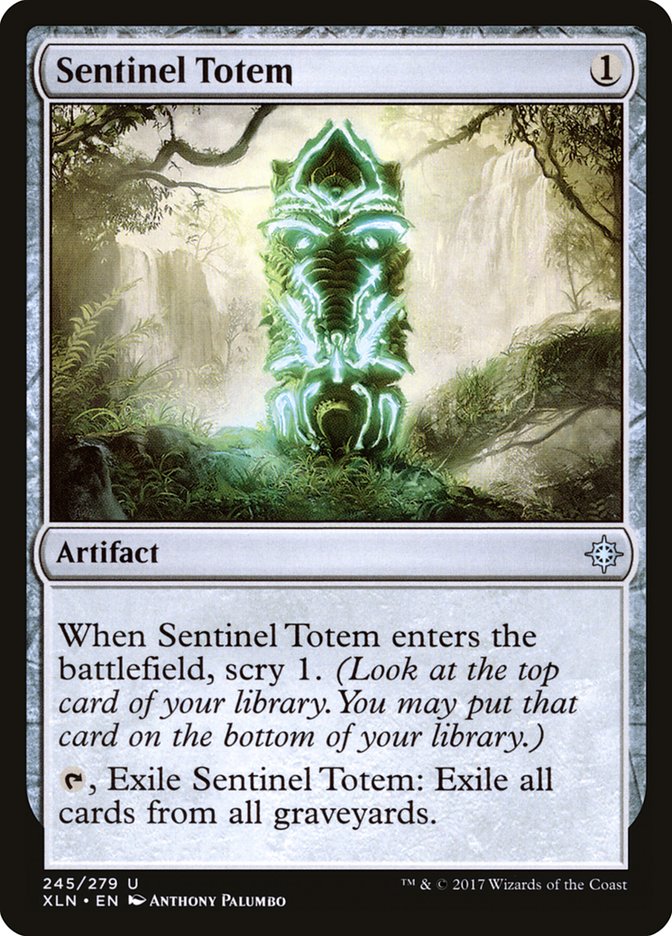 Sentinel Totem is a new card that sort of feels like an old card just because we have had so many variations of it over the years. Relic of Progenitus has spoiled us a bit, but Sentinel Totem notably costs a mana less to use, making it faster, as well as providing us with a scry immediately, allowing us to smooth our draws while saving the exiling for a more opportune time. Everyone has had the Tron player break a turn 2 Relic just as a cantrip, and in doing so they open the door to your graveyard; we can avoid that with Sentinel. It also happens to make for a pretty solid addition to Eggs strategies, as they get the scry effect over and over again as they blink it in and out of existence.