We're a little further along in the Ixalan preview season, but still not quite deep enough to see the synergies in the set fully fleshed out. We may not even get to that point until the second set in the block, Rivals of Ixalan, is released in a few months. Synergy-heavy decks are houses of cards in that they need every piece to be present in order to be good enough, and a single missing piece can cause the entire deck to collapse.
We had plenty of pieces for Zombies to be a deck, but it took until Amonkhet for everything to come together with the addition of Liliana's Mastery.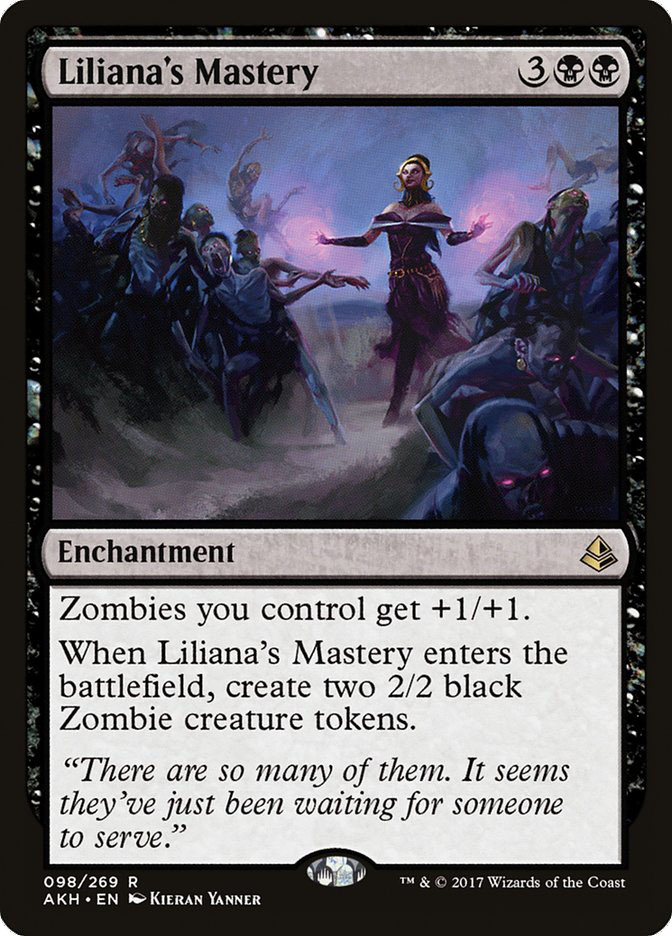 By next week we'll have the entire set revealed and can begin to look at decks that push the new synergies and tribes with all the available pieces, but for now I want to talk about a recent phenomenon in how cards are designed and how it can aid our evaluations of any new cards.
Have you noticed how in recent years we seem to get a wave of powerful cards at the same mana cost, making it impossible to play all of them? For the next two weeks, we have a Standard format with Archangel Avacyn, Angel of Invention, and Angel of Sanctions, all powerful five-drops that have fought for play in various decks. On top of these we have Skysovereign, Consul Flagship as a viable option.
Moreover, Ramunap Red decks have had to decide exactly which one-drops they want to play, with Falkenrath Gorger, Bomat Courier, Soul-Scar Mage, and Village Messenger all seeing play in various lists. B/G Aggro decks had plenty of options for two- and three-drops that would change back and forth over the course of the season.
Of course, we most often think of these decisions in the context of removal spells, such as deciding between Shock and Magma Spray or Harnessed Lightning and Abrade, Blessed Alliance versus Immolating Glare versus Declaration in Stone, or Murder and Ruinous Path.
Deciding between options like these makes deckbuilding a lot more difficult, but it also increases the edge one can gain over the field by making the correct decision. These decisions are the core of deck tuning in Magic today, and recognizing what factors will go into deciding between cards that sit on top of each other will serve to give us a framework in which to choose the right cards for any given week.
To that end, I want to go over some of the cards in Ixalan that will be battling for our attention and space in our decks with established cards from the remaining sets in Standard, and what the key factors will be in deciding between them.
Of the cards I've seen thus far, Regisaur Alpha is the one that stands out the most as obviously powerful enough to see significant Constructed play. Even ignoring all tribal synergy considerations, getting a 4/4 and a 3/3 with haste for five mana is a great rate and fits the mold of the aggressively slanted midrange decks that are a hallmark of Standard these days.
Unfortunately, being in the Gruul colors means that the card is competing with two of the premier threats from the other two blocks: Glorybringer and Verdurous Gearhulk. These are all incredibly efficient threats that provide immediate value, so what will ultimately separate them?
The first thing that stands out to me is that while they all provide immediate value, only Glorybringer's value can be halted with an instant-speed removal spell. Should they have a Harnessed Lightning or Vraska's Contempt, your five-drop leaves nothing behind, whereas the others provide their value upon entering the battlefield. Keep a keen eye on the removal being played to see whether you need your value as quickly as possible.
However, if the removal in the metagame is sweeper-heavy, Glorybringer is going to be the better option. Both Regisaur Alpha and Verdurous Gearhulk build a significant battlefield, but all that work is undone by a well-timed Fumigate or Hour of Devastation. Glorybringer can at least get four damage in before leaving the battlefield, which in a red deck is typically significant.
All three creatures are good at attacking planeswalkers by providing power that can attack immediately, but the evasion on Glorybringer and its ability to remove a blocker gives it the edge there. The evasion of Glorybringer also helps it out if the format is dominated by good ground blockers.
Overall, I think Glorybringer has the edge here, since Grasp of Darkness is being replaced by the sorcery-speed Walk the Plank, but that could change very quickly as the metagame takes shape.