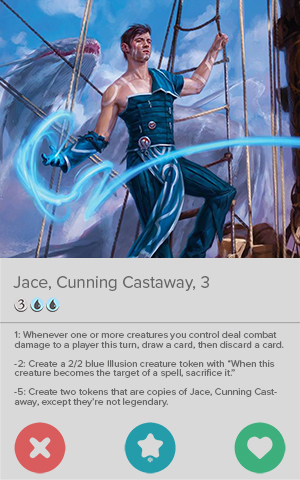 Ari Swipes Left: A three-mana planeswalker? What a catch! I bet its plus ability protects itself or is card advantage. And its small minus is a real game-changer. And it ultimates to an instant win. And it takes over a game without help.
Jace, Cunning Castaway doesn't do any of these things, does he? The +1 is… card parity conditioned on you not blocking to protect Jace. The -2 is… a Bear. Not even a flying Bear, just a Bear with a drawback. The ultimate is… a little bit more of the same two things that weren't good the first time. Next!
Cedric Swipes Right: Three-mana planeswalkers have a history of being good Magic cards (Jace Beleren, Liliana of the Veil, Domri Rade). And while I don't expect Jace, Cunning Castaway to be as good as those three were, I do expect this version of Magic's poster child to be a solid inclusion in whatever Pirate deck is running around Standard.
Will this make an impact outside of Standard? I find that fairly unlikely. But with a +1 that plays well with fliers and creatures with menace, a -2 that allows Jace to defend himself, and an ultimate that's actually not very hard to get to - and likely has some combo built into it that I'm not thinking of – Jace strikes me as good but not great.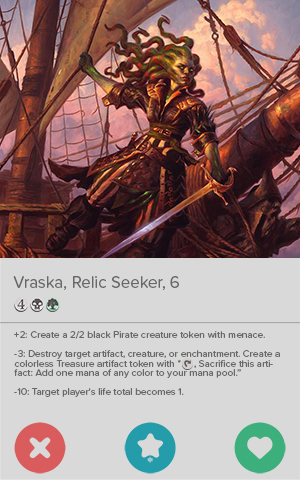 Ari Swipes Right: Six mana is a lot to ask for card these days. Vraska, Relic Seeker isn't exciting for the cost. The big issue is that making a single 2/2 menace Pirate a turn isn't a big deal. If Vraska immediately dies to a Cast Out, I'm not even sure I would rather have the 2/2 than a random card.
But Vraska kills things. A lot of weird things too, like Ixalan's Binding or Gate to the Afterlife. There's a lot to be said for having a card that is capable of winning a game, killing a random big creature, and cleaning up odd messes. She doesn't do any of those particularly well, but she does all of them. The fact that she still sits at "kill something" range after being used as a removal spell also gives you a pretty backbreaking play to plan for. That's enough to warrant a copy or two in some 75s.
Cedric Super Likes: Six-mana planeswalkers don't have the history that three-mana planeswalkers do, but we've seen some be absolutely dominant (Elspeth, Sun's Champion and Chandra, Flamecaller come to mind). Vraska. Relic Seeker is very appealing to me for quite a few reasons:
1. She has the ability to defend herself with a creature that has relevant text in the off-chance she doesn't need defending.
2. Because Vraska starts with six loyalty, you can use her -3 twice during her lifespan.
3. Vraska's -3 kills artifacts and enchantments.
4. The -10 will win the game a high percentage of the time and only takes two +2 activations to get to.
5. Because she's green, Vraska will be easier to ramp to than other six-mana planeswalkers (and that doesn't even bring Treasure into the equation).
Again, this isn't a card I expect to make an impact outside of Standard, and I certainly don't expect to see four copies of Vraska running around in decks, but I do expect our Relic Seeking friend to be a very impactful planeswalker during her time in Standard.