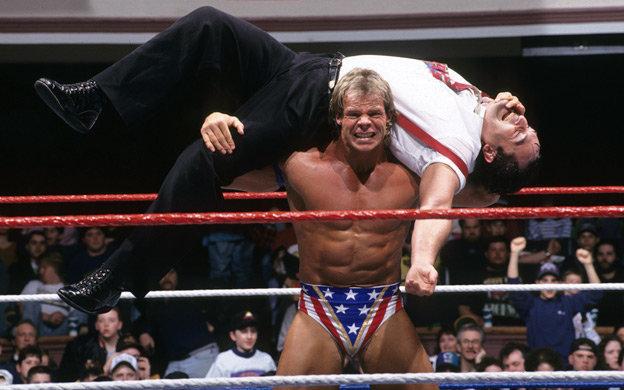 The Rack is back.
Planeswalkers (4)
Lands (24)
Spells (32) It was exactly a year prior that I flew to Orlando, FL to play 8-Rack. Not only did I fly, I missed my cheap Allegiant flight and booked another expensive last-minute flight, all just to play some 8-Rack. For a deck that's widely considered wildly unplayable, I was pretty hellbent on Racking people.
At the Modern Open in Louisville this past weekend, I felt things finally came back full circle where 8-Rack would be a decent choice. It had good matchups against the popular decks like Storm, Scapeshift, and Grixis Death's Shadow. It even had good matchups against rising decks like Jund and Elves. 8-Rack doesn't fare well against traditional Tron or decks packed with a bunch of Voice of Resurgence or Lingering Souls, and thankfully those numbers were on the low end.
There's a fear of uncertainty that dissuades people from playing 8-Rack. Being kold to Leyline of Sanctity doesn't feel good. It's possible to splash white like Michael Penner did in his eleventh-place finish at Grand Prix Vancouver earlier this year. However, any splash comes at the cost of consistency, loss of life, and vulnerability to Leonin Arbiter and Blood Moon.
In Orlando last year, I lost early on to Leyline of Sanctity out of Emma Handy's G/W Hexproof and to Chris Fennell on Dredge. I had no real answer to the Leyline and not enough graveyard interaction to compete.
For Louisville I vowed to not look matches in the same fashion. That is, without ever really being in the game. My opponents not really being in the game is what 8-Rack wants to do, not vice versa.
Before I get too far into things, let me say: Choose to draw first.
Yes, always.
Card Choices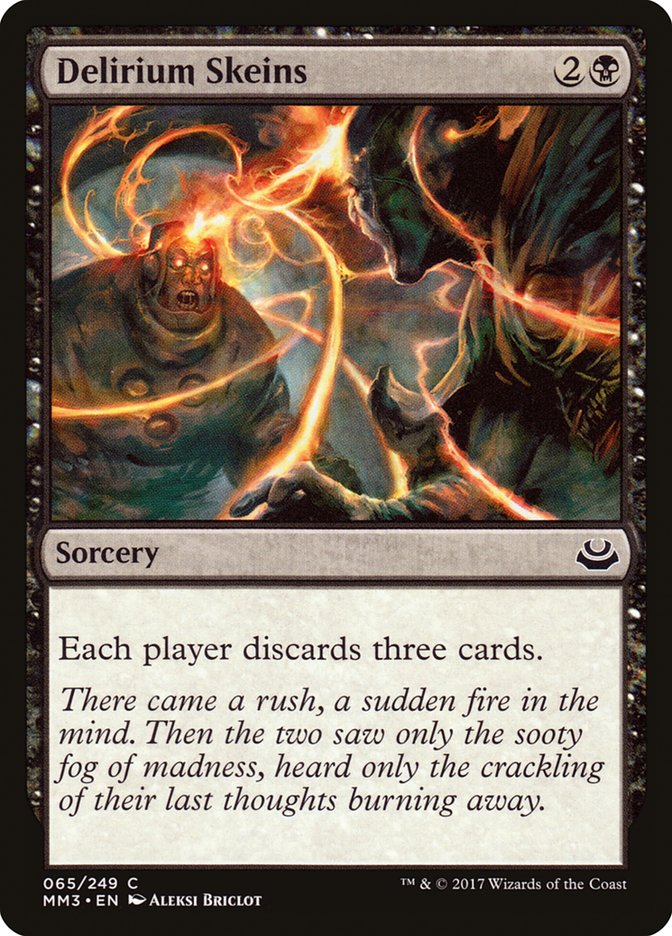 Delirium Skeins was my solution to Leyline of Sanctity, and finding the card in Gatherer was one of the big draws towards me deciding on 8-Rack for the weekend. Instead of casting a Fragmentize to free up Thoughtseize and some Raven's Crimes, I simply cut out the middleman to trade my four cards (or less) for their three cards.
Leyline of Sanctity costs the opponent a card to put onto the battlefield. If you can blank their sideboard card instead of directly dealing with it, then you're effectively up a card. Sometimes they'll draw multiple Leylines of Sanctity in their opening hand and put all of them onto the battlefield. This is a good plan for them if you're trying to fight them with Disenchants, and not a good idea for them if you are sidestepping those Leylines altogether.
8-Rack needs some number of cards to sideboard in when Fatal Push, Dismember, and sometimes Smallpox are bad. Waste Not and Bloodghast were underwhelming for me in the past. I also didn't want to fill up on Thoughtseize and Wrench Mind either. Delirium Skeins is good to sideboard in against any deck that needs a critical mass of cards in hand, like Ad Nauseam or Storm.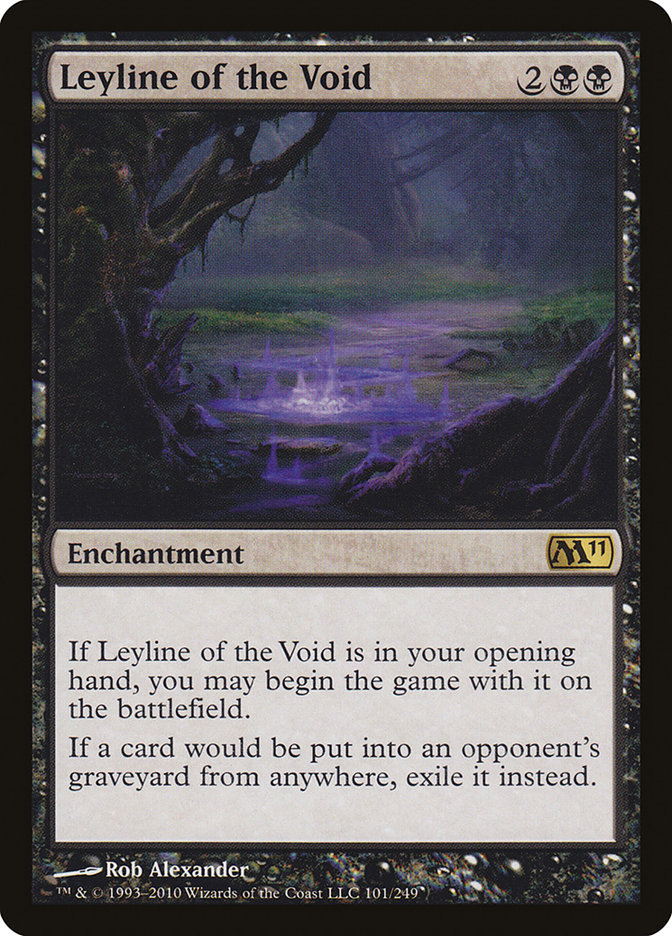 Leyline of the Void is the best card available against Dredge, Living End, Goryo's Vengeance, and other graveyard-centered strategies. Oftentimes a Relic of Progenitus or Nihil Spellbomb was too slow. Copies of Leyline of the Void can be discarded to Smallpox or Liliana of the Veil, reducing the high variance of needing to be in your opening hand and being rather useless later.
When you have Leyline of the Void, you're essentially starting on a six-card hand. For this reason I don't mind sideboarding out a land to keep the lands-to-spells ratio similar. Raven's Crime is generally poor against graveyard decks and gets switched for Leyline of the Void often. Raven's Crime is a big reason why there are 24 lands in the deck. Going to zero or one Raven's Crime lessens the need for so many lands.
The first land to go is typically Marsh Flats.
It's true. The main reason I wanted a Marsh Flats in my deck was to make people second-guess its intentions. Could I have Bloodghast? Lingering Souls? I don't think anyone actually took notice.
Marsh Flats is more realistically a revolt enabler for Fatal Push, which did actually come up. With Urborg, Tomb of Yawgmoth, you can keep that Marsh Flats on the battlefield until it's needed. Fetchlands add power to your deck by strengthening Fatal Push at the cost of life and vulnerability. I have no idea what the ideal number of fetchlands is for this build of 8-Rack. Playing one seemed like it couldn't be that incorrect. Overall I was happy with the singleton.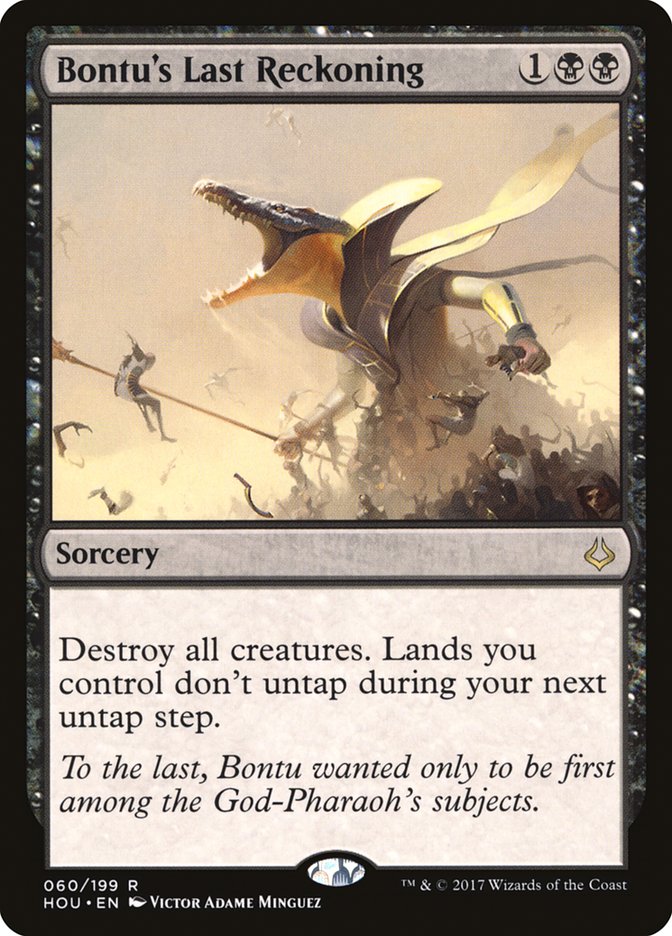 If there's any deck for Bontu's Last Reckoning, it's 8-Rack. I was very pleased with the card and almost played a copy in my maindeck. The problem with Damnation was how bad the fourth land on the battlefield was after you cast your four-mana card. 8-Rack wants to stop at three lands and use the remainder to fuel Raven's Crime or to discard to Smallpox or Liliana of the Veil. Night of Souls' Betrayal is really good, but also falls into this camp.
The first card that people want to add to 8-Rack is Ensnaring Bridge. Being able to turtle behind a Bridge with no cards in your hand while winning with your Racks sounds appealing. In practice, though, Ensnaring Bridge isn't applicable enough as a maindeck card. As a sideboard card it runs head-first into your opponent's sideboard cards. They're going to load up every piece of artifact removal they have access to for fighting The Rack. You don't want Ensnaring Bridge running into Ancient Grudge too.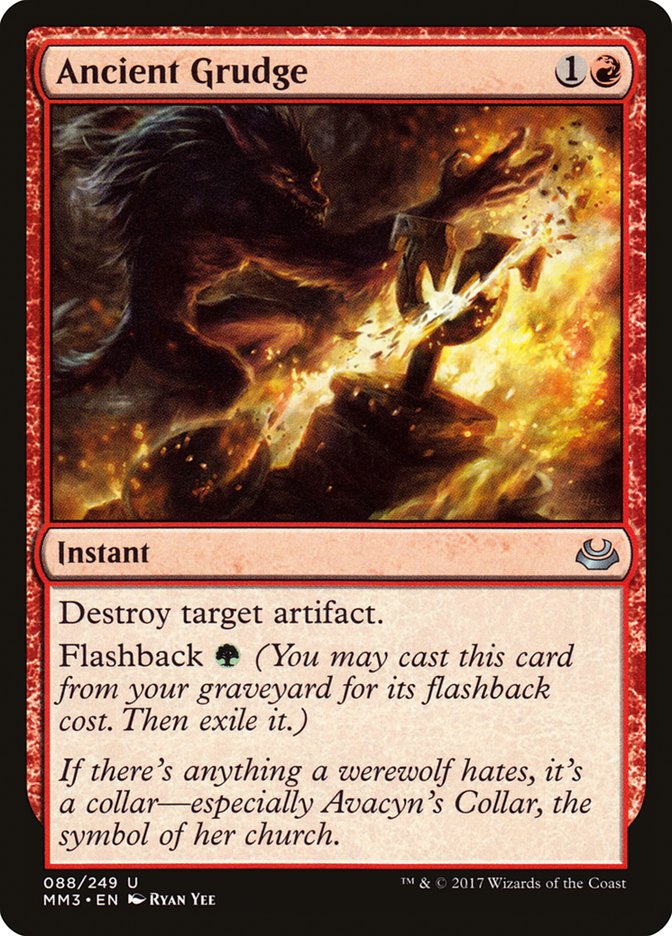 Why Ensnaring Bridge doesn't line up well after sideboarding.
Bontu's Last Reckoning should shore up most work dealing with creatures. Between the Reckonings, Smallpox, Fatal Push, Liliana of the Veil, and various discard you should have creatures covered well enough to at least race them with your eight Racks.
Sideboarding
I sideboard contextually each matchup. Still, with four copies each of Leyline of the Void and Delirium Skeins, there are some easy switches.