It's that wonderful time of year for us Magic players where we can brew as much as our hearts desire. Ixalan is bringing us boatloads new mechanics and creature types that are sure to shake up Standard. Even though I'm incredibly excited to play with those, today I'm here going talk to you about what cards I predict will see play in the Eternal formats.
Now normally, when a new set is released, we see few cards that make the cut in Eternal formats, let alone ones that significantly impact the format. Ixalan is looking to be an exception to that, since it includes a card I believe to be the next Modern staple.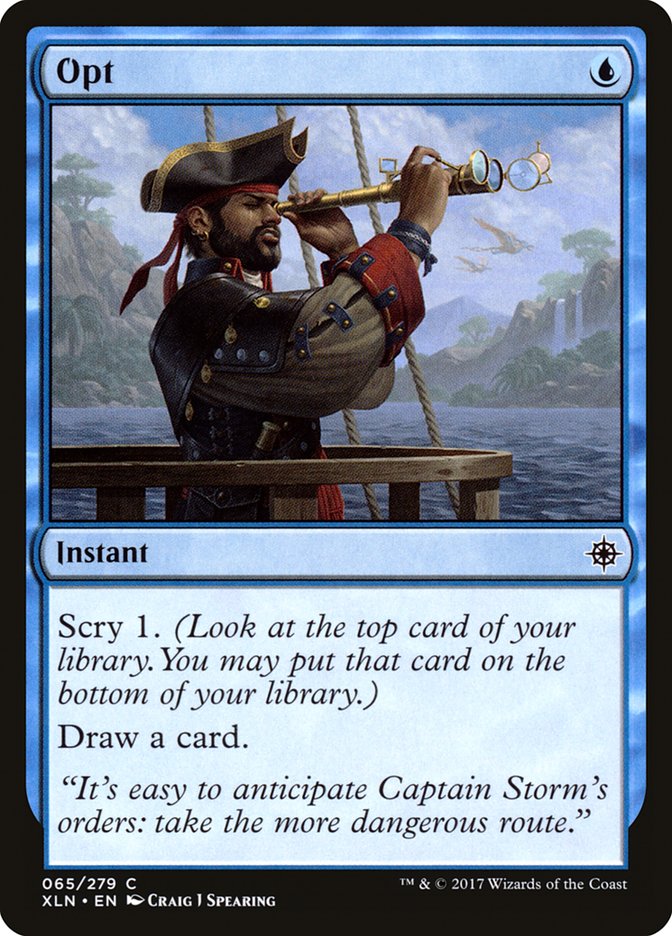 This is certainly the most obvious of the Eternal playables from the set. Opt is going to do wonders for all sorts of different blue decks in Modern. I'm not quite confidant enough to say the card will be better than Serum Visions, although I do think it has the potential to better than it in decks that like to leave their mana up. U/W Control is a deck that has been rising in popularity and will benefit greatly from Opt.
Creatures (4)
Planeswalkers (5)
Lands (25)
Spells (26) This is a list loosely based off Ray Perez's SCG Louisville Classic-winning list. I'm sure a lot of people will just switch the Serum Visions for Opts straight-up. While I don't think that's the worst thing you can do, I'm not sure it's the best either.
Serum Visions is without a stronger card in a vacuum, but Opt might be stronger in this deck. Getting to pass still with a cantrip in hand is very valuable, especially to control decks. A lot of games play out where you want to play your Celestial Colonnade on Turn 1 and pass with a counterspell up the following turn. The problem with that: if you lack your third land drop, you're pressured into taking your turn off for Serum Visions to ensure you get there.
Opt fixes this problem beautifully in the early-game, while also having nice utility with Snapcaster Mage later when you want to be holding up Cryptic Command. I believe Opt will become a four-of in this archetype specifically, but we might still see some Serum Visions in the mix as well.
The spell-based combo decks are the other blue decks I expect to benefit greatly from Opt. These decks actually might just benefit the most, since they can basically never have enough one-mana cantrips. Storm is the new hot thing in Modern and could potentially be the best deck for Opt!
Creatures (6)
Lands (17) I took the liberty of asking the Storm master himself, Caleb Scherer, what he'd cut for Opt. He said to cut one Goblin Electromancer and either three Strategic Planning or three Peek. I personally would cut Peek, since it seems generally less powerful than Strategic Planning and Opt takes that spot in the curve. Storm is truly a fantastic deck right now in Modern, and it only gets better with this set. Also, in the versions of this deck that play Remand, you get that added benefit of Opt being an instant that I mentioned previously.
Ad Nauseam is another deck I expect to improve quite a bit with Opt.
Creatures (5)
Lands (20)
Spells (35) I have decent amount bit of experience with this archetype and it's one I'm a big fan of. There is always a flex spot in this deck that is usually some type of cantrip. It usually is between Spoils of the Vault, Peer Through Depths, Anticipate, and sometimes a Mystical Teachings or two. I think Opt is going to be better simply because of the mana cost. This deck could always use another one-mana cantrip. Some builds even have Censor in them, where Opt gets that extra instant-speed bonus. Keep in mind you'll always want to Sleight of Hand on Turn 1 before Opting in this deck to give you a better chance to hit Lotus Bloom.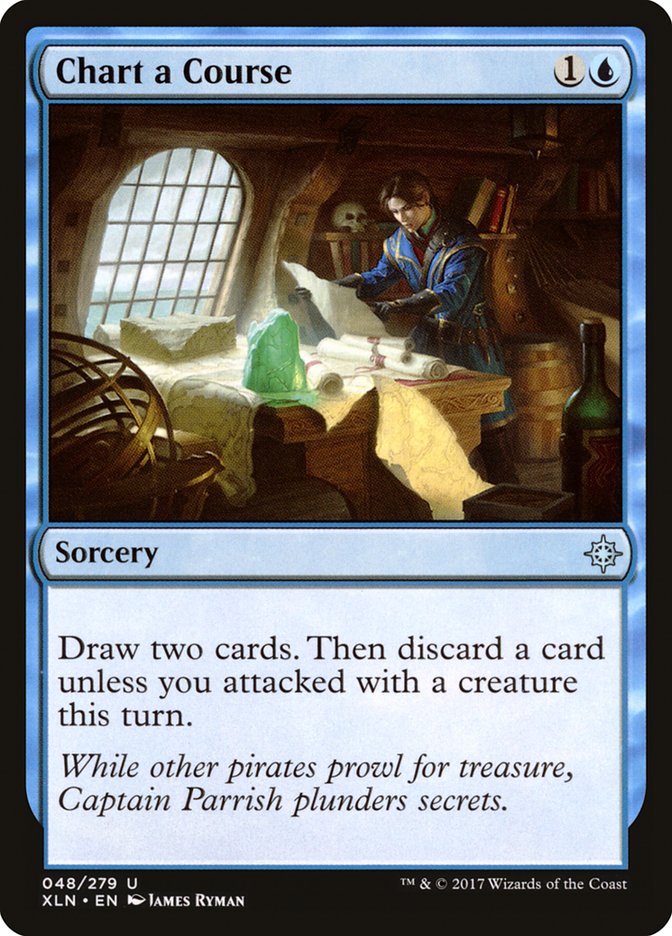 Speaking of blue cantrips, Chart a Course is another card that looks to be potentially promising.
Creatures (13)
Lands (17)
Spells (30) This is a list Bob Huang sent me earlier this week. Bob was the one who broke Treasure Cruise, so he knows a thing or two about Charting a Course. This card really does look like a game-changer, though. Recently in Legacy, all different sorts of midrange blue piles have emerged. I'm talking about the infamous "Czech Pile," Grixis Midrange, and the new U/W Miracles decks. Getting card advantage seems to be the name of the game nowadays for winning blue mirrors. Think of Chart a Course as an upgrade to Predict, as it is significantly easier to turn on and doesn't require super-specific deckbuilding requirements.
Speaking of decks that could Chart a Course, Merfolk looks like it potentially got a few upgrades with Ixalan. Kumena's Speaker is the first card that sparks my interest. A one-mana 2/2 is certainly a nice addition to the deck and might even be a nice upgrade from Cursecatcher. Merfolk Branchwalker is another potential addition to the deck, since it's a Silvergill Adept (the best creature in the deck) in the best case and a two-mana 3/3 at words. I like what these green Merfolk do for the deck, giving them more efficient beaters that are better on their own.
I'm no Merfolk expert, but here's my stab at a U/G Merfolk deck.
Creatures (29)
Lands (19) Collected Company is a card people have experimented with in Merfolk but it never caught on. Now, with actual incentive to play green otherwise, we might see it more and more. Master of Waves typically takes up the four-drop slot in the deck, but with how prevalent Fatal Push is in Modern, Master of Waves is at an all-time low. Collected Company will be a better way to get card advantage to get card advantage against the various black decks.
Since we have little blue creatures on the mind, I can't help but mention my absolute favorite card from Ixalan, Siren Stormtamer! How can you not love this little critter? It really does everything you could ever want out of a one-drop. For those of you who have played with cards like Cursecatcher and Judge's Familiar, you know how underwhelming they can be. Those cards are good early but are just incredibly easy to play around later in the game. With Siren Stormtamer it's a different story, you want to kill my Death's Shadow on turn 12? I'll sacrifice my one drop thank you very much.
Creatures (32)
Lands (22)
Spells (6) Here is a Mono-Blue Grand Architect deck I've seen pop up recently. Zac Elsik is a familiar name who has worked on the deck a bit. Siren Stormtamer fits right into this deck beautifully, since it already played Judge's Familiar. Protecting your Grand Architect, Smuggler's Copter, or Lodestone Golem unconditionally seems amazing for this deck.
Another deck that has been popping up more is Hatebears! All though most people opt for either mono-white or G/W, maybe we could get a little blue into the mix?
Creatures (30)
Lands (22) Siren Stormtamer slides right into a shell like this. This Hatebear deck is basically interested in annoying its opponent to death and Siren Stormtamer is perfect for that job. Seriously, though, this card is incredibly powerful. The fact that you are now forced to kill their one-drop before their threat that really matters is huge! Before, you could just wait one turn to play around their on-the-battlefield Force Spike. I cannot wait to get to casting this card, and I'm quite curious to see how much it shows up in Modern.
Shapers' Sanctuary is another card that piques my interest. Some of you might know I adore Infect as an archetype, and it's one I have a ton of experience with. I don't fully understand why the deck has essentially been nonexistent since the banning of Gitaxian Probe. Ixalan looks to be offering quite a few potential playables for the deck, so I'm hoping it gets the boost it needs. Let's look at Tom Ross's most recent list for reference.
Creatures (13)
Lands (20)
Spells (27) While The Boss typically does things differently from how I do in terms of deckbuilding, I can't not post his list when talking about the archetype he put on the map. I'm excited to see that his list includes three new cards from Ixalan!
Shapers' Sanctuary is going to be incredible against all the heavy-removal decks which are certainly the tougher matchups. Search for Azcanta is another card I'm very excited about. It helps fuel Become Immense, is sort of an unkillable threat, and a repeated source of card advantage. I was even thinking about the potential of this card in Storm, but I'm not quite confidant enough in that.
The last card I wanted to mention is Old-Growth Dryads. I'm not positive that this card will see play, since Zoo isn't really a popular strategy in Modern. However, a one-mana 3/3 certainly can't be ignored, since Wild Nacatl and Delver of Secrets have proved their worth. Overall, the drawback of your opponent getting a land may prove to be too much for this card to see the light of day.
Ixalan is shaping up to be a very exciting set that brings all sorts of new things to the table. I love the fact that we are going to be seeing some new cards in Modern right off the bat! Next time I'll be writing all about the Standard meta game, so I'll be watching every second of SCG Dallas so that I can provide an informative article on Standard prior to the Pro Tour. And let's be honest, who doesn't want to watch Pirates and Dinosaurs?
Until next time!