#SCGDFW has come and gone without too many surprises as Week 1 was dominated by various Energy midrange decks, Ramunap Red, and U/W Approach. All three of these archetypes were ported over from the last format and were the easiest to build heading into Week 1, and therefore it wasn't a surprise to see these three on top. Whether you like to play aggro, midrange, or control, there looks to be a quality deck for you to start this Standard season, but between those archetypes, it looks to be there is only one option. At #SCGDFW there were 23 Energy decks, eighteen Ramunap Red, and ten U/W Approach in the Top 64, meaning a whopping 80% of decks ran one of these three strategies!
Creatures (23)
Planeswalkers (1)
Lands (24) It's hard for another aggro deck to compete with Ramunap Red, as the deck is incredibly explosive while still having a decent late-game thanks to Earthshaker Khenra, Hazoret the Fervent, and Ramunap Ruins. This is nothing new and we have all known this since the last Pro Tour, but building a different aggressive deck that can compete as well as Ramunap Red is hard to do. Sure, you can build an anti-Ramunap Red aggressive deck such as B/W Vampires, but it's going to struggle against the strength of the other decks in the format.
Creatures (27)
Lands (21) If you're playing a midrange deck in Standard, then it's almost impossible to do something better than Attune with Aether and Rogue Refiner. Sure, the rest of the cards in the deck can change depending on what other colors you want to play and what decks you want to beat, but this is the clear top deck of the current format. I believe Sultai Energy will most likely start to push out Temur and Four-Color Energy from the format for various reasons, the biggest being that it's the best Energy deck against control by having access to both Duress and Negate.
Control was arguably the worst matchup for Energy decks before, and it's definitely a matchup to focus on for the midrange deck. Sultai Energy also has access to Hostage Taker, which is proving to be one of the best things to do during the mid-game. I'm not counting out Chandra, Torch of Defiance and Glorybringer yet, but Sultai Energy is the real deal. In any case, making a midrange deck that's better than Attune with Aether is a tough challenge, but one we're going to try today.
Lands (25)
Spells (35) Finally, there is U/W Approach, which is built with beating the Energy decks in mind. Ramunap Red is a pretty tough matchup for the control deck, but this is easily the best of the various control decks at beating it. Settle the Wreckage has proven to be a very good card in the matchup that U/W Approach has gained, making it closer than it was before. I do like the use of Farm // Market in Jim Davis's deck here, but I'm not a fan of Aether Meltdown, as the Sultai Energy cards can get larger than it easily enough.
So we know the decks we need to be able to beat, but then again, these are the best decks for a reason. There's one tribe in particular from Ixalan that many people believed would come in and shake up the format but has been underperforming, and that's Dinosaurs. I still believe that Dinosaurs has a chance to compete in Standard, so I've been working on building the best Dinosaur deck that I can, and that's what I'm going to go over today.
Before that, there was one Dinosaur deck that made the Top 64 of #SCGDFW, so let's take a look at it first.
Creatures (22)
Planeswalkers (2)
Lands (24)
Spells (12) Well, this is an incredibly even decklist: so many twos and fours! This looks like a very generic G/R Dinosaurs deck, but my favorite part is the inclusion of Samut, the Tested.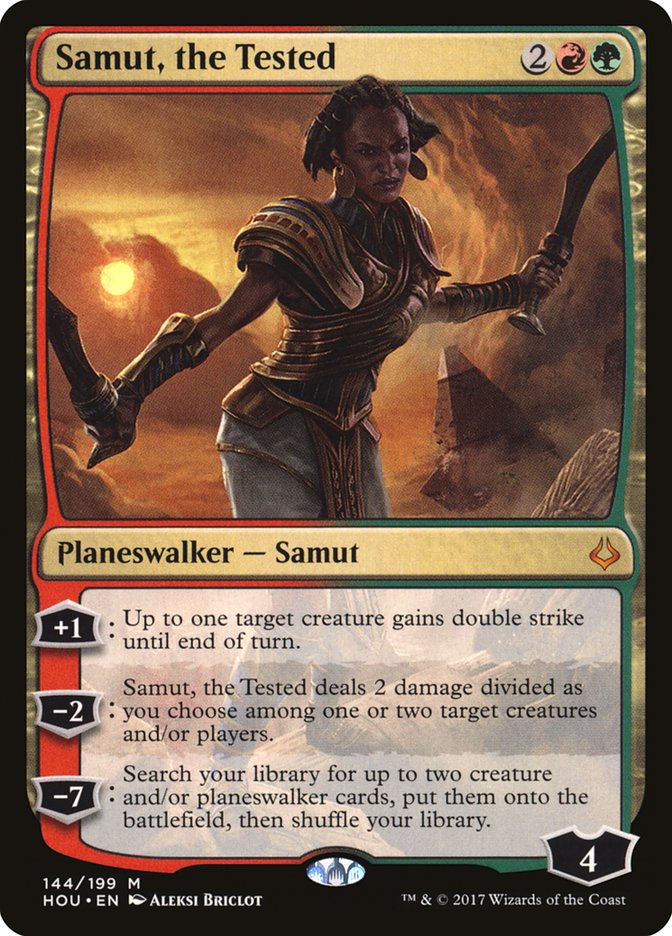 Theres probably a short list of people who were more disappointed in Samut, the Tested than I was when it was previewed, as I've always had a soft spot for Gruul planeswalkers in Standard. However, I think Samut's time has finally come, as it seems to be that it is perfectly designed to work with the Dinosaurs of Ixalan.
While the plus ability works well with any of the midrange Dinosaurs, it particularly shines with Carnage Tyrant, who has trample so it can always get through. The minus ability works well with Ripjaw Raptor to let you draw cards, and also with Ranging Raptors to ramp, which was unfortunately not in Alex Fann's deck. I think you need to have Ranging Raptors in the deck to get full use of Samut, the Tested.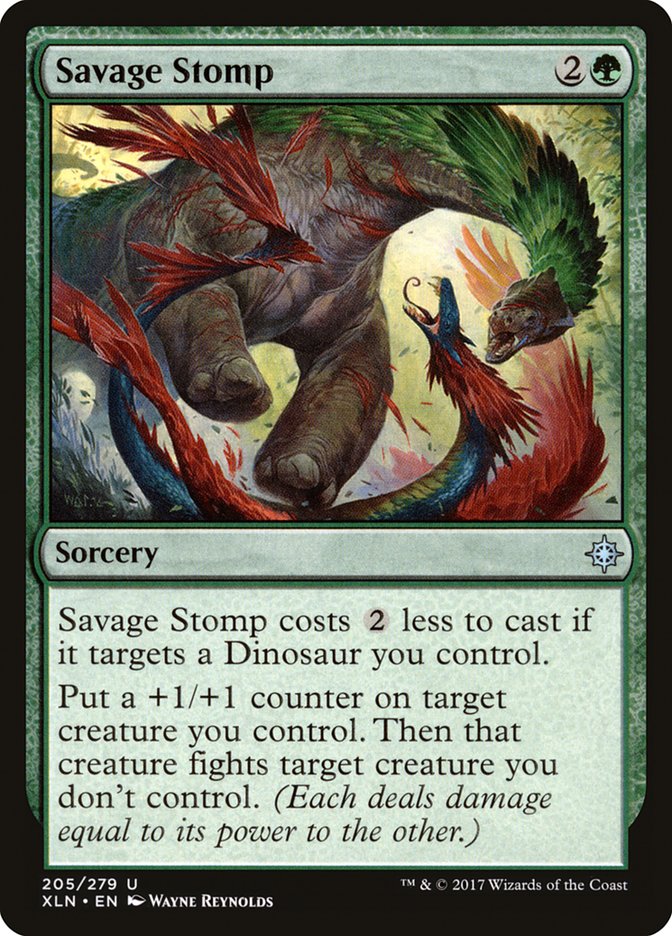 Savage Stomp is a tricky one to figure out. It pairs perfectly with any Dinosaur to take down most other creatures for the low cost of one mana while growing the Dinosaur, which means you would think it would be an easy inclusion in the deck, but I think it may be a trap. Most importantly, it isn't a removal spell on Turn 2, which is when you really want it against the two-drops of Sultai Energy.
Thankfully there are four Abrades in the deck, but that may not be enough. (Side note: I do prefer Abrade to Lightning Strike in this deck, as I think the ability to destroy an artifact is still very useful in the format.) Second, the Energy creatures can get larger that our Dinosaurs a healthy percentage of the time, which means having our creatures fight can be unreliable. Third, there's always the chance that our opponent has a removal spell for our creature in response to the sorcery-speed Savage Stomp, and with all of these added together, I want to go with something more reliable.