The breakout card from Ixalan has definitely been Search for Azcanta.
It was a prominent part of the successful U/B Control archetype in Standard that placed two copies in the Top 4 of the World Championship.
While Search for Azcanta is an important card in Standard, I think it could end up having a large impact in Modern as well. Search for Azcanta scales nicely from Standard into Modern, since it's easier to fill up your graveyard with fetchlands and the cards are generally cheaper as well. Today I'll go over some Modern decks that Search for Azcanta might end up reviving and pushing towards dominance.
Creatures (4)
Lands (22)
Spells (34) Saved the best for first.
Classic Jeskai Control decks, ones that are interested in making it to the late-game and dominating with card advantage, have largely fallen out of favor and been replaced by tempo-oriented lists built around Spell Queller and Geist of Saint Traft.
Search for Azcanta could be the late-game engine necessary to put Jeskai Control back on the map.
The nice thing about Search for Azcanta is that it functions well early game as well as late. If you cast it on Turn 2, Search for Azcanta is mostly just a "scrying" engine, but it has ultra-scry, since it occasionally generates fuel for Snapcaster Mage by putting relevant instants and sorceries in your graveyard as an added bonus.
The real appeal for Jeskai Control is going to be when it transforms into Azcanta, the Sunken Ruin and is able to dig four cards deep to find straight-up any card in your deck that isn't Snapcaster Mage or a land. This is a great way to generate a filthy amount of card advantage and selection for a super-low initial mana investment. Given enough time, you'll just draw more cards than your opponent and burn them out.
Azcanta, the Sunken Ruin is also a win condition that dodges conventional removal, although it is susceptible to enchantment removal and land destruction. Keep in mind you don't have to flip Search for Azcanta. If your opponent has easy access to land destruction like Ghost Quarter ready, then you might want to heed the words of Dory the fish and just keep swimming, but in this case, it's "just keep scrying, just keep scrying" until you find what you're looking for, like another copy of Search for Azcanta.
Another bonus is that everything in the maindeck can be cast at instant speed except Serum Visions and Search for Azcanta, which means you can happily keep up your mana and Azcanta, the Sunken Ruin to activate at end of turn while otherwise threatening to cast Cryptic Command.
Speaking of which, Cryptic Command is an amazing card to pair with Search for Azcanta, since you want plenty of blue mana, especially combined with Snapcaster Mage, and Search for Azcanta provides an extra blue source once it transforms. Just transform it and you should easily have Cryptic Command castable, or you can start searching for one.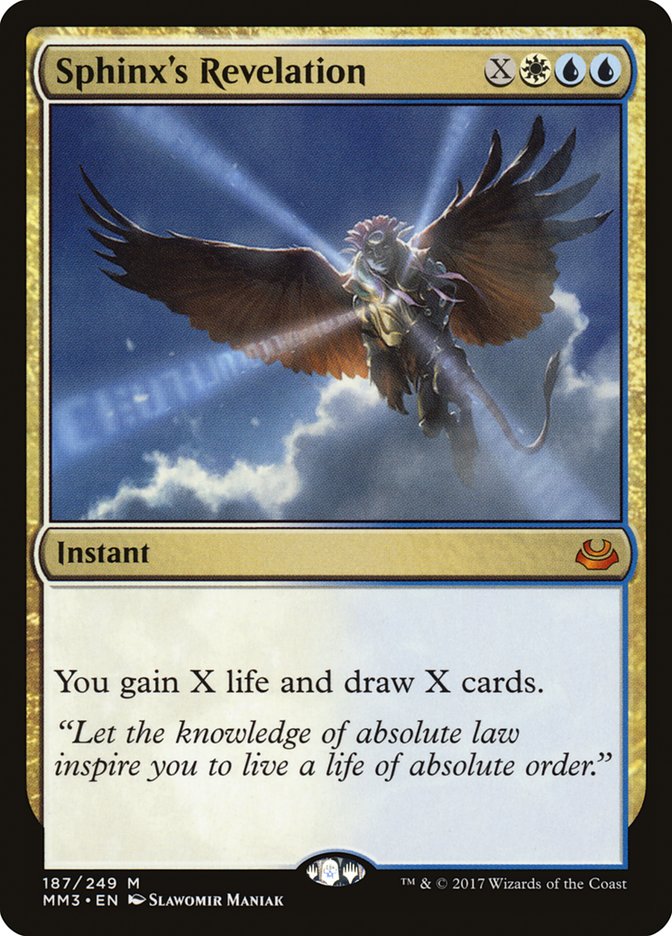 While Cryptic Command is great, Sphinx's Revelation is probably the most exciting card to pair with Search for Azcanta. Azcanta, the Sunken Ruin lets you Revelation for one more or helps you dig for your one copy when you're ready to end the game. It's kind of like the ultimate Desolate Lighthouse.
So what's the downside? Well, Search for Azcanta is not the fastest card in the world, which means we are packing the rest of our deck with ways to survive the early-game, including a bunch of cheap counters and removal in the form of Lightning Helix, Lightning Bolt, and Path to Exile. This will help you thwart anyone trying to disrupt your Azcanta dreams until you can start burning your opponent's face off while getting to Impulse for free every turn.
Lands (21) Most Modern blue decks are getting a nice new shiny playset of Opts, and Foretold Turns is no exception, but Search for Azcanta might be of even bigger benefit here.
Mainly Search for Azcanta fits into the two-drop slot, which is otherwise very lacking. Howling Mine is another option, but it's incredibly painful to give your opponent an extra card on the second turn, especially if they immediately destroy your Howling Mine like a jerk. Just let me draw my cards and take all the turns in peace!
Search for Azcanta is much less risky, and even though we're already drowning in card advantage thanks to Ancestral Vision and Dictate of Kruphix, Search for Azcanta really just fits in nicely with what we're trying to do.
Even with its front side, just as a one-sided pseudo-Howling Mine, it's appealing, but it's downright filthy if you flip it in conjunction with As Foretold. Once your As Foretold gets up to five counters, you'll be able to activate Azcanta, the Sunken Ruin digging for Time Warp and then cast it with As Foretold immediately. Step aside, Mikokoro, Center of the Sea and Geier Reach Sanitarium: there's a new land sheriff in town. Bonus points if you manage to untap Azcanta, the Sunken Ruin with Minamo, School at Water's Edge and get two activations a turn for the low, low cost of ten mana!
There aren't too many times you'll be whiffing with Azcanta, the Sunken Ruin here either, since Foretold Turns is almost purely filled with noncreature spells. Elixir of Immortality can kind of ruin your buzz if you shuffle away your graveyard before flipping Search for Azcanta, but that shouldn't be a major concern.
Creatures (4)
Lands (22)
Spells (34) This is pretty much the same style of deck as the version of Jeskai Control above, at least in terms of general gameplan, with a few tweaks.
Here we're a little bit more dedicated to actually getting advantage out of our graveyard, thanks to Lingering Souls. Instead of just packing the deck full of spot removal and burn, we have Lingering Souls as our main win condition, but fewer efficient ways to interact with our opponent's creatures.
Search for Azcanta putting Lingering Souls into the graveyard is the dream. The other, bigger and better dream is using Thought Scour to mill Lingering Souls into the graveyard while it also helps us transform Search for Azcanta ahead of schedule.
Thought Scour is going to occasionally be a little underwhelming, but it's cheap enough and helpful enough some of the time that it seems worth it.
Collective Brutality is also a way to help fill up our graveyard while providing some useful Swiss Army knife-style effects. Collective Brutality and Shambling Vent also provide some access to lifegain, which is important to have when you're trying to win the long game.
Creatures (12)
Lands (21)
Spells (27) Finally, we have the revival of an old archetype with Young Pyromancer.
Young Pyromancer benefits from having a bunch of cheap instants and sorceries and so does Search for Azcanta. Adding Opt to the deck makes Spell Pierce and Spell Snare that much more appealing, since you can happily pass the turn with one blue mana up instead of tapping out for something like Serum Visions.
I used to run Desolate Lighthouse in this style of deck to prevent late-game flooding, but now Search for Azcanta seems like a nice upgrade.
Search for Azcanta also provides plenty of fuel for Grim Lavamancer activations, even though eating your graveyard stops Search from transforming, but in that instance you're getting to activate Grim Lavamancer, which means you don't get to complain.
Delver of Secrets would be another card that benefits from the library manipulation of Search for Azcanta, but I'm not quite sure I agree on having them in the same deck, since Delver of Secrets is pure aggression. All these lists have more controlling elements and look to use Search in the late-game rather than just end the game early.
Having Crumble to Dust in the sideboard seems important, since big mana decks are probably the type of decks Search for Azcanta decks will struggle with the most.
The Search Is On!
If you're looking for something spicy to bring to the #SCGCHAR Modern Open, you may have found what you're looking for with Search for Azcanta.
I Azcan't wait to try out some of these decks and hope for a revival of slow blue decks in Modern!
Azcan't stop, won't stop!