The World Championship brought plenty of great storylines, highlighted by an incredibly deserving champion in William Jensen. Unfortunately, the change to having Worlds being positioned shortly after the release of a new set backfired, as this may have been the least substantial rotation in Magic's history.
Before Ixalan, Temur Energy and Ramunap Red were the top decks in the format, and despite few new additions they remain the top decks after Ixalan. U/B Control was a new arrival, seemingly supplanting U/W Approach as the control deck of choice but that's hardly a groundbreaking shift, and it was in large part to gain access to Fatal Push and The Scarab God, although Vraska's Contempt and Search for Azcanta are significant as well.
How did we end up here? Standard was finally in a good, healthy place after a streak of broken cards and we seem to be immediately back to a period of stagnation.
Well, it seems clear at this point that Ixalan is simply an underpowered set. Maybe that will change as new decks are discovered, or maybe it just needs the second set of the block to flesh out the tribal synergies in order to compete. But right now, the set just isn't up to par, especially relative to the high power level of Kaladesh.
We've seen this sudden downturn in power before, with Masques block following Urza's block and Kamigawa following Mirrodin. Those aren't the rosiest comparisons to make, I know, but that's where we are. Since power is relative, the remaining question is whether or not the issue is the fault of Ixalan being worse or Kaladesh being too good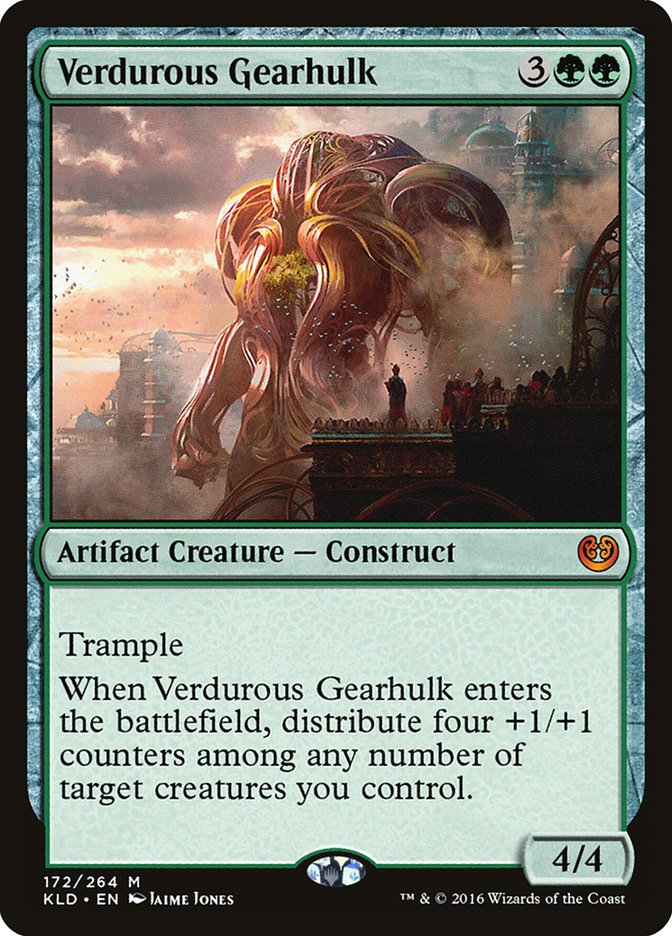 Amonkhet has been able to make some impact in Standard, most notably with Hazoret the Fervent and Ahn-Crop Crasher in Ramunap Red. Glorybringer is a staple. But are the themes of Amonkhet prominent in Standard? I'd argue they aren't, whereas Kaladesh has had a huge impact on the format from the moment it was released.
Vehicles and Energy-based decks dominated Standard for the last year, invalidating the existing sets with the exception of Emrakul, the Promised End, which was eventually combined with Kaladesh in R/G and Naya Marvel last December. Since the spaghetti monster was banished to the shadow realm, it's been all Kaladesh. Mardu Vehicles, B/G Constrictor, and Temur Energy of varying flavors have been near-omnipresent.
Even outside of Standard, Fatal Push has drastically reshaped the Modern landscape, ending the Lightning Bolt hegemony. The power here is clear, and it's not going away anytime soon. But what I'm interested in today is what exactly makes Kaladesh so powerful?
Unsurprisingly, the answer comes down to mana.
Land Ho!
The mana system is what constrains Magic, and it does so in multiple ways.
The one most often talked about is speed. You get to play one land a turn and one land only. If you want to accelerate, you have to pay a cost that has only increased recently with the removal of Elvish Mystic-level creatures from Standard.
This is why cost-reduction mechanics are so dangerous. Phyrexian mana, cascade, storm, and the like have all proven problematic. But we have a cost-reduction mechanic in Standard right now, improvise, and it has hardly been relevant in the format. None of the dominant cards in Standard reduce costs, so what is going on?
In addition to speed, the mana system is what creates a tension between power and consistency. If you limit yourself to one color, you have few to no issues finding the necessary sources of that color, but you also have a smaller card pool from which to build your deck. You can't include as many powerful cards, and the nature of the color pie leaves you vulnerable to the things your color of choice is weak against.
At the other end of the spectrum, you can play all five colors and build your deck from the largest, most powerful card pool. But you won't be able to cast your cards as consistently. This tension is central to Magic and any mechanisms that break this tension are ripe for abuse.
Energy breaks this tension with two cards: Aether Hub and Attune with Aether.