We're going to have some fun today. But first, a quick reminder on why buyouts happen:
When a speculator snaps up all the available copies of Eureka, Lion's Eye Diamond, or Seance, their goal is to get the price-chart algorithms to register a price spike. If I bought every copy of some low-supply rare like Mudhole that I found, I could re-list a single copy for $20 and trigger a 4000% price increase. That $20 copy probably wouldn't sell, but if enough people pulled Mudholes out of their bulk and listed them for $10, I might be able to eventually move my copies for $5-$6 each.
Of course, this strategy only works if a card is good. Or if it's on the Reserved List.
But what if someone wasn't interested in triggering a price spike? What if they literally wanted to buy a card out? And I don't just mean all the available copies, I mean all the copies.
Every. Single. One.
How different would Vintage be if one person owned every Black Lotus ever printed? What if a kooky billionaire decided to be the only one who got to use The Scarab God in Standard? That'd be one way to get rid of a format's most problematic card, I suppose.
We're still thinking small, though. What if that wacky billionaire didn't just want to own every copy of a single format staple—what if the billionaire wanted to own every copy of a card that's far more important and ubiquitous? What if they were sick of playing against counterspells all the time and wanted to do something about it? What if they wanted to be the only one who could cast Ancestral Recall or Time Walk? What if they took cues from that one episode of The Simpsons where Mr. Burns blocks out the sun?
What if someone tried to buy out every copy of Island that has ever been printed?
This is just a silly thought experiment, of course. If somebody really did buy up all the Islands, Wizards of the Coast would just print more. In the meantime, they'd probably allow players to proxy their own. If you're after some hard-hitting Magic Finance content and you hate shenanigans, feel free to scroll down to This Week's Trends. I talk about Standard, Iconic Masters, some new promos, From the Vault: Transform, and some controversial Magic Online changes.
Still here? Awesome! Let's reward your perseverance with some research and math.
How Many Islands Are Out There?
This is a really hard question to answer.
For many years, starter decks were the only place to get basic lands. From Alpha through Revised, each starter deck had basic land mixed into the common slot, so the number varied between 0 and 45. From Fourth Edition through Tempest, there were 22 basic lands per deck. From Urza's Saga through Shards of Alara, starter decks were renamed tournament packs and you got 30 basic lands in each.
Over the years, various other sources of basic lands began to pop up. Preconstructed theme decks were always good for a few dozen basics. Fat Packs still come with a land pack, as does the Deck Builder's Toolkit. Each store and tournament organizer gets packs of basic lands to facilitate Draft and Sealed events. And, of course, each booster pack since Shards of Alara has included a basic land (though some Core Sets did this before Shards).
I'm going to attempt an estimate, but please understand just how little information I have to work with here. Wizards of the Coast only released print run figures from Alpha through Fallen Empires, so I'm working with data that's twenty years out of date. Also, those print run figures tell us nothing about how many basic lands were printed for those sets, to say nothing of all the supplemental sources we just talked about. I wouldn't be shocked if my figure isn't anywhere close to reality.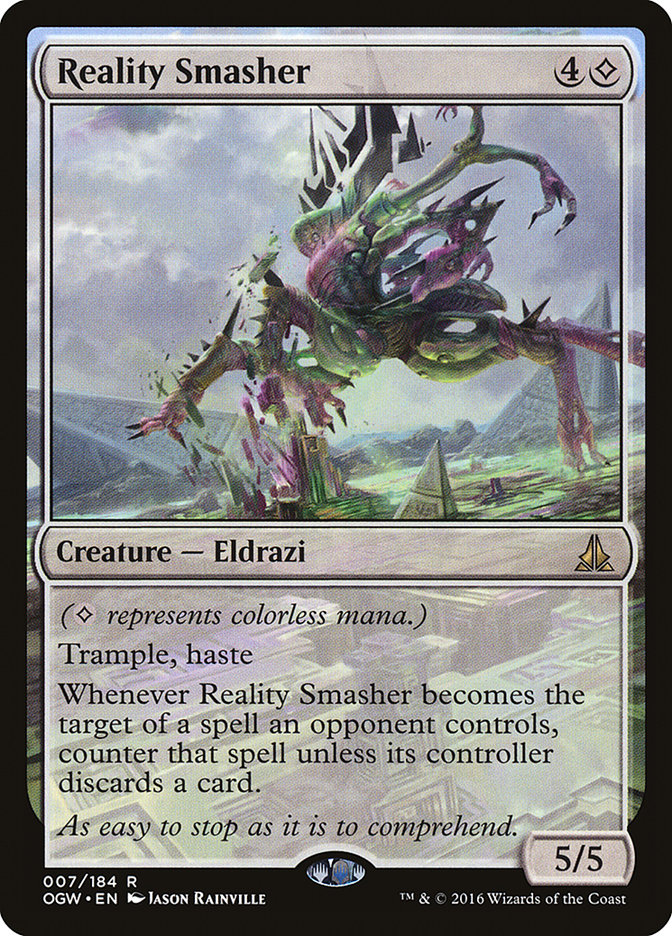 But let's try anyway.
The best estimates I could find (via Magic Librarities) put a figure of 400 million cards printed for early large sets like Mirage and Tempest. Small sets appear to be a little less than half that—180 million cards is our best estimate for Stronghold, Urza's Legacy, etc.
There were 350 total cards in Tempest, four of which were basic Islands. Let's assume for now that all four Islands were on the common sheet. Tempest had 110 commons, so one out of every 27.5 commons was an Island. The rarity sheets were printed in a ratio of 11:3:1 (common, uncommon, rare), so 11/15 (73.3%) of the Tempest print run were commons—roughly 293.2 million cards. If you divide that number by 27.5, you end up with a figure of 10.66 million Islands in Tempest alone.
I have no idea if this figure is anywhere close to accurate. Basic lands weren't in Tempest booster packs, so it's possible that fewer Islands were printed. I also don't know how accurately this figure will hold up as we extrapolate it further into the future. Theros probably had a larger print run than Tempest, but how much larger? And did sets like Champions of Kamigawa have a smaller print run? Again, it's hard to say.
Let's assume, for now, that all the large sets between Ice Age and Avacyn Restored were equal in size to Tempest. Let's double that estimate for all the sets from Return to Ravnica forward, because that's when the print runs seemed to increase by a lot. This gives us a total of 34 "old" large sets (including core sets) and 10 "new" large sets. That's 575,640,000 Islands—more than half a billion copies—and we're not even addressing the small sets that had their own basic lands, or any of the sets before Ice Age!
Of course, some Islands have likely been lost or destroyed by now, so we probably can't get anywhere close to half a billion in our shopping spree. Which begs another question:
How Many Islands Can I Buy Right Now?
StarCityGames.com® has twenty pages full of Islands for sale. Five of them are solely non-English copies, but I'm going to ignore those for now. Truth be told, processing fifteen pages of Island prices into my spreadsheet was time-consuming enough, especially since it's only part of what we have to do today.
Let's start with the non-foil, non-promo Islands. There are 47,131 of them currently listed for sale on StarCityGames.com®, and it would cost you $26,073.20 to buy them all. That's just over $0.55/Island, which seems high, but the average is skewed by the nine Summer Magic copies of Island that are worth more than $500 each. Here's how all the numbers shake out:
As you can see, a large chunk of your capital is going to be spent on the cheapest lands. There are more than 35,000 $0.25 Islands, so you're getting a lot of bang for your buck down here. On the other side of the spreadsheet, you're dropping more than $10,000 on less than 500 of the most expensive Islands. These are your Alpha, Beta, Summer Magic, Unglued, and Unhinged lands, and they're not cheap.
I was bracing myself for a really high foil Island bill, but it's not so bad in the grand scheme of things. There are 4,165 non-promo foil Islands for sale, and the total comes to $8,036.31 for them—an average of $1.93/Island. Here's what that price chart looks like: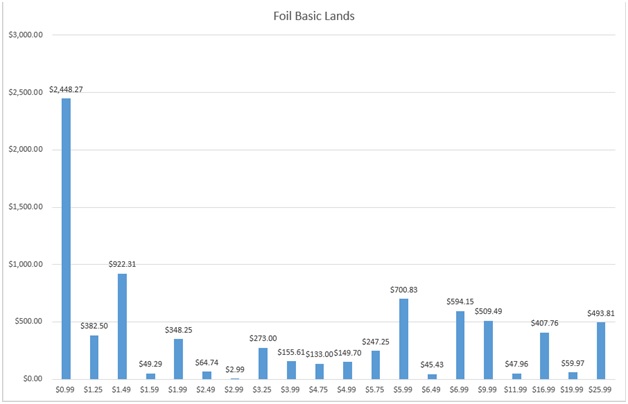 Again, your biggest expense is going to be the 2,473 foil basics that you're paying $0.99 each for. At the top end of the curve, we're lucky that StarCityGames.com® doesn't have any copies of the Unhinged Island in stock right now. Those would have set us back $75 each!
Finally, our bill for the promotional Islands is going to set us back $10,426.91 for just 647 more cards. This averages out to a very poor $16.11 per Island. Yikes—at this rate, we might as well go and purchase some actual real estate!
The good news is that we're getting a lot of sweet Islands for our ten grand. Not only are we snagging a couple of Guru Islands and Judge foils, but we're cleaning up on APAC promos. Heck, even if we succeed in buying every Island in the entire world, I'm probably going to be running some of these in my decks.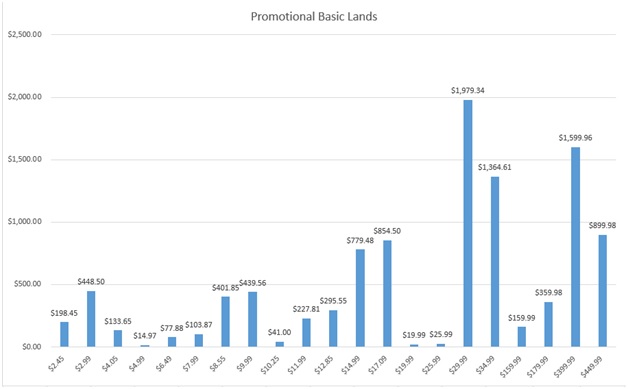 As you can see, this chart isn't bottom-heavy like the others. Most of our money is going into lands that are worth more than $30 each. It's a good thing they're sweet.
If we add everything up, we get a total bill of $44,536.42 for a total of 51,943 Islands. That's a lot of money, and that's a lot of Islands, but is it all of the Islands in the world? No, it is not. Not even close.
Let's keep going.
Seriously, Though, How Many Islands Can I Buy Right Now?