"Jack of all trades, but a master of none."
Playing Magic for a living involves a lot of learning. Between the PPTQ circuit, The SCG Tour®, and Grand Prix, there's always a format to re-acclimate oneself with, a new deck to learn, some fresh sideboard strategy out of a previously assumed "solved" archetype. It's a lot to keep up with.
This weekend is #SCGBALT. On top of being the final Open of the year, it's a team event. This means that I'll be slinging cardboard alongside my usual partners Jake Humphries and Jadine Klomparens. An enormous benefit to working with these people is that all three of us are reasonably well-versed in Standard, Modern, and Legacy. Any prep that we'd need to do would be much closer to a refresher than a crash course.
On the other side of things, there's currently an unanswered email sitting in my inbox containing a link for people to submit their team rosters for the event. Despite each of us having strengths and weaknesses in each format, it's entirely possible that we could end up playing anything.
This has put me in a spot where I've been trying to prepare for everything, and I've narrowed down my personal deck selection for the weekend to a mere six decks.
Legacy
Legacy is the format I tend to stick to with this configuration of people, but with Jadine finishing better at the most recent Legacy Opens, it's hard to say if this will end up being the case once again. After my beloved U/R Prowess ran lukewarm-to-cold the last few months, I've lately become addicted to Storming people out in Legacy:
Lands (14)
Spells (46) The endless amounts of Modern Gifts Storm that I've been playing as of late have pushed me in the direction of literal Dark Rituals, instead of the build-it-yourself version in Desperate Ritual and Pyretic Ritual.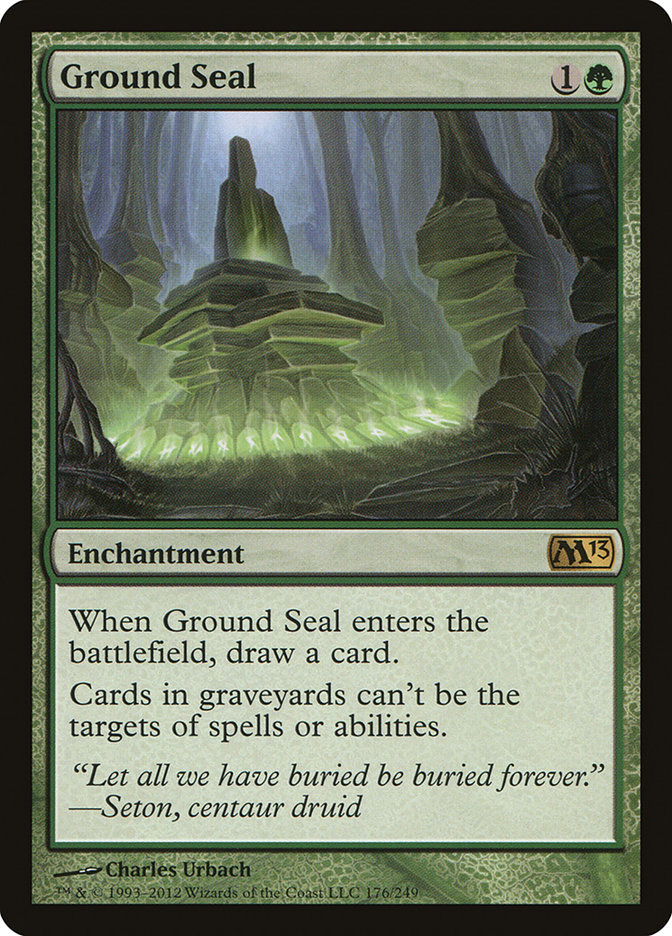 The list isn't perfect, but I'm sure that this list is within five or six cards of where I'd want to be as a combo player in Legacy. The only particularly fancy additions in the deck are the copies of Ground Seal. It's a cute way to answer cards like Life from the Loam and Reanimate, but it's also an incredibly effective way to hate Surgical Extraction, Deathrite Shaman, Scavenging Ooze, and Snapcaster Mage without actually shutting off Past in Flames or Cabal Ritual. It may end up proving to be too cute, but it's worked wonders thus
The biggest issue with this deck is how rough its matchup with a number of the Delver variants can be. Timely disruption backed up by a clock is a nightmare for combo, and after the popularity of the archetype at Eternal Weekend, I want to be positive that I have a fairer deck on the backburner.
Creatures (30)
Planeswalkers (2)
Lands (18) On the Turn-3-or-later side of the spectrum is the same list that I piloted to a cash finish a few weeks ago at the SCG Tour® stop in Washington DC. The list itself felt very tight, and I'd be happy to run it back.
The biggest issue here is that the deck had the opposite problem as Storm. In the fifteen rounds at #SCGDC, I only won three games against any deck playing Lotus Petal while only losing three games to fair decks in the same number of rounds. There was surely some variance at place on both sides of the figure, but it would be delusional to assume that a deck without any sort of interaction isn't going to be a major dog to combo Game 1.
Both of these decks seem like great choices going into the weekend. Most of the decision-making process here will be in figuring out which will be better against the expected field.
Modern
Modern has changed a lot in the last few months. The last team event that I played featured me and Jadine teaming up with Aaron Barich. When he first was going to be part of the team and wanted to play Infect in Modern, we asked if he'd rather play Legacy. The deck felt that poorly positioned at the time. Now?
Creatures (15)
Lands (19)
Spells (26) The biggest thing that has shifted since last summer is the resurgence of non-interactive combo. U/R Gifts Storm was beginning to pick up but hadn't quite cemented itself as a contender in the format until a bit later in the year, and Death's Shadow was still the most popular deck by a fair margin.
Since then, we've seen upticks in deck that value redundancy higher than interaction, such as Merfolk, Humans, Storm, and Affinity. This is a great place to be a Glistener Elf, as killing with a Blighted Agent or Inkmoth Nexus on the third turn of the game can be academic against a pile of Silvergill Adepts, Thalia's Lieutenants, and Goblin Electromancers.
The biggest thing holding the deck back has been the deck that chooses to be redundant in the amount of answers it plays: Jeskai. Getting through three or four removal spells can be rough for an Infect deck. Slogging through the Lightning Bolt, Snapcaster Mage, Electrolyze, Spell Queller, Path to Exile, Cryptic Command deck can be an absolute nightmare.
Creatures (7)
Lands (17)
Spells (36) Infect may be the anti-meta deck, but there's a reason that Storm has been popular as of late. The deck is resilient to hate and incredibly consistent. It's hard not to be drawn to the deck with its track record as of late, particularly when it's a deck that I have a fair number of reps with.
The biggest thing that I'd want to change from this point is possibly looking to incorporate maindeck copies of Lightning Bolt in order to combat the surge of creature decks that have been popping up as of late. Not being cold to a single Meddling Mage sounds nice.
The biggest strike against Storm is that it is right around Public Enemy Number 1 at the moment, and slogging through hate over the course of two days could be rough. The hate in people's sideboards tends to be more pointed for team tournaments, and that's not the best place to be a combo player.
Standard
This has to count as more than two decks, but I'd be hard-pressed to find anything better to play in Standard this weekend than something that starts with this formula. Sure, there are other decks, but even the anti-Energy decks can just lose to a timely copy of The Scarab God or an early Longtusk Cub getting out of control. Standard is likely the format that most rewards a mastery of "the" deck. This means that finding an edge in the Energy mirror is of utmost importance.
All jokes aside the deck, that I've spent the most time with thus far is the dedicated Four-Color variation of the archetype, with more black in the deck in an effort to grind out opposing fair midrange decks:
Creatures (21)
Planeswalkers (2)
Lands (22)
Spells (15) The biggest issue with this deck has been the mana. If it gets to curve, it's extremely powerful and rarely runs out of cards. The Scarab God Provides an excellent end-game, while a pile of removal, Whirler Virtuoso, Hostage Taker, and Servant of the Conduit all bridge the gap to get there.
The biggest thing that I've been working on with the list is attempting to make it rely on one of the colors a bit less. It's incredibly tricky, as Vraska's Contempt is the easiest way to avoid being out-The Scarab God…ded, the blue cards make up most of the mid-game, and the other two colors make up the earlier chunks of the game, meaning that there needs to be enough of each mana source to be able to cast those spells on-curve.
Creatures (23)
Planeswalkers (2)
Lands (22)
Spells (13) If mana ends up being an insurmountable obstacle, there's always the option of just playing old faithful. I've been playing Temur Energy on and off for a few weeks now and really like where the list is at the moment. The most attractive thing about it is that it's relatively sleek, and most of the edges are to be gained through gameplay rather than flashy cards in-game.
There may even be a halfway point between the two decks, but at this point I'm leaning more towards the safer side of things with the classic Temur Energy. As many rounds as there are over the course of an Open, it's generally better to take a more consistent route rather than rely on the variance associated with a high-risk/high-reward take on a similar strategy.
Or maybe Jadine Klomparens will talk me into playing Winding Constrictor…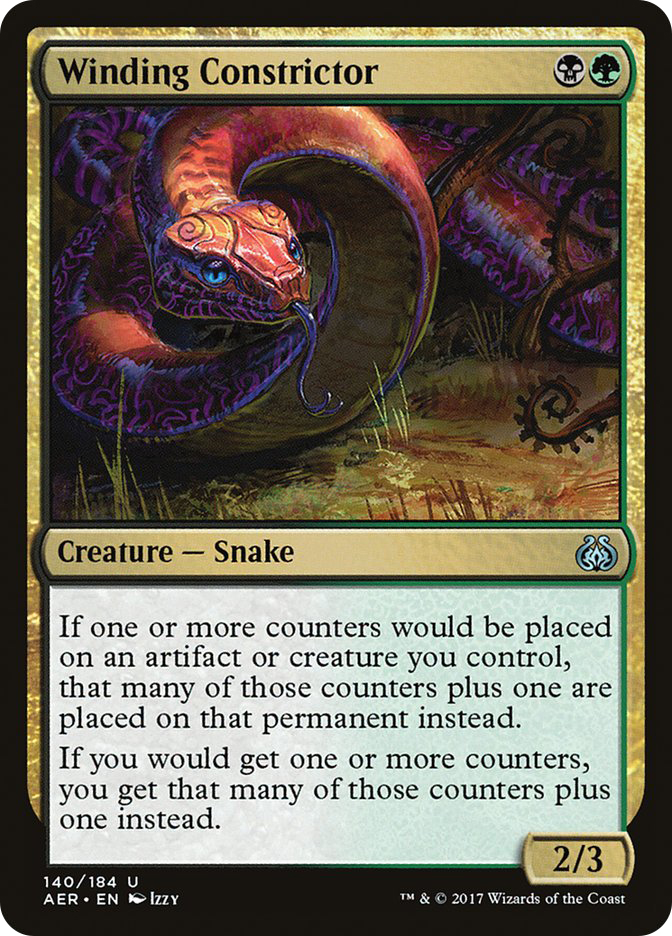 Regardless of the final configuration that our team goes with, each of these deck selections represents an approach to choosing a deck in a format: the anti-fair or anti-unfair, the anti-meta deck or the meta deck, or the most popular deck versus the most popular deck with a twist.
Every time we make a deck selection for a tournament, it's important to consider what actually goes into that selection and if there may be angles otherwise being neglected in that choice. On top of encouraging critical thinking at each step of playing in a Magic tournament, it can also bring a sort of peace when things go right or wrong. It's hard to feel bad about losing several matches with Elves in the hypothetical situation in which I play against Sneak and Show three times. Recognizing the ways that things can go wrong makes it easier to bear when those things happen.
No matter the outcome, it feels difficult to feel to horrid at a team event. Worst-case scenario, you get to hang out with your best Magic pals in downtown Baltimore.
Oh, and Sunday's my birthday as well, so maybe I'm looking at it through rose-colored glasses.
Either way, utilize the techniques in this article to give yourself the highest chance at success and the best chance of having a great weekend at an amazing tournament.