Magic adages stink. The more you learn about Magic, the less they tend to apply, and I hate them. They stymie critical thinking and make players less likely to consider everything they're doing within a game. My day job is coaching Magic over the internet, and a lot of times the job is predominantly asking players, "Why?"
"Why are we making this attack?"
"Why are we keeping this hand?"
"Why is this the land we're playing this turn? Why are we playing it during our first main phase?"
Every game of Magic is a series of decisions, and recognizing all of them is one of the most important decisions in leveling up as a player.
Last weekend at the #SCGINVI I played Dredge in the Modern portion of the tournament, and certain things stuck out in my list that raised more than a few eyebrows. For reference:
Creatures (23)
Lands (20) The answer the first few questions that may seem a bit more obvious:
Running zero answers to Leyline of the Void was a conscious decision. Modern is a format where you can choose what to beat. I wanted to lower my deck's fail rate by streamlining the sideboard a bit more and opening up sideboard slots. Leyline has been on the decline recently and I felt Abrupt Decay and Ancient Grudge were sufficient against most other things.
The basic Forest won more games than it lost. Despite costing me a game against Brad Carpenter during the later rounds of the tournament, the Forest won several games due to others' assumptions that it wasn't in the deck (and made Copperline Gorge look like a much juicier Ghost Quarter target than it normally would). Ironically, the more popular the Forest becomes, the worse it gets. For now it's great.
The difference that's relevant to this article? There are 61 cards in the maindeck.
Playing the Minimum Number of Cards
Generally speaking, it is correct to play 60 cards in a Constructed deck and 40 cards in a Limited deck. The reason is simple: it increases the odds of drawing the best cards in the deck. Every game, there's some sort of subconscious "I sure hope I have Card X in my opening hand!" The fewer cards in the deck, the more likely that is to happen.
Lowering the number of cards in one's library during deck construction will lead to an increase in card quality. When comparing the draw steps of a 100-card deck and its 60-card counterpart, the 60-card deck's draw steps will be a nonzero percentage more powerful than the 100-card deck's draw steps. This advantage compounds quickly when looking at how many times cards are drawn throughout a game, and then again how many times this compounding can happen over the course of an entire tournament. The understanding of this concept has led to people in just about every card game playing as few cards as possible, and it makes sense…until it doesn't.
Despite the fact that it's rare, there have been instances in the history of Magic in which people correctly registered more than the lowest number of cards. Understanding the reasoning behind the deviations from the norm is an important step in growing as a deckbuilder.
What are some of these justifications for playing something extra?
Indecisiveness
Sometimes there isn't enough information to reasonably decide which card in a deck should be removed. Hall of Famer Gabriel Nassif won Pro Tour Kyoto is 2009 with this 61-card Standard control deck:
Creatures (13)
Lands (27) When asked about his choice to play 61 cards, Nassif said that he wasn't confident what the correct card to cut was, and felt that removing the wrong card would cost him significantly more than just having 61 cards.
In other words, with a bit more preparation, this deck likely would have ended up containing 60 cards, but without that extra bump of playtesting, Nassif didn't want to run the risk of worsening his deck under the guise of making it worse.
The lesson here is that "consistent" is not synonymous with "better." Slightly increasing the consistency of certain draws in his deck may have been better, but he would have drawn at least one card less consistently, and without knowing that was the correct direction to take the deck, it was more responsible to keep the deck with 61 cards in it.
You're Playing Battle of Wits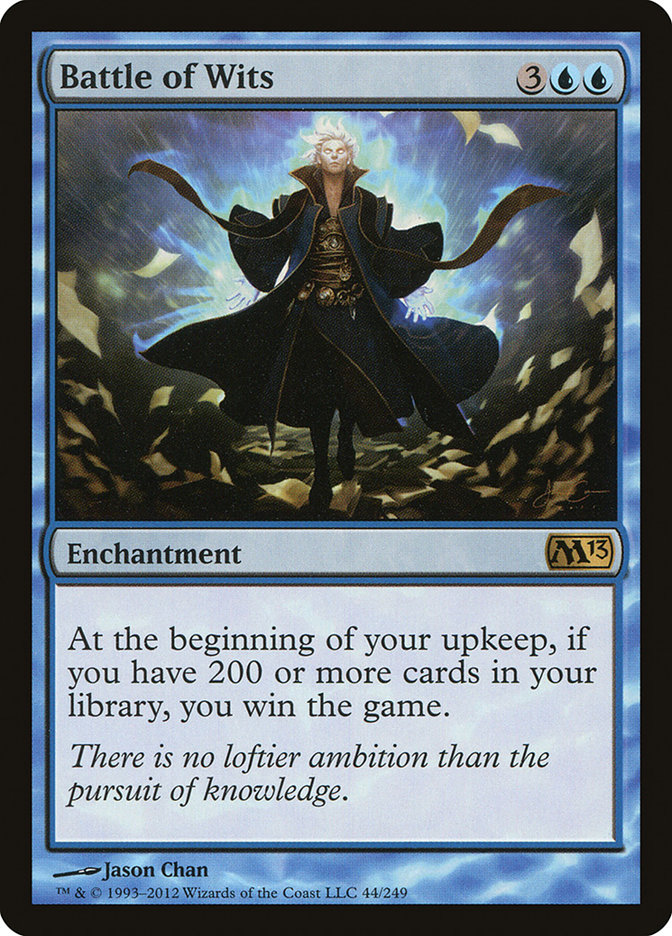 Nice.
There Are Cards You Don't Want to Draw
What do you do when you want to play Cryptic Command; win with Valakut, the Molten Pinnacle; and aren't allowed to play shocklands? You put some extra cards in your deck:
Creatures (4)
Lands (28)
Spells (32) Scapeshift decks are effectively control decks that use Scapeshift as their finisher. Rather than having to win over the course of a few turns with something like Broodmate Dragon, this deck's version of Cruel Ultimatum just Lava Spikes the opponent six or more times as long as one another condition is met: either having a Prismatic Omen or enough Mountains on the battlefield to create the number of Valakut, the Molten Pinnacle triggers necessary to kill the opponent.
In order to fit enough Mountains to reliably kill somebody with a Scapeshift, as well as the number of blue sources to reliably cast the card Cryptic Command, Mihara ended up adding extra lands to his deck. With all of the card selection in the deck, the odds of finding a copy of Scapeshift weren't affected in a big way, but the odds of the nightmare scenario of drawing too many Mountains and not being able to kill with an early Scapeshift is lowered dramatically.
Land Ratios
Sometimes a Draft deck isn't quite low enough to the ground to justify sixteen lands, but it doesn't have any bombs, so seventeen lands seems wrong as well. Consider the idea that the odds of drawing lands fall somewhere between sixteen and seventeen lands out of 40 cards when playing a 41-card deck with seventeen lands in it.
Without any kind of bomb, most of the spells are going to be of similar power level, and it's a bit harder to streamline one's strategy in a format as restrictive in deckbuilding as Limited can be. Adding the extra land can help finagle the odds a bit to make something play as if it has sixteen-and-a-half lands or so.
Creatures (14)
Lands (20)
Spells (27) Last year, Todd Stevens brought attention to a Burn variant that played 61 cards for reasons concerning the proper number of lands to play. Most pilots tend to waffle between nineteen and twenty lands. Playing twenty but also an extra spell puts the spell-land ratio in the middle of the 60-card decks with nineteen or twenty lands.
The reason this gets a pass (compared to other decks that may be unsure on their specific land count) is because the cards in Burn are fairly replaceable. Sure, Goblin Guide is likely the best play on Turn 1 and Boros Charm is worth the most damage, but after that, a majority of the spells in the deck are single nonland cards that will be worth roughly three damage per spell.
This places a higher emphasis on the actual ratio of lands to spells. The redundancy of the spells in the deck makes it okay to focus more on the number of spells drawn, rather than the quality of the spells themselves.
Access
One of the most common reasons that decks will tend to play more than 60 cards is when they have ways to search for specific cards, and having access to different one-of answers is worth the slight hit to consistency the deck suffers as a result.
Creatures (30)
Planeswalkers (2)
Lands (18) Julien Knab is the most notorious Elves pilot on Magic Online, and regularly plays 61 cards. Having the ability to Green Sun's Zenith for the singleton Birchlore Ranger for certain Nettle Sentinel-heavy draws or Reclamation Sage during the pre-sideboard games to beat cards that would otherwise give the deck fits is fantastic.
Removing those cards would remove some of the deck's avenues to victory, and shaving other cards would hurt the consistency of the archetype's primary gameplan. This makes 61 an appropriate number for what the deck wants to accomplish and have in its bag of tricks during the first game. It's also something that tends to come up in Modern:
Creatures (26)
Planeswalkers (4)
Lands (23)
Spells (8) Despite only trying it for a short time, there was a point during which Jeff Hoogland had 61 cards in his maindeck with fourteen cards in his sideboard and sideboarded "down" to 60 cards after Game 1. All to play a couple of extra Chord of Calling bullets in his maindeck.
Beating Mill Decks
Imagine that every time you played against Burn, you could increase your life total by five, for free. One of the biggest hurdles that Mill decks face in tournaments is that their opponents can simply add extra cards to their deck, and not remove anything. It isn't uncommon to see players go up to 70 or more cards post-sideboard in Constructed, and in certain Limited formats, just add basic lands until it's impossible for the opponent to win, like Vintage Cube.
Critical Thinking
The point of this article isn't just to catalog all the times that players elected to play more than the bare minimum number of cards in their deck. The idea is to provide examples of players thinking about what they wanted their deck to do, taking that idea, and choosing to go against social norms for the sake of bettering their strategy.
What are some times that you've chosen to play more than 60 cards? Why did you choose to do it?
This type of thinking has a positive effect on one's success in Magic during the decisions one makes during a tournament, and the ones leading up to it.