New year, new cards, same old tricks, but hey, new deck!
It should come as no surprise that Journey to Eternity caught my eye the moment I saw it.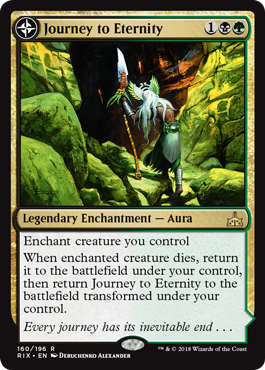 Unless we see a surprise reprint of Viscera Seer, maybe alongside some kind of bloodthirsty pirate that wants to eat all its friends, we won't likely find a home for this card in Standard, but with the right support, Journey to Eternity could be powerful enough to create any entirely new Modern deck.
Journey to Eternity is extremely easy to trigger, if you build your deck around it. In fact, if your opponent can ever kill your Journey to Eternity, I'd say you're doing it wrong. This card is like Recurring Nightmare, an enchantment that your opponent should almost never be able to interact with using enchantment removal because you should always be ready to sacrifice the creature in response. All you need to find Atzal, Cave of Eternity is to resolve Journey to Eternity on a creature you can immediately sacrifice. Bonus points for additional effects you can generate from sacrificing your creature or from it returning to the battlefield.
There are creatures you can sacrifice in Standard, but nothing that makes it easy to get Atzal, Cave of Eternity onto the battlefield on turn 3. In Modern, however, there are a wealth of options, from reliable ways to sacrifice any creature to creatures that are excellent at sacrificing themselves.