Where did the holidays go? New Years Eve was Sunday, and we're already getting slammed with Rivals of Ixalan previews. Due to Rivals of Ixalan being a smaller set, it's common for a larger chunk of people to fall off during preview season and not be as interested. Things don't feel as fresh, and the cards being previewed are hardly going to create an entirely new archetype that we hadn't previously seen; quite the opposite with brand new blocks as they're introduced.
I tend to fall in the opposite camp. Brewing isn't something that tends to rile me up. Tuning, on the other hand, gets me going. The last card to make an aristocrats-styled archetype justifiable? Yes, please. A new lord to push a tribal archetype over the top? Tell me more.
Second sets rarely break new ground, but where they lack in innovation they make up for in their ability to fill in the cracks. This is the perfect environment for swaths of competitive players. Sure, Temur Energy has been king of the hill for a while now, but who's to say that there won't be something that can out-grind it out in Rivals of Ixalan?
I'm getting ahead of myself.
Every time a new set comes out, writers are tasked with dissecting the best cards in the upcoming set, and exploring what they can (or can't) do. As of writing this, it's only day two of previews, and we're already neck-deep in great cards, so let's dive right in!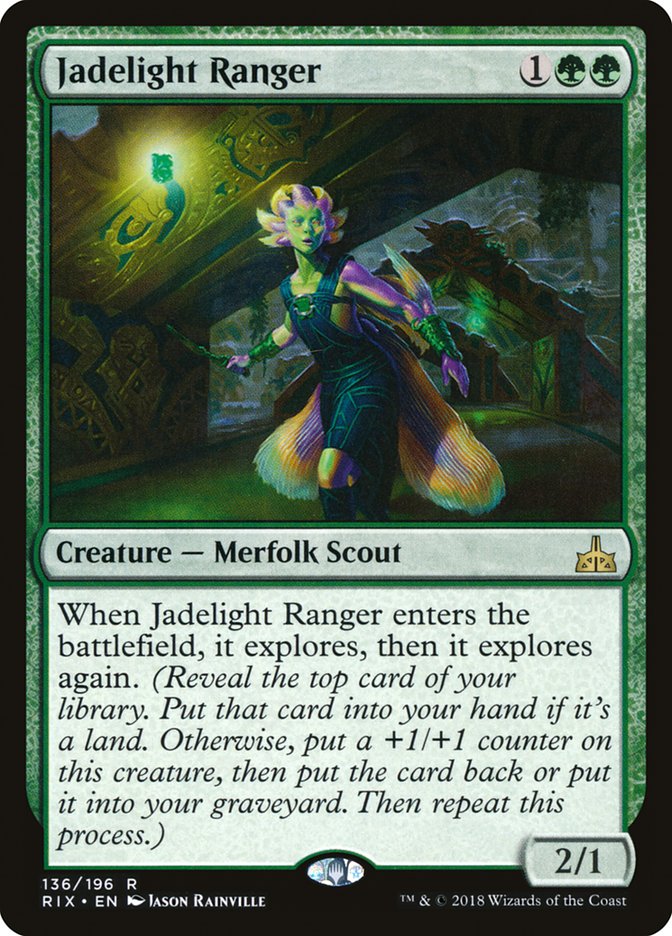 We'll kick things off with one of the creatures that has me the most excited.
When working with people during coaching sessions, I tend to break down the explore mechanic as this:
"Explore ( When this creature enters the battlefield, draw a land or Scry 1 and put a +1/+1 counter on this creature. )"
Obviously this is a relatively simplistic rephrasing of what the creature does, but people tend to more easily understand things by drawing parallels with what they know. If we apply this to Jadelight Ranger, this means that it will effectively be one of these creatures for three mana:
-A 2/1 that draws two lands
-A 3/2 that draws a land with Scry 1
-A 4/3 that Scrys 1 twice.
Which of these is not pushed, exactly?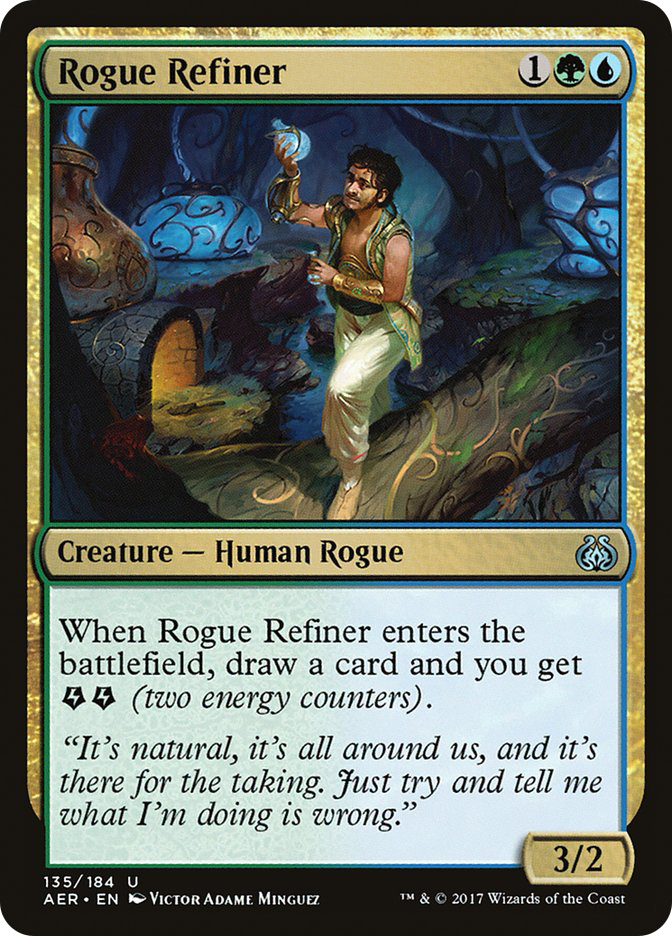 We've been living in Rogue Refiner's world for years, it feels like, and in a vacuum, Jadelight Ranger is much better. Naturally, this discounts the role that Rogue Refiner has served as an energy producer, but Kaladesh won't be around forever and it would be more than a little surprising if it took Kaladesh rotating for Jadelight Ranger to get its turn in the spotlight.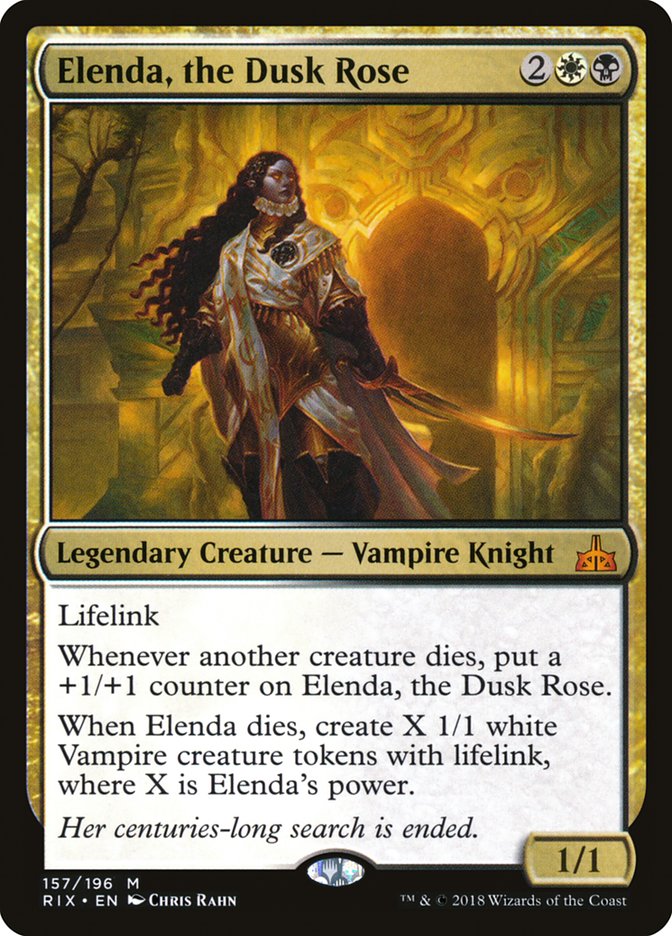 Elenda is so close. If she were three mana, then she'd likely be playable with Yahenni, Undying Partisan. As is, she's likely just a bit too expensive to see play in competitive Constructed tournaments.
In Commander, she seems reasonably busted. Just remember that she has to actually hit the graveyard to generate tokens, so having a way to exile her from the graveyard (and then put her in the Command Zone), will be an important part of the deck.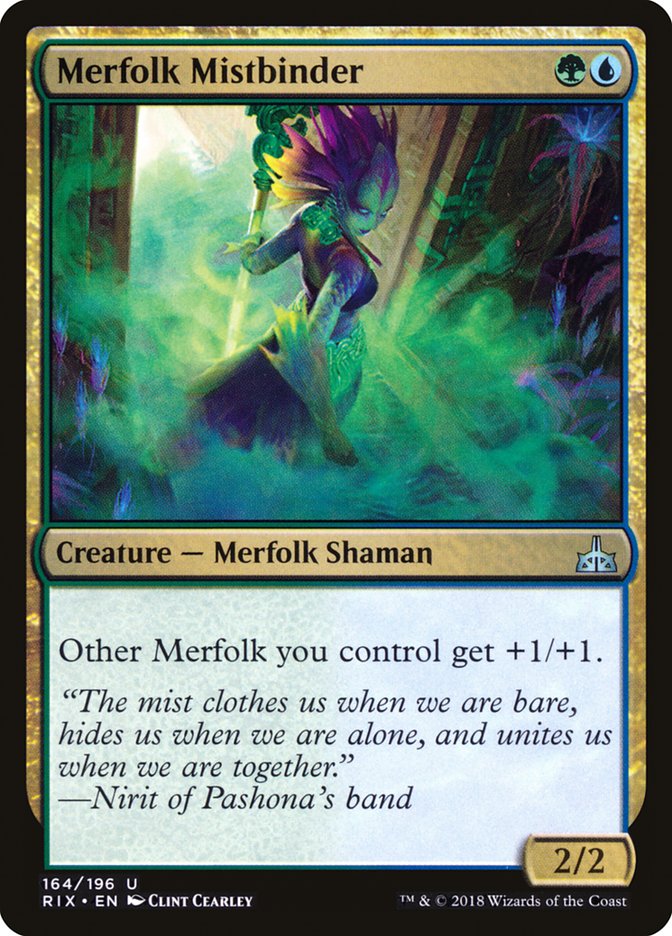 For a couple of months now there's been a debate on whether or not Modern Merfolk should incorporate green for Merfolk Branchwalker and co. Merfolk Mistbinder should be the nail in the coffin for Mono-Blue Merfolk. It slots so easily into what the deck is doing now. At the very least, it could easily replace Merrow Reejerey and look almost identical, with a leaner curve:
Creatures (31)
Lands (19)
Spells (10) Looking at green as a solidified color in the deck, it begs the question "Why not Collected Company?"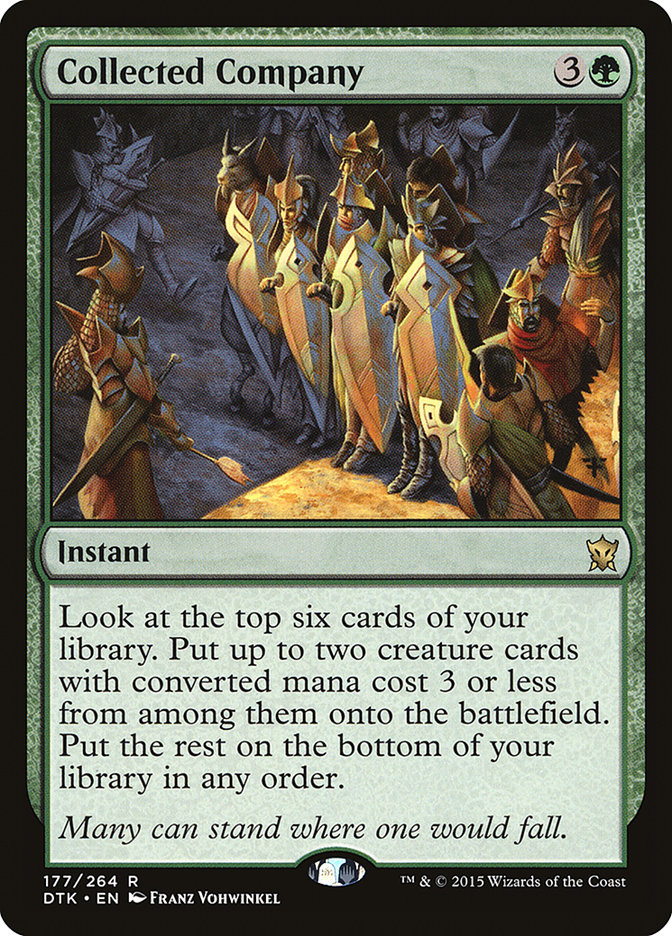 The answer is relatively simple, honestly. Despite playing an honest game of Magic, Merfolk doesn't much care for accruing large amounts of card advantage over the course of a game. Look at the Humans deck that our own Collins Mullen has been championing recently:
Creatures (36)
Lands (20)
Spells (4) Previous to his success with the deck, Humans was generally a Collected Company deck. What changed?
Collins realized that being aggressive and gaining a mana advantage with Aether Vial was more important than netting cards on turn 4. Humans even has the benefit of being able to crank out early copies of Collected Company via Noble Hierarch.
Similarly, Merfolk is more interested in getting on the battlefield and applying pressure via Aether Vial than it is netting a couple of creatures with a four-mana spell. On top of that, Merfolk also plays Mutavault, meaning that it has a different mana sink later in the game, indicating that Merfolk would prefer to, ya know, get 'em dead.
This styling in the deck is what makes it clear that Merfolk Mistbinder is such a natural inclusion over other lords that may have other effects but cost more mana. Getting on the table is important. Killing the opponent is important. Merfolk Mistbinder is going to be important.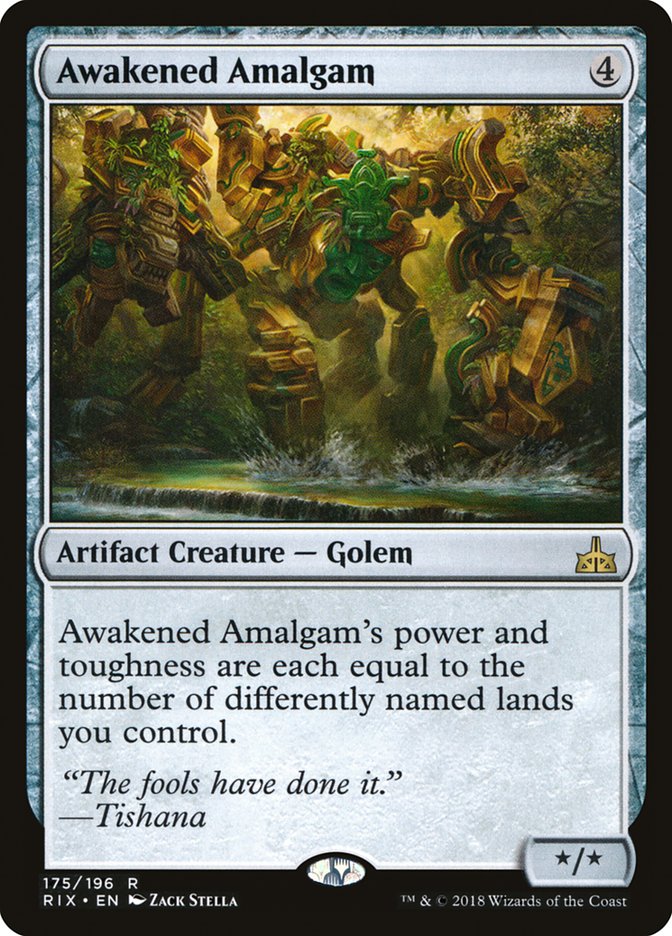 If Woodland Wanderer was never good enough, this sure won't be.

— Ari Lax (@armlx) January 1, 2018
This doesn't even get into the fact that Awakened Amalgam has to survive in a world defined by Abrade. Pass.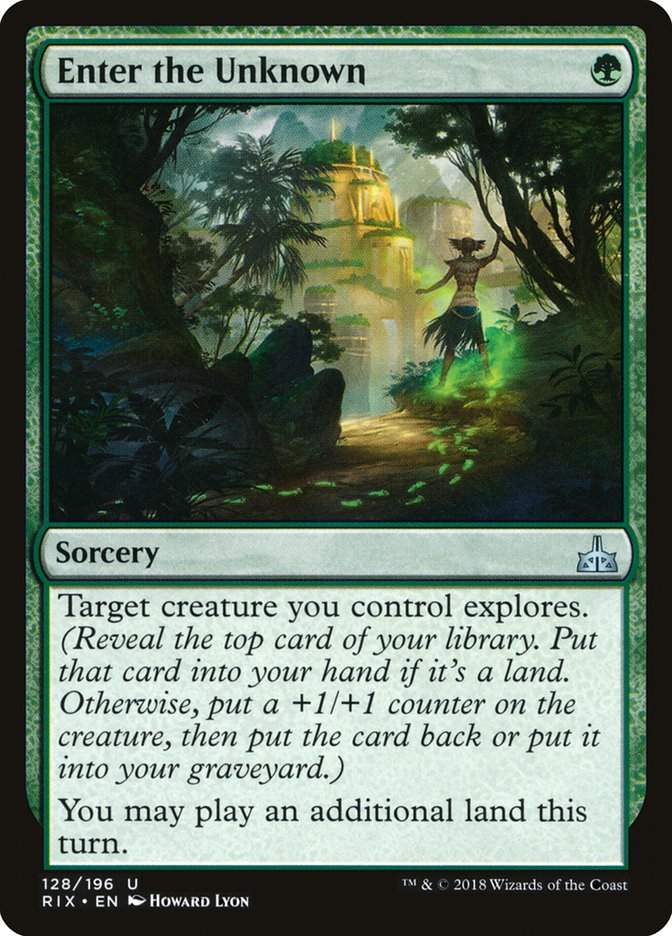 Enter the Unknown is a tough nut to crack. On the surface, it is at least "Draw a land card or Scry 1 and put a +1/+1 counter on a creature you control." The additional land drop ensures that this card is absolutely worth the card required for investment.
The issue is finding a home for it. Perhaps as we see more of the set, more of an explore deck will get fleshed out, and we'll find a way to make Wildgrowth Walker into a useful card. It feels as if it's already pretty close. A few more reasonable explore creatures and payoff cards are all the deck is missing to really take off.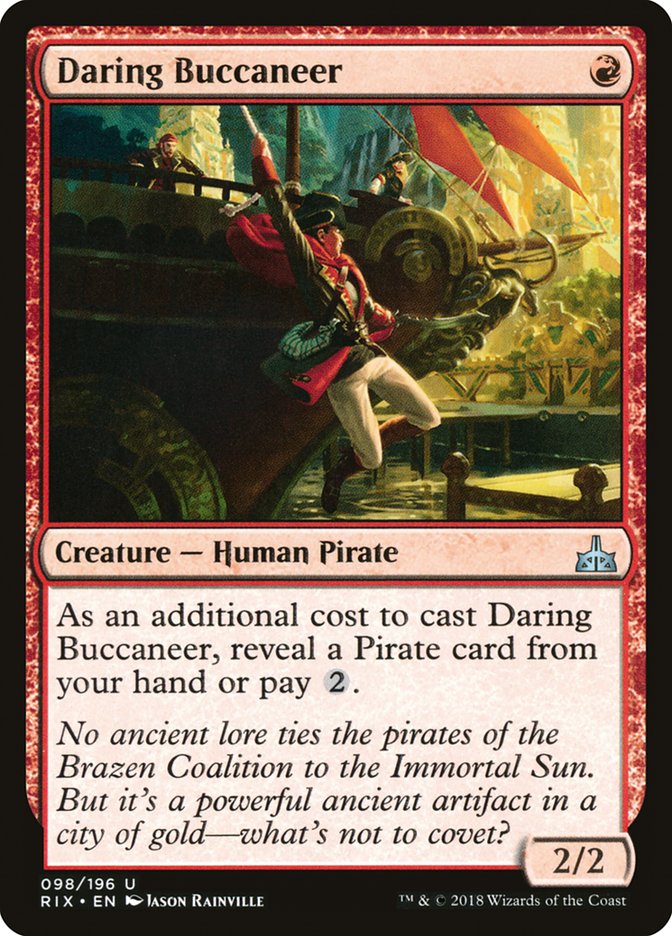 Daring Buccaneer is… complicated. Previous to Rivals of Ixalan, Hostage Taker made it so every version of Pirates was both black and blue. Daring Buccaneer is one of the best one-drop creatures we've seen in a while, being a 2/2 without much of a drawback, except that it has to be built around.
So why not just make the deck Grixis?
The short answer is mana. Three-color decks don't have great mana at the moment without incorporating Aether Hub and energy. Playing something that can support Daring Buccaneer on one, Daring Saboteur on two, and Ruin Raider on three isn't exactly reasonable.
The next place to look is at other decks that already play Pirates and may be interested in playing a 2/2 for a single red. Something like….. Ramunap Red.
Creatures (30)
Lands (22)
Spells (8) This is the absolute extreme of little creature aggro in red. The goal is to maximize the number of triple-one-drop hands the deck can create and use cards like Built to Smash and Metallic Mimic as sort-of payoffs for having so many little creatures in the deck. Metallic Mimic and Bomat Courier also play quite well with Built to Smash, as they're the creatures that the opponent are most heavily incentivized to block, and giving trample to specifically those creatures plays to that interaction quite nicely.
This likely isn't going to replace the current versions of Ramunap Red so long as Whirler Virtuoso is still popular, but if the Thopter-generator falls on the wayside, I'd very much expect a lower-to-the-ground variant of red to make waves. I'd be hard-pressed to believe that Ramunap Red would be excited to maindeck copies of Harsh Mentor and Rampaging Ferocidon otherwise. Shaving lands from the deck in order to give it a higher spell-density is just another bonus.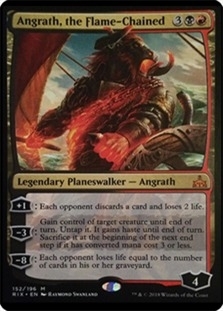 This card seems much better than the $10 price tag it commands as of penning this article. Against slower decks that don't commit to the battlefield as well, Angrath's +1 instantly nets a card and some pressure. Against the decks that get on the table a bit sooner, his -3 is great at at least being a removal spell.
Think of this card as very similar to Ob Nixilis Reignited. None of its abilities are the flashiest things you've ever seen, but it's hard to deny their efficiency. The -3 in particular will generally kill a creature the opponent controls one way or the other, either killing the creature that it steals, forcing some sort of chump block, or trading in combat against what the opponent still has. This doesn't even get into games where it steals a creature that gets to kill a creature.
The biggest hurdle for Angrath, the Flame-Chained is finding a shell that wants a B/R five-drop. Ideally, there will be an Unlicensed Disintegration shell that makes use of the fiery Minotaur Pirate. Only time will tell on this one.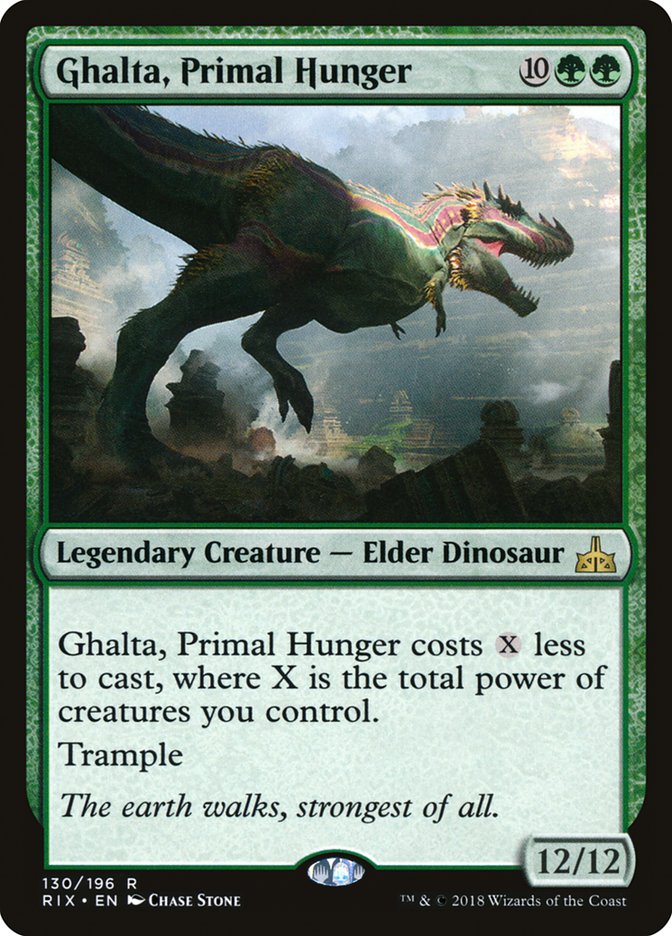 Ghalta, Primal Hunger is likely going to play a role similar to Carnage Tyrant in Standard. Normally, big dumb creatures just aren't particularly good, and it's easy to sneer at ability-less 12/12s on the preview page.
It's much harder to sneer at the creature when it's across the battlefield from you. Harnessed Lightning has been compared to Terminate left and right, but Ghalta requiring nine energy in addition to a Harnessed Lightning is where we need to admit that Harnessed Lightning is not as clean as Terminate, and we're going to need answers to a creature this large before it kills us.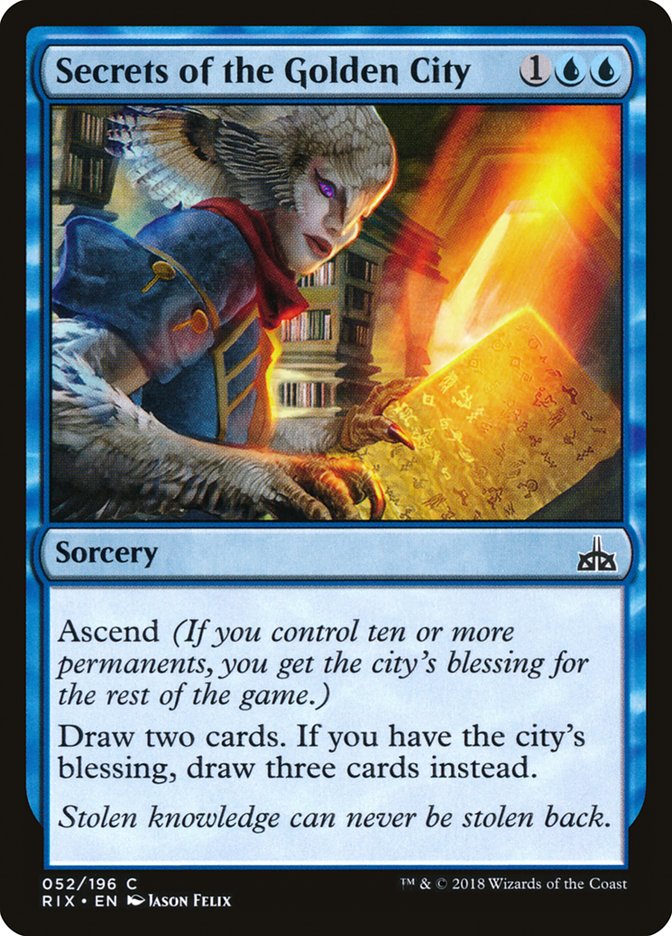 Divination is a mainstay in Standard control decks, and this card is a nearly-strict upgrade. Secrets of the Golden City becomes particularly exciting when you factor in that there are multiple sweepers in the format's premier control deck, U/W Approach. Wizards of the Coast promised to start putting more enablers at common and uncommon in sets in order to flesh archetypes out, and this is them making good on that promise.
I don't frequently play control decks, but Secrets of the Golden City has single-handedly convinced me to put some Search for Azcantas in my cart. It might not be during week one, but at some point during its lifetime in Standard, Secrets of the Golden City will be a four-of in the best deck in the format.
There's More To Come
All of these thoughts are when we have approximately 20% of the set previewed! Normally we would expect most of the relevant cards in the set to be shown at this point, but with half of the best cards previewed so far being commons and uncommons, it's safe to say that Rivals of Ixalan is going to be chock full of goodies for all formats.
What are some of your favorite cards that have been previewed so far?