Here we go! It's Rivals of Ixalan time! The set has been fully previewed, and that means it's time to find the best and most interesting cards. Here are my rankings for all the Rivals cards that caught my eye!
Top Four Weird Rivals Cards (AKA Interesting, but probably not good enough)
Honorable Mention:
I like Journey to Eternity a bunch and it has a lot going for it despite being an enchant creature and a little clunky. The biggest thing you can do is just cast it on a good creature for value and hope it dies in combat. As a combo card in Standard, it's lacking support.
There's a bunch of stuff that kind of works with it including Hope of Ghirapur, Siren Stormtamer, Hidden Stockpile, Restoration Specialist, Start, Yahenni, Undying Partisan, but nothing amazing along the lines of Sakura-Tribe Elder. Once it flips you're then faced with the question of what you were even trying to reanimate anyways.
Does it compete with The Scarab God? Likely not even close with what's available.
4.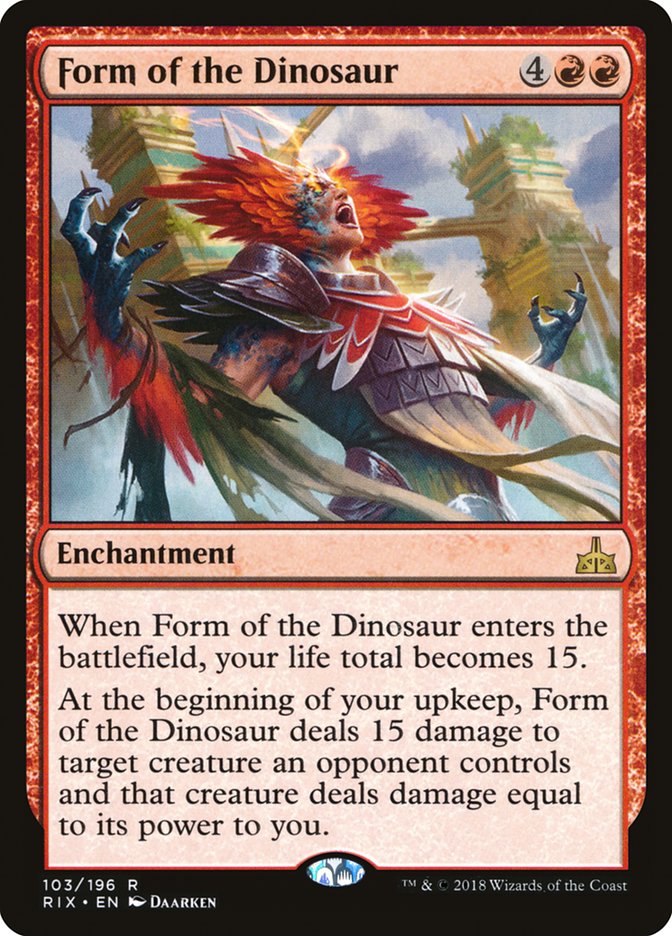 If you compare Form of the Dinosaur to Form of the Dragon you get pretty much exactly what you'd expect since a Dinosaur is basically just a beefier flightless Dragon. Setting your life total up (hopefully) to fifteen is the big appeal here, since that's an effect you don't see too often. If you're able to get ahead on the battlefield at the cost of your life, then Form of the Dinosaur can act as some major life gain. Then you start taking painful bites out of your opponent's side of the battlefield.
One issue with the card is that you have to keep eating your opponents creatures, effectively giving them haste and unblockable. The card isn't very fast, so you risk just getting run over before you can gain enough of an advantage.
3.