We're in a weird spot as far as Standard is concerned right now as there is so much uncertainty revolving around the newest set release, Rivals of Ixalan. Usually we look to a new set to shake up the current Standard format, but we currently have a strategy that is so incredibly dominant that many people believe the new cards won't be able to shine. Thankfully there is a banned and restricted announcement this upcoming Monday, and not only is some kind of energy ban expected to happen, there could even be a substantial ban across the mechanic hitting multiple cards. With this uncertainty looming of what the new format may look like, and with the full set being previewed just last Friday, I'm not as confident in my list this time as the other seven sets I've written a Top 20 list for.
That's all good though, as remember all of my Top 20 lists are about the life of these cards in Standard, not just their impact on week one. Obviously the formats will drastically change throughout Rivals of Ixalan being Standard legal and it's incredibly hard to predict, but that's the fun of it! Even being a tribal set presents more challenges as I want to group all of the different tribal cards together, but instead cards that are good in tribal decks that will also be able to be played outside of them will get an additional boost.
Enough talking, let's get to my Top 20 Standard Cards in Rivals of Ixalan!
20.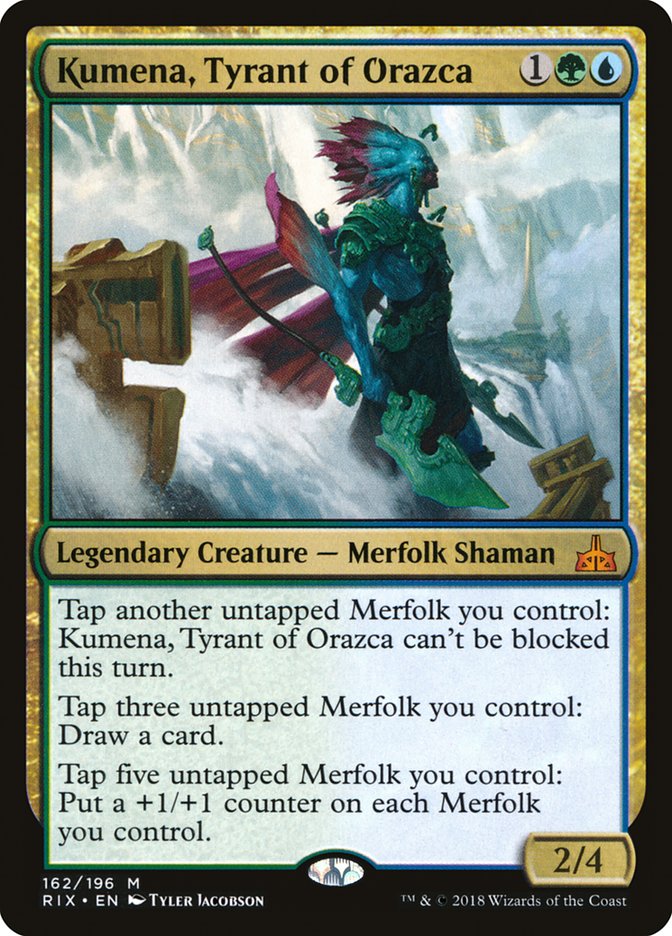 We're starting our list off with a bang! Kumena, Tyrant of Orazca is one of the chase mythics of the set, so why is it so far down my list at number twenty? Being a multi-colored creature that cares deeply about tribal synergies means it can really only go in one deck and it doesn't have room to grow from there. Then add in that it's legendary and toward the top end of said deck and I don't see Kumena, Tyrant of Orazca as a four-of even in U/G Merfolk.
What it does bring to the table is three abilities, the first of which makes it unblockable, not too exciting. The second ability can draw cards at the same rate we experienced from Cryptbreaker in Standard not long ago, and this the is the ability that will make or break Kumena as it needs to be very good for multiple Kumenas to see play in U/G Merfolk. Finally you can use five Merfolk to put a +1/+1 counter on each Merfolk you control, or basically insurance you can break any battlefield stall. I do like U/G Merfolk's chances on becoming a breakout deck after Rivals of Ixalan releases, but Kumena, Tyrant of Orazca isn't the reason why and I expect it to be a small role player in the strategy with little chance for overlap into other strategies.
19.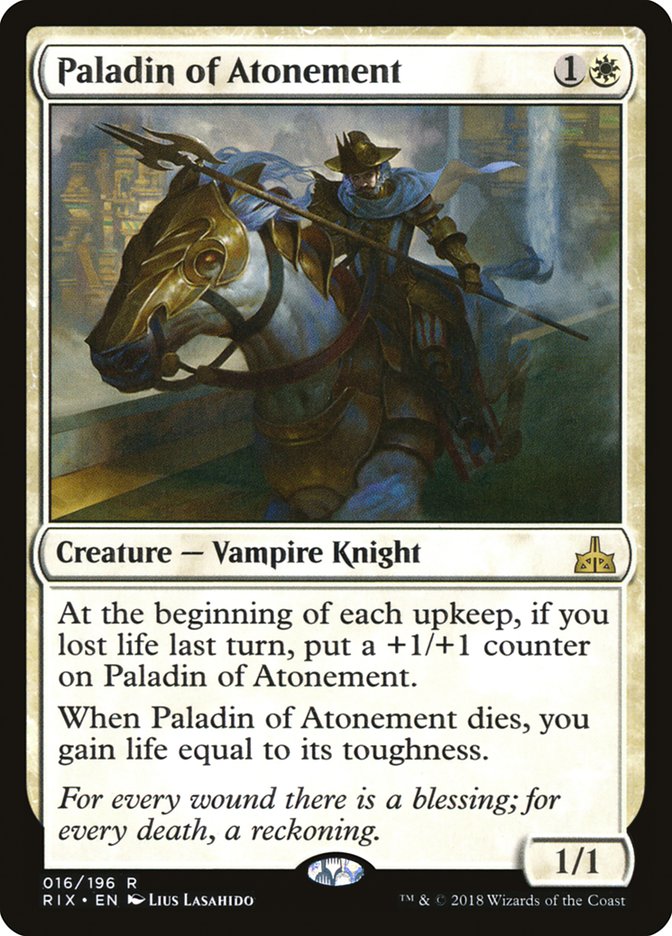 Paladin of Atonement looks like a solid two-drop Vampire with the ability to grow over time and turn into a must-answer threat that pays you back life for your troubles when it does inevitably die. Oketra's Monument is also always looking for more creatures that cost 1W, something Paladin of Atonement fulfills. In order for make our Paladin grow we need to be able to lose life on both turns, something that the desert cards from Hour of Devastation, such as Shefet Dunes and Ifnir Deadlands, conveniently do. You can even use Adanto Vanguard, another good two-drop, to lose life during either turn, but at four life an activation you'll most likely be saving that for when you need it. Overall I'm skeptical of how good Paladin of Atonement will be, but the upside here with both a Vampire deck and/or an Oketra's Monument deck is such that I'm keeping my eye on it.
18.