The smart money is on something from the energy package getting banned on Monday. I'd say Attune with Aether is a smart guess, although Rogue Refiner is another reasonable choice. Maybe both is better if WotC really wants to stick it to energy.
Then what happens? Is Hazoret the Fervent or The Scarab God too good? Will something else get banned? I have no idea, but we can basically assume an energy card will get the axe. What does Standard look like without Temur Energy, especially now that Rivals of Ixalan will be in the mix?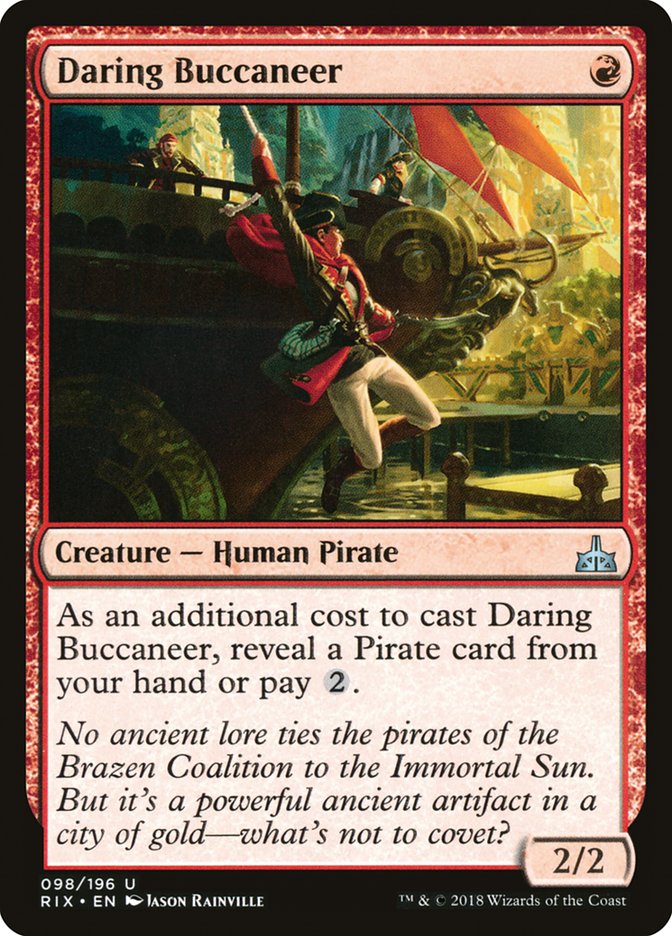 While an aggressive B/R Pirate deck might be where people start, those people are wrong. Are any of the Pirates better than Hazoret the Fervent? For those of you who dislike Soul-Scar Mage as much as I do, you now have an alternative.
Creatures (26)
Lands (24)
Spells (10) How many Pirates do you need to play Daring Buccaneer? Is trying to add that card to Ramunap Red a smart thing to do? We played Village Messenger before, and Fanatical Firebrand probably isn't worse. If it is, it's not by much. Kari Zev, Skyship Raider is great and maybe we could play four copies.
The really loose card that I'm not too fond about is Captain Lannery Storm. It's not the worst card of all time, but it's certainly worse than Rampaging Ferocidon or Ahn-Crop Crasher. Fifteen Pirates seemed like a good number, but if I ever determine that I want fewer, Lannery is the first one getting the axe.