The content you are attempting to view is exclusively available to StarCityGames.com® Premium members.
If you're already a StarCityGames.com® Premium member, please
login into your account
to view the rest of this content.
If you're not currently a StarCityGames.com® Premium member,
click here
to become one and receive:
Exclusive Discounts: Premium members receive a 5% discount on most items available for sale on StarCityGames.com*, including all card singles, sealed products and supplies!
Exclusive Content: Premium members receive access to exclusive content from many of the game's top players and personalities.
Ad-Free Experience: Premium members enjoy a StarCityGames.com website experience free of third-party advertisements.
* Applies to StarCityGames.com® website purchases only. Excludes event entry fees, Premium memberships and gift cards. Cannot be combined with any other discount, sale or promotion.

Browsing the Dominaria card image gallery, it seems like one of the most powerful cards is Teferi, Hero of Dominaria.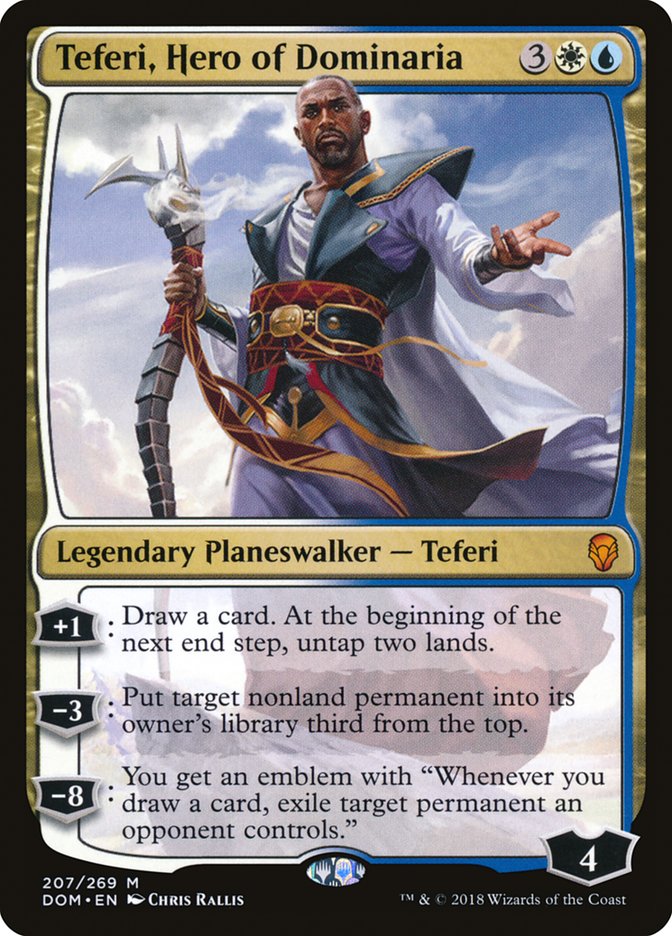 Obviously the hero is going to be good, right?
I've been the spikiest of spike competitive player for so long that sometimes I lose sight of what it means to enjoy Magic casually as a fan of the art, lore, and even the sense of community. I can't speak for all professional players, but I prefer to look at the cards as pieces in a game of chess and oftentimes, I don't even know the rarity of a card or anything behind the meaning of the name or the artwork.
This is especially true for me because every Pro Tour has six rounds of Draft which means preparing for Limited is a hard part of my career. At Pro Tour Magic 2015, William Jensen and I both made the top 8 with the exact same 75 cards and it lead to one of my favorite moments ever where I got eighth place on tiebreakers at 12-4 when I was competing against a couple other people with the exact same record.
For our Limited preparation for Pro Tour Magic 25, we did 25 individual drafts on Magic Online, maybe five house drafts, and a one or two hour Limited meeting. In the Limited meeting, we argued passionately about what to take Pack 1 Pick 1 if you were to drafting the following two cards: