The split between which red cards have done best in Standard/Block vs Modern/Legacy produces lists with a lot of cards that wouldn't be on the other…
But not always...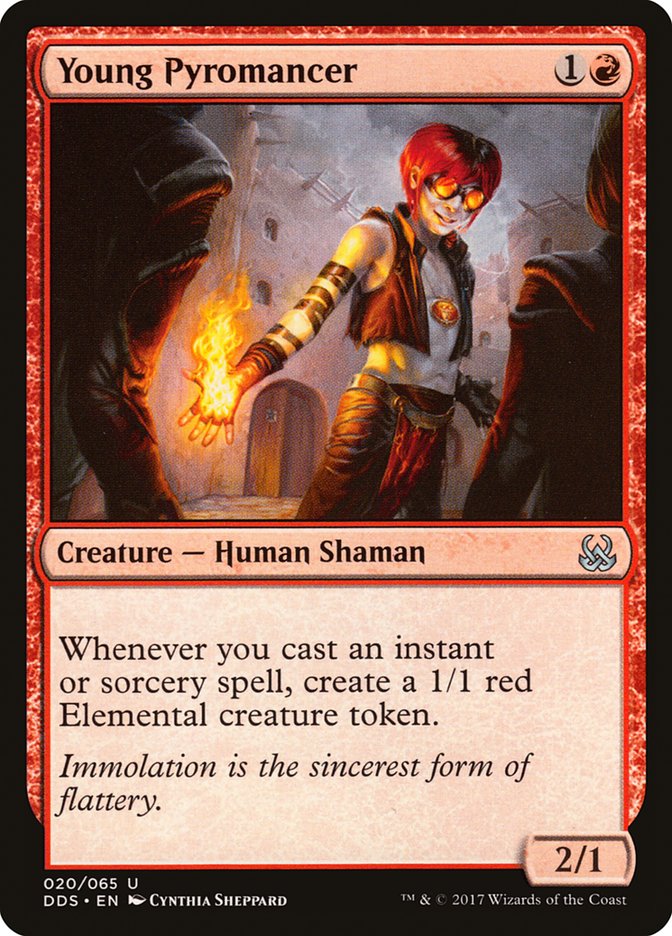 Young Pyromancer is that rare "role-player across all formats." It doesn't matter if you're drafting, playing Standard, Modern, Legacy, or Vintage. Young Pyromancer is a fine tournament caliber roleplayer in all formats.
In Standard, Young Pyromancer was sometimes an alternate victory condition for blue decks, but other times a proactive threat for burn heavy red decks, such as Matt Sperling's top 8 list from PT Portland 2014:
Creatures (9)
Lands (24)
Spells (27) Young Pyromancer helped enable Sperling to play either of two modes:
Midrange/Red Control - When facing opponents with lots of creatures, this list would have to play a makeshift control game at times. It wasn't always fast enough to just straight up race, Lava Spike style; however, Young Pyromancer is exactly the kind of card that can generate a big enough advantage to actually take over the game a little. If nothing else, threats spread across many bodies limited exposure to the extremely popular one-for-one removal that was so popular at the time. It didn't need to deal twenty to "take over the game," just enough to get them into burn range.
Burn - When facing opponents relatively short on creatures, Young Pyromancer played naturally as a part of a plan involving just playing lands and passing turns, accumulating resources. Then, when you've got a fair bit of mana, you can drop the Young Pyromancer and rattle off a couple spells in the same turn.
The more powerful the format, the more Young Pyromancer is primarily slotted into a tempo-oriented blue aggro or aggro-control role. This can frequently be merely in a sideboard capacity (particularly in combo or control decks seeking to switch gears), but it can also just be a solid threat for Delver decks of all shapes and sizes.
Once you get into Legacy and up, Cabal Therapy becomes a pretty major upgrade to Young Pyromancer's kit.