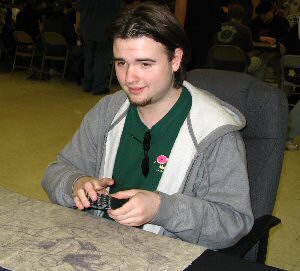 Ben Kowal is well known for his work on The Mana Drain and Star City, and he's a regular on the Power 9 circuit. He's doing pretty well at this one too, starting the day at 3-0 with his Mana Severance/Goblin Charbelcher control deck. "Is Charbelcher your only win condition?" I ignorantly asked. "Well, I can kill with Ancestral Recall too." "Huh?"
Dan Carp is also a frequent Vintage player from the Milwaukee area, and has won several events with his current deck, The Gilded Claw. It features Goblin Welder and Su-Chi, powering out big artifact monsters and other various, powerful singletons.
The two either know each other pretty well, or they got comfortable quickly, for the "poop" talking began in earnest right away. "It's half the fun of feature matches," said Ben.
"The sad part is, almost none of it winds up in the report," I said.
"This'll be hilarious when it goes up on The Mana Drain," said Dan. "Put that in the report, by the way."
"I missed it."
Carp won the die roll and mulliganed to six. He opened with Mishra's Workshop, Mana Vault, and Black Lotus, but didn't have an impressive follow-up. Kowal spent his first few turns drawing cards with Brainstorms and Ancestral Recall. Dan put out a Welder but could do nothing with it but attack.
Things didn't heat up until Ben cast one of the deck's signature cards, Gifts Ungiven, giving Carp no real good choices in Recoup, Yawgmoth's Will, Tinker and Mana Severance. Carp considered the situation carefully and gave him Recoup and Mana Severance, "just because I'm a terrible player."
(The cards were in Japanese, so I had to have Ben tell me what they were. What does that make me?)
Kowal had a ton of mana by this point from his full set of Moxen, Black Lotus, Sol Ring and Mana Crypt, so he was able to Recoup Yawgmoth's Will, Tinker for Charbelcher, Severance out his mana and immediately Belch for the win.
Kowal 1 - Carp 0
As the Charbelcher was resolving, Carp demanded to look through Ben's deck. "I'm entitled to it." He did so. "At least it's all poopy cards."
"What are you putting in? Your phone?" asked Ben as the players were sideboarding. "I've boarded in my cellphone before."
Ben: "Play or draw?"
Dan: "I don't know. Let's roll for it."
Bystander: "You're still playing like poop, you dumbass."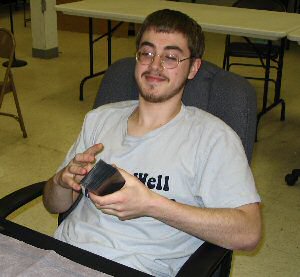 Carp had a change of heart and decided to play. Both players mulliganed to six, and Carp led off with Workshop into Orb of Dreams and a Lotus. Next turn he popped the Lotus for Triskelion, but it was Drained by Kowal, so Carp cast Su-Chi the next turn.
"Why's that City of Brass tapped?" I asked.
"Orb of Dreams. It makes things come into play tapped."
"Oh."
Carp was out of gas for the moment and was in topdeck mode, while Ben did almost nothing but draw cards. The Su-Chi kept attacking, and it brought Ben down to six.
Carp played a Chalice of the Void for three, and in response Ben Rack and Ruined part of Dan's field, shipping Su-Chi and Orb to the bin. With a major threat eliminated, Ben developed his board and drew more cards while Carp did nothing but glower at the Chalice. After three turns of this, he conceded.
Kowal 2 - Carp 0
"Nothing but lands and three mana spells," said Dan. "And my next few cards were land, land, three mana spell. If you wanted to know..."
"I don't."