This round pits 4-1's Mark Biller (AK Slaver) against Gerry Thompson with Mono-brown Ravager Affinity. Gerry is a Minnesotan on the Pro Tour gravy train, while Mark needs no introduction, being the reigning World Champ and all.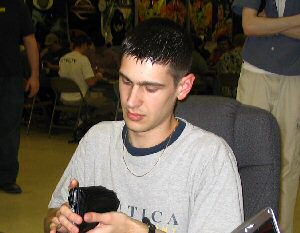 Mark won the die roll 6-1 and unsurprisingly chose to play. Mark and Gerry both thought for a while, but both were happy with their seven card hands. Mark opened with a Flooded Strand, Mox Pearl, and Sol Ring. Gerry also played out a fistful of mana, dropping Mishra's Workshop and Metalworker. Mark only added a Volcanic, which Gerry stopped with Wasteland. Gerry stopped to think about how to use his Metalworker, eventually revealing Myr Retriever, Myr Servitor, Arcbound Ravager, Sword of Fire and Ice, and Sphere of Resistance. Then cast all five of the artifacts and equipped the Ravager with the Sword. Mark searched out an Island (19) at the end of Gerry's turn in order to cast an Accumulated Knowledge for one card. On his turn, he AK'ed again, finding and playing a Mox Ruby. Gerry took note of his board and then used Metalworker to cast a second Sword and played a City of Traitors to equip it onto his Ravager. He then attacked with everything, dealing 11 damage to Mark and drawing 2 cards. Mark drew nothing of importance and conceded.
While both players were sideboarding, someone who I'm going to assume must be a Yu-Gi-Oh! player came over and asked them if since they got to play at the table in the front of the room, they would receive the special promo card. Or something. Another spectator came over to ask, "Intuition - that card's like a bazillion dollars, right?" Interesting spectators we have today...
Gerry: -4 Tangle Wire, +4 Phyrexian Furnace
Mark: -1 Mana Vault, -1 Fact or Fiction, +2 Rack and Ruin
Mark needed to send back his hand twice before reluctantly keeping his five card hand. He started with a Polluted Delta. Gerry, on the other hand, had a pair of Moxes, a Wasteland, Arcbound Ravager, and a Skullclamp. Mark played another land, this time an Island, and passed again. Gerry took out the Island with a Strip Mine (Mark Brainstormed in response) and then thought about how to best set up his Ravager. He settled on casting a Myr Retriever and Myr Servitor and simply attacking for one.
Mark used his Delta at the end of Gerry's turn to get another Island and then followed up with a Mox Jet and a Time Walk. He played a Lotus on his Time Walk turn for a Goblin Welder, but had nothing else to do with his red mana and burned for two. Gerry thought for a while about how to break through before the Welder would start wrecking his side. He chose to tap his Mox Jet for mana and then sacrifice it to Ravager. He used the mana to Skullclamp his Myr Retriever and replay the Mox so he could cast Sword of Fire and Ice, which Mark countered with Force of Will, removing Mana Drain. Gerry attacked with his Myr Servitor and Ravager, sacrificing the Myr to pump the Ravager to 3/3. He played Wasteland and used it to bring out a new Myr Servitor and passed the turn back to Mark.
Mark slowed down to ponder the increasingly complex board. He Welded the Skullclamp into a Myr Servitor, but Gerry sacrificed it in response to pump his Ravager to 4/4. Gerry brought back his dead Servitor, played a new Skullclamp, Clamped the new Servitor, and brought out a Metalworker with Mishra's Workshop. He Clamped the Ravager and attacked Mark for six, bringing Mark to five. Mark AK'ed for one and then played out a Volcanic Island and Rack and Ruin targeting Servitor and Ravager on his turn. Gerry responded by sacrificing the Servitor to the Ravager and then placing the Ravager's five counters on his Metalworker.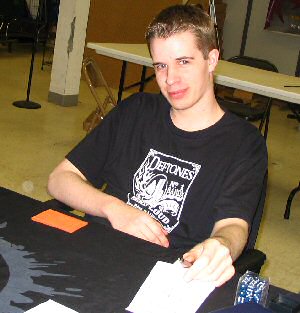 Gerry played out a Memory Jar on his turn, and in response to activating it, Mark turned Gerry's Metalworker into a Myr Servitor, which Gerry responded to in turn by generating four mana by revealing Sphere of Resistance and a Metalworker. Gerry's new hand gave him a Black Lotus, Mana Crypt, and Tolarian Academy, which let him cast another Myr Servitor. Mark chose to Force the Servitor, pitching an Intuition. Gerry had a new Metalworker as well as a Myr Retriever, which Mark also Forced, this time with Mana Drain. The two pitch counters brought Mark down to a precarious three life. Mark peeled an Ancestral Recall off the top (Mark: "I'm holdin' on!") but only had a Mox Emerald to show for it.
Mark: "I'm almost tempted to give you the Jar. I probably need the cards more than you do!"
He eventually chose to Weld the Myr Servitor into a Skullclamp, which kept Gerry from returning the others to play. Gerry also lost the roll on his Mana Crypt. He then used the Mana Crypt to double Clamp one of his Metalworkers into four more cards, including a Phyrexian Furnace, another Servitor, and a Sword. Thompson had plenty of mana, so he could equip the Sword onto a creature and attack through the Welder and furthermore, because he also had Phyrexian Furnace in play, he could use its ability in response to any Welder shenanigans (such as Welding out the Sword or the creature that the Sword was equipped on). After realizing this, Biller conceded.
JP: Man, that start in game one was pretty rough. Turn 2 Metalworker for like five different artifacts and equipping Sword of Fire and Ice
MB: If he didn't have the Wasteland, I woudl've been able to Drain into Mindslaver and then sac your board
GT: Well, I could've sac'ed the Ravager in response
Spectator: C'mon, nobody's fallen for that trick since the second week after Slaver came out!
GT: Still, he would've wrecked my board anyway.
MB: I'd probably also Clamp some guys to give me more to work with.
Gerry is now 5-1 and is a win away from the Top 8, while Mark has fallen to 4-2 and is now out of contention. Except... somebody filled out the match slip incorrectly and Thompson ended up with the loss because he didn't realize there was a problem until after the round had been paired.