In some matches, the players trade banter and talk trash, and the spectators join in on the fun. In others, the two stay focused and determined, saying little, letting the cards speak for themselves.
This is one of those matches.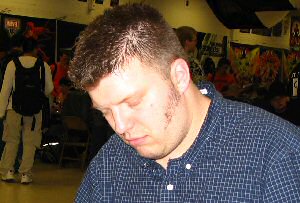 Kevin Cron, a Columbus, Ohio native, won the last Power 9 event, and apparently the old adage about things not needing fixing (however it goes) is true. He's piloting the Stax deck that gave him the win before (minus Trinisphere, of course), and despite his past misgivings about Chains of Mephistopheles versus Control Slaver, he's kept the deck pretty much intact.
His opponent, Gregg Seaverson, is in fact playing Control Slaver. With access to Blood Moon and Arcane Laboratory after boarding, his deck could be have just the perfect mixture of answers needed to crush Stax.
Gregg won the roll, but it was Kevin who exploded on his first turn, playing Gemstone Mine, Mox Pearl, Mana Vault, and a Chalice of the Void set to zero. Gregg Brainstormed off his Volcanic Island and Strip Mined Kevin's land. In response, Kevin played Vampiric Tutor, which was struck down by Force of Will. Kevin's next play of Crucible of Worlds was also countered.
After that, the game slowed down. After Kevin's two Spheres of Resistance, the players did nothing but build up mana and cards for six or seven turns; Kevin's life dropping down to seven from City of Brass and Mana Vault. Finally, Tolarian Academy broke the reverie, giving Cron access to a lot of mana. Tinker was countered, but Yawgmoth's Will brought it back, and it merrily fetched out Karn.
Despite a desperate Brainstorm, a Fact or Fiction and a Thirst for Knowledge by Seaverson over the next few turns, Karn and his animated Sphere friends were enough to do the job.
Cron 1 - Seaverson 0
Kevin agonized over his opening hands, but in the end went down to five cards. Gregg opened with Ancestral Recall, discarding Platinum Angel, while Kevin mustered a turn 2 Smokestack with the help of Mishra's Workshop. He never puts a soot counter on it for the entire game.
Gregg built his mana quickly with the help of Mana Crypt, and played Arcane Laboratory and Mindslaver in successive turns. He activated the Slaver, but Kevin's hand was all junk. Gregg's Blood Moon was the next relevant spell played, and the two players stood off (Kevin discarding all the way) while a few bad coinflips started whittling away at Seaverson's life total.
Kevin put a Gorilla Shaman into play with the help of Blood Moon, and it teamed up with Mana Crypt to get Gregg down to three. Now any bad flip would lethal, but he somehow survived the next two turns, and after playing Fact or Fiction, a Brainstorm or two, and Thirst for Knowledge, he was able to Tinker away the deadly Crypt in exchange for Pentavus. With no options and only more Mountains to look forward to, Kevin conceded.
Cron 1 - Seaverson 1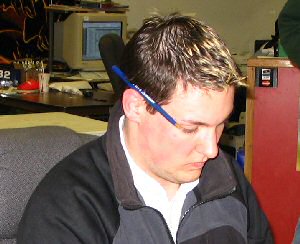 There were only five minutes left, and the players shuffled with purpose. After Kron's mulligan, they started the game with only two minutes remaining. Both got out fast mana and some utility artifacts, but neither played a threat. The judge called time and neither player has enough steam to finish the other off. They halfheartedly played out some of the extra turns, but Gregg offered his hand after his fourth, and Kevin accepted.
Result: the match is a draw
Cron 1 - Seaverson 1